Contents
---
---
A wedding procession is not just a means of transportation, but also a very important solemn attribute. That is why the newlyweds so carefully format it. But, if you want people to look even more interested after your motorcade, you need to decorate it not just beautifully, but also very original. The wedding portal www.articlewedding.com invites you to consider several creative options for this design..
Tablets
On the hood or trunk of the main car of the motorcade, you can attach a plate with the inscription you invented. It could just be a word «Newlyweds» or something more interesting: names, family motto, initials, or any phrase that is somehow symbolic only for you. In addition, a plate decorated for the general theme of a wedding celebration will look stylish..
Lettering
On the rear window of the car, attach a special sticker with a funny inscription. The film of which it is made is very thin. Therefore, this small accessory leaves no residue and can be removed well. Markers for cars can become a substitute for it, using which you can draw anything you want on the wedding procession. Plus, let the guests show their imagination: let them write their congratulations and wishes right on your car. Another suitable option for decorating a motorcade is pre-ordered comic numbers for cars.
Toys
Attach two dolls or toys in front of the main motorcade car that will symbolize you and will be dressed even in similar wedding dresses. It looks cute and very direct..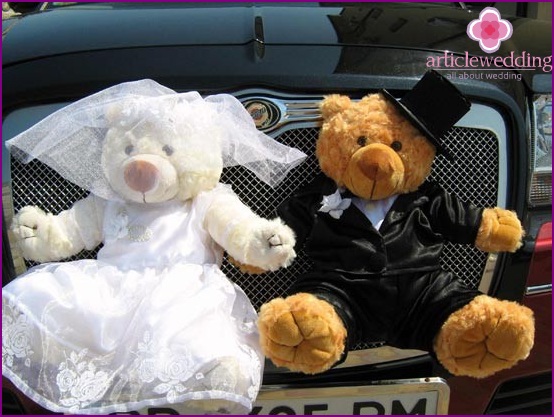 Flowers
This season, fresh flowers in dresses, wedding hairstyles, accessories and even when decorating a wedding procession are especially relevant. Despite the fact that they are more expensive than artificial ones and not very resistant to weather conditions, still a car in vibrant colors looks expensive and stylish. But if you want to really stand out, then order decoration of unusual colors. For example, give preference to cute daisies. Fun, funny and, most importantly, unforgettable! In general, florists will be able to choose for you any most suitable composition.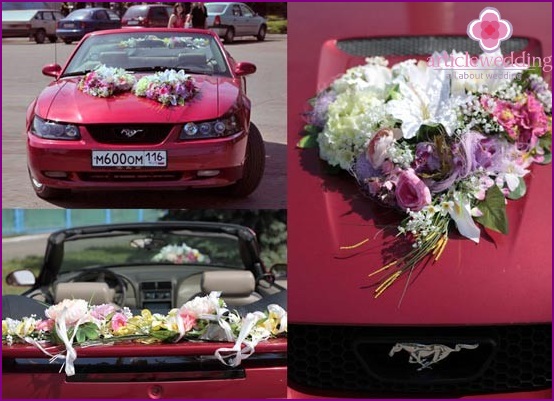 Cans
A wedding procession rides, and tied cans stretch behind it ... Have you seen this only in movies? Why not try the same thing? Moreover, this option is used extremely rarely in our country. By the way, there will be no special expenses for this, but creativity in such a solution is enough. Noisy and bright - exactly so, you will enter a new life if you decide on a similar adventure.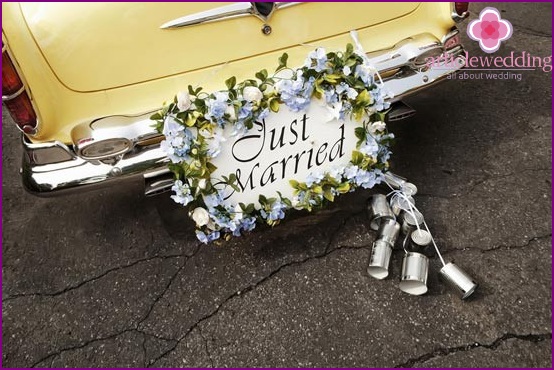 Bow
Wrap your car in a huge bow. This wedding accessory will certainly attract attention. Hang it on the hood, trunk or roof. And it is desirable that it be really big and very bright.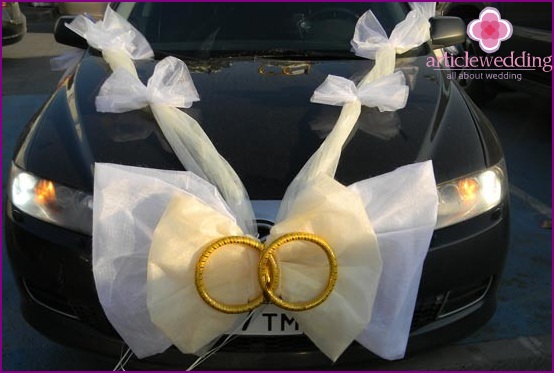 Balls
Balloons attached to the car are unlikely to surprise anyone. But, if you decorate with them an unusual tuple, then it will look doubly original. For example, you can take bicycles as a transport to the wedding and attach bright balls to them. As a result, you will give an excellent mood to everyone around you, and you will be immensely satisfied, since it will look very creative.
In addition, the wedding portal www.articlewedding.com strongly recommends decorating cars or any other motorcade transport exclusively in the same style. In no case do not use flowers for one car, and ribbons for another.
The original design of the motorcade brings you one step closer to the perfect holiday. But the wedding day is the happiest event in the life of the newlyweds, which must be made as exceptional as possible. Imagine! And then you will surely succeed!