Contents
---
---
Carefully choose a wedding dress, craft accessories for a photo shoot, create a unique atmosphere at a gala banquet. But what about the grace of the tradition of receiving gifts? Make sure that the event is presented with taste and style. To do this, you need to consider a wedding accessory that exactly matches the theme of your holiday. Choose sleek, original and comfortable «piggy bank» for a young family.
Caskets and boxes
Grab an old casket for the wedding, which can easily accommodate the first savings of the couple. This is a simple and convenient option. The same applies to the various boxes. However, in this case, you will have to pre-decorate the cardboard packaging. Ordinary boxes are also suitable, they can be pasted over with designer paper and decorated with special rhinestones or paper flowers. The website www.articlewedding.com is sure that hand-made wooden caskets and cardboard boxes using decoupage technique will be an excellent accessory for money donated at a wedding.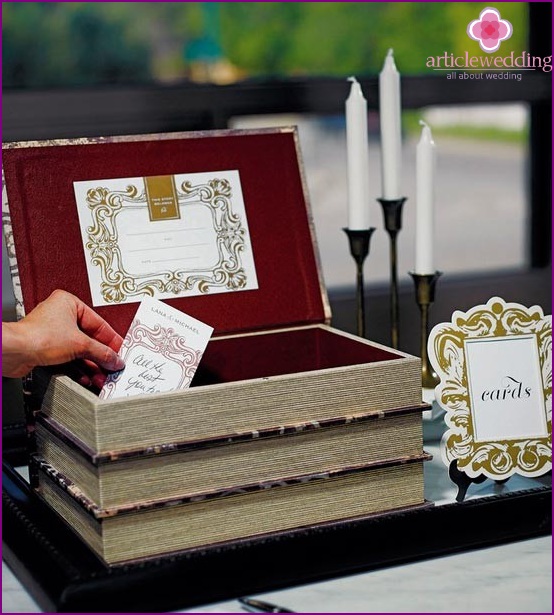 Chest
Collect wedding gifts in a chest! Like the boxes, the accessory can be decorated in any style you like. If desired, make a treasure chest with a slot on «cover». Decorate the chest romantically: openwork butterflies, cute bows, images of angels, etc. An interesting option is a chest «antique», decorated with leather, straps, buckles, artificially aged and shabby. A similar accessory can be purchased at gift shops. Such a chest is suitable for weddings in the style of a pirate party or ancient times..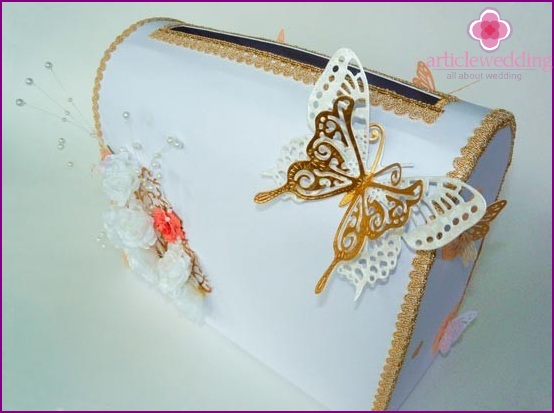 Vases
A good replacement for a money bank is a vase. The principle of fundraising is the same, but beautiful vases look more aesthetically pleasing. It is not at all necessary to search all stores for an exact copy of the vase imagined. Get a simple white vase and paint on glass or for stained glass. And paint the accessory until it's perfect.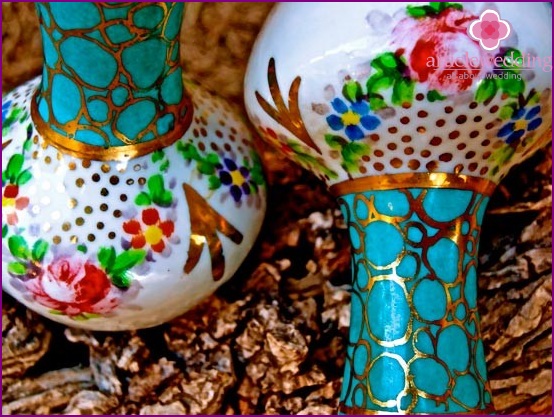 Money trays
If you do not want to do the tedious work on decorating accessories, pay attention to the original trays. Feel yourself in the role of the European monarch, who serves important letters and documents on a tray. At the wedding, one of the waiters can hold a tray. The option is good because subsequently you do not have to worry for a long time with extracting money from the accessory, as is the case with vases. Everything will lie on the surface!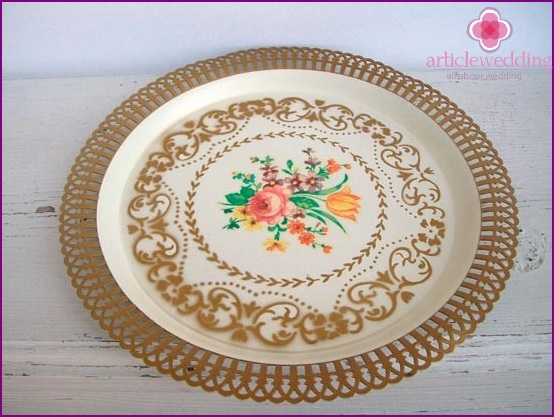 Gift bag
On the upper shelves of the cabinet dusting an old suitcase, which is about to go to the trash? Do not hurry! Thanks to patience and creative approach, a suitcase can be turned into an original wedding accessory. Spray can, clippings of illustrations, some decorations - and you're done! Money, postcards, and other gifts will fit in a suitcase. This is one of the most «fresh» wedding options.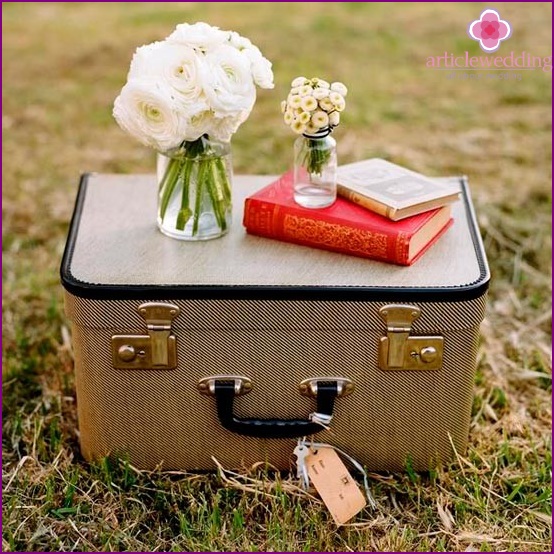 Bird cages
Today's weddings are increasingly using vintage bird cages. They are beautiful, elegant and versatile. Engage the cage as an accessory in the photo shoot, and then put it on to collect money. Vintage birdcages - a wonderful wedding accessory, suitable for both traditional romantic holidays and themed celebrations.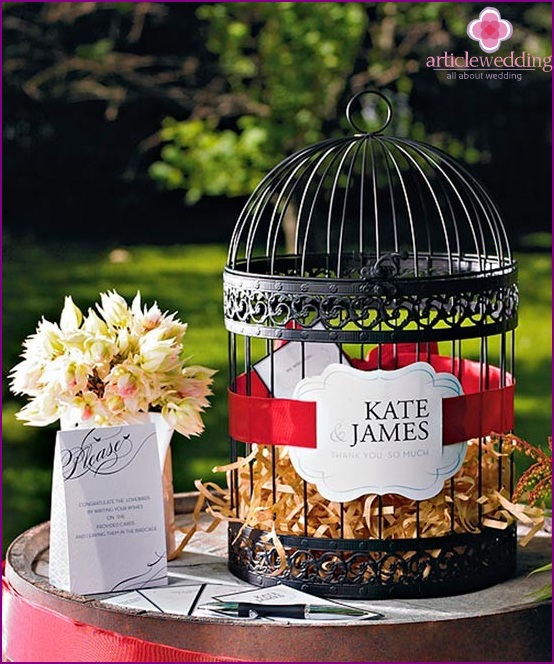 Well for money and wishes
At European and American weddings, they have long put small wooden wells in which guests can throw envelopes with money, cards and notes with wishes. The wedding site www.articlewedding.com invites skilled grooms to participate in wedding preparations and cut an original accessory from wood. The well can be decorated with carvings or scorched inscriptions and drawings. The accessory looks especially good at weddings in nature, holidays in style «rustic» or «shabby chic».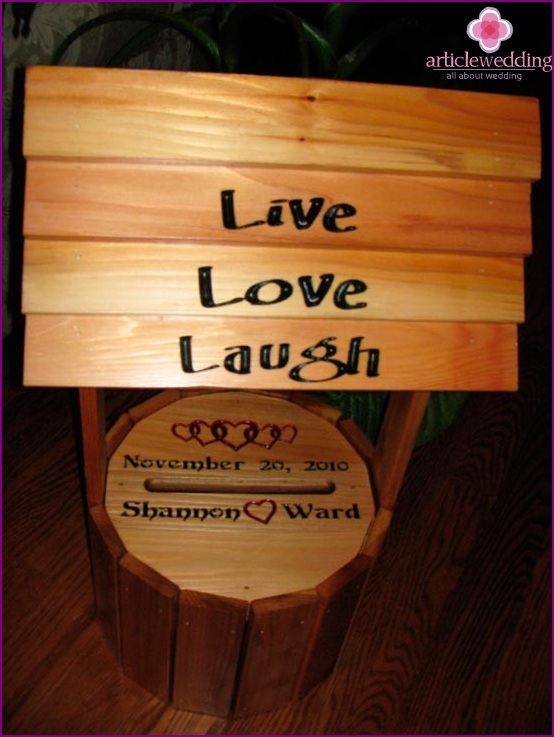 Money Tree
Grow a garden at a wedding! Place a tree with fruits, a tree for wishes and a money tree. The accessory is quite complicated to manufacture, and it's not easy to attach money to it. However, the result will charm you.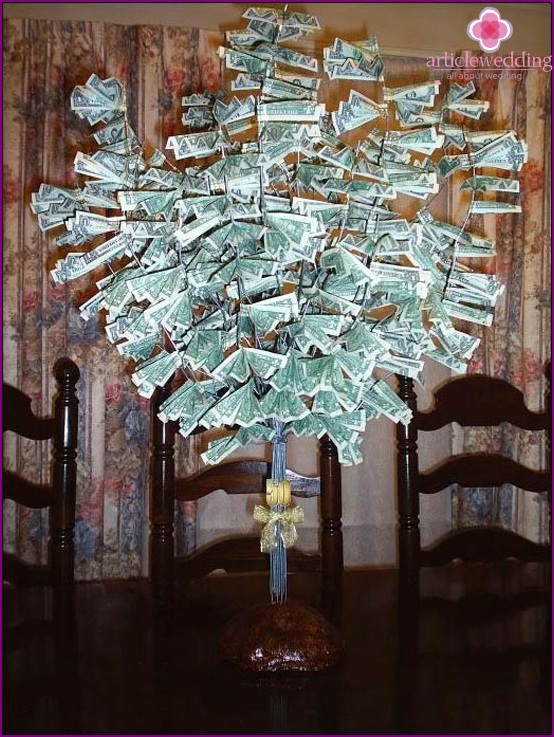 A little creativity, and you add a wedding charm. So, in what way did you decide to raise money?