Contents
---
---
The bride's outfit on the wedding day contains many details that should harmoniously be combined into one ensemble. Each element has its purpose and function, jewelry plays an important role. Tiara, earrings, bracelet, necklace - these products complement the bride's dress, give her look chic and shine. The wedding necklace focuses on the neckline. It emphasizes the elegance of the neck or gives a shocking mood along with.
Options for Wedding Necklace for the Bride
Inspired by the muse, jewelers carry out tremendous work, making unique jewelry for the bride and groom. Using materials such as fabric, lace, metals, stones, rhinestones, beads, feathers, they create various forms, styles of necklaces, ranging from avant-garde to minimalism. Jewelers try to make their masterpieces original, inimitable. Such a variety of beautiful jewelry will turn the head of any bride. In order not to get confused, follow your taste preferences, choosing a necklace for the style of the dress, decor elements.
Pearl necklace
These stones are a symbol of purity and innocence, so they have become a kind of classic among wedding decorations. Pearls have been in demand for centuries, captivating women with their beauty. A thin pearl string gently enveloping the neck, or multilayer compositions decorated with a brooch - any option will emphasize the elegance of the bride. When choosing a necklace for an outfit, keep in mind that it can have several shades (snow-white, pink, blue, gray).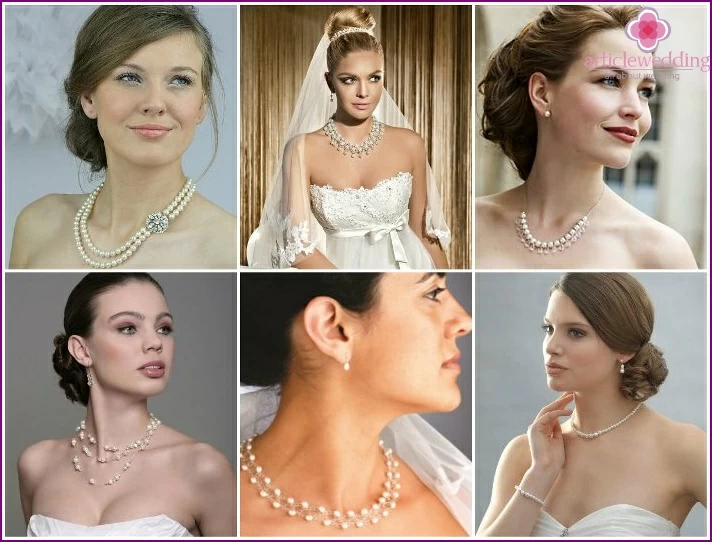 Decorated with Swarovski Stones or Crystals
At the peak of popularity are jewelry in vintage style, inlaid with precious stones. Diamonds in a wedding necklace will amaze everyone with their beauty, sparkling with any light. Alternatively, Swarovski crystals, Czech glass, and rhinestone are used, which fit perfectly into modern concepts of minimalism, avant-garde and pop art.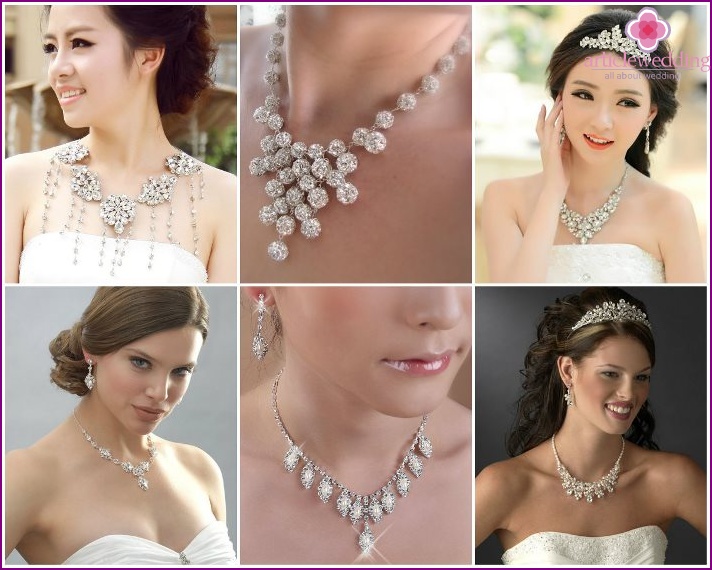 Wedding necklace with flowers
Floral motifs are often present in the elements of jewelry of the bride and groom, and a flower necklace adorns the bride, gives her along with freshness and tenderness. Exquisite orchids, delicate lilies and magnificent roses, combining into a single whole, will create an amazing composition for the bride and groom. Materials for flowers can be polymer clay, metal, openwork lace and beads, combined in a necklace with pearls, fabric, rhinestones.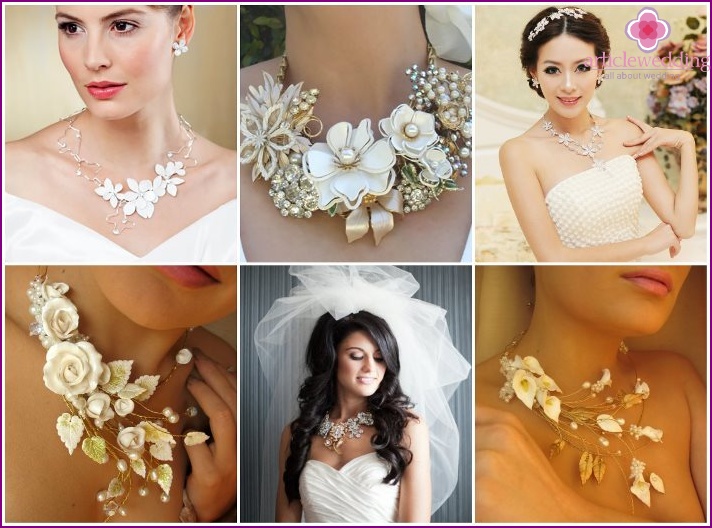 Bead and bead
There are no women who would not fit a necklace of beads and beads. Openwork weaving, decorated with semiprecious stones, creates airy drawings, complementing the image of the bride. Beads have many shades, which helps «add colors» in a newlywed outfit. When choosing a necklace, keep in mind that it should be minimalistic if the dress is densely embroidered with rhinestones or beads. Such bride jewelry is popular because it is easy to make it yourself or on an individual order, subsequently reminding yourself of a beautiful day..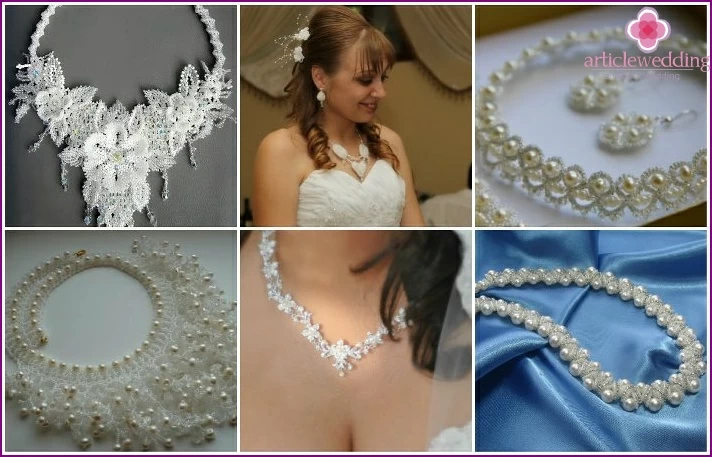 How to choose a necklace for a wedding dress
The final note in the outfit of the newlywed will be a necklace. A variety of types, styles of necklaces and materials that are used to create unique jewelry can confuse an already confused bride. In order to choose the right necklace that is ideally suited to the bride and groom, and not to stay in this process for a long time, follow a few simple rules:
Choose a necklace so that it is part of the ensemble and blends harmoniously into the image, and does not look like the main element.
The necklace should match the style of the rest of the jewelry (earrings, bracelets) and accessories.
It is necessary to choose a necklace, taking into account the color of the dress or placing accents with the help of jewelry with overlapping elements in the design of the outfit.
Do not mix jewelry made of gold, silver and other metals in one set. This choice indicates a lack of taste in the bride.
Choose a necklace that you liked, in this case you will feel better in it and radiate happiness.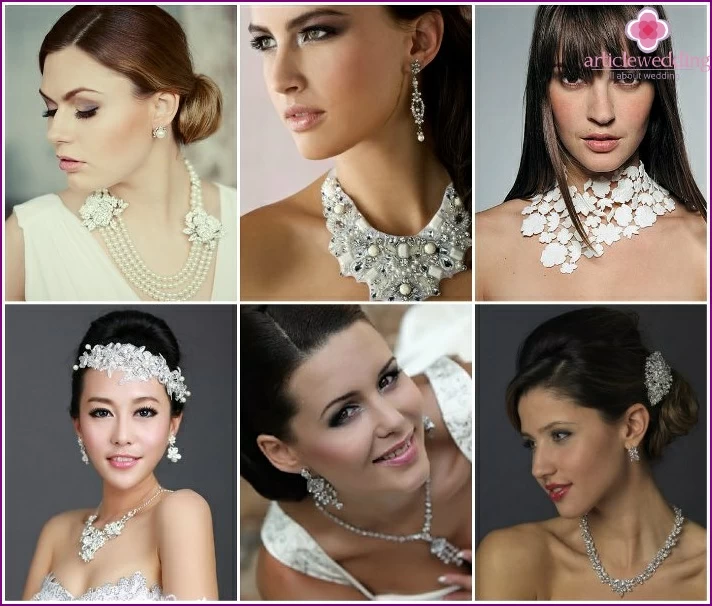 To put these rules into practice, try on a necklace with a dress - so it will immediately become clear whether they fit together. If you do not have the opportunity to do this, photograph your outfit or carefully remember all the elements of its decor. Particular attention should be paid to the shape of the cutout on the chest, which plays a key role in choosing jewelry:
«U»-neckline. A necklace that fits tightly around the neck is suitable for this. A short semicircular necklace will look great. This option effectively emphasizes the chest.
The square neckline will be decorated with simple necklaces, without complex decor elements. A pearl string that fits your neck will look good..
«V»-accentuate the neckline «Y» with the suspension coming down. If the dress is bright, then it is worthwhile to stop on a necklace of short length, fitting the neck. Such a decoration will not divert attention.
If the neckline of the dress has a heart shape or you wear a strapless outfit, any form of a wedding necklace is suitable for such a robe.
Asymmetric neckline. This option does not require necklace decoration. It should be limited to earrings and a bracelet. Do not decorate closed dresses, the necklace is simply lost on their background.
Brides often choose handmade jewelry for a wedding ceremony. This is due to the fact that the girls want to invest a piece of themselves in the details of the celebration, so that it is unique: starting from glasses and ending with a pillow for rings. Decorating the bride is no exception. Why buy a product if you have the desire and ability to make an amazing necklace yourself. One of a kind, this decoration will be a reflection of the creative personality of the newlywed.
Photo of a wedding necklace for the bride
Skillfully selected necklace will help to decorate the outfit of the bride and groom. Necklaces made of pearls, beads, beads, crystals, precious stones make their possessor not just a bride, but a real queen of their own ball. The main thing is to choose the right decoration. You can familiarize yourself with some types of necklaces and see the combination of jewelry with a variety of dresses in the photo below..