Contents
---
---
No matter what style your wedding will be done, the girl should wear a hat on the day of the wedding. Without this attribute, the image of the bride and groom will be incomplete. The headpiece of the bride can be different. The only rule that applies to his choice is the matching of the accessory to the dress. So, if you prefer an extravagant style of wedding, this must be taken into account when choosing not only an outfit, but also jewelry for a hairstyle.
Types of Wedding Hats
Modern fashion gives girls a wide selection of wedding dresses and accessories. You can marry in a traditional white puffy dress or wear a T-shirt with shorts for the ceremony. It doesn't matter whether he chooses a young conservative wedding attire or a bright and original dress, to complete the image, the bride will need jewelry. An important role among them is played by a hat. So, you can focus on one of the many styles of hair ornaments: hats, tiaras, wreaths. Supplement is a veil. The modern bride has plenty to choose from.
Hats
It is believed that a woman who has hats in her wardrobe has a complex character and good taste. Therefore, if the bride chose a hat as the wedding headdress, do not argue with it. Among young girls, this wedding accessory is not very popular, but mature women who marry often prefer it exclusively. Just at the age of 30+, marriage is perceived more as a formality than an important celebration.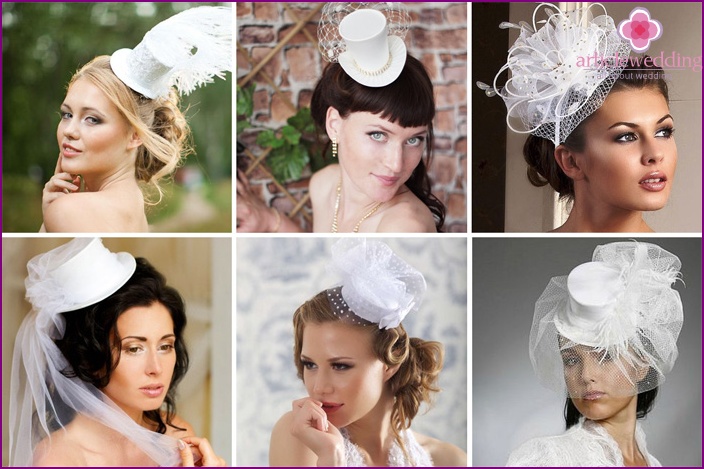 If you settled on this option of a wedding headdress, then it is worth considering several important nuances. First, check if it fits with the dress. For a fluffy outfit, a hat is definitely not suitable. However she «is friends» with narrow and long dresses. An important role in the choice is played by the appearance of the bride. For example, miniature girls are advised to pick up small hats, and tall brides should stop at a wide-brimmed model. The rest is to listen to your inner instinct.
Wreaths
A wreath was an invariable attribute of a bride just a couple of centuries ago. Then it was called orange blossom, it was decorated with the flowers of an orange tree, so the orange color prevailed in the composition. The accessory consisted of ribbons, flowers and pearls. Modern models are decorated with other elements, including Swarovski crystals. The wreath can be attached to the veil and together with it forms a single composition. From now on, the girls were offered a greater choice - fresh and artificial flowers of different colors.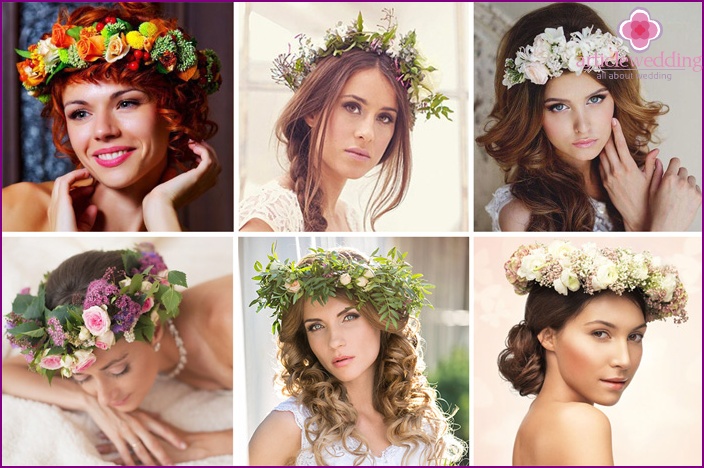 Veil
The bride's classic headdress is a veil. Previously, she was considered a symbol of the transformation of a girl into a woman and was very long. The traditions of the past are past, and you can not only adjust the style of the veil, but also completely abandon it. However, most brides still opt for this accessory, and for good reason. The veil adds femininity, tenderness to the image, gives the ceremony a special flavor. When buying, it is worth based on the compatibility of the veil with the model of the selected dress. Remember that white is universal and fits any bride's outfit..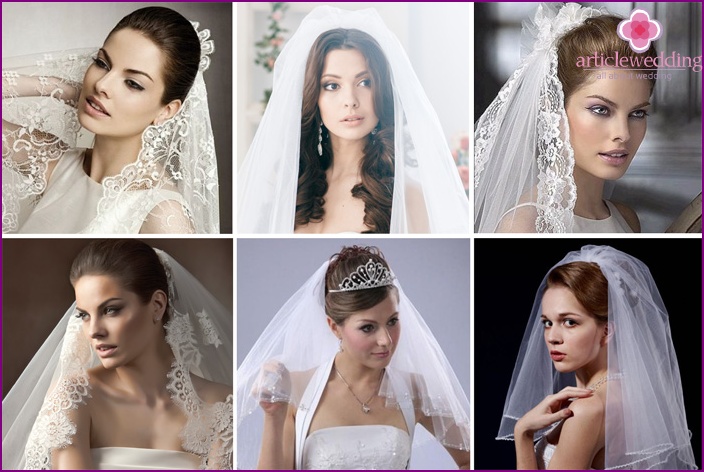 Diadem
Owners of chic hair who do not want to hide them under a lace veil should pay attention to tiaras. This headdress will decorate any bride, no matter what outfit she puts on. A wedding diadem is a part of the hairstyle that perfectly complements it and brings solemnity to the image of the newlywed. You can leave your hair loose or make an intricate high hairstyle, in any case, the diadem will look great. When choosing it, consider the presence of other jewelry that you plan to wear on your wedding day, do not overdo it with their number.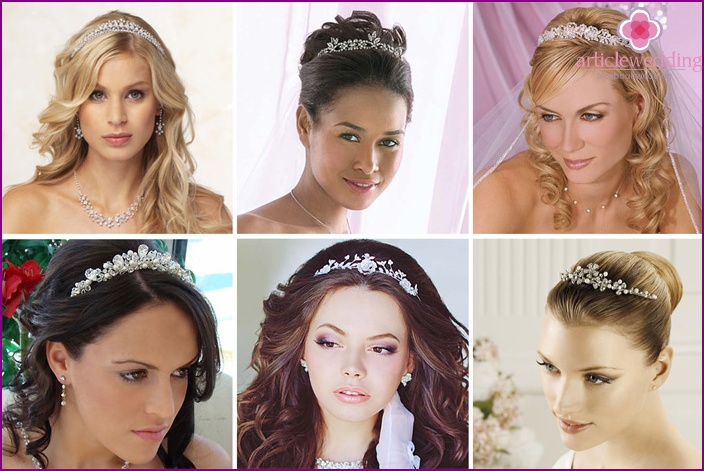 What kind of wedding headdress to choose for a wedding?
For a wedding in a church, a girl should pick up a long veil without unnecessary jewelry. A short model will not work, because it is necessary that the dress completely covers the face of the bride and groom at her entrance to the temple. You can replace the traditional lace veil with a beautiful white shawl sewn from expensive fabric. Such a dress looks very beautiful on a mature bride. But all kinds of hats, wreaths and tiaras at the wedding ceremony look ridiculous.
Photo of fashionable hats for brides
Wedding fashion is very democratic for modern newlyweds. It does not provide for strict canons regarding the choice of tiaras, veils, hats. Each girl has the right to decide for herself which style to choose for her wedding. But it is important to choose shoes, dress and accessories so as to create a single harmonious image that will appeal not only to the newlywed, but to all those gathered.