Contents
---
---
Previously, no bride could do without a wedding attribute - a veil. Everyone revered this tradition and followed it. A veil is a symbol denoting the innocence and purity of a girl at the time of marriage. Now some brides are finding alternatives. But if you are one of those who honor traditions, you will be surprised by a wide range of miniature models of veils.
Models of a small veil for a bride for a wedding
The main deciding factor when buying a veil is its length. Choose a small hat and you won't regret it! A miniature veil will not prevent you from moving freely, the hairstyle will not be hidden behind layers of fabric, the decor of the dress from the back will be appreciated by all guests. The girl, wearing such a small hat, looks fervently, elegantly and charmingly. It's impossible to get confused in a miniature veil.
What to look for when choosing a short veil?
Consider the decor elements on the dress. If the back of your dress is beautifully ajar, the miniature veil model only focuses on this. Lace, silk, patterns, color, straight cut - all this must be chosen in accordance with the model and jewelry of the dress.
Try single-layer, two-layer and three-layer small models. The first option is suitable for lush young ladies, the second is universal (it's all about giving it), and the third is for thin women, so that the face looks harmonious. A three- and two-layer veil is attached above the hairstyle, single-layer - under the collected hair.
Hairstyle and jewelry will help you choose the model of a wedding veil. Loose curly hair will go well with a small accessory on the rim. This veil model covers her face, making the girl's look more mysterious. A small version of a wedding cap and an unconventional dress will make the image extravagant.
The veil color will not always perfectly match the designer outfit. Match this little accessory with a shade lighter than your dress. The image will come out fresh, light and sensual. White color is suitable for a traditional snow-white dress. Ivory is a soft and light shade of ivory, which is suitable for cream or peach dress. Champagne is not such a traditional shade, but the miniature veil goes well with dresses in light beige or brown.
Depending on the model of the veil, determine how best to attach such a small accessory to the hairdo: with the help of hairpins, invisibility, hairpins, scallops or fastening is not necessary at all?
Wedding Veil-veil
The traditional model of a long veil is no longer popular. Brides often turn to retro trends. The 19th century gave fashion to veils, and now girls boldly use this small accessory in their wedding image. The veil veil looks like a small hat with a transparent mesh. To create it, tulle is used, which coquettishly covers the bride's face.
The range of models of veils is wide and varied. Designers create such small accessories in various styles, choosing the appropriate decor. Veils decorated with flowers are suitable for the delicate, fragile image of the bride, whose wedding is scheduled for spring, and the dress is sewn from light lace. Feather model with feathers fits perfectly into the retro style. Rhinestones, stones on a small veil are suitable for a luxurious dress and a rich wedding. Lace on the veil is intended for passionate, sensual girls.
Wedding veils are divided by style:
English. It differs in the length of the mesh, which reaches the level of the eyes. The girl in her looks flirty, bright. In such a dress is very comfortable.
French veil. Always a feminine, compact headband. Fastens with clips or hairpins on both sides, completely covers the face.
High-fashion. Popular veils, just below the lips, chin. Decorated with rhinestones, feathers and large flowers (peonies, roses).
A veil-veil is considered a universal accessory, it fits almost every look. Loose, slightly curled hair, straight strands, a voluminous bun, a stylish short haircut of the bride is what you need for the foundation under a small veil. This veil option looks perfect with vintage wedding looks, cocktail and evening dresses, a newlywed trouser suit and cropped dresses. If you choose a veil, you will look bold, bold and relaxed.

Bridal cap
If you want to look gentle and seductive, pay attention to the wedding cap "Bridal cap". This is a small but original accessory. It is made of tulle or lace, therefore, with their details, wedding hats have something in common with the dress trim from the same materials. Designers decorate the Bridal cap with airy flowers, feathers of delicate shades of ivory or champagne, pearl beads and satin ribbons..
The main rule for choosing a wedding hat is the more complicated the accessory and the more jewelry it has, the simpler the dress. And vice versa. The ideal hair length for a small version of the Bridal cap is medium or short haircut. A hairstyle with coarse curls in combination with a glamorous or vintage dress will create a retro diva out of you. You can add a veil on the back by attaching it to the cap.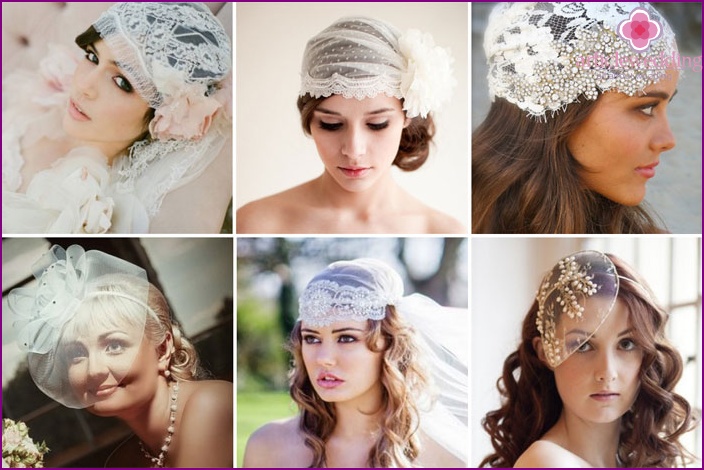 Hat "Parisian" with a veil
If you are delighted with the romantic capital of the world, then the image of a tender and passionate bride is for you. Wearing a tight-fitting silhouette dress «AND» or Mermaid, complement it with a hat «Parisian» with a veil. It is made of thin chiffon, lace, silk, so it ideally resonates with this fabric in a newlywed outfit. The colors used are white, ivory, champagne, but many girls turn to non-standard options, adding bright notes in the form of lonely jewelry (flowers, beads, stones).

Options for a little veil for a bachelorette party
The pre-wedding party is a small celebration for the future bride. In my bachelorette party you want to escape from the wedding hassle and stay with friends. Last «breath of air» for an unmarried girl should be unforgettable, so you need to create a suitable image. Determine in what style the bachelorette party will be held - «at home», «stylishly», «officially» or as a club party?
At home, you and your friends can create family photos as a keepsake. Even if it is a party-pajamas, a bright, light veil will only add coquetry to your look. Stylish bachelorette party can not do without a thematic photo shoot in nature (in the field, in the forest, by the lake). It is considered appropriate if your veil will have not only a suitable color, but also decor. Wildflowers, delicate peonies, cones, scarlet roses, blue cornflowers or small anchors and helms - this is stylish, original. Each girlfriend can put on her little decorated accessory..
The official bachelorette party in the restaurant will allow you to choose non-traditional options for veils - hats in the French style, small veils that will turn the image of a girl into a real lady. For a club party, an accessory of medium length is suitable, which will not hamper you in movements. To see each other from afar with light music, each of your friends can safely put on a veil in a different color version.
Miniature color veil without decoration
A cheerful bachelorette party will be held in a festive mood, if you complement your image with a miniature colored veil without decoration. Whatever the theme of the holiday, this little accessory can complement a light dress, bright pajamas, and a seductive outfit. Another plus of it - when you go out into the light, unfamiliar men will understand that you are a future bride and will bypass you with their flattering courtship. A small but important nuance when choosing a veil is its fastening. A comb, hairpins, invisible hair clips that fit into any hairstyle will do..

Veil with horns or crown
An unconventional model of a hat for a bachelorette party is a veil with horns or a crown. A tiara or diadem will make you feel at your best. A model with a crown will perfectly complement a chic evening dress, a cheerful outfit for a future bride. A veil with horns is mounted on a hoop, suitable for a party in a club or at home. If you get a small one-color model, you can borrow horns or ears from carnival accessories.