Contents
---
---
Regardless of the month of the celebration, the bride should not appear at the wedding with bare legs. Even if the weather is very hot, fishnet, very thin stockings, tights are considered a mandatory component of the image. This item should be matched to match shoes or dress. It is not forbidden to wear panty hoses with a picture or a pattern, but it should not be too catchy, otherwise the image will become vulgar. Every detail in the appearance of the bride should personify innocence, tenderness, purity. It's better not to save on pantyhose quality.
Popular models of tights for a wedding dress
It doesn't matter if your dress is long or short, tights are an important part of the look. Imagine a bride getting out of a car, going down the stairs, spinning in a dance, as the groom takes off her garter from her. At each of these moments her seductive legs flicker. It is important to choose the right model for quality wedding tights. To do this, focus on the dress. If it is decorated with an abundance of lace, rhinestones, beads, then tights should be simple, but if the outfit does not imply a rich finish, then the stockings can be lace, patterned.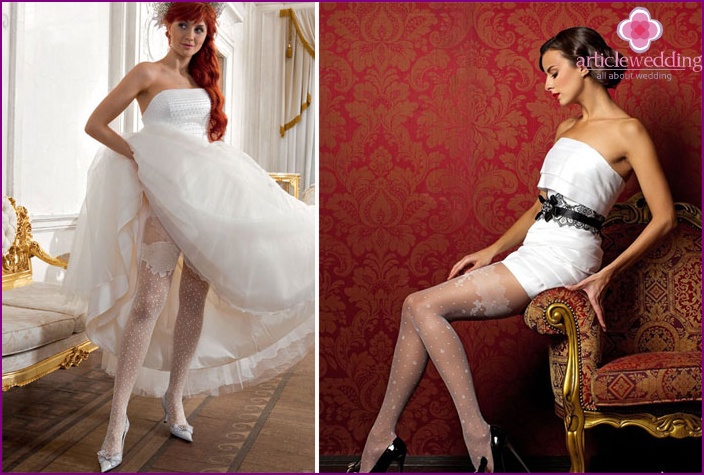 Imitation Stocking Wedding Tights
Wedding tights, the design of which imitates stockings, is a good outlet for those brides who are accustomed to comfort, but do not want to cross out seductiveness, beauty and piquancy. Modern manufacturers in unison with feminine nature offer many fantasy models. Each girl will find tights to her taste. Stockings-provocatively looking from under the dress are deprived of vulgarity, but not a temptation. The abundance of ornaments in the design of such models allows you to choose any style.
With imitation garter
Sexy wedding tights imitating elegant garters are a terrific choice for modern young girls. On the one hand, they look like the usual pantyhose for us, and on the other hand, they look like our favorite garter stockings. Such an element of the image of the bride is very piquant. In the cold season you can't put on stockings, but pantyhose imitating garters are available in any weather..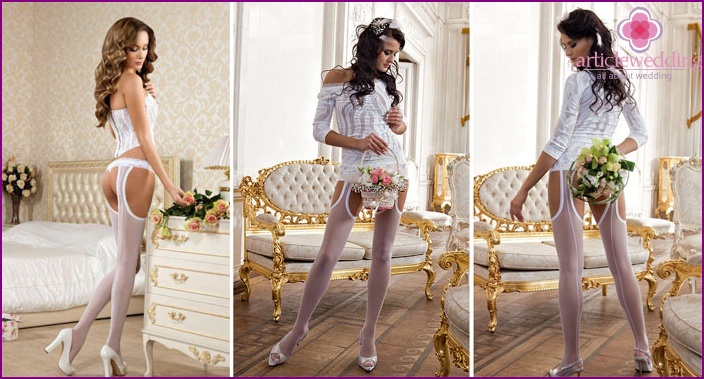 Spectacular tattoo design
In some cases, young girls come up with a variety of tricks and tricks to hide tattoos on their most important day. But designers advise acting in the opposite direction - not to hide, but to wear a tattoo together with wedding tights. Such models can imitate the most diverse patterns on the body. For weddings, it's best to choose delicate images suitable for the occasion..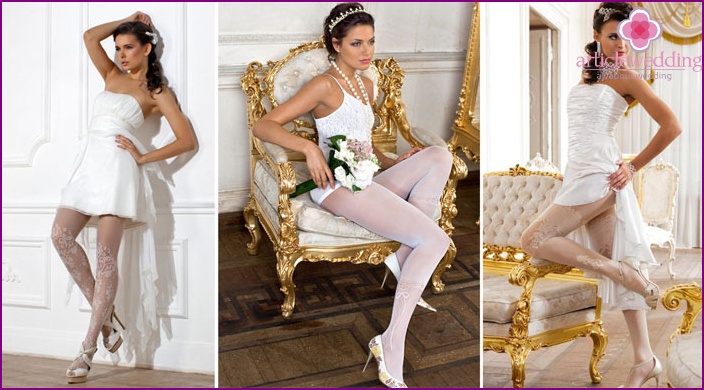 Full length tights with back seam
Wedding tights with an arrow or a seam in the back for the entire length will certainly attract the attention of men. In some cases, they are inappropriate, but as a complement to the laconic wedding dress, they look very stylish. Dresses of the style sheath with a pencil-shaped skirt, light silk wedding dresses are successfully complemented by tights with a back seam. It is best if the dress is slightly below the knee with a flared or narrow hem.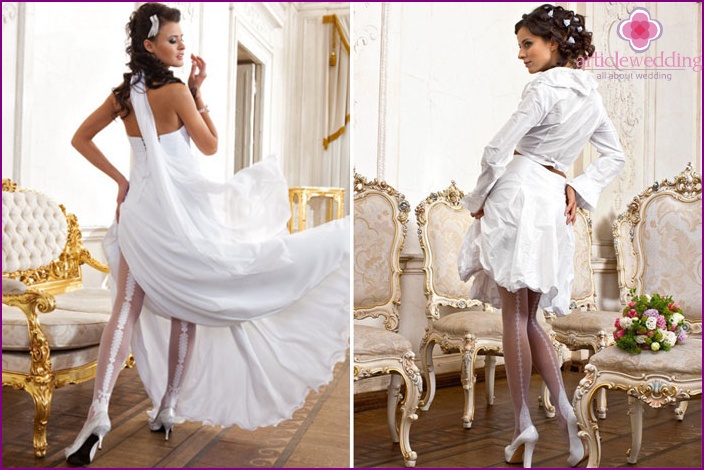 The finest mesh classic design
The thinnest mesh tights in the classical style are very popular among brides, despite the fact that they can not be called very strong, durable. Such models will successfully complement your outfit. They are invisible on the leg, do not attract attention. The legs in them look natural. It's worth choosing such tights for an event taking place in the warm season.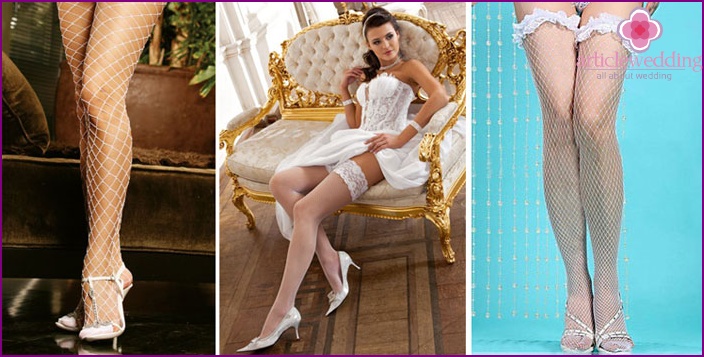 As part of a wedding dress, classic tights go to all the ladies - tall fragile ladies, magnificent ladies, owners of juicy or thin legs. Models of bright colors are invisible to the prying eyes, indispensable in the summer. They give the legs a well-groomed appearance, emphasize the outfit, add an attractive color. If you choose a shade a little darker than natural, a natural tan is added. Due to such advantages, tights of a classic design from a thin mesh are a win-win option for a wedding.
Which tights to choose - white or ivory?
When it comes to colors, white tights perfectly complement a dress of the same color. But modern fashion offers other options: if the outfit is cream, tights are selected in ivory colors, and body tights are suitable for dressing any tone. Dense white tights, translucent or transparent white with a pattern, look very interesting, attractive. A short wedding outfit is successfully emphasized by panty hoses with decor, volumetric pattern..
White color is a classic, but if you want to add harmony to your legs, then give preference to ivory color, body or milk with snow-white spraying, pattern. Depending on the material of the dress - matte, shiny, wedding tights can also match in texture. You can observe the unity of style in the whole image or create a noble contrast.
Photo of fashionable wedding tights
In creating the image of the bride, the choice of tights is the final stage, which is worth starting after the selection of shoes, dresses, and other accessories. This final touch should be in harmony with all elements of appearance. If the dress is magnificent, then openwork, lace tights perfectly complement it, and a strict elegant outfit with a predominance of classic lines requires a smooth product that fits perfectly on the waist. The presence of prints, three-dimensional patterns on wedding tights looks advantageous with outfits with a slit or short dresses.