Contents
---
---
The exchange of rings between the newlyweds is the most touching moment in any marriage. And this small accessory, namely a pillow for wedding rings, will make your ceremony even more magical and romantic.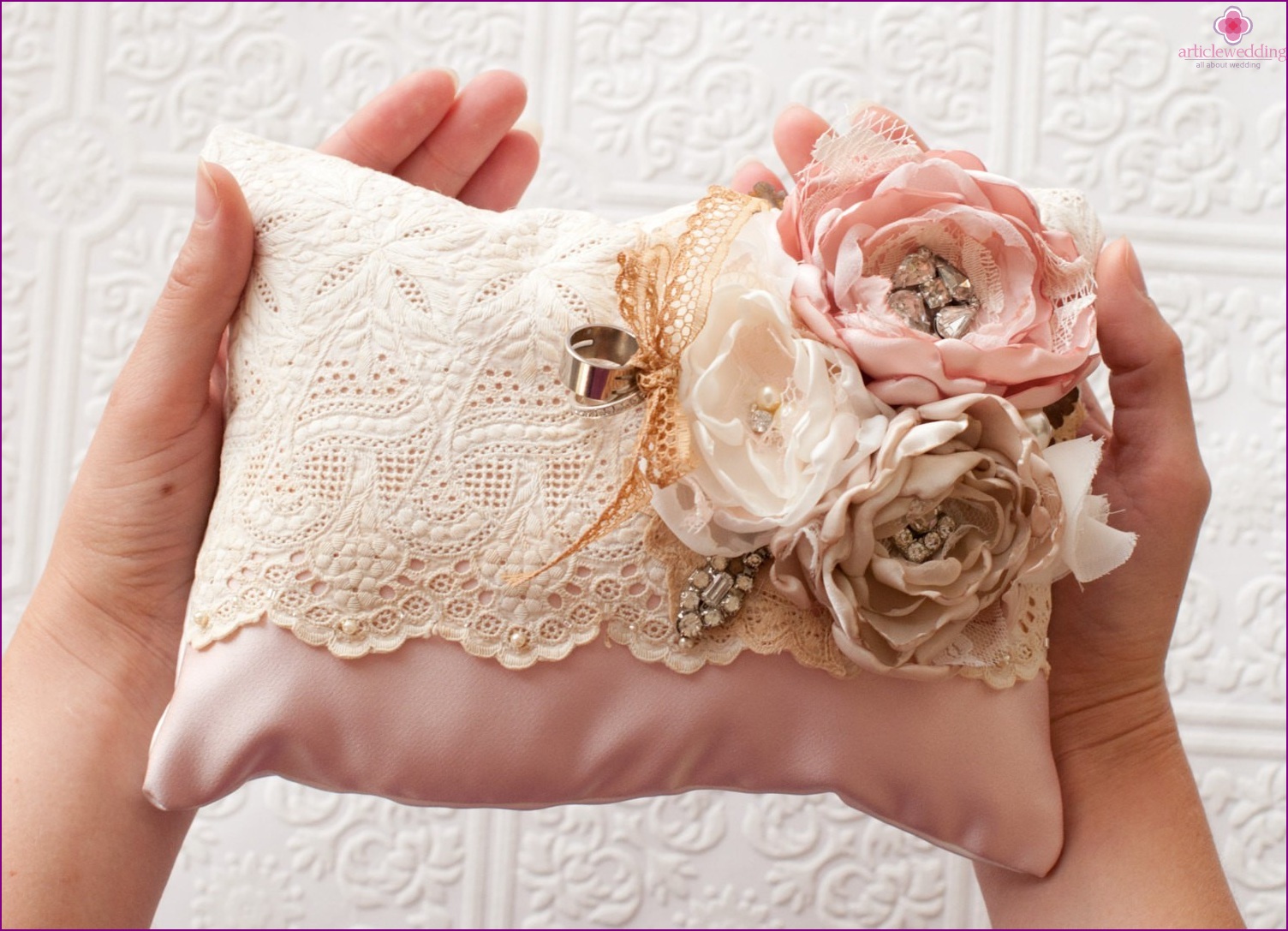 Do I need this accessory at the wedding??
Wedding rings are a symbol of love and devotion. Therefore, the wedding portal www.articlewedding.com advises you to make sure that at the wedding ceremony this important nuance is elegantly and tastefully decorated. In this case, you can not do without this cute little accessory - a pillow on which your rings will neatly lie.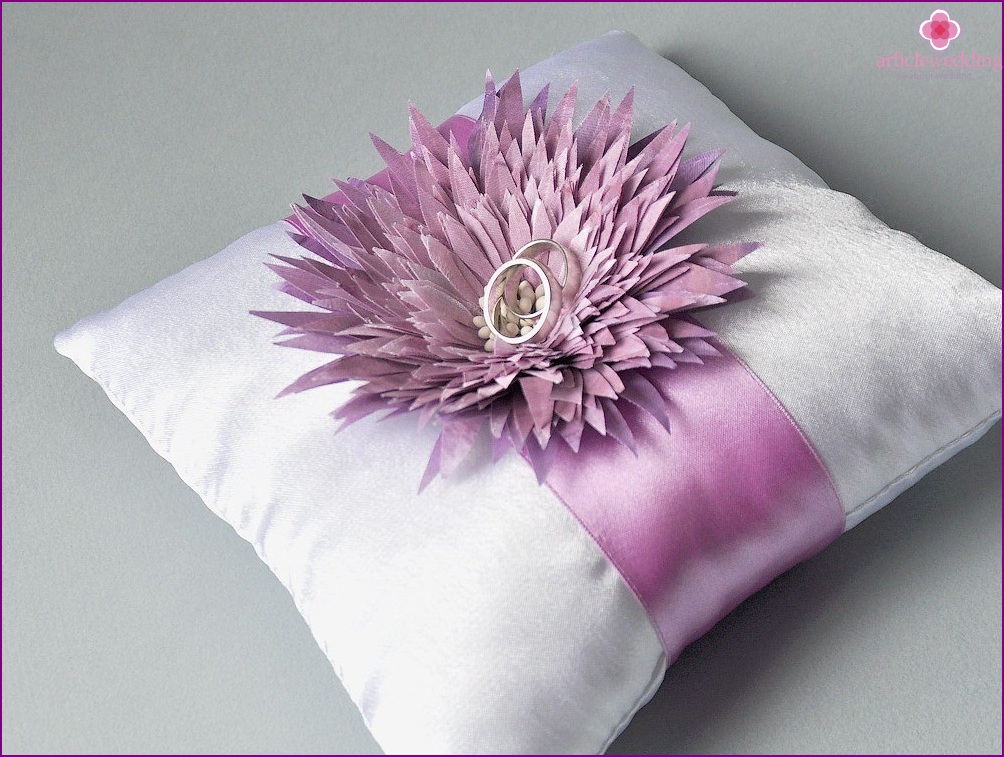 A pillow for rings will be especially relevant during a stylized wedding, in which all the elements, including accessories and other small details, should be clearly thought out and correspond to one theme. In addition, do not forget that the photographer will definitely want to capture the whole wedding ceremony. And, of course, it will be more pleasant to look at wedding photos, where you can see what beautiful jewelry you have chosen for your wedding rings.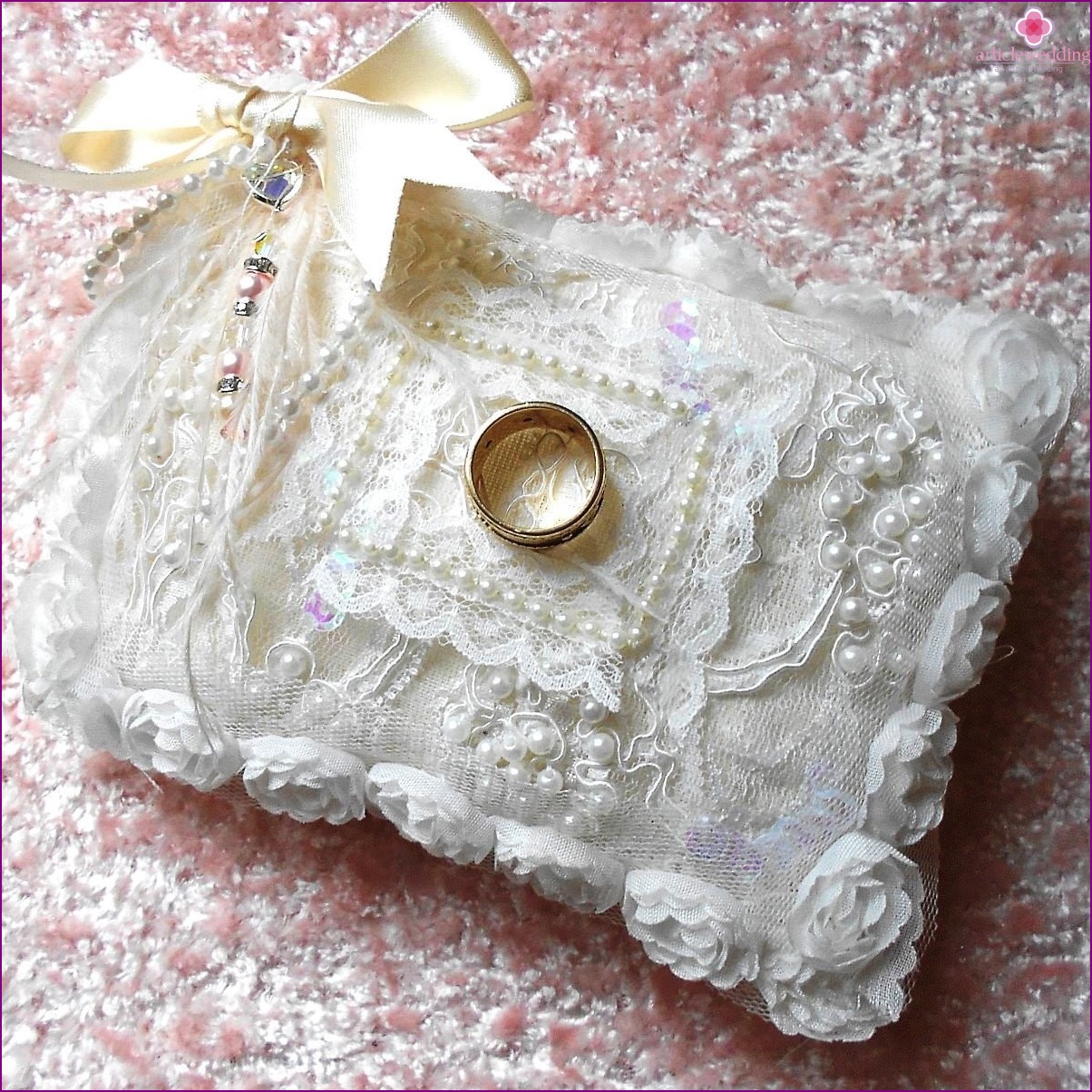 Diversity
The choice of this important accessory depends, first of all, on your taste, desire and imagination. Someone will pay attention to simpler options, and someone will approach this part with all responsibility, want to show creativity, and maybe even make it with their own hands.
In general, the variety of pads for wedding rings knows no bounds. After all, even if you have not found a suitable option, then, of course, they will be able to translate your idea into reality and make the necessary accessory manually.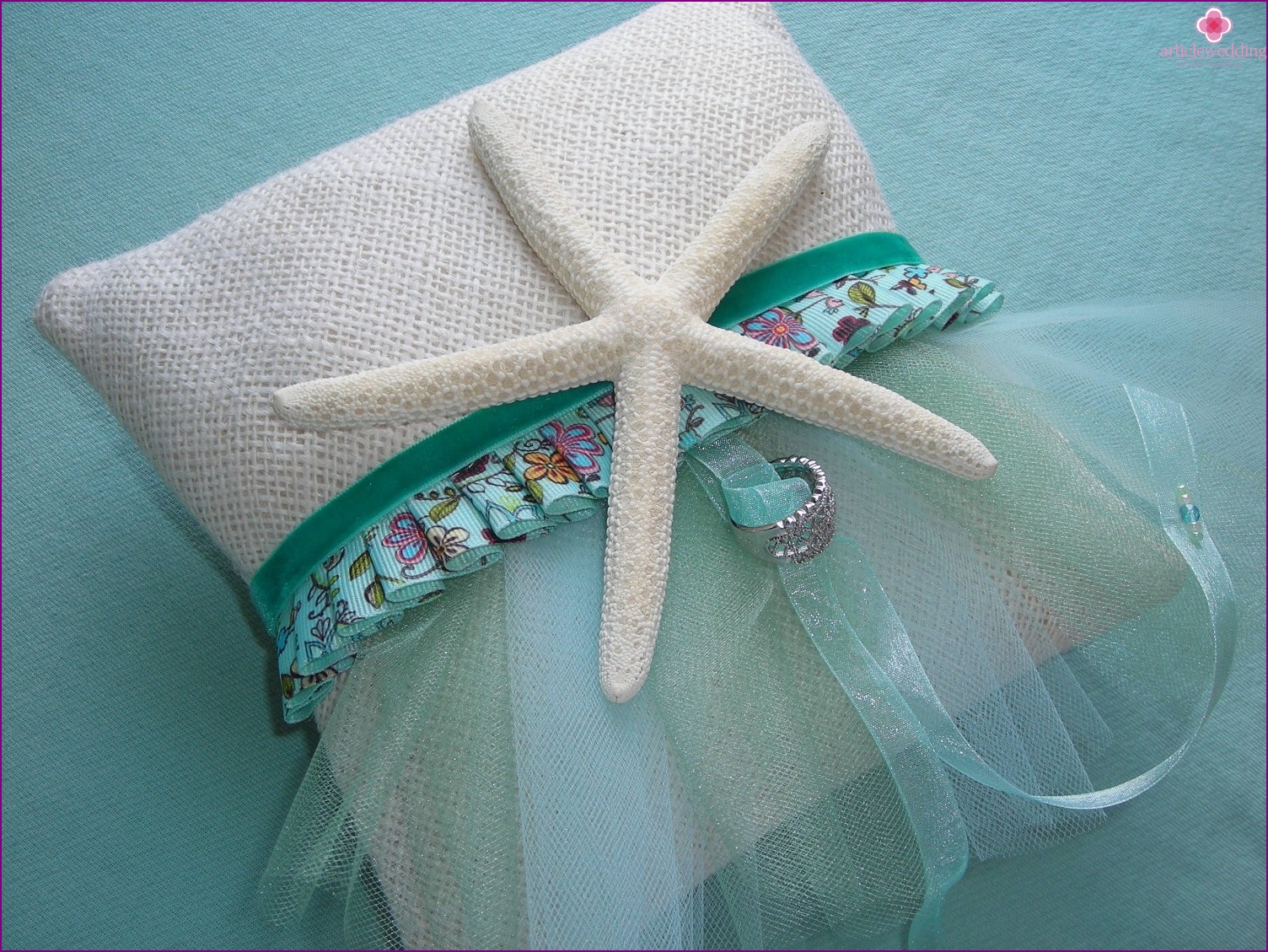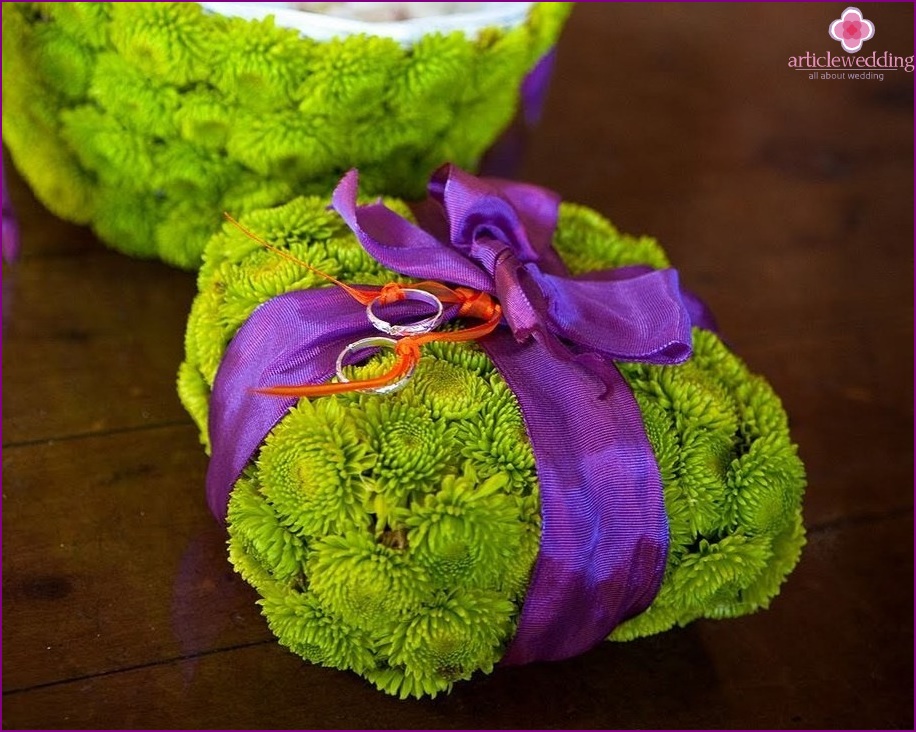 What is the difference between pads for wedding rings?
This much-needed wedding element has four main criteria: shape, color, its decoration and the method of fastening the rings. The site www.articlewedding.com offers to consider each of them..
The form
There are pillows of a traditional form, that is, square and round, and there are more symbolic options - in the shape of a heart. But if you want something special, then the masters can easily fulfill your most unusual and non-standard desire, be it an accessory in the form of a flower or, for example, an apple.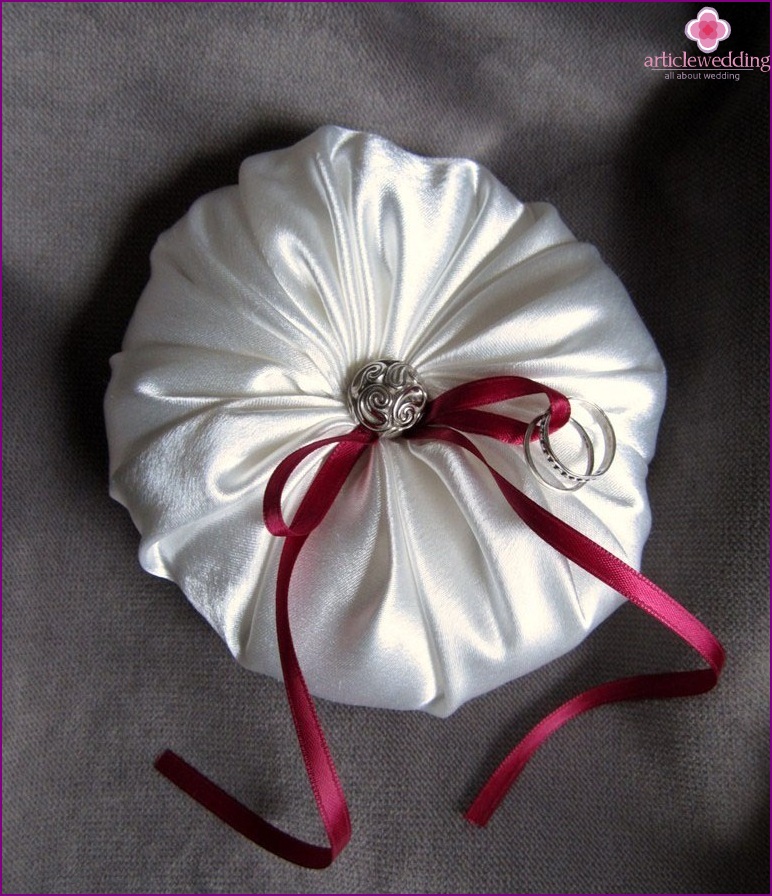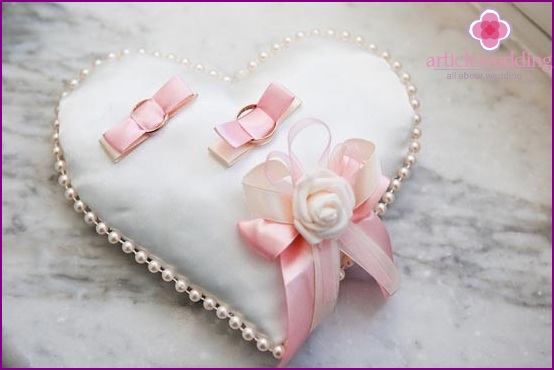 Color spectrum
Most often, in the manufacture of this small part, white and pastel colors are used. However, it really all depends on the color scheme of your wedding celebration. If the holiday decor is designed in blue or green, then, accordingly, the pillow for wedding rings should be the same.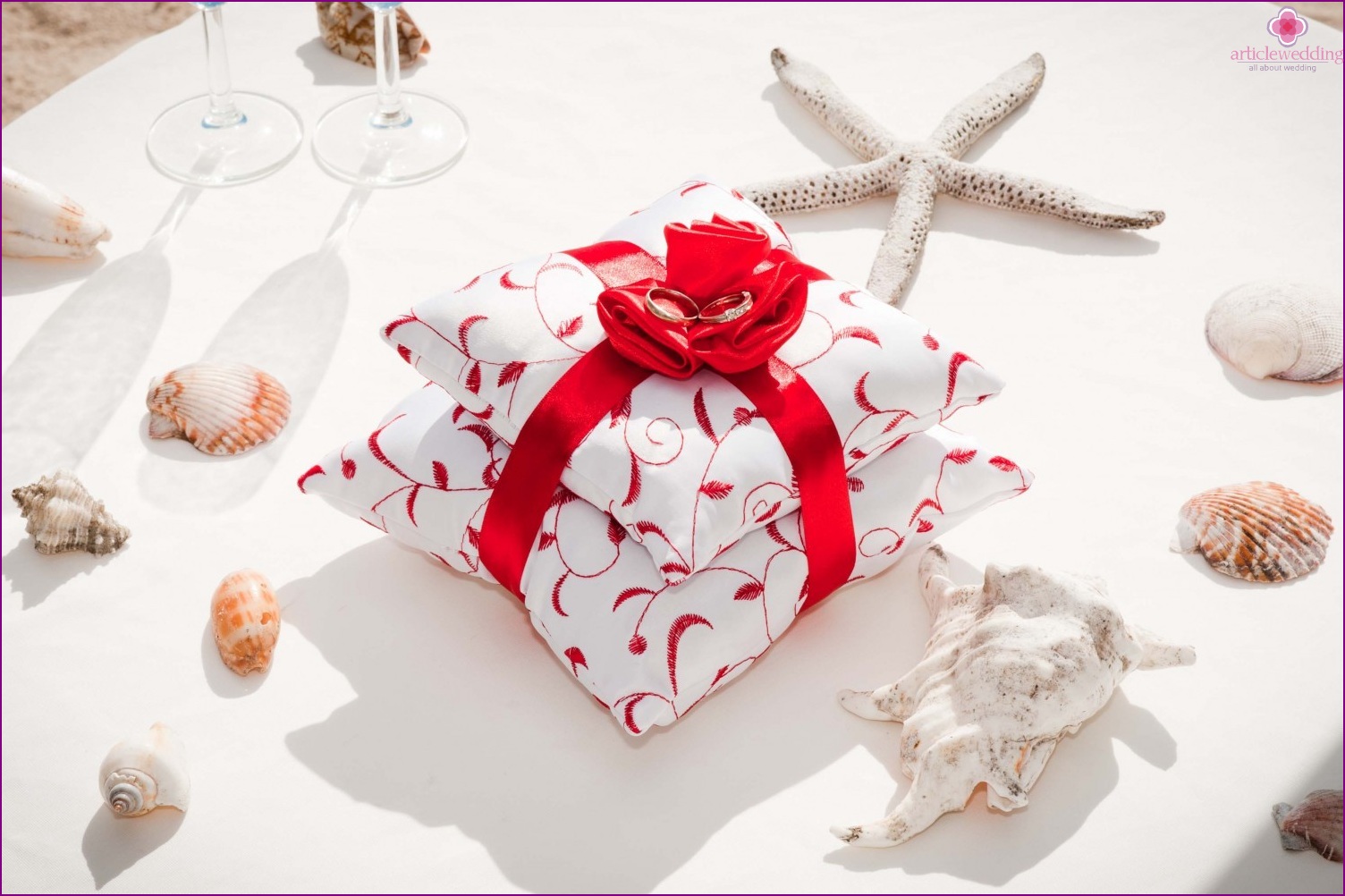 Dressing
The accessory itself is made from delicate fabrics such as satin, silk or velor. And then its decoration begins. A variety of materials are used for this, but the most popular are ribbons, lace, beads, rhinestones, pearls and floral elements. Also on the pillow you can embroider the initials of the newlyweds. The result is a very cute accessory on which your wedding rings will look stylish and spectacular.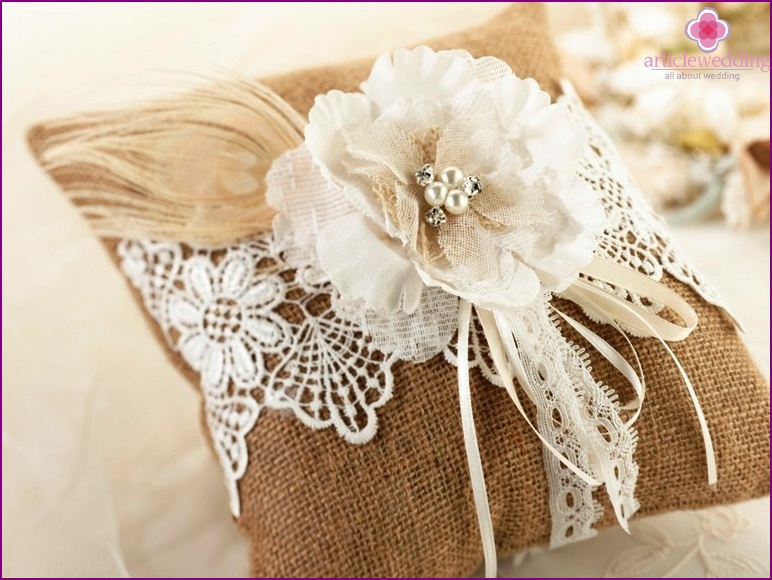 Mounting Method for Rings
This nuance is one of the most important in the manufacture of the accessory, because no one wants the rings to fall at the wedding ceremony or it was inconvenient to take them. There are a lot of mounting options: a simple recess for the rings in the middle of the accessory, bows, buttons, safety pins and ribbons.
However, the most reliable mount will be a bow. During the wedding ceremony you just need to pull the ring and it will be in your hands.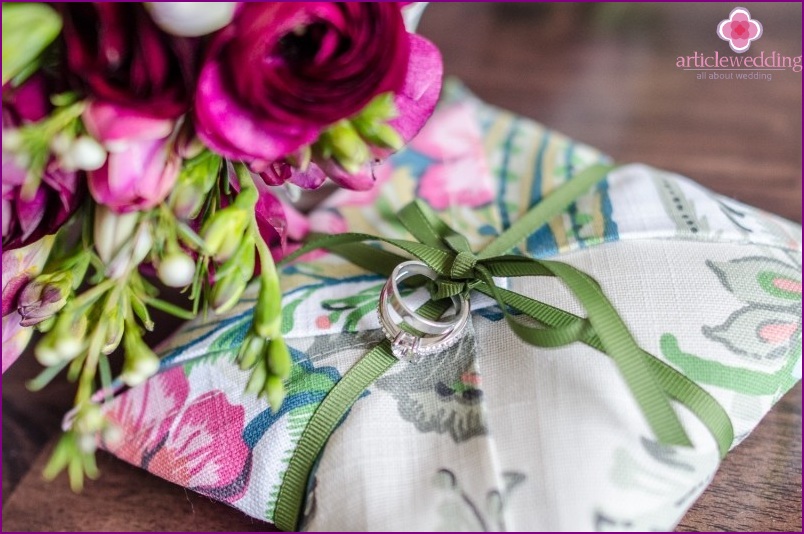 It must be remembered that all these four criteria, from the form and ending with the method of fastening the rings, must be taken into account in accordance with the style of your wedding. After all, such solemn wedding accessories should be thought out to the smallest detail. Therefore, never be afraid to show your individuality, even when choosing, it would seem, such a small detail. Only on your desire and imagination depends on how original the pillow for wedding rings will be on a solemn wedding.