Contents
---
---
A beautiful, touching tradition, formed over the centuries, is still alive in our turbulent time. At each wedding, the young are provided with an entire dance hall for their first dance. How do you want them to remember this dance forever! And not only them! The beautiful first dance of the newlyweds takes the soul of all the guests present. It is important to express all your feelings in it, to show how the newlyweds love each other. A look, a whisper, a handshake, a gentle kiss – everything is appropriate here.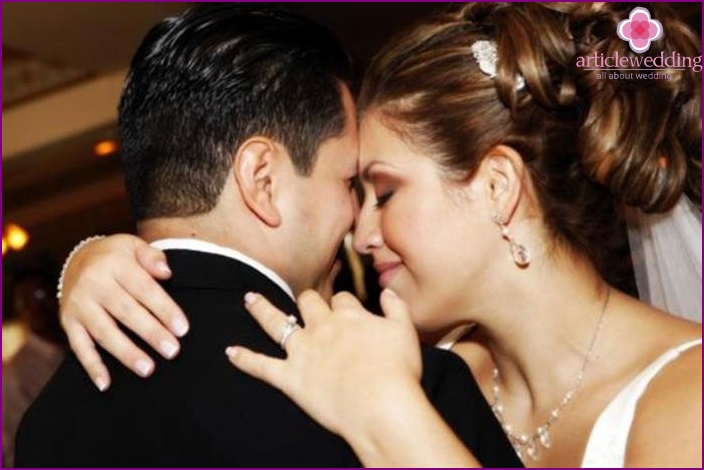 The choice of the first dance of the newlyweds
The newlyweds must decide what kind of melody they want and can dance their first marriage dance: the composition needs to be well rehearsed, because it should look beautiful, solemn. Traditionally, a waltz is chosen for such an occasion, but if the groom and the bride do not know how to waltz or have no time to study, then they can choose any other dance of their choice. It is important that both partners know how to dance well, then the couple will look harmonious.
Waltz
Old as the world, but so always fresh, desirable, romantic, lovely waltz! Most couples choose this option as their first solemn dance for the newlyweds. It's not difficult to pick music to him, it can be a classic or modern processing of old tunes loved by all.
A waltz performed by a young or mature couple will look beautiful if the elements of the dance are performed correctly. The slow rhythmic whirling of the bride and groom makes the whole room hold their breath and keep their eyes on the beautiful couple.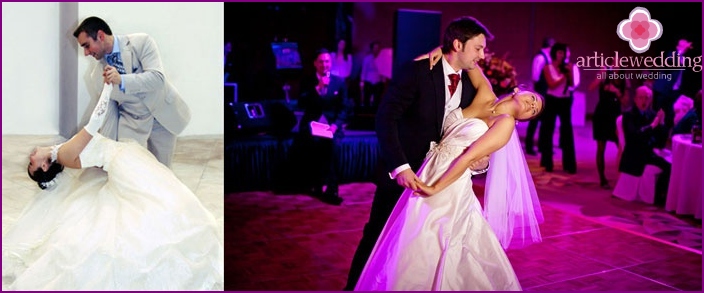 But for everything to look original, you will have to take a few lessons from the choreographer. The result will be amazing..
Tango
This dance is suitable for couples who do not hesitate to express their feelings in public. Tango is called a dance of love, passion, it is very important to show your passion so that others feel it, ignite everyone around. This is not just a dance – this is a small performance, the couple act as actors. Here you need to forget about your complexes, become liberated, even doubly, then your feelings will overwhelm the whole hall.

Latin dancing
Choosing this dance is worth the pair to which it is temperamental, then the newlyweds will look organic in it. If they do not have proper choreographic training for a Latin-style dance, we strongly recommend taking a few lessons from a specialist. Latin American dances – it is a firework of emotions, unlimited expression, passion. The movements are so extraordinary that it's not so easy to learn, but with proper preparation you will show what the banquet hall will love.

Music for the first dance
The newlyweds must agree among themselves which musical style they will use for the first wedding dance. It is better if the music is special for them, besides, it is important that the melody is associated with some pleasant events in life, both spouses must like.
Among contemporary Russian popular songs, the most suitable are:
«A fairy tale in my life» Vladimir Kuzmin,
«Kitten» Alexandra Malinina,
«On sky» Taisiya Povaliy,
«I love you to tears» Alexandra Serova.
Of foreign songs, Ten Sharp are considered interesting. « You», Aerosmith «I don't Want To Miss A Thing», Mandy moore «It's gonna be love».
An unforgettable classic will be one of the best solutions: the fascinating melody of P.I. Tchaikovsky «Waltz of the Flowers», F. Chopin «Spring Waltz», G. Sviridova «Blizzard» – best examples of this. Such musical accompaniment can affect the most hidden strings of the soul, convey a trembling, secret feeling.
Beautiful staging of the first dance
The first wedding dance of the young sets the tone for the upcoming party. The guests carefully monitor how the newlyweds move, how carefully and carefully the bridegroom leads the bride, how easily the bride flutters, whether their eyes glow with happiness. There is a mini-rehearsal of the upcoming relationship between husband and wife, the young people pass a kind of compatibility test. There is a belief: how beautiful and correctly the first dance is set, this young family will be so friendly, strong.
Dance lessons with a choreographer
If you want to impress guests with a non-trivial and sophisticated first dance, then you just need to think about the preparation in advance. If the newlyweds do not have dancing experience, we recommend taking dance lessons from a choreographer who will help you choose a certain individual style and a suitable melody for the first magic dance of the newlyweds, will engage in the production of a sensual, sincere number.
You need to seek help from a teacher about a month and a half before the wedding, so that there is enough time to learn the movements. To create an interesting number you will need a minimum of 5-6 lessons, you also need to train hard at home. Listening to the advice of the teacher, you will feel a cut above. Choreography lessons – an exciting lesson, and it is possible that after preparing the wedding number you will come to the studio more than once to plunge into the magical world of dance.
Independently
If you have at least some dancing experience, as well as in the absence of a dance studio in your city, you can take the risk of staging your first wedding dance yourself. There are a number of advantages. A professional trainer needs to pay, and you yourself can rehearse for free, right at home, with free time. Customize your dance moves to your liking..
The Internet will be a good helper, adviser for self-directed dance, use its resources. There you will find a dance tune, as well as available video tutorials. Let the selected melody sound, and in the meantime, try to imagine what movements will be suitable. It is recommended to use the shoes that you plan to wear at the wedding at the rehearsal, the foot should get used to it.
Self-preparation of the dance will help to avoid high costs, but it will require more time than working with a choreographer, in addition, this method may not be effective. Therefore, consider everything «behind» and «against», correctly evaluate your strengths and capabilities, so that after many years it would not be embarrassing to show your children and grandchildren how you once danced.
How to announce the first dance
After «first table», teeming with toasts for the love and happiness of young people, the host solemnly announces the first dance, after which he asks parents, relatives and relatives to support the newlyweds – stand in a circle and create a kind of charm around them.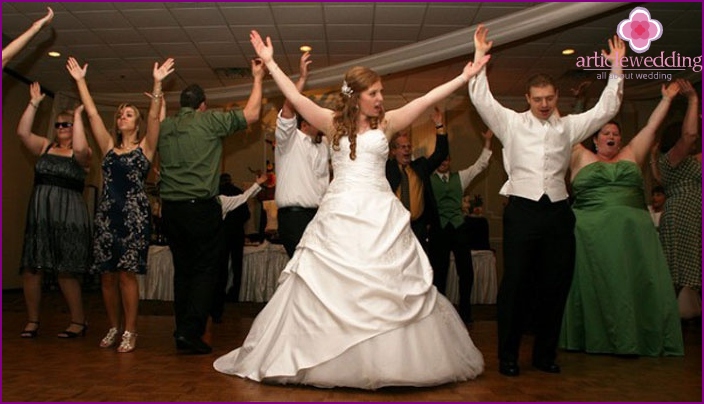 While the young people are dancing, the guests watch the dance and applause help them, because this is how the support of a huge friendly family is felt. After the dance from the mouth of the host sounds: «Bitterly young!».
Wedding dance lesson
First wedding dance – sensual, sincere, elegant – will leave a mark in your soul for the rest of your life. After many more decades, you will get a wedding disc to enjoy this wonderful moment..
Do you have your own ideas for staging a touching dance of the newlyweds? Share them in the comments with other readers, they will be interested!