Contents
---
---
If the bride wears a dress sewn by the craftsmen on the wedding day, it is impossible to look away from her. Such an outfit will cost a lot, but marriage, especially the first in life, plays an important role for each of us. Therefore, girls for the upcoming event should order themselves handmade chic wedding dresses. Before going to the studio, you must clearly determine how you want to see your wedding attire. An experienced craftswoman will tell you which fabric, jewelry, other constituent elements are better to choose.
The benefits of a handmade wedding dress
Any girl wants to look charming and have a unique wedding dress. Brides are increasingly choosing manual work, ordering sewing attire in the studio. This is due to several advantages:
The ability to choose the colors that will be combined in a wedding suit. The style can also be invented by the bride and groom.
The size of a handmade wedding dress will ideally fit your figure, taking into account its features. This ensures maximum comfort on your wedding day..
The presence on the wedding dress of decorative elements handmade. Beadwork, inlaid with stones or rhinestones - all this will have no analogues, as it is done by the designer with his own hand.
Individual cut to fit the shape
If your financial situation allows, it is better to order a wedding dress in the studio. So you get an outfit that fully takes into account the nuances of your figure. High-quality tailoring is less troublesome and more productive than numerous trips to bridal salons. You will not need to try on an immense number of standard models of wedding dresses in which every second bride dresses. Those who have already gone through this are sure that there is no better option than sewing an exclusive outfit.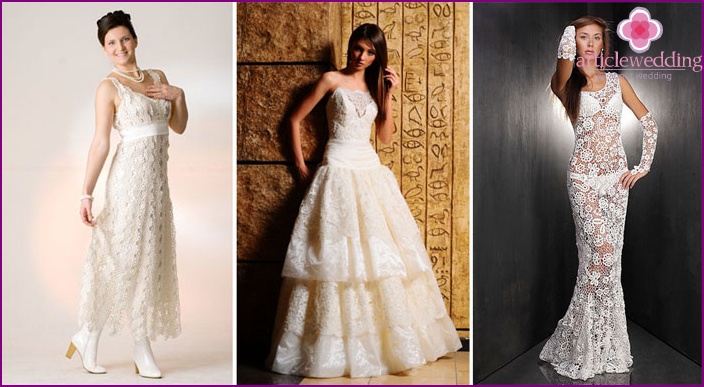 Ability to create an exclusive outfit
Handmade wedding attire has significant advantages: it will be one of a kind and will fit perfectly. The disadvantages include the high cost and lengthy sewing process. Young people will need to contact the studio in advance, it is very difficult to calculate the time it takes to adjust the wedding suit. But the result is worth it - the bride will look unsurpassed on such an important day.
Unique decor on the bride's dress
Handmade wedding dresses can transform any girl. Many masters use lace patterns as decor, which look like inserts in the outfit or are sewn onto it. Often, fashion designers decorate the straps of a wedding dress. For this, rhinestones, stones, metal arms, chains, and other materials are used. Increasingly, handmade dresses have such an attribute as a belt. With it, masters strive to emphasize female forms, visually make the bride more slender.
Embroidery
At your request, beads or rhinestones can be sewn onto the bodice of the wedding dress. However, to create a more delicate, romantic image, you should focus on the option of hand embroidery. Some brides like floral patterns embroidered on the hem of the dress. Often this jewelry is made of white or light beige silk thread, then the ornament does not stand out sharply, but looks elegant and neat.
Lovers of bright colors should consider ordering hand embroidery on a wedding dress in contrasting large flowers. Such an outfit will look original and very beautiful. If you do not want to be in a standard wedding dress, why not choose such an exclusive costume? Embroidered flowers can be additionally decorated with pebbles of the same color as the threads.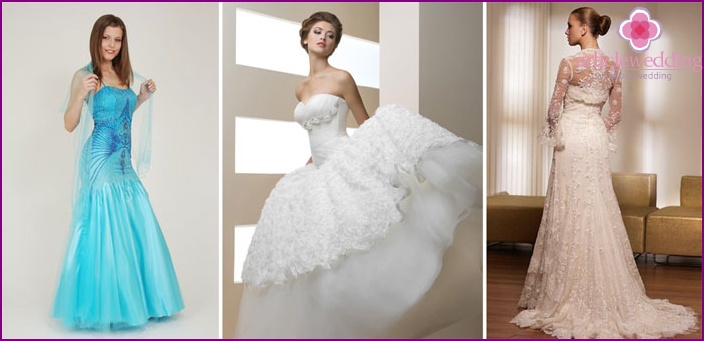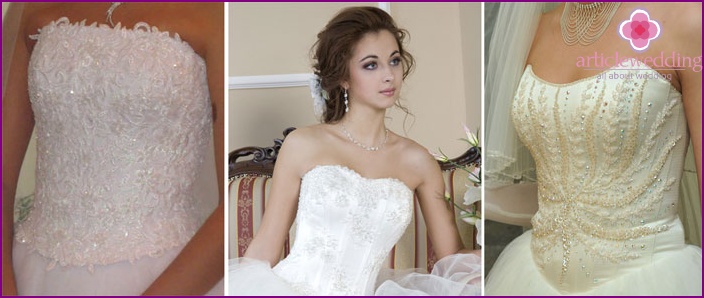 Inlay
Handmade outfits are often adorned with precious stones. Despite the fact that such decor affects the price of the dress, they look especially beautiful and respectable. So, the price of wedding attire will be justified. Choosing an inlaid outfit, brides understand that they are buying a thing made by a craftswoman with love. She will bring a lot of happiness and positive emotions..
The world famous Swarovski crystals are the most popular material for inlaying wedding dresses, handbags, shoes, hairpins, and other accessories. The expensive and sophisticated decor of the corset with these sparkling stones will emphasize the irresistibility of the bride and will enchant all guests gathered at the ceremony. No matter how much time has passed, and no matter how fashion has changed, rhinestones on formal dresses remain one of the main attributes of luxury.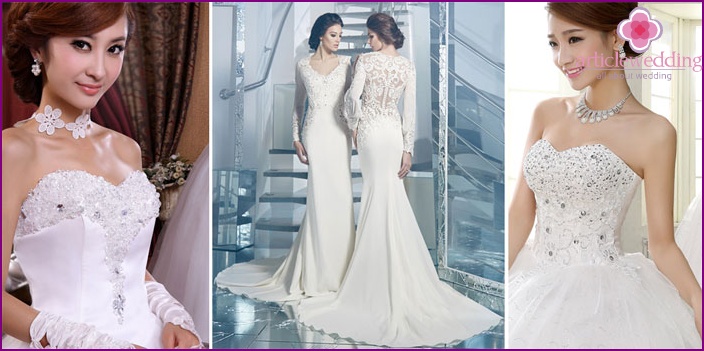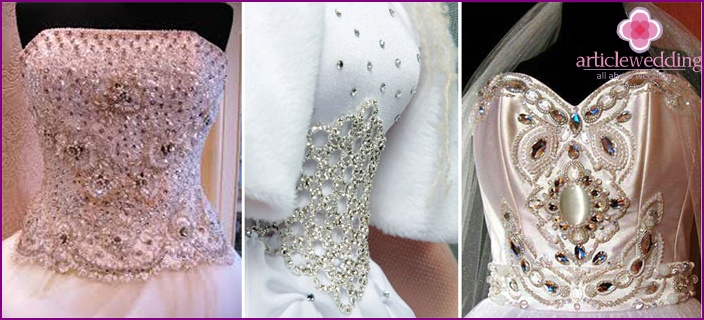 Natural flowers
Some girls preparing for marriage prefer to decorate their dress not with embroidery and stones, but with fresh flowers. This composition is attached to the bodice or hem. It looks charming and very natural. The only drawback of this decor is the fragility of the buds. By evening, they lose their freshness and beauty. Choose a variety of flowers that will retain its attractive appearance until the end of the celebration.
Lace patterns
Handmade lace models are very practical, because you can wear them after the ceremony. The color of the wedding attire does not have to be white; it is acceptable that it be pink, blue or beige. Such a formal attire will be appropriate for other holidays in the future. Lace makes the figure more voluminous, which means that ordering a dress of this type should only be done by slender brides. Curvy girls, if desired, can hire a craftsman who manually decorates the dress with small lace inserts.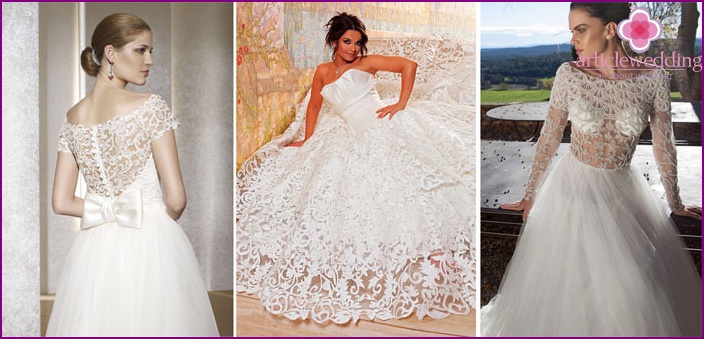 Where to order a handmade wedding dress?
In addition to beauty and convenience, some brides present another fundamental requirement for a wedding dress - it must be handmade. This outfit reflects the uniqueness of the girl, her character, and stands out among the usual models offered in stores. Purchasing a wedding dress looks simple, but in a large assortment of proposed dresses it is not difficult to get lost..
Not a single costume bought in the salon will give such a feeling of comfort, luxury and elegance as a handmade wedding robe made in an atelier or by a famous craftsman can give. The courage, originality and exquisite taste of some fashion designers will add a spice to the robe. Unmatched cut, intricate style, rich colors, expensive fabrics and exclusive jewelry - this combination will make your outfit unique.
Photo of handmade bridesmaid dresses
Making a choice can be extremely difficult, especially when it comes to a wedding dress. Each girl strives to look the most beautiful and unique on her wedding day. Therefore, more and more brides want to shine at a wedding celebration in a handmade outfit. With it, you can demonstrate your style and personality. Do not hold back your imagination, and the result will exceed all expectations.