Contents
---
---
The wedding is perhaps one of the most solemn events in the girl's life, so every bride wants to look like a real princess on this day. And to give a truly royal dress to any woman is able to wear a wedding dress, so among hundreds of thousands of proposals it is so important to find your cherished dress. This is not easy, because each girl has her own style, peculiarities of her figure, color preferences and, most importantly, her innermost desire to be the most charming and attractive in this dress. Therefore, when choosing an outfit, it is necessary to take into account a lot of nuances - the dress should be in shape, fit the silhouette beautifully, emphasize advantages and mask flaws. But the main thing is that she should be liked by the hero of the occasion, be comfortable and not restrain movement, because the bride will have to spend the whole day in this dress.
Fashion today offers millions of models of wedding dresses. However, to date, the main styles of dresses have developed. The website www.articlewedding.com has compiled a short guide to the styles of wedding dresses, which, perhaps, will help brides to decide and choose «his» dress for a significant day.
Ball gown
Ball Gown Wedding Dresses are the never-aging classics of the genre. This outfit refers to the Baroque and Rococo, the era of magnificent balls, palace intrigues and spectacular secular ladies. Mandatory details of such dresses are a corset bodice and a fluffy skirt of many layers.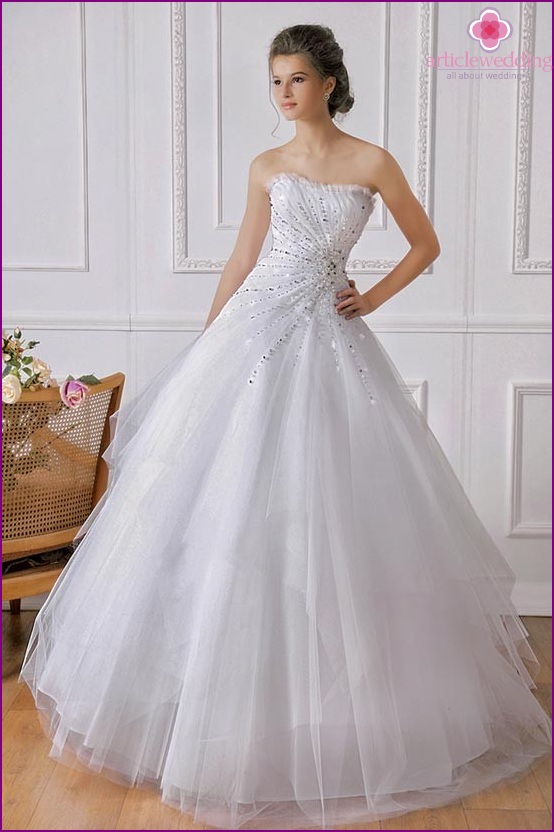 In this case, the skirt must necessarily begin at the waistline. The top of the dress is made of satin or taffeta and decorated with pearls, rhinestones or crystals. The skirt is sewn from the lightest fabrics - organza or tulle. Several layers of such airy, almost weightless fabrics create the effect of flying when walking. It should be borne in mind that ball gowns are best suited for girls of high and medium height. For miniature brides, such models are too bulky.
Style «carmen»
He is also called «mermaid» or «fish». Such dresses can be recognized by the tight-fitting top and flared skirt just above the knee, decorated with lush ruffles or foam of lace. As a result, the impression of a fish tail is created, and the bride herself resembles a beautiful mermaid.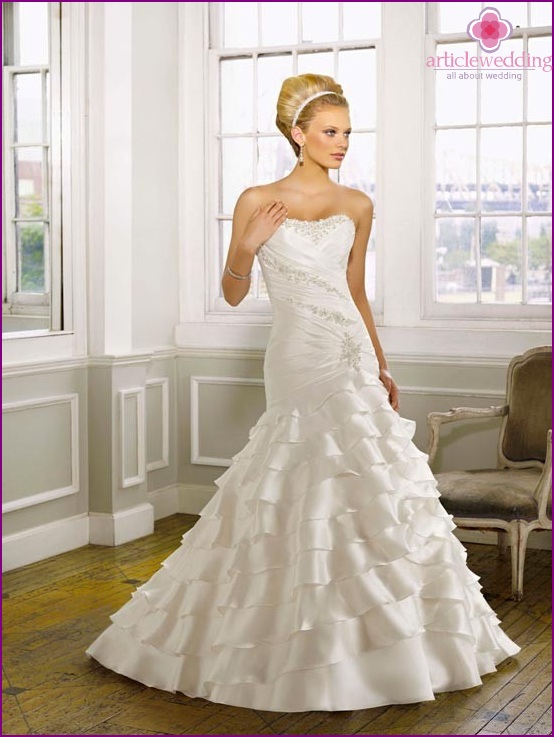 This style suits ladies with a good figure and decisive character. In a similar dress, the bride looks very sexy. Model «mermaids» with a skirt with a long train creates an incredibly passionate image of the Spanish woman, and the style itself was called «flamenco».
Greek style
A characteristic detail of such dresses is a high waist and a cascade of vertical folds. Greek-style wedding dresses are sewn of incredibly light fabrics and give a weightless airiness to the image of the bride. They are ideal for short fragile girls. Such a dress visually increases growth and gives a certain monumentality to the whole silhouette..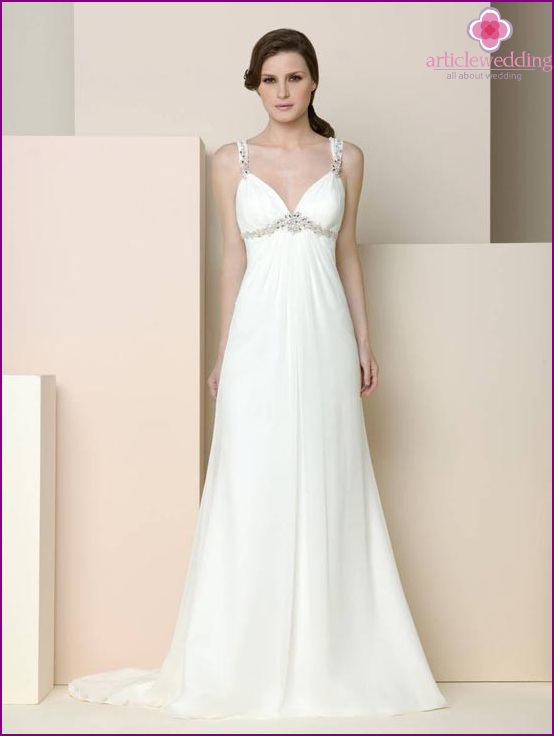 Romantic style
A rare girl will remain indifferent to romantic motifs in a wedding outfit. This dress with soft lines, flowing frills, ruffles, lace and frills. An obligatory element of the style is a tight-fitting top and a fluffy skirt. The style is ideal for young girls of high stature, because the silhouette is visually shortened due to the long skirt with many decorative elements.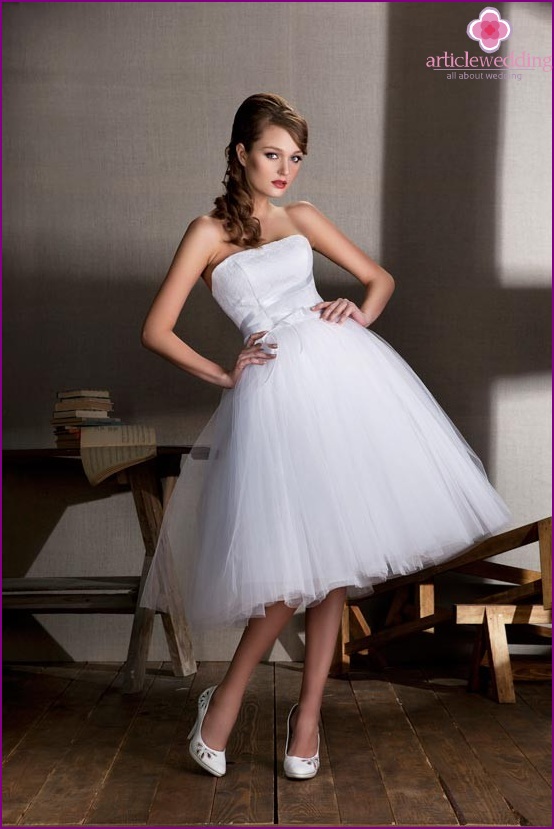 Style «Empire»
It is sometimes identified with the Greek style because of the high waist, which is characteristic of both styles. However, for dresses in style «Empire» a denser fabric is applied, and less drapery is used. The model looks solemn and majestic, like an antique column.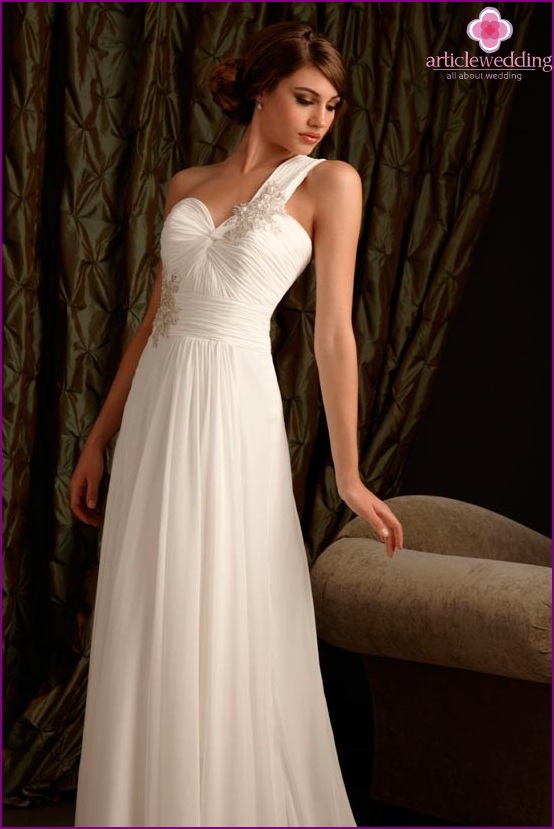 The minimalism of the design allows you to focus on the neckline with embroidery, jewelry, decoration or a deeper cutout, which distracts attention from the figure. This model is well suited for girls with full hips or other flaws in the figure. Also, thanks to the shape of the tunic, a dress in style «Empire» will look good on the bride «pregnant».
The portal www.articlewedding.com believes that all styles are good, however, when choosing a wedding dress, you should rely primarily on your taste and feelings. The bride should fall in love with the dress - almost like a future spouse - then the wedding day will surely bring her unforgettable moments of happiness.