Contents
---
---
Any wedding dress, regardless of length, is a unique outfit with a deep symbolic meaning..
Recently, during weddings, brides can see short wedding dresses. What is it: a new trend of wedding fashion or a desire to save?
In fact, the choice of a short wedding dress model has quite significant and reasonable reasons. Which ones, we will try to find out together with the Internet portal www.articlewedding.com.
Before proceeding with the analysis of the main advantages of such wedding dresses, it is worth noting that short wedding dresses came into fashion not so long ago, around the beginning of the 20th century - a period when the history of fashion radically changed with the most unexpected and extravagant ideas of famous designers such as Coco Chanel Dior et al.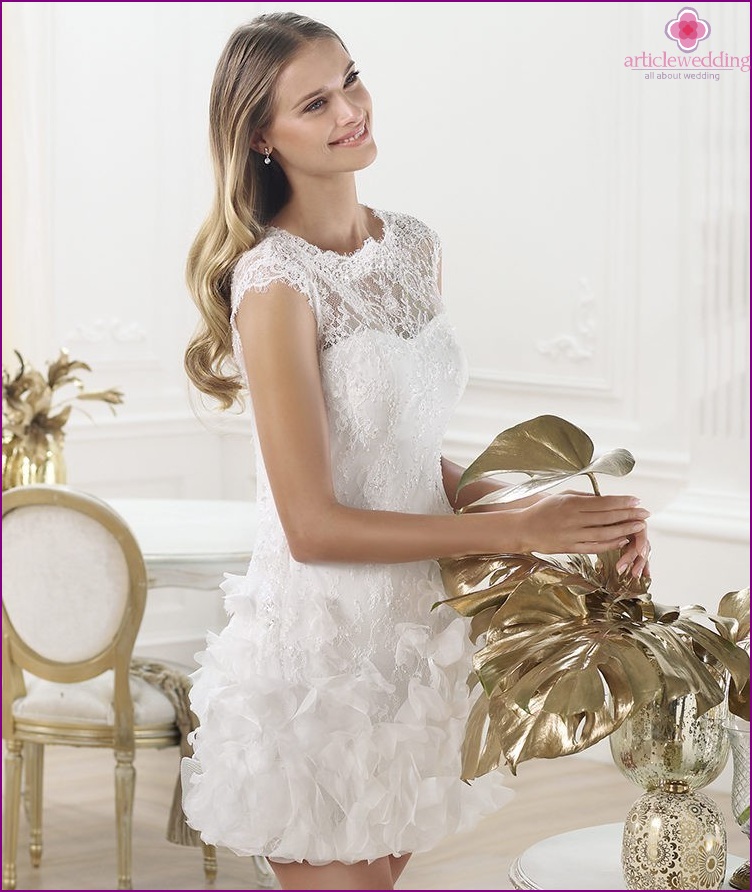 In a short time, mini-models of wedding dresses gained unprecedented popularity. Modern women of fashion also do not deny themselves the pleasure of appearing in front of the guests in a chic wedding mini that attracts the attention of the whole male.
To abandon the standard long dresses help a variety of variations of wedding dresses from modern designers. Exquisite models of shortened dresses are not only able to attract universal attention, but also emphasize the external virtues of women, tell others about the unusual taste, character and outlook on the world.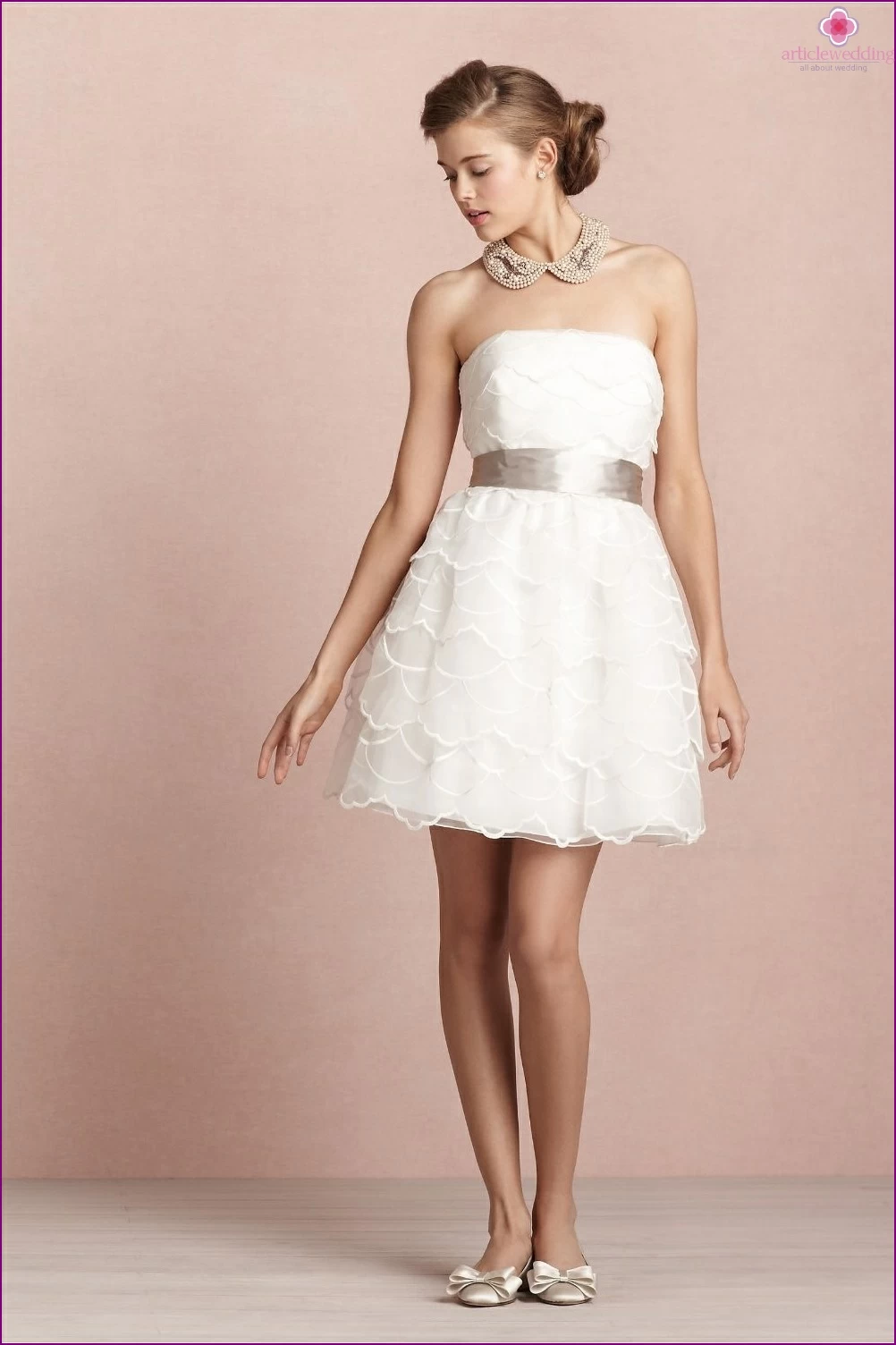 Who suits short wedding dresses?
Of course, in order to shine in a short wedding dress, you must correctly choose the appropriate model of the dress. A short dress is a universal option that looks great on women of short stature and owners of beautiful legs. Such a dress helps visually lengthen the already slender legs.
It is better to buy a short wedding dress for women and girls with a good figure. Such dress models will look good on women with wide shoulders and narrow hips, helping to balance the silhouette and make the figure more harmonious.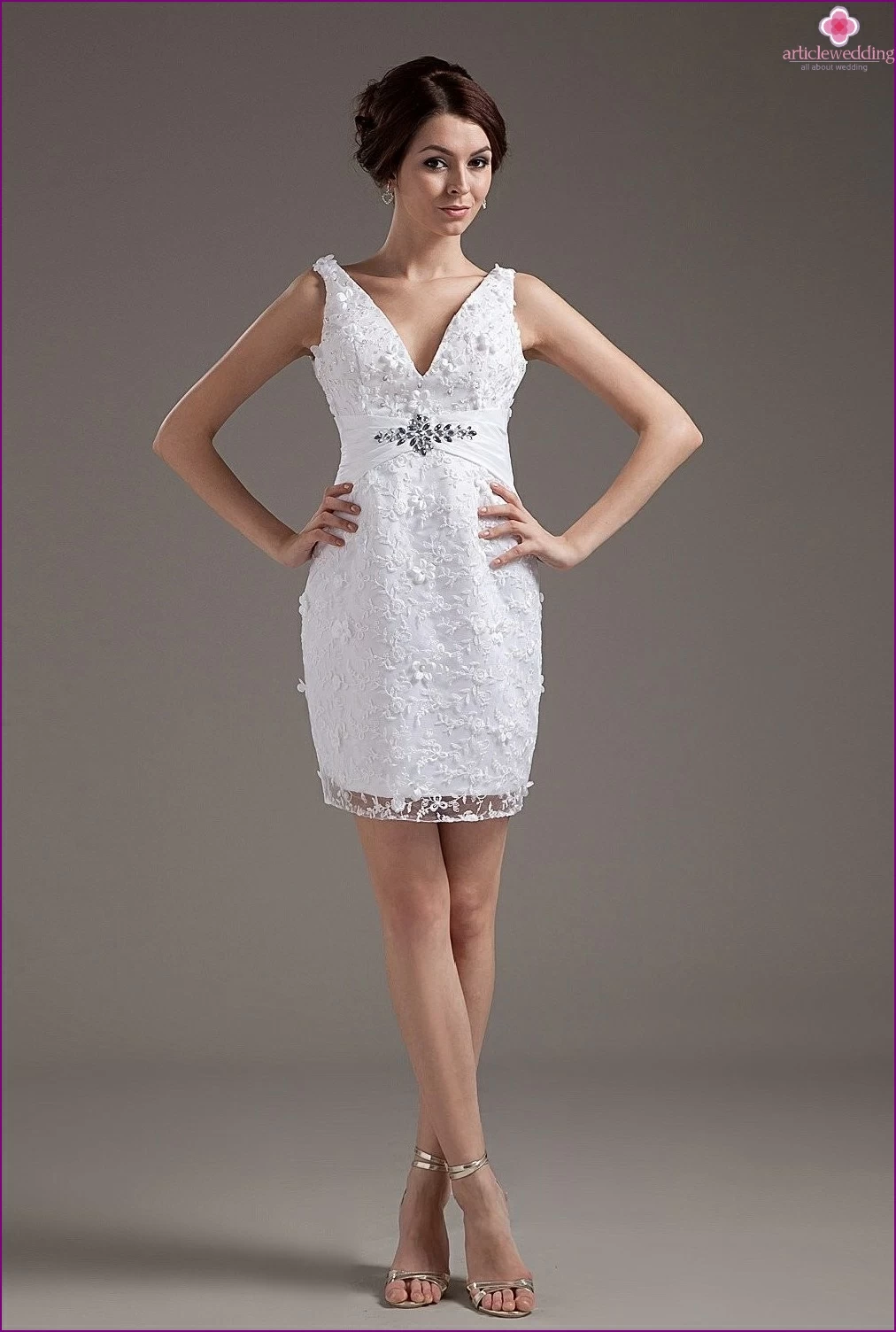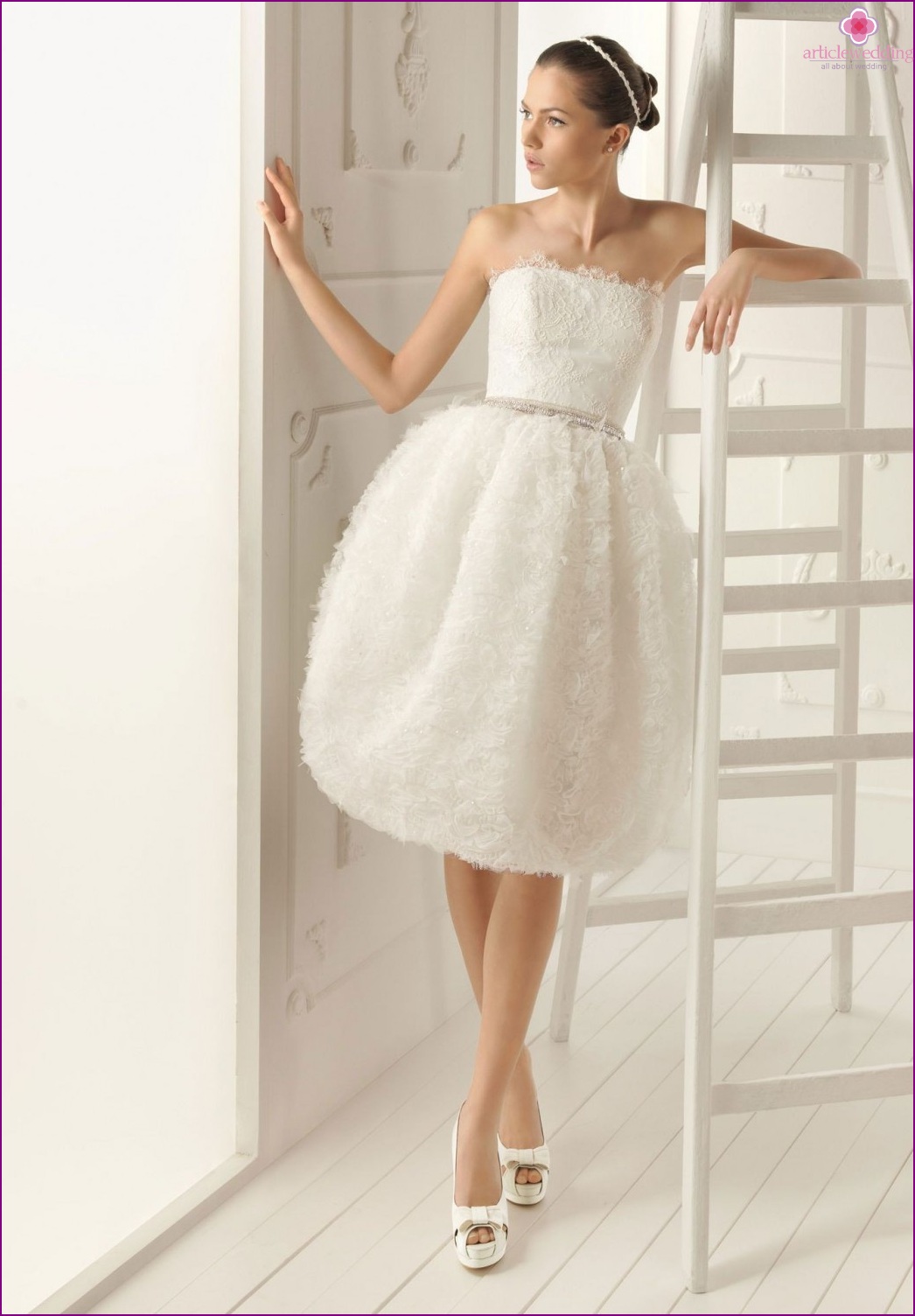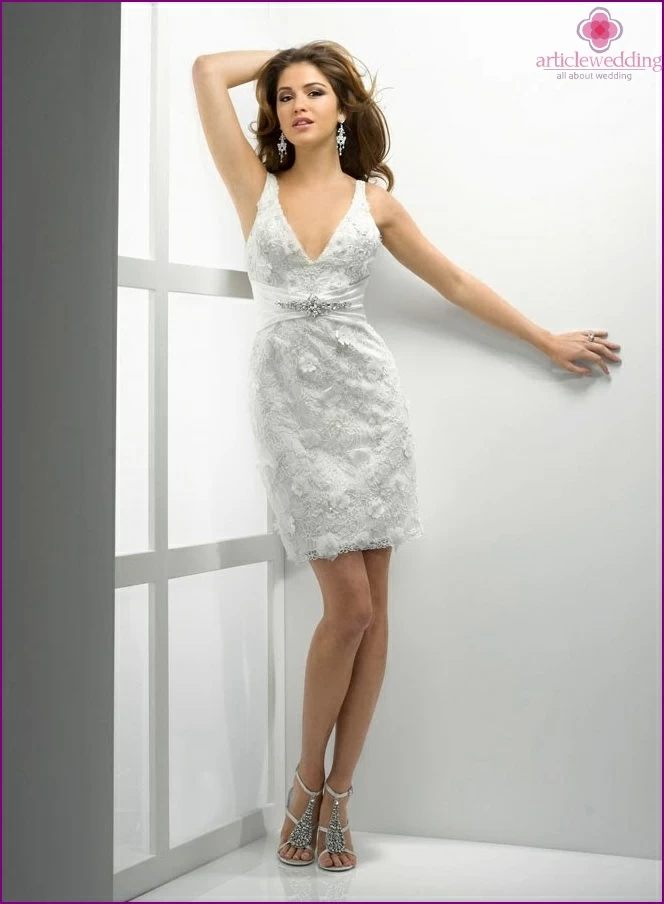 Properly selected short wedding dress makes the bride light, airy, bright and beautiful. The bride traces the features of charm and boundless charm!
Benefits of Short Wedding Dresses
Custom short wedding dresses look fashionable and unusual. In addition, such models of dresses are much more convenient and comfortable than long dresses. In a short dress it is easier to move around and dance, it usually does not restrict movement, and is almost weightless.
A short dress allows you to create any look. Unlike a long dress, a short dress is not so hot, especially if it's a summer wedding.
It is important that a short wedding dress is much smaller, which means that it is more convenient to store it than a long overall dress.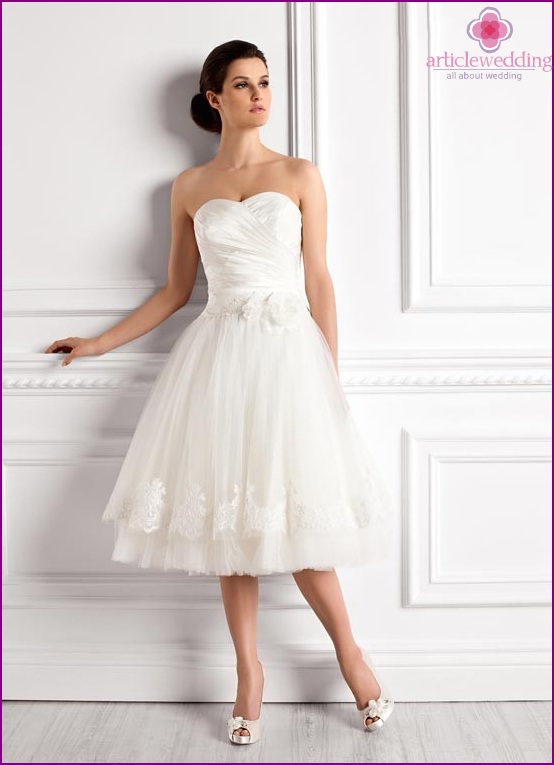 A short dress with a simpler cut can serve as an evening dress for other special occasions..
In addition to practicality, short dresses are affordable. Such an outfit requires less cost in decoration, materials, therefore, almost any bride can afford it.
The main styles and models of short wedding dresses
To the great happiness of most modern women of fashion, short dresses can be matched to almost any figure. The website www.articlewedding.com presents for your review the most popular models of short dresses.
Classic elegant sheath dress. This model dresses emphasizes the luxurious silhouette of the bride. Despite the fact that the dress is sewn according to the figure, it will suit the slender bride and the bride slightly inclined to fullness. A simple silhouette of the dress can be made from expensive fashionable fabrics, jewelry in the form of lace, beads, rhinestones.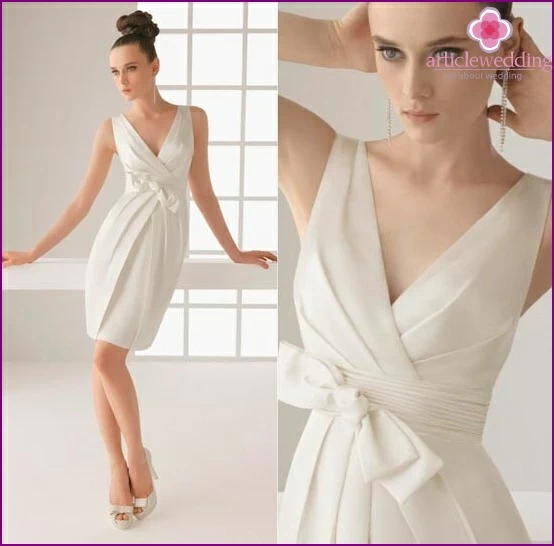 Dress strapless bustier. This style of dress accentuates the neckline. Beautiful folds at the waist of the dress will help hide the tummy, especially such a model is relevant for pregnant girls (in early pregnancy).
For the same purpose, a dress in the Empire style, featuring a high waist and an A-shaped skirt, is suitable. The hem of this model, as a rule, is sewn from flying flowing fabrics, which allows you to hide flaws in the hips.
Dress in the style of baby doll. This style of dress turns the bride into an elegant princess. Usually, such a dress is decorated with ribbons, ruffles, and other decorative elements..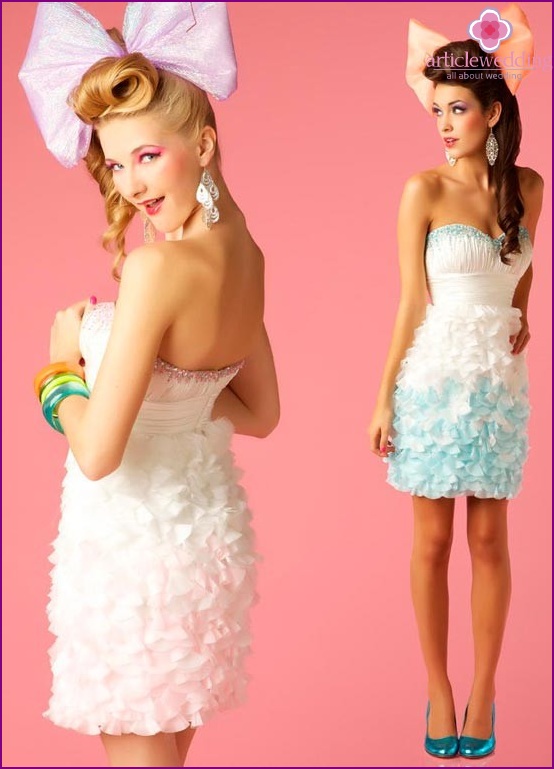 Allocate a special group of short dresses, which are distinguished by pomp and cut skirts. These include:
American skirt and tutu skirt, fit young slim people;
flared skirt - ideal for slim legs;
wide belt balloon skirt;
the bell-skirt sits tightly at the waist and slightly expands to the bottom;
tulip skirt emphasizes the image of restrained, romantic and feminine nature.
The skirts of elegant short wedding dresses may vary in length. Conventionally, they can be divided into:
mini-skirt, the length of which is 10-15 cm above the level of the knees;
a skirt of medium length, located at the level of the knees;
cocktail version, the length of the skirt is 3-6 cm below the knee level.
Great alternatives for wedding dresses that combine a short and long skirt are dresses with a train and dresses short in front and elongated in the back. These dress models are compromise solutions for those who cannot decide on the choice of skirt length. Although this is unusual outfits, but they are one of the most popular today and give brides a special style.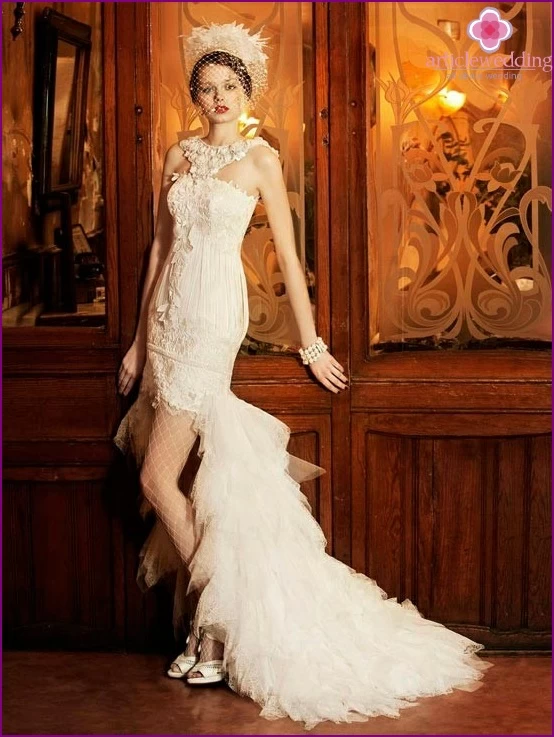 For happy persons who had the chance to celebrate a wedding on the seashore, designers have developed special models of wedding dresses - beach short dresses. Usually dresses for such purposes are sewn from light fabrics, for example, chiffon, organza, which allows the bride to feel comfortable during the heat.
The most daring lovers of chic allow themselves mini-dresses of any warm hue, except for classic white. Do not forget that for autumn-winter brides there are short dresses with sleeves of different lengths. The material of these dresses is dense and warm, so the bride will not freeze.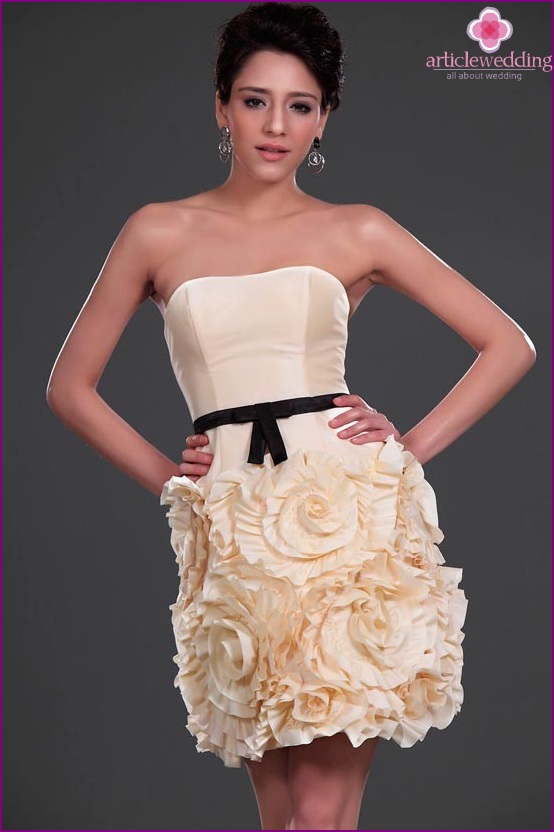 Accessories for a short wedding dress
A short dress is ideal if the main emphasis is on wedding accessories.
Particular attention is paid to the selection of shoes. A shortened version of the wedding dress, depending on the style, can be combined with classic heeled shoes, sandals, pumps, and even high boots. If the dress is not burdened with excess accessories, then decorative elements should be present on the shoe.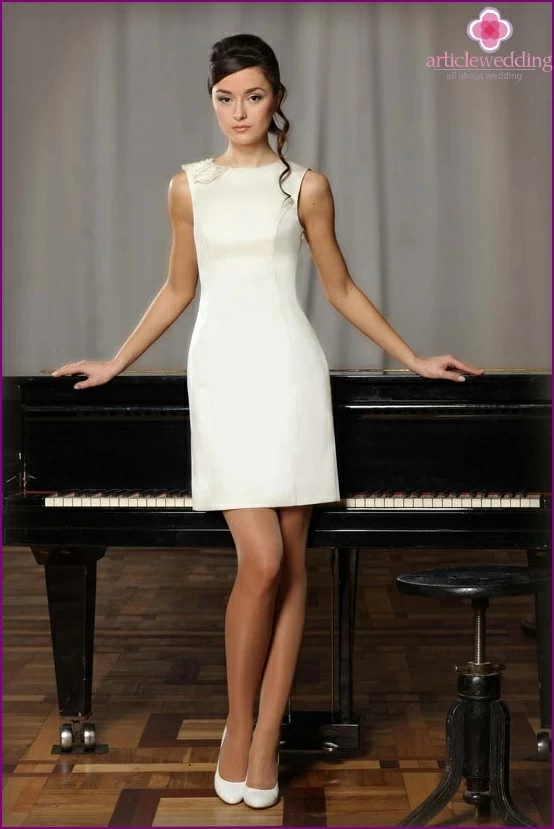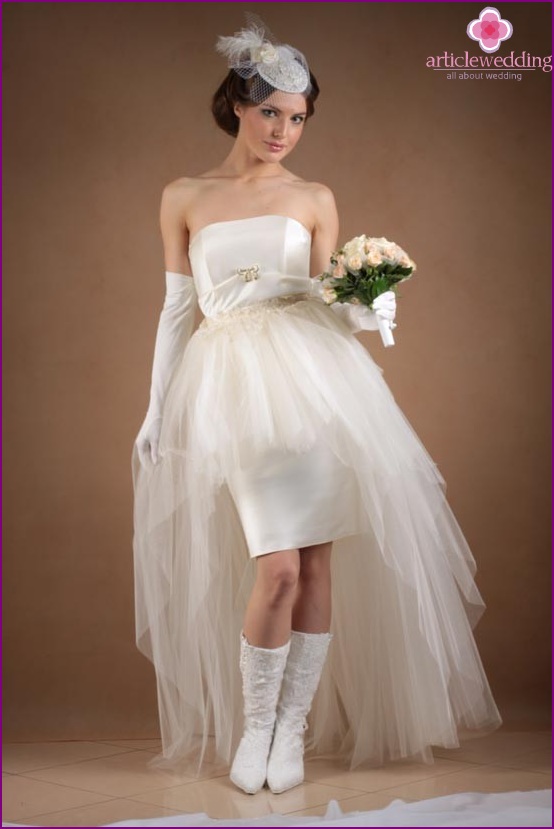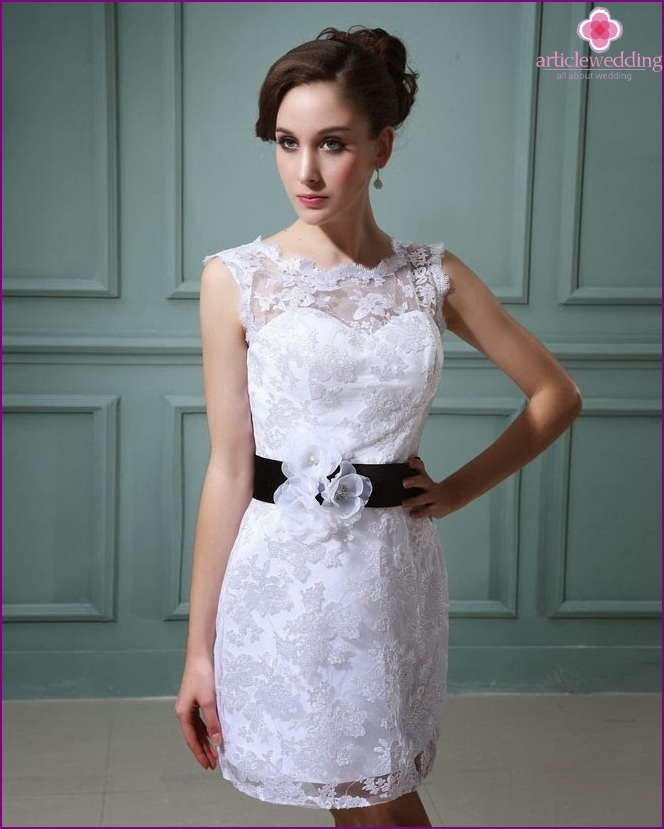 With a short wedding dress you can use gloves, a belt, a bolero, a small handbag.
Instead of a veil, you can add a cropped dress with a delicate scarf, and you can also use a bandage, bezel or fresh flowers.
A short wedding dress is no easier than a long, but rather an original outfit that deserves special attention!