Contents
---
---
The idea of ​​installing a photo zone for a wedding came to us from the West. It represents a sector, a corner in the territory of the celebration, where any guest can take a beautiful photo. To make this space harmonious, you should use the same textures, colors, elements that are used for the main decor of the ceremony. This rule is especially important to observe at thematic weddings. Photozone can be a real hit among guests, and interesting accessories will make unforgettable shots.
Where is better to place a photozone at a wedding?
Placing a photo zone at the wedding helps to solve several problems. Newlyweds and invitees can take excellent pictures. The question of originality is immediately decided, because a correctly designed wedding photo zone helps to obtain exclusive pictures. In addition, this corner in the territory of the ceremony becomes a decoration in itself, helps to avoid commonplace when shooting outdoors and entertain guests.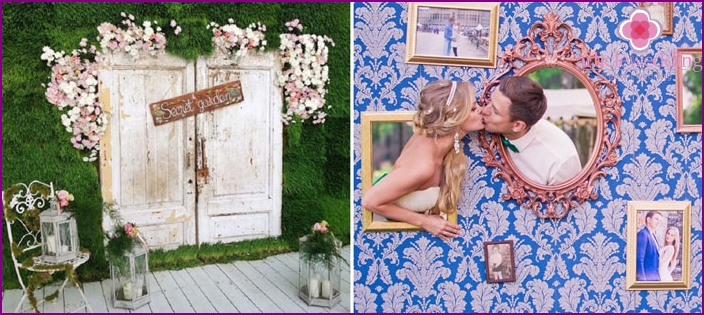 As a rule, it is better to place a photozone at a wedding away from the venue of the main fun. So she will not block the main actions, will not distract, but will give relaxation to those guests who feel a sense of constraint. The ideal place for a photo zone at a wedding is nature, where there is a forest, fresh air and natural greenery. If you can't get a place for the photo there, you can come up with a lot of other options. The main thing is to adhere to the following rules:
The place for the photo zone should be as convenient and comfortable as possible at the wedding. The minimum area is 2 sq.m.
The model and the photographer should not experience discomfort when moving in the space allotted for the photo shoot. This site should not interfere with guests' routes, block passages.
If the photo zone is framed separately from the room, cafe, restaurant where the banquet is held, then you should take care of the signs to notify the invitees about the presence of such a space.
Creative photo zone design ideas
Any wedding photo zone requires appropriate design. You can do without the help of a designer and do it yourself. Background is considered the most important accent in the photo zone: here you will find bright draperies, beautiful wallpapers, different designs, garlands, etc. Making a photozone for a wedding is the case when you can turn on creative, play a joke, and experiment. Add more accessories: crowns, hats, mustaches, balls, pillows, decals, frames - all come in handy. With such a variety, guests will certainly want to take funny pictures.
Do not forget to take into account the general orientation of the celebration, because this will help emphasize the style and put the necessary accents:
If the wedding is classic, then the photo zone is designed in the form of a wall with beautiful paintings, frames. Perfectly fits the corner with a sofa and imitation of a burning fireplace.
For a retro style, decorate the wedding photo zone with beads, sequins, fabrics of muted tones. Successfully fit an imitation of a retro car, printed or painted on cardboard.
For a nautical-style wedding, choose a photo zone with the image of a ship's cabin, sea, ship accessories such as a rescue boat, ropes, helm, captain's cap, fishing nets.
Celebrations of the style of shabby chic, rustic, which involve the use of pastel colors, natural materials, floral ornaments, antique objects with scuffs and cracks, are very popular..
For fabulous motifs, suits and figures of your favorite characters for a wedding in the photo zone are suitable.
In the form of vintage frames
Vintage frames with monograms are an excellent idea for decorating a photo zone for a wedding. You can organize a whole picture gallery or do just frames of different formats, but in any case, such a corner will look very interesting and unusual. Guests can hold frames, fooling around with them - as a result, photos with different emotions and moods will come out. The background should contrast with the frames, for which light shades are ideal.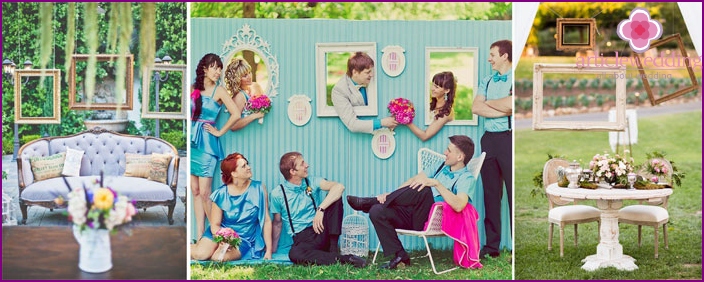 Mock-up layouts
Portable layouts with a comic design are an interesting and fun idea for a wedding photo zone. These can be figures of famous people, fairy-tale characters, the bride and groom, invented heroes, etc. In each layout, holes should be cut out for the faces. Such a props will give guests a great time to have fun, improvise fully at the wedding.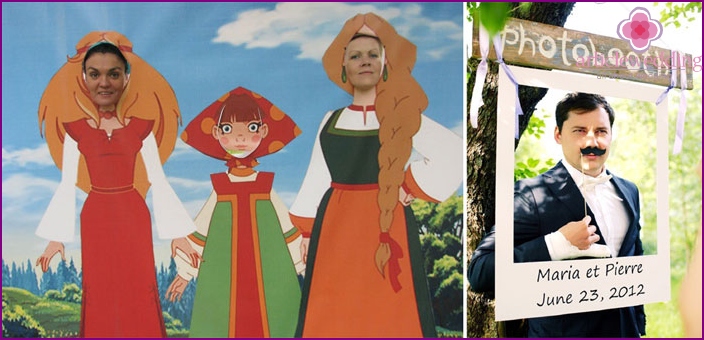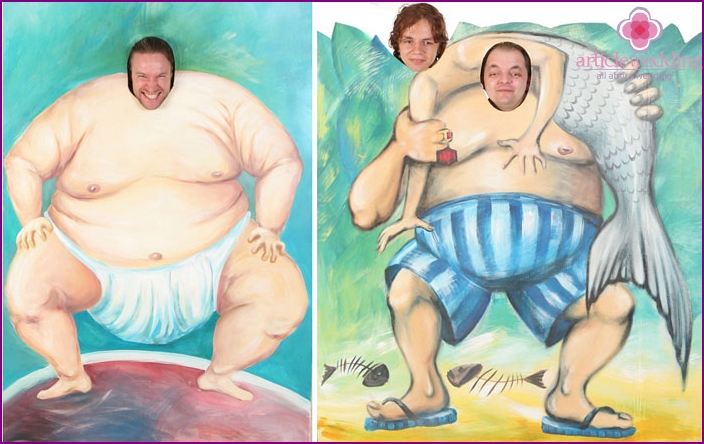 Decorative screens and curtains
An excellent backdrop for the wedding photo zone can serve as decorative curtains and screens made of various fabrics and materials. If you have nothing suitable in the bins, then look at the fabric store - there you will definitely find something interesting. Curtains and screens for weddings can be installed both outdoors and indoors, they can be plain, multi-colored, with patterns, various prints and drawings.

Bright background from ribbons of different textures
Ribbon decor is suitable for photo zones of any orientation. There are a lot of options for designing a photo zone using ribbons, but the simplest is to pull a rope onto which to tape ribbons of different textures. They can be several shades of the same color, three colors, or all colors of the rainbow. You can play not only with shades, but also with texture, using different patterns, matter. If there is a wind, then the ends of the tapes will need to be heavier. Such weights can become part of the concept of designing a photo zone - small photos, pompons, postcards, etc..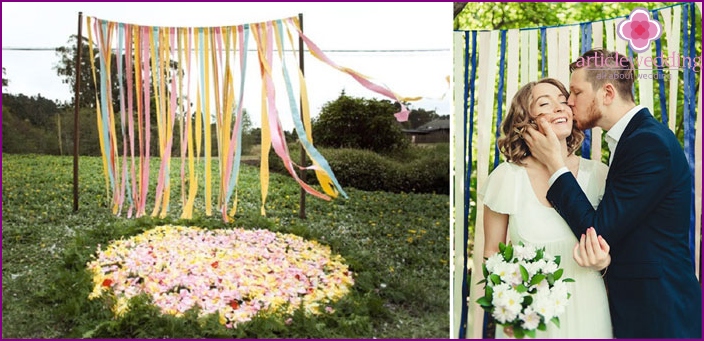 Large banner
A banner with a large inscription is an excellent thing for decorating a photo zone for a wedding. You can order and install it outdoors, in a restaurant, in any other place where the celebration will take place. This is an excellent way to make wedding photos memorable and interesting. You can do whatever you want, but in most cases such wedding banners have a romantic orientation.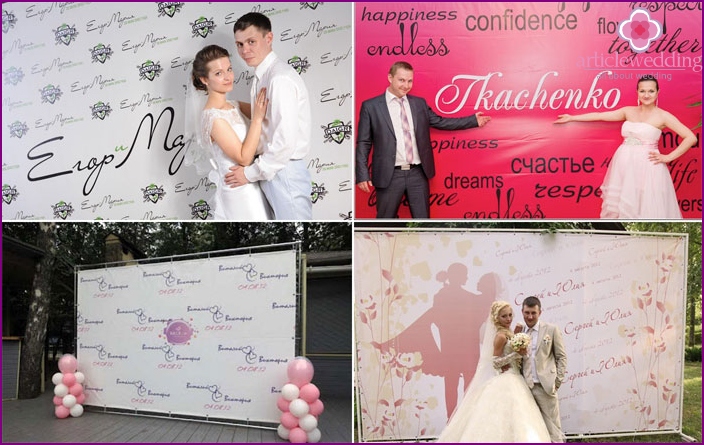 Interesting photography props
Such a wedding trend is very popular as the use of all kinds of props and accessories for photo shoots in the photo zone. It can be crowns, lips, mustaches, glasses, butterflies attached to a wand. Another relevant area is «speaking» wedding props such as garlands with inscriptions, volumetric wooden letters, cardboard flags, slate boards, paper clouds with the words.
For example, slate boards give a sea of ​​space for imagination, each guest taking pictures will be able to write wishes on them, draw a cartoon or a huge heart. To have more opportunities, it is worth stocking up a couple of packs of white and colored crayons. For a photo shoot, it's better to choose several different board formats, so pictures from the point of view of composition will be more interesting.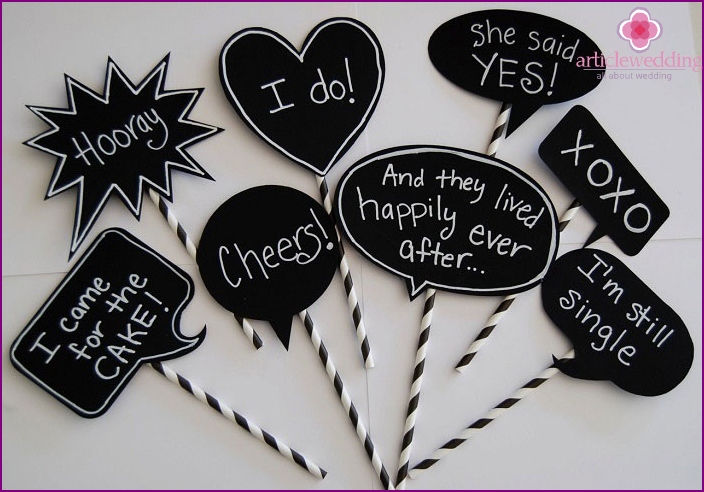 You can not limit guests to one type of accessories. Instead, offer a whole assortment for every wedding in the photo zone:
huge glasses, voluminous multi-colored wigs, sombrero;
ladies' wreaths, hats, fans, carnival masks, bows, wedding tiaras;
men's subjects for a wedding - tubes, pistols, captain's caps, flasks;
musical instruments - balalaikas, banduras, saxophone, guitar, harp, accordion;
wedding accessories - boas, umbrellas, suitcases, hats, feathers, glasses;
edible - coconuts, oranges, pumpkins, apples, grapes, watermelon, chili peppers, sunflowers, strawberries;
transport to the wedding - scooter, bicycle, rollers, motorcycles;
toys - sabers, guns, chess, voluminous soft toys, dolls;
items for entertainment at the wedding - an easel, newspapers, soap bubbles, fishing rods, candles, crayons, hammocks, books;
sports equipment - boxing gloves, helmets, hula-hoop, jump ropes, rope, tennis, balls, golf clubs.
How to make a photo wall of flowers with your own hands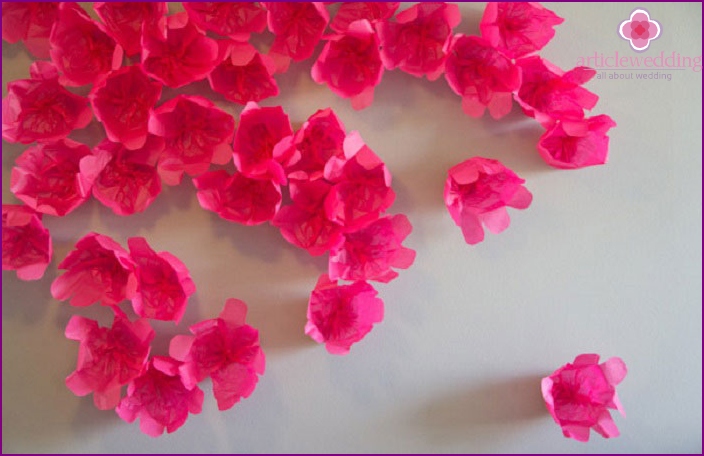 In this master class, we propose to make a special wall of artificial flowers for a wedding for the photo zone - it will serve as an excellent area for holiday photos. Remember that the more colors you make, the more colorful and brighter the photo wall will look. To create a floral background for the wedding you will need:
plain wall;
thin corrugated paper;
double-sided adhesive tape;
double-sided decorative tape;
scissors.
Step-by-step instruction:
We cut the paper into pieces measuring 50x25 cm. Fold it with an accordion, round one end.

We lay out the accordion, connect the ends with a double-sided tape.

We straighten the resulting flower. We make the necessary number of buds.
Fasten the flowers to the wall with double-sided decorative tape.
Photo examples of colorful wedding photo zones
Photozone is a layer of additional emotions, a place for interesting activities, ideas for photographs of newlyweds and guests invited to the wedding. The very presence of such a corner is an event that everyone will react to without exception. Fun and light sadness, glances, conversations - these are the components of the chronology of your ceremony, the prints in the memory of the newlyweds and guests that will be captured by the photographer at the wedding.