Contents
---
---
You know that your eyes are swollen from mascara or eye shadow, or that your lips are inflamed from lipstick, or that itchy skin feels from the foundation. In everyday life, you can do quite well without makeup, charming with natural beauty. But the wedding is a special day. I want to be not just beautiful, but the most beautiful. There is even a special type of preparation for the wedding - the bride's makeup. So what to do, risk your health for one day? Or…
Cosmetics: Pros and Cons
Allergy is not a sentence, but a responsibility. An allergy doesn't force you to walk «gray mouse». Consult with a doctor and a cosmetologist and choose exactly those products that will not cause an allergic reaction. However, it is not at all necessary to risk a crucial day and to experiment with yourself. Remember: cosmetics emphasize the inherent beauty of a woman, not create her. Even professional makeup does not replace charm, graceful manners and sparkle in the eyes..
Emphasis - Eyes
If an allergic reaction is caused by lipstick, foundation or powder, the website www.articlewedding.com recommends that you focus on the eyes when applying wedding makeup. The eyes are the mirror of the soul, they reflect the emotional experiences of the bride. Mascara, eyeliner or even false eyelashes will help to emphasize the beauty of the eyes. The color of the shadows should be carefully matched to the color of the eyes, dresses and veils. Do not forget about eyebrow correction. Lastly, bridal eye makeup should be expressive, but not flashy.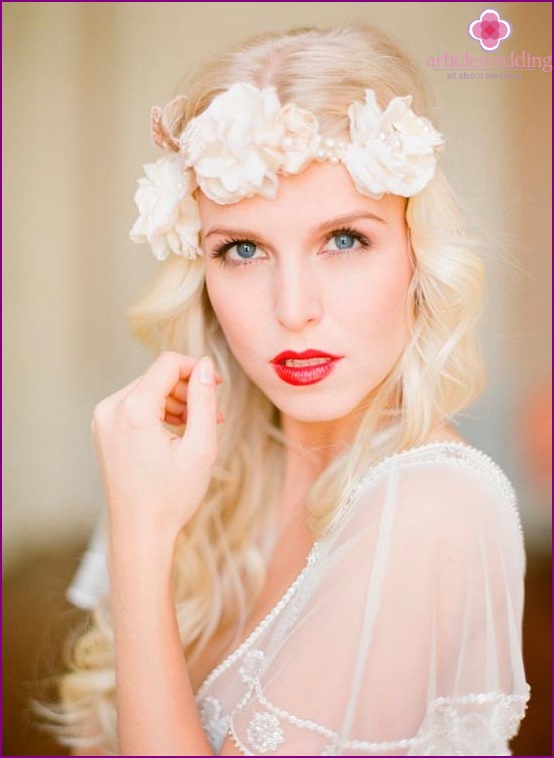 Accent - Lips
If an allergy provokes mascara or eye shadow, you can focus on the lips. Such makeup looks interesting if it organically complements the selected image. However, be careful not to let the accent become vulgar. Lipstick will emphasize the shape of the lips, add a bright color accent, make the lips seductive. Proper makeup of this type will add charm and confidence..
Accent - hairstyle, veil or decoration
At the same time, do not forget that expressive hairstyles or an unusual veil will help to distinguish the image. They will undoubtedly allow to emphasize the beauty of the bride without resorting to the services of a makeup artist. The wedding portal www.articlewedding.com believes this is a great option for brides who do not want to risk their health for one day.
Nature is the key to beauty
You can choose any dress you want, call the best hairdressers and makeup artists, but not achieve the desired effect. But the most beautiful woman is the one who is happy. If the bride seems to glow from the inside, then no one can resist her beauty.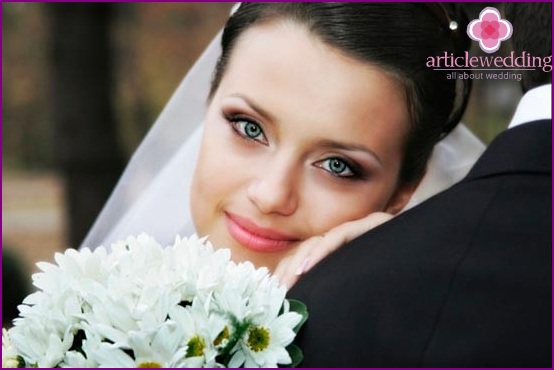 Caution and courtesy
Even if you are not allergic to cosmetics, do not experiment on the crucial day. No one can predict how the skin will react to the new foundation, powder, makeup remover, lip gloss and even shower gel. If you want to try a new tool, try to test it at least a week before the holiday. Caution will help to avoid a variety of «unpleasant surprises».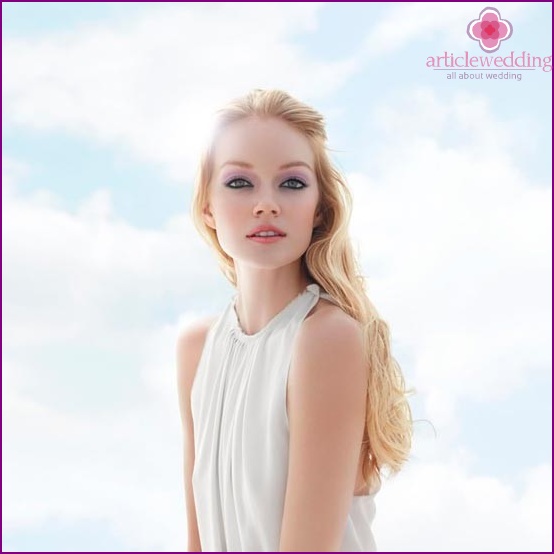 To risk or not to risk is up to you. However, be careful what you apply to your face. Keep in mind that there are many ways to beauty, but happiness and love make the most beautiful woman.