Contents
---
---
Someone still believes that yellow is a symbol of separation. Down with prejudice, because the bright flowers of yellow hues are like sunlight. A positive attitude to plants of this shade will bring good luck. Many countries believe that this color brings good luck and well-being, so necessary for a newly created young family. Modern couples are increasingly choosing colored weddings, instead of traditional weddings, so you can't do without bright compositions, including yellow ones. If your celebration is planned in the near future, consider the options for yellow wedding bouquets..
Yellow value
Classic yellow color refers to warm colors. Its multiple shades never store negative energy. The color of the sun is tonic, encourages action, gives joy and the ability to be confident in one's future. The yellow palette has become the personification of mental development and freedom, a positive effect on mental activity. In China, this color is considered sacred, because it is the personification of the woman, her beginning.
Scientists have proven that a light yellow color, like sunshine, helps to produce the hormone of joy, and lack of it leads to a decrease in immunity and even depression. If earlier the delivery of a bouquet of yellow flowers was considered a bad sign, then modern florists advise not to pay attention to prejudice. New signs have appeared: yellow flowers to wealth, because gold also has a shade of this palette.
What should be combined with the bride's bouquet
First of all, the bride's bouquet should correspond to the chosen style of the whole wedding. Emphasizing the individuality and uniqueness of the appearance of a beautiful newlywed, one should not forget about the groom. If you opted for a yellow bouquet, your spouse's accessories should be in the same color scheme. For example, a boutonniere, tie or small details of a suit.
The appearance of the bouquet itself needs to be thought out in advance and it is better to consult an experienced florist. He will tell you how to avoid minor inconsistencies, because the bouquet must necessarily have something in common with not only the model and color of the bride's dress. Of great importance is the girl's growth, hairstyle, makeup and even wedding decorations. The bride is not tall «hidden» for a large bouquet, but a tall girl is more likely to have a cascading flower arrangement. Yellow flowers will look great in the hands of the bride, who is dressed in a fashionable ivory dress.
What flowers to choose for a yellow wedding bouquet
The main task of the wedding bouquet is to emphasize the beauty of the bride and her newlywed outfit. Solar floral arrangement will radiate warm positive energy and will cause pleasant joyful, brightest sensations. Many types of flowers have varieties with yellow petals. Having chosen the shape of the bouquet and settled on a certain type of plants, the florist can only choose the right sunny shade and form the composition.
Roses
The bouquet, created on the basis of yellow roses, presented to the bride, suggests that the future husband takes care of her, she is like sunlight for him. Roses can be in the form of half-closed buds, then their number should reach twenty or more pieces so that the flower arrangement looks festive and solid. A bush rose with large open heads will look great in a round bouquet on a small leg decorated with silk ribbon. Yellow roses for a young couple can mean regularity in family life.

Calla lilies
This flower is considered strict, official. The thick tubular stem smoothly passes into a bell with wide petals. The sophistication and conciseness of the flower is undeniable. It will go well with the dress of the bride, if the model is not magnificent, with a minimum amount of jewelry. Restrained style in the dress of the bride and groom and a bouquet of callas is the perfect match.
Yellow callas are less common than white, so a bouquet of sunny flowers will be even more valuable when the groom presents it to the bride. A composition with callas is more often found in cascade form on long legs, but sometimes a short cropped stem allows you to collect a small round bouquet with flowers of a lemon hue and decorate it with a floral ribbon.

Orchids
Recently, wedding bouquets of orchids have become very popular. These flowers seem to be created for the bride's hands, repeating all her beauty, tenderness and grace. Orchids of bright yellow or lemon shade will look equally chic in a bouquet. A delightful exotic flower is very moody. To prolong its freshness, the base of the stem is placed in a capsule with a special solution and masked with tape and other decorations.

Tulips
The spring flower tulip is short-lived, so only those instances that have an unopened tight bud should be included in the bouquet, otherwise the shedding of the petals will happen very quickly and may be inappropriate. Tulips, whose homeland is Holland, undergo special processing in order to increase the freshness of cut flowers. The yellow fire petals of these charming plants will look like a bright bonfire in the bride's bouquet, against the background of green long leaves and a white dress.

Craspedia
It is not for nothing that craspedia is called the golden dried flower. Yellow balls of the correct form on thin stems retain a bright color for a very long time, due to the good tolerance of dehydration. The homeland of craspedia is Australia with its arid climate, so the flower is perfectly adapted to extreme conditions. In addition, craspedia is more common in floral arrangements than in mono-bouquets..
Yellow «hot» balls, with a diameter of about three centimeters, dry, perfectly keep their shape. Leaving as a souvenir a wedding bouquet consisting of craspedia, you will have the opportunity to admire it for a long time. Balls do not break and do not crumble for a long time. For «living» craspedia bride's bouquet will become an exotic accent of bright yellow.

Gerberas
Outwardly similar to large garden daisies, flower diameters from 8 to 12 cm, gerberas have long gained popularity among florists. Bright saturated colors of the petals, long-lasting freshness give this plant many advantages among other flowers. Gerberas have a naturally curved stem, so florists insert a spoke into the soft trunk to give it the desired shape. In some cases, a transparent film is used, tightly wrapping it around the trunk of the flower. For a chic bouquet, even a small amount of bright gerberas is enough.

Sunflowers
Florists can offer an interesting solution to the seekers of unusual bouquets. Decorative sunflowers with large caps are naturally awarded yellow. Composition with «little suns» It looks original, but for a collection of wedding photos - this is a godsend. Large flowers are excellent in the frame, giving brightness to the overall background. Sunflowers are very persistent flowers; they will endure the hardships of a wedding day without losing their attractiveness. Thanks to the thick stems, which simultaneously handle the bouquet, the plants are conveniently fixed and do not fall apart.

Ranunculus
The shape of the bud ranunculus resembles something between a spray rose and a peony. Multiple petals of this flower form rosettes and become similar to the work of origami art. A variety of color palettes helps to choose the color that is more to your liking. The yellow ranunculi are similar in appearance to a water lily. A mono bouquet of these garden buttercups is more suitable for an elegant and sophisticated bride.
In recent years, ranunculus has gained popularity among the newlyweds who follow the latest fashionable novelties. When choosing these flowers for a bouquet, pay attention to their center, it is better that they be tightly closed. This indicates the freshness of the plant, which has only recently been cut. Moisturized, the wedding day ranunculus will tolerate well.

What colors will be appropriate in a yellow bouquet
The highlight for the yellow bouquet will be the interspersing of other shades in it. Bright contrast with blue and red will add attractiveness to the bride's floral arrangement. A beautiful winning bouquet will turn out if you add dark purple irises to the yellow tulips. An unusual combination in the composition of a pink rose surrounded by lilies of a lemon hue will be pleasing to the eyes. Juicy greens, present in almost all bouquets, look great with sunny flowers of any kind. White color dims the yellow a little, but gives more tenderness.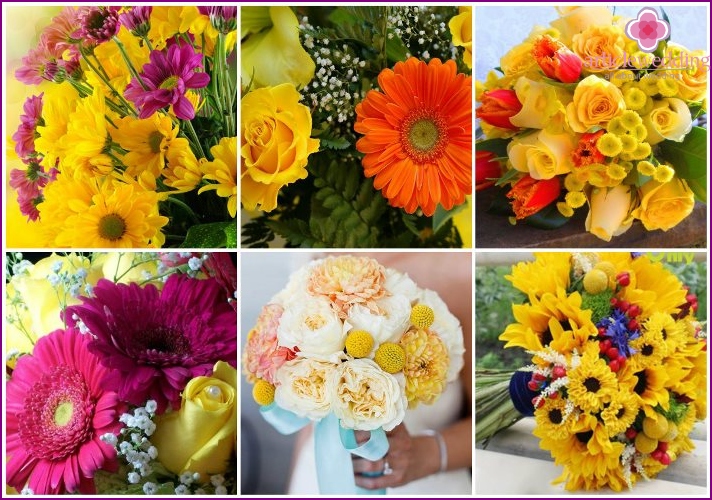 Photo of yellow bouquets of the bride
Having made sure that the yellow color carries only positive warm emotions, embodies love and family happiness, you can safely choose a bouquet in sunny tones for the bride. A variety of varieties of representatives of the yellow flora will make it possible to create a unique floral composition that fits perfectly into the style of the wedding. Different in shape and size, yellow flowers will blend perfectly with each other and with plants of contrasting shades. The sunny tone of the wedding bouquet is suitable for weddings in any warm season, from spring to autumn.