Contents
---
---
To complete the image of the bride, you need to think carefully about the details. If you want to achieve a charming effect, spend time not only on choosing a dress, but also on a wedding bouquet. Having made the phalaenopsis the main thing in the floristic composition, the bride becomes stunning and amazing. You still do not know which floral bouquet will complement your wedding image - tender, passionate or graceful? Try orchids.
The meaning and symbolism of orchids in the bride's bouquet
The personification of passion, love, family comfort, fertility - all this about the orchid. Brides who prefer phalaenopsis have a luxurious taste, sense of style, sexuality and charisma.. «The one who knows how to wait always gets the best». This phrase directly reflects the essence of the composition, in which such marvelous flowers are used, because each is grown for about 2 years. In the world there are more than thirty thousand of their types, so even a single-bouquet will look elegant, extraordinary.
If the groom gives you a wedding flower arrangement led by phalaenopsis, you can rest assured that it «your» person. In China, presenting orchids, men emphasize the feminine charm, sophistication of their chosen ones, in the East - show the harmony of two souls, in Vietnam such a gift symbolizes the youth, spring, naivety of the bride, and in New Zealand there is a legend that these are fragments of a rainbow that have come down to the earth, give rise to such natural beauty.
The symbolism of these colors is richness, beauty, sophistication, a game of contrasts. Combining different types of phalaenopsis, you will get an unsurpassed result that will charge you emotionally. White orchids represent wisdom, pride, strong will; pink - tenderness, affection, purity; reds - love, passionate feelings; blue - fidelity, nobility. The tiger look of these flowers in a wedding bouquet promises young people a long, lasting, passionate union.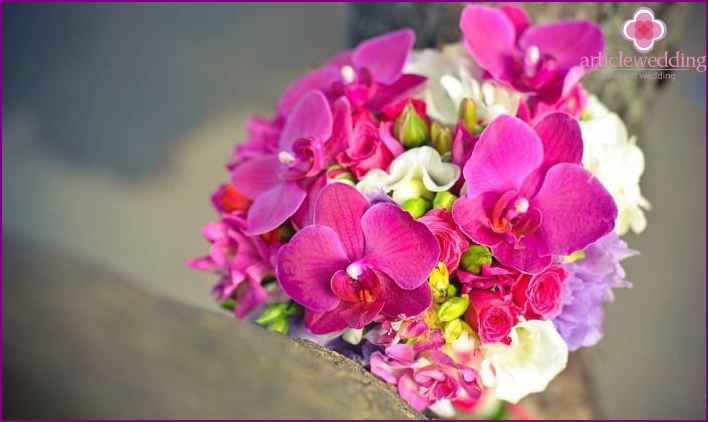 Options for wedding bouquets of orchids
Such a wedding accessory is not required to choose a luxurious decoration; phalaenopsis look delightful even out of frame. For advice, it is better to contact a professional florist who will tell you the correct option for combining colors with a general image, including a dress, accessories, and other components of a floral composition at a celebration. A wedding bouquet of orchids is designed differently. Here are the main types of compositions:
Classical From above it looks assembled in a circle, and from the side it looks voluminous..
Biedermeier. The combination of phalaenopsis with other colors creates a sphere. It is convenient to hold such a ball due to the long legs of plants or the presence of port bouquets.
A bunch. Carelessly folded flowers look easy, elegant, unobtrusive.
Cascade. A luxurious, drop-down option that is molded using wire. You can use mono compositions or combine different flowers.
Of orchids and freesia
Bright, colorful union of colors or a gentle combination of shades - what should you choose? For bold brides, a wedding bouquet with tiger orchids and cream freesia is suitable, for delicate, romantic ones, a completely white gamut. You can experiment by adding eustomas, tulips, mini roses to the wedding arrangement. The symbolism of freesia lies in exquisite aristocracy, confidence, and perfection. By choosing large flowers with long stems, you will successfully complement the fragile, sophisticated phalaenopsis.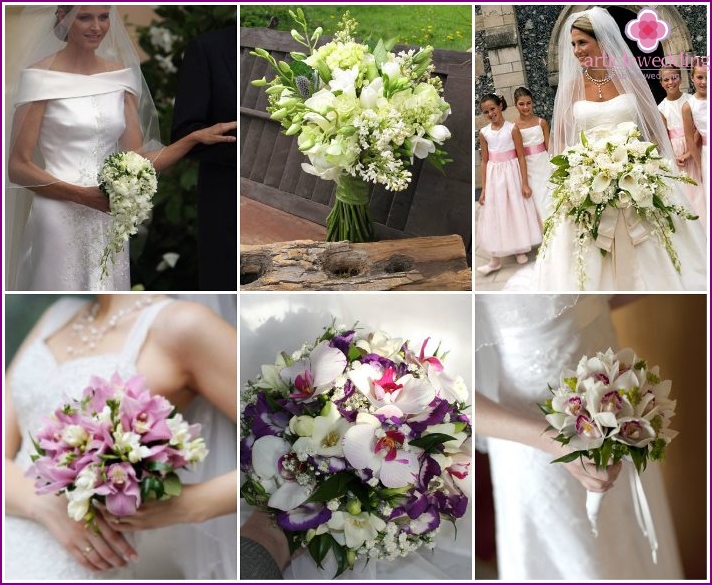 The combination of white orchids with roses
Grace, grandeur, luxury - the bride will possess these characteristics if she chooses white phalaenopsis and roses. Both flowers look royal elegantly. Walking down the aisle with such a bouquet, the girl brings wisdom, a strong spirit, purity, innocence to the family. Soft pink, pale yellow, light blue shades are combined with the white main gamut. Do not forget about peony and mini roses.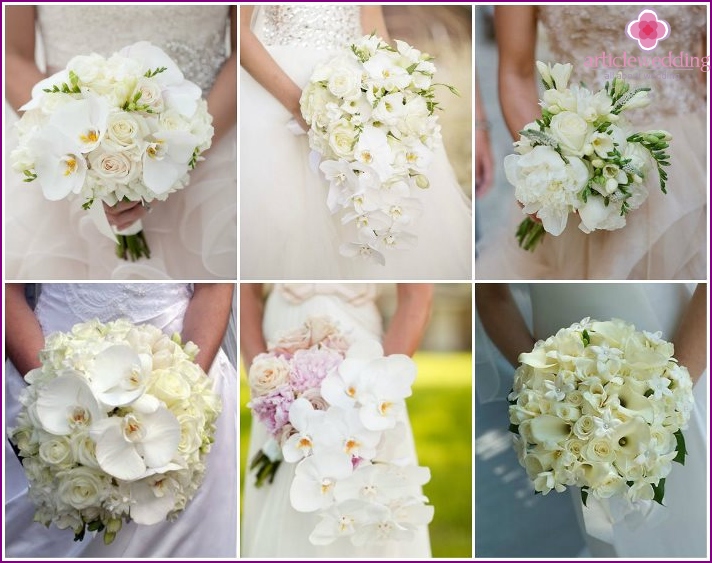 Composition with peonies
A delicate, voluminous, round-shaped composition of peonies with phalaenopsis will complement the image of the bride who chose the princess' magnificent dress. Make a bouquet based on the main color of the wedding. Gentle and bright pink peonies will suit white orchids, which will perfectly fit into the classical ceremony of neutral shades. And vice versa - raspberry phalaenopsis will look contrasted against the background of white, airy buds, completing the image of the bride at the wedding in berry, rich colors.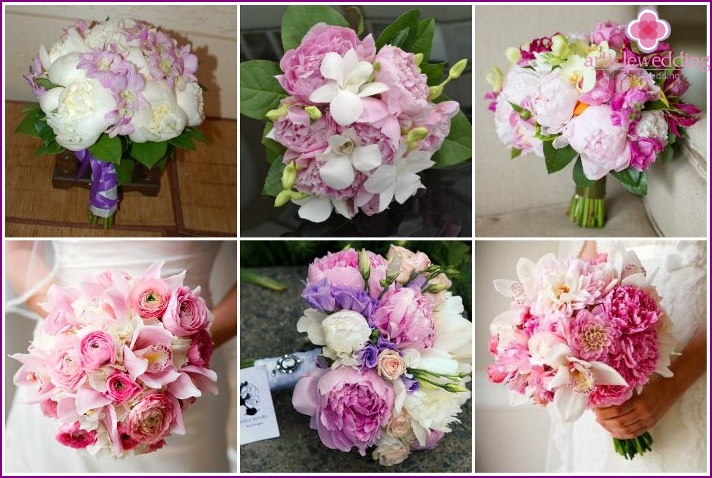 Bouquet of orchids and callas
Protective amulet is the main meaning of callas. Having chosen such a noble, extraordinary composition, he begins to protect his family from the moment of words: «Do you agree?». The choice of white flowers symbolizes purity, naivety. But, if you add bright, miniature vandas to orchids and callas, the image of the bride will become bolder, playful, luxurious. Experimenting with pink buds, white phalaenopsis, green hydrangea, you will get a bright, spring, fresh wedding bouquet.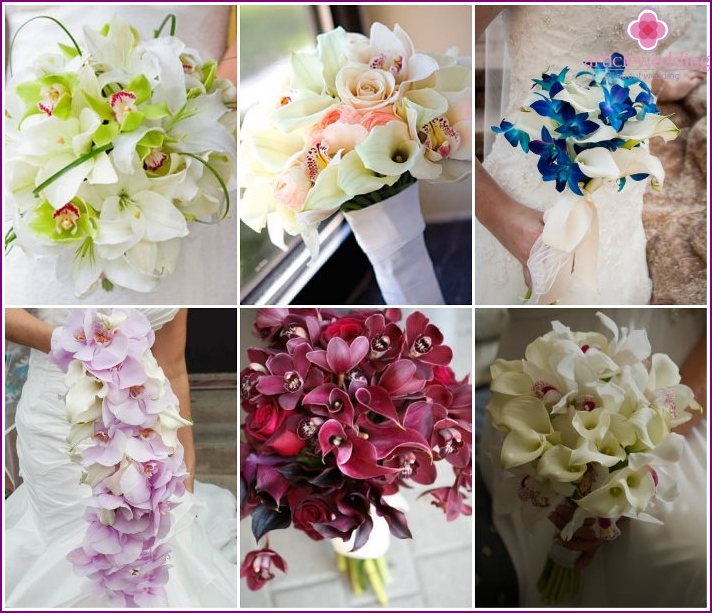 Wedding bouquet with orchids and alstroemeria
Is your wedding in winter? Then the composition of phalaenopsis and alstroemeria will definitely suit you. These flowers perfectly tolerate cold. Whatever style you choose for the celebration, the bouquet will fit perfectly into it, thanks to the wide selection of colors of both plants. Two-tone alstroemeria will create a vivid contrast to the delicate, white phalaenopsis. Such flowers are suitable for brides who are not afraid of the new, have an active life position, are always strong in spirit.
Mono-bouquet of orchids
If you do not want to follow the fashion trends, choose a simple, unusual, snow-white outfit for the wedding, let the flowers add originality to your image. A single bouquet with orchids does not mean that the flower arrangement cannot be supplemented. Use ribbons, rhinestones, beads, then even a simple jacket and pencil skirt in combination with phalaenopsis will look rich, extraordinary. If you are against additional accessories on a bouquet, play with the color scheme: combine white, raspberry, blue or tiger orchids. The effect will surprise you!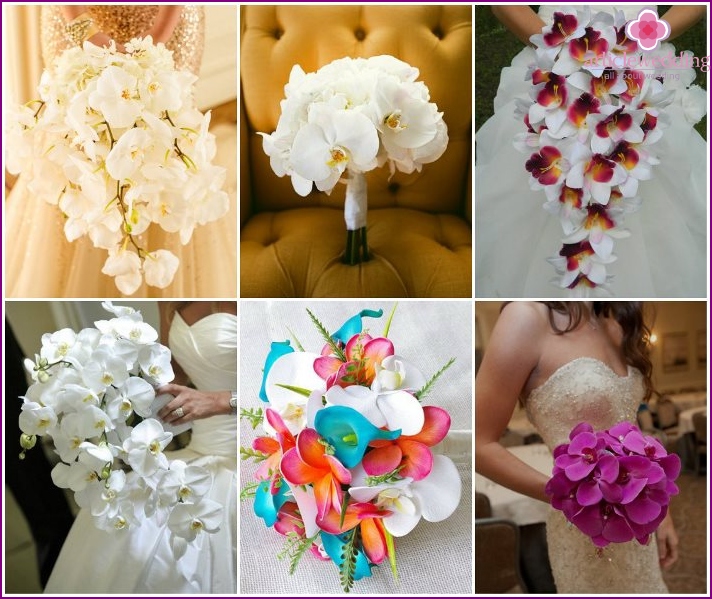 Cascading bridal bouquet with orchids
The main criterion for choosing a drop-down bouquet is a tight-fitting dress to the floor or in style «Mermaid». Growth is also important - cascading compositions are suitable for a tall girl, and they will make lower brides even lower. For a standard cascade bouquet, you will need flowers, wire, ribbons, portbuketnitsa. The cascade composition is often supplemented with lilies of a delicate shade, pink roses, eustomas, single blue hydrangeas.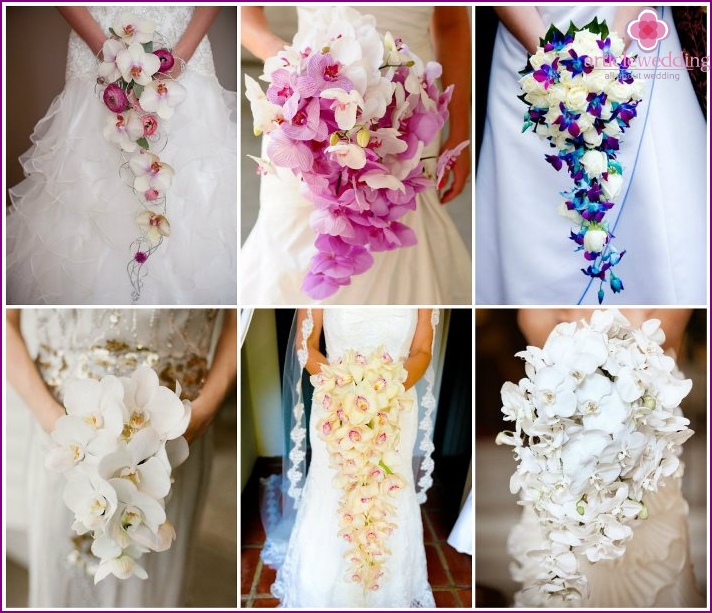 Photo of beautiful bridal bouquets of orchids
There are so many variations on the execution of bouquets that you have «that one» very problematic. Check out the selection of photographs of floral arrangements below, where you can find the original version for your wedding. Complement the phalaenopsis with gentle callas, roses, eustomas, lilies, hydrangeas, peonies, gypsophila, lilies of the valley, tulips or freesias. Whatever you choose, the bouquet will reflect your image, personality, character, aspirations.