Contents
---
---
Any modern girl getting married has a wonderful opportunity to choose what to go down the aisle of. Designers and fashion designers, while creating this or that look, take into account the mass of moments that brides can have: features of a figure, wedding season, individual preferences and tastes. Among the variety of garments in the wedding line, dresses with closed shoulders took pride of place. There are many options for this outfit, below you can familiarize yourself with the various types of this decoration.
Off Shoulder Wedding Dresses Models
Clothing of the bride with her shoulders closed looks modest and elegant, gives a special mood to the image of the bride, so many girls prefer this option to open decoration. Such a robe can hide some of the flaws of the figure, while adding a touch of mystery to your appearance. For example, the outfit of the aforementioned style is indispensable if:
Your wedding day is cold. The long sleeves of your closed wedding dress will not let you freeze on such a wonderful holiday.
You are the owner of wide or angular shoulders. A gorgeous dress with wide straps that will fall beautifully on your shoulders will help you out..
You have planned to get married in a church on your wedding day. During the church wedding, according to the rules, the bride should have her shoulders closed, so a dress with sleeves will be a great option - it will elegantly hide the exposed parts of the body. If you want to appear before the guests in a revealing dress with bare shoulders, but you didn't prepare the second outfit, you can use a beautiful cloak on your shoulders at the ceremony, and then take it off.
Dress with lace bolero top
Lace is very popular in wedding fashion, so you can close your shoulders by throwing a beautiful openwork bolero. It often looks like a short wrap over a wedding dress with short or long sleeves. The length of the bolero often reaches the shoulder blades, and in front it can be fastened in the neck or not fastened at all, depending on the design idea. In cold weather, such a cloak will not work, because it plays an exclusively decorative role, but it will help the bride out during the wedding and decorate the wedding photos.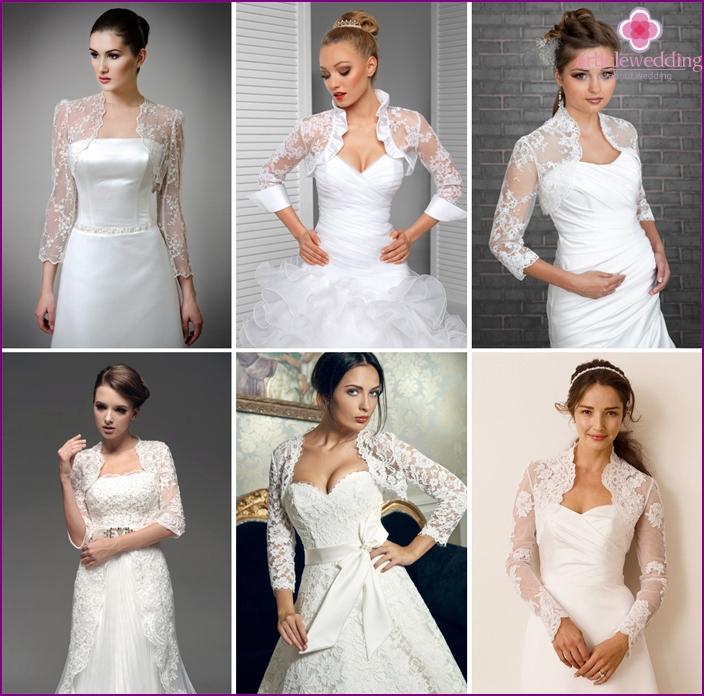 Outfit with wide straps falling from the shoulders
Another option, how a wedding image with a closed upper part can look beautiful is wide straps that run horizontally along the line of your shoulders. Cascading wide straps can be made from the same fabric as the dress itself, or can be sewn from lace. This is exactly the case where you can show imagination and add a unique zest to the wedding along with it. Read below that wide straps will add styles:
They can be a continuation of the original neckline of the dress, which elegantly emphasizes the chest. Additionally, this model visually focuses on the slim waist of the girl.
Sometimes wedding models provide removable options from delicate lace: such straps are fastened to the bride's corset.
Asymmetrical wide straps with drapery emphasize the originality of the dress. For example, one shoulder may be covered and the other bare.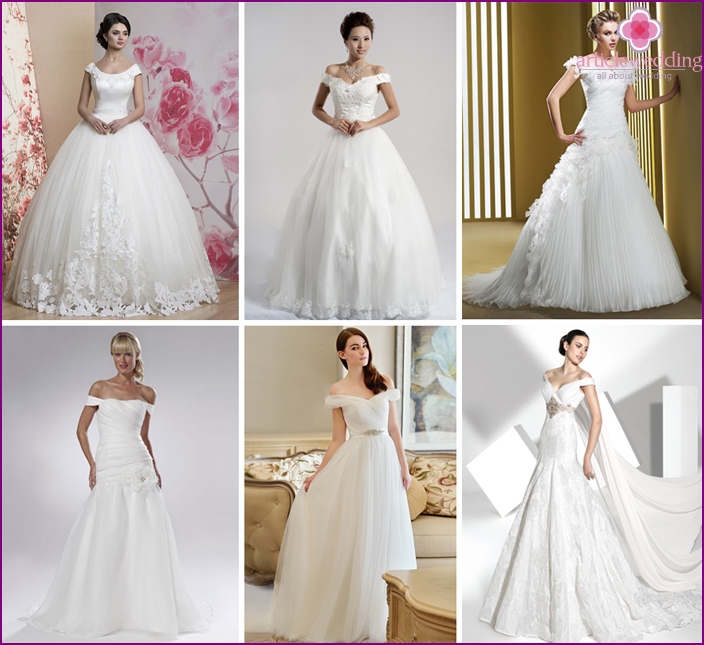 Dress with long sleeves
A great option to look beautiful and extravagant on a wedding winter day is to choose a dress with long sleeves. Such an outfit will not let you freeze during a festive photo shoot on the street. In this model of variations there can be a lot - it all depends on the personal preferences of the bride and her wishes regarding the practicality of the solemn image. A few examples of a wedding dress that has long sleeves:
Slim long sleeves made of lace, thin tulle or light chiffon. This option looks like a translucent top of a dress with a deep neckline. Such a decorative idea speaks about the mystery of the bride, makes the wedding decoration more sexy.
The winter version of the wedding image may have flared long sleeves made of dense satin, feathers or fur.
Long sleeves do not mean that the dress will be completely closed. There are models that beautifully open the neckline or have a sexy deep neckline on the back of the bride's outfit.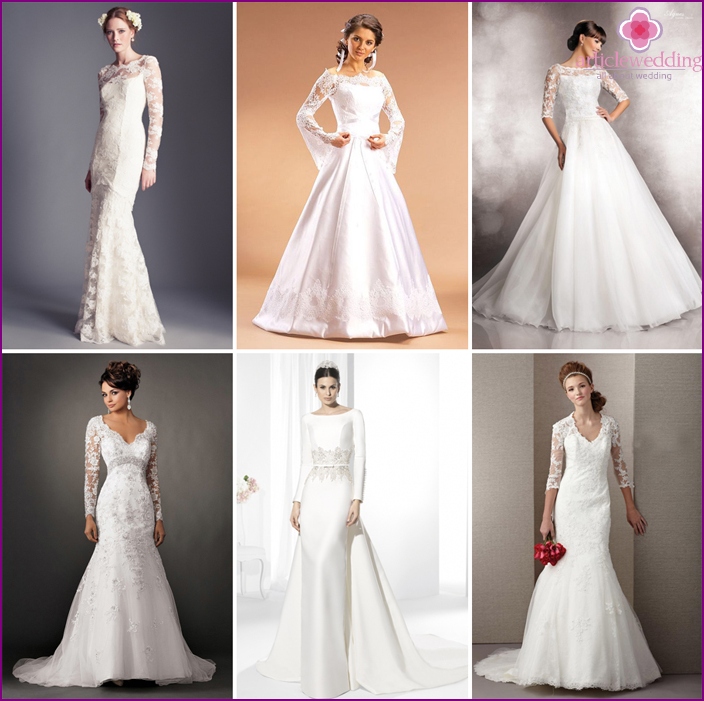 Short sleeves
Short sleeves will be chosen by girls who at the same time are important to close their shoulders and not feel discomfort during the warm season. Such models also have a lot of options to emphasize the individuality of the wedding image, make it beautiful, romantic and elegant. Below are some styles of sleeves for familiarization that make it possible to gracefully cover the shoulders of the hero of the occasion:
Sleeves made of lace or guipure, performing the decorative function of the image.
Sleeves flashlights or wings that allow you to visually emphasize your beautiful slim waist.
Short sleeves can only be a hint of their presence in a wedding dress, if they are made in the form of wide shoulder straps.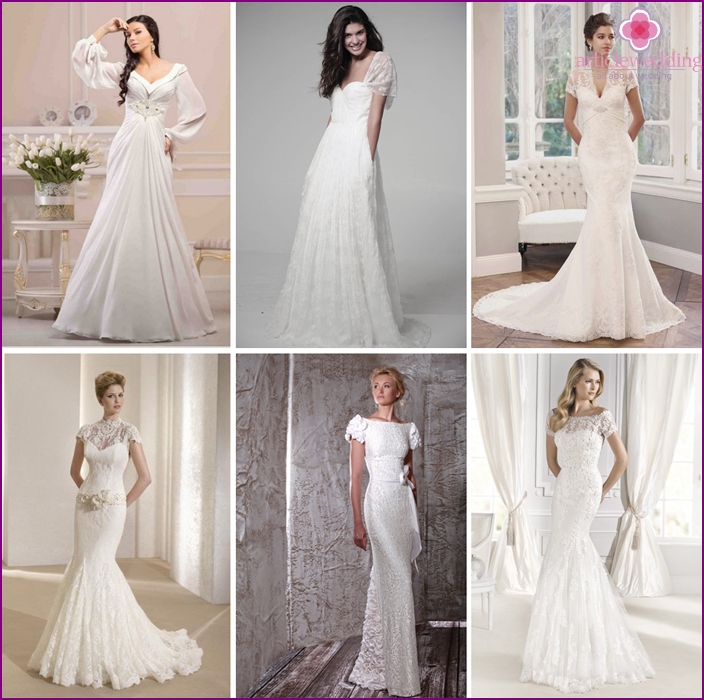 A fluffy dress with a train
You can often find impressive wedding dresses with closed shoulders, which have a full skirt and a long train in the royal style. This pompous outfit is suitable for the image of a girl who likes to always remain in the spotlight. Such decoration looks advantageous on brides seeking to hide some of the shortcomings of their figure, as well as emphasize their merits, for example, aspen waist and chest. However, you should not choose such a style of dress for full girls, because they risk giving their image even more volume and heaviness.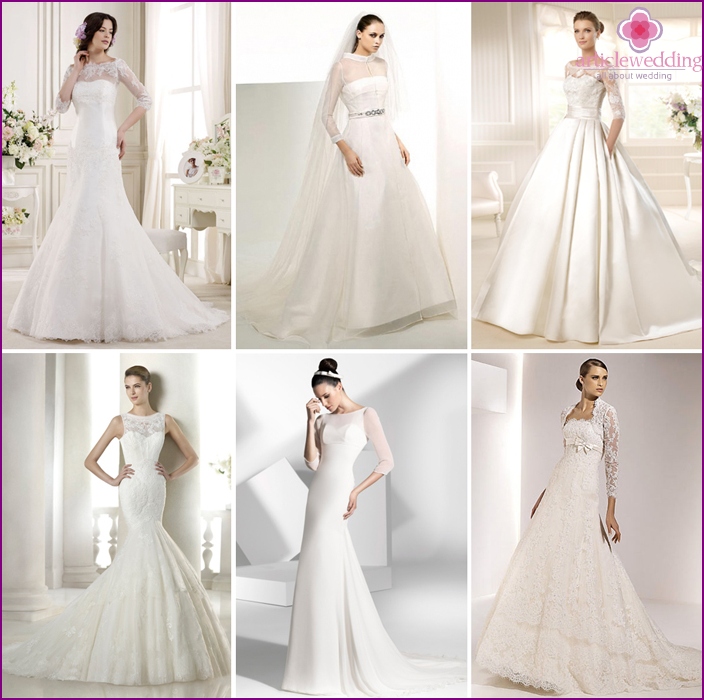 What accessories will go with a dress with closed shoulders?
Accessories are an important component of any festive image, performing the function of decor, so for every bride it is important to choose the appropriate details for your wedding dress. The main condition is not to oversaturate the image with jewelry, to create the perfect combination of accessories with the outfit as a whole. Properly complemented by a wedding dress with closed shoulders will help a few useful tips:
Focus on your own hairstyle, decorating it with a shining diadem.
If you want to emphasize a beautiful neckline and graceful shoulders, put on a long decoration with large stones. In addition, such an accessory will visually lengthen you and give you a slim figure..
An indispensable accessory is shoes. It can be a different color or matched to individual elements or colored inserts of a wedding dress.
Emphasize your beautiful waist by wearing a long satin ribbon belt, possibly even in a contrasting tone (for example, red, blue, emerald).
Select concise earrings, in a set for a diadem or jewelry on the neck. They should not be elongated so as not to draw attention from the line of your beautiful shoulders.
What other decorations for the bride can be, see the video:
Photo of wedding dresses with closed shoulders
Original, practical wedding dresses with closed shoulders are perfect for brides who want to create a feminine, elegant and at the same time modest look. Certain types of sleeves or shoulder straps covering the bare part of the body can hide the flaws of the figure, it is beneficial to emphasize the merits. Clothing with this item can look concise or be generously decorated with rhinestones, lace, pearls, ribbons - look for ideas for your look in the photo selection below.