Contents
---
---
Any wedding dress in itself has a solemn appearance, however, the bride wants on this special day to be the most beautiful, sophisticated, sophisticated, shiny. In our time, this is possible, because future wives can find shiny wedding dresses in bridal salons. They are indescribably chic, but have not yet become a trend. Therefore, many brides who want to discover them for themselves simply do not know what to expect from them. Shiny dresses can be an ideal choice, looking spectacular, elegant and non-trivial, the main thing is to take into account some features of such a material.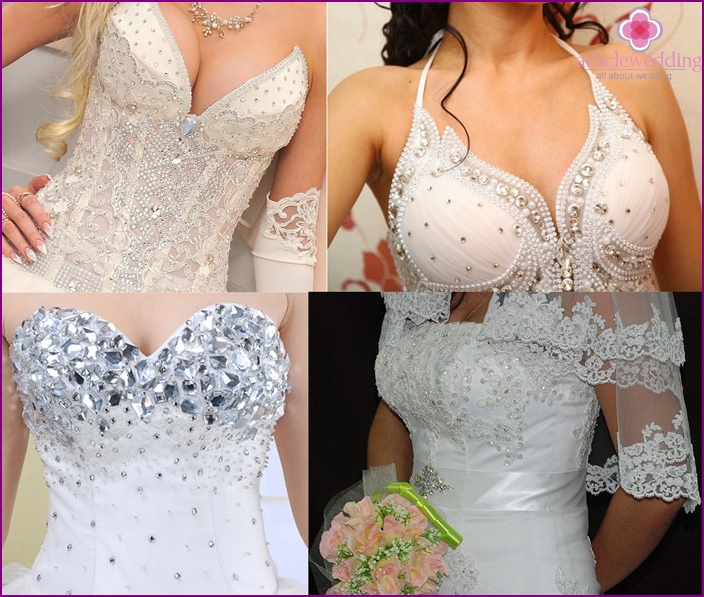 What are shiny dresses
Glitter wedding dresses can be made of various materials. A brilliant effect is achieved by sewing sparkling elements on the product (glass beads, rhinestones, sequins, sequins), weaving lurex threads, using glossy fabrics (for example, brocade). The product is fully or partially covered with shiny elements, which makes it possible to play in contrasts, search for new style solutions, adjust «brightness» dresses. Sequins decorate its upper part, corset, lower part of the skirt, or create completely shiny.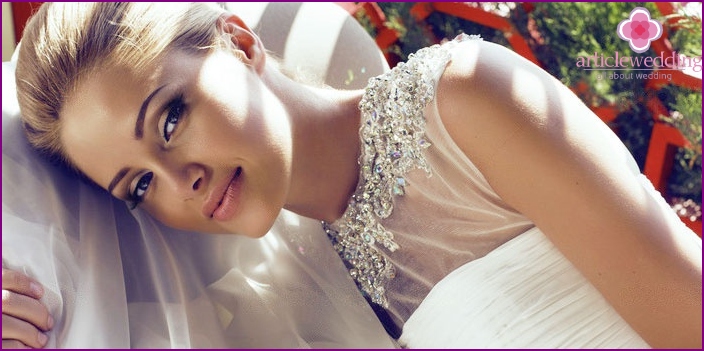 Spangled
Spangles are: flat or slightly convex, bright or matte, faceted or rounded small shiny elements. They are sheathed with simple-style products, turning them into refined and sophisticated. Clothes of more complex styles can be framed with sequins in the zone of cuffs, belts, collars, edges of the skirt. The spangles themselves are attached to the fabric with an ordinary stitch, so the bride herself can decorate her wedding outfit by adding a little sparkle to it. For fixation, it is better to choose lurex threads of the same color as sequins, so that the thread does not stand out against their background.

Use lurex threads separately from sequins to create a shiny dress. They embroider patterns on white fabric, or buy a finished fabric, where such threads are already trimmed with a knitted or woven opaque base. Under the fabric embroidered with Lurex, you need to wear a cover, because the wrong side can scratch the skin. Such a material requires accuracy in ironing and washing, it can not be torn apart by hand and must be overlocked. The result will be amazing, because lurex threads can be woven into chic patterns on the bride's white dress.

Wedding Dresses with Rhinestones
Rhinestones are one of the most beautiful decorations of a wedding dress. They come in different types and qualities: from the simplest ones that a bride can buy at a nearby sewing store, to rich-looking crystals and Swarovski crystals. The wealthiest brides can afford to sheathe the outfit with precious stones, but the previous option will shine no worse. Patterns are laid out with stones on the dress, or they are attached to the fabric in bulk. It is convenient for them to emphasize the necessary details: the bodice area, belt, cuffs, or to decorate the entire product.

Rhinestones go well with lace, pearls, and beads; they look perfect on pastel-colored fabrics. They do not need an abundance of additional accessories, therefore it is important to maintain a harmony of parameters «style - jewelry - amount of strass», where one or two parameters should remain simple. It will be appropriate to complement the brilliant outfit with the entourage of the celebration, brilliant cutlery, room decoration to style the dress, decorate the bouquet, bride's hairstyle or girlfriend's outfits. The bride in a wedding dress embroidered with stones will look dazzling and luxurious.

Dresses with bugles
Glass beads are elongated beads that are used in weaving and dressing. This decor element is available in any needlework store, and with the bride's outfit, he works real miracles, turning the simplest garment into an exquisite, sensual, sparkling one. Bugles either embroider patterns on the dress or are placed randomly, used to sheathe the entire outfit of a tight-fitting shape, classic models, or to create a fringe. Glass bug looks especially impressive on dresses made in vintage style.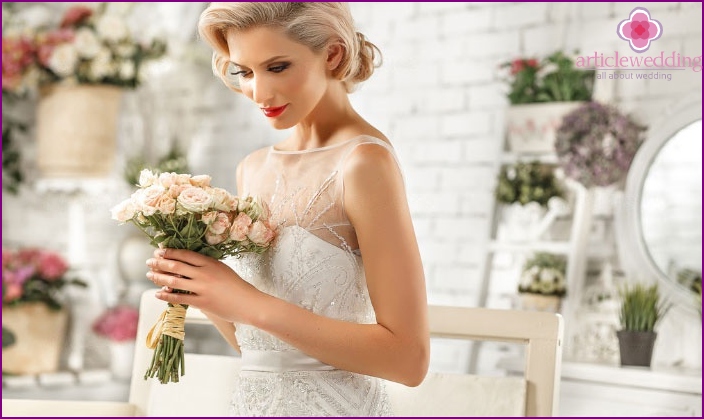 In addition to the bugles, the wedding dress is sheathed with beads. It is smaller than the bugles, and therefore looks spectacularly placed dotted or woven into patterns. When decorating wedding dresses, they choose transparent, white, steel, beige, pink color. In appearance, the beads and glass beads seem dull, but in the light they create soft shiny accents, make the outfit textured, rich, feminine, create an atmosphere of transparency and purity.

Brocade Wedding Dress
Brocade is a material that is woven from shiny threads imitating gold or silver. Therefore, brocade fabric without additional decorations (rhinestone, glass beads, beads), in itself, has a brilliant shimmer. It is dense and heavy, because it holds its shape well, looks rich and is perfect for making wedding dresses in the winter season. In such a robe it will be not only not cold, but also appropriate - the brocade will favorably highlight the bride against the backdrop of a snowy surroundings, creating an incredible fabulous effect.
Brocade fabric is a popular wedding material. The brocade outfit goes well with jewelry made of pearls, stones, metal, with fur inserts of different configurations. Decorating with sparkles on top of the fabric is better not to abuse, because the dress may look too elaborate. Brocade has always been associated with wealth, had an expensive look, so a bride dressed in brocade at a wedding will look refined and noble.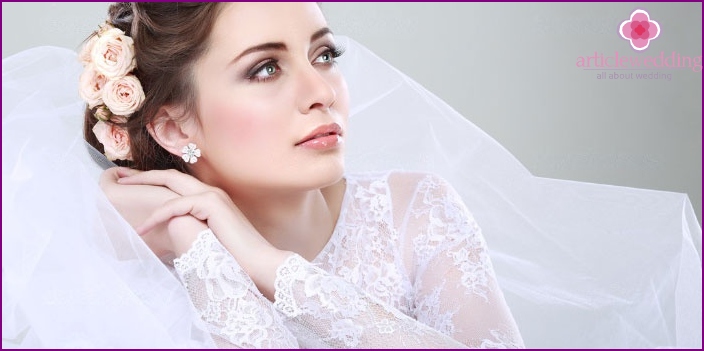 Tips for the bride in a shiny dress
Shiny outfits look expensive and spectacular. Currently, almost every wedding dress has at least a small shiny element. However, sequined products have certain features that need to be considered so that the wedding is completely successful. Here are a few nuances that you need to consider in order for the beautiful brilliant outfit to please the bride and make her a real princess on a wonderful unforgettable day:

Ensure that the shiny elements are firmly sewn or glued to the fabric. Accepting congratulations, dancing at the wedding, actively moving, the bride must be sure that the sparkles will not come off, because this will not only ruin the bride's wedding image, but can also be traumatic for guests and the marriage itself.
Carefully prepare the dress for the event - the area where the shiny elements are attached is not easy to iron, so the fabric for the dress should not be wrinkled.
Be competent in the area that you will decorate with shiny elements, because the shine attracts attention, and it is better not to highlight the places where the figure is flawed. It is possible to use the same property of sparkles to solve the problems of a figure, highlighting with them a zone that looks especially advantageous, or visually correcting problem areas.

Before buying a shiny outfit for a wedding, check on the fitting how it will look under different lighting conditions - some shiny elements may, for example, darken in a semi-lit room, which may unexpectedly affect the appearance of the dress.
The entourage of the wedding, the outfits of the bridesmaids, the appearance of the groom should create a holistic picture, an atmosphere of sophistication, otherwise the dress, which consists entirely of brilliant details, may become inappropriate chic.

If it's impossible to buy a ready-made shiny wedding dress created by the designer, the bride can make it herself by studying wedding magazines, buying a simple wedding dress, and lining it with iridescent details.
Features of photography in a shiny dress
Sequins on a wedding dress look magical, both in sunlight and in artificial light. They endow the dress with wonderful tints, give exquisite highlights. But this advantage can negatively affect the quality of the shooting of the celebration. Glare that throws sparkles in the photo can turn into bright spots. To prevent this from happening, you need to properly adjust the light: do not use the flash and provide good illumination of the shooting location.

Watch the video to find out how to choose the right wedding dress:
Photos of wedding dresses with a shiny corset