Contents
---
---
Modern wedding fashion is changeable and fickle. For courageous young ladies, couturiers develop outrageous extravagant outfits, while charming modesty designers offer neat toilets, moderately seductive, but at the same time always feminine and elegant. A modest wedding dress is the perfect choice for a true lady. A traditional cut, a simple graceful silhouette, the right accessories and a veil will help to create an incredibly touching image of the princess.
Styles of modest wedding dresses
Modest wedding dresses, as a rule, have a traditional style, the distinguishing features of which are an adjacent corset and a slightly flared skirt. Such a model will look great on almost any figure. Today, fashion designers offer a wide variety of modest dresses of all kinds of silhouettes. An outfit of satin or satin with charming lace and silk accents will turn the bride into a beautiful princess. As a rule, modest dresses are made of white fabric, although there are wonderful models of champagne and ivory color.
Another distinctive feature of a modest dress is a small amount of trim. Minimalism allows you to achieve a clean elegant look, highlighting the natural beauty of the bride. Simplicity, sophistication, restrained style have always been indicators of good taste. Modest wedding dresses are also attractive for their moderate price..
Silhouette dresses "Mermaid"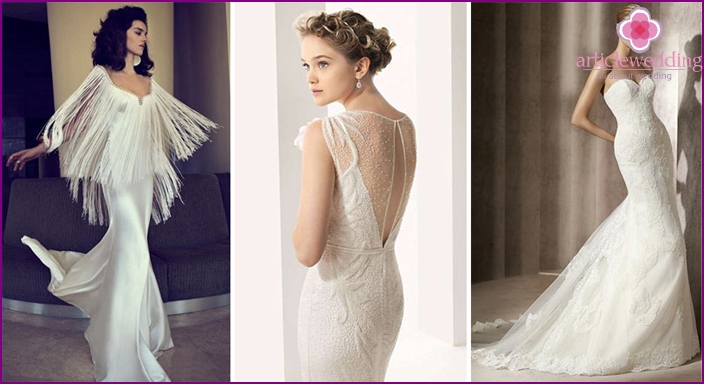 Traditional silhouette «mermaid» or, as it is also called, «fish» - it is an outfit with a six- or eight-wedge skirt, tight «sitting» on the hips and expanding down the hem line. In the world of modern wedding fashion, this model has become a classic. Modest dress «mermaid» can be both with long lace sleeves, and without them at all. This model looks especially impressive on slender young ladies with a thin waist and a neat booty. Dress «mermaid» suitable for a girl of average or slightly above average height.
Short models "A-line"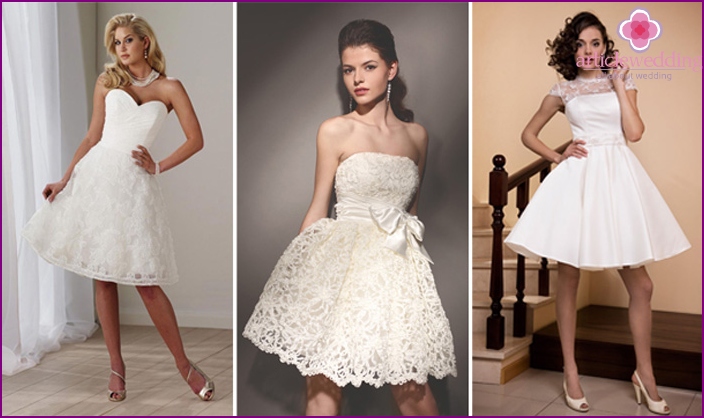 Modest A-line wedding dresses emphasize the femininity of the image, giving it innocence and spontaneity. This versatile style involves a skirt expanding from the waist, the length of which can vary depending on the desire of the bride. To make the image even more original, some girls select a top and a skirt separately. This style perfectly emphasizes the chest, and also focuses on a thin waist.
A modest A-line dress is suitable for almost any figure. A short girl in such a wedding dress will seem a little taller. This model is perfect for owners of a low waist. A-silhouette on chubby brides looks good. He perfectly emphasizes the merits, makes his owner visually slimmer. The slightly lowered waist of the wedding dress will help visually reduce the height of the bride too tall.
Straight and tight dresses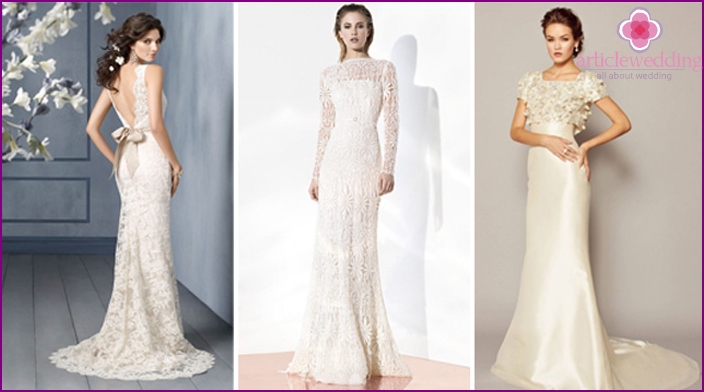 The straight silhouette of a classic wedding dress is a great choice for a modest bride with a good taste. This is a tight-fitting style with a corset and a long skirt on the floor (straight cut). For the manufacture of such dresses use light flowing fabrics, such as satin or silk. Many designers use transparent lace fabrics to create a top - chiffon, organza, guipure. A modest dress can be decorated with a small amount of embroidery, rhinestones or sequins.
Straight-fitting dresses should be chosen by brides with an almost perfect figure. Such an outfit will not be able to hide folds or extra centimeters at the waist, hips. On the other hand, flowing straight styles look great on tall and low girls. An outfit with a skirt decorated with vertical folds will help visually lengthen the legs, adjust the figure of a short bride.
Floor-length style "Empire"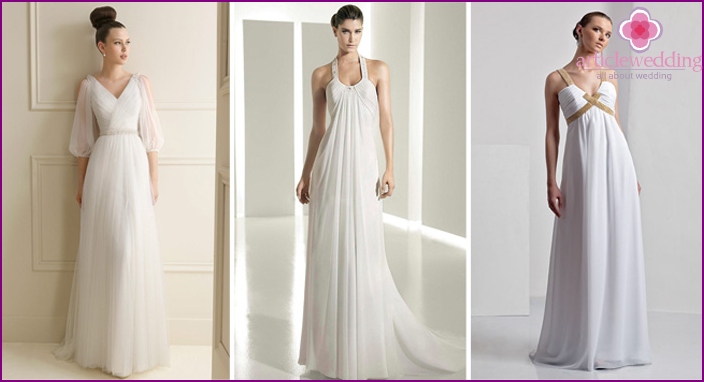 Elegant sophisticated style «Empire» Suitable for dreamy romantic natures. The skirt usually starts about under the chest. It can be tight or airy, flowing. A bodice adorned with rhinestones and drapery will help to visually enlarge the bust. Style wedding dress «Empire» - The perfect choice for a bride with wide hips. The top of the dress will help to divert attention from the problem area of ​​the figure.
This silhouette is a walker for short girls with a pear-shaped type of figure. The dress visually makes the legs longer, increasing growth. The outfit will emphasize the beautiful neck, graceful shoulders of its owner, help transform the newlywed into a real mythical nymph. Also a silhouette «Empire» perfect for pregnant brides at any time.
Lush with long sleeves and without them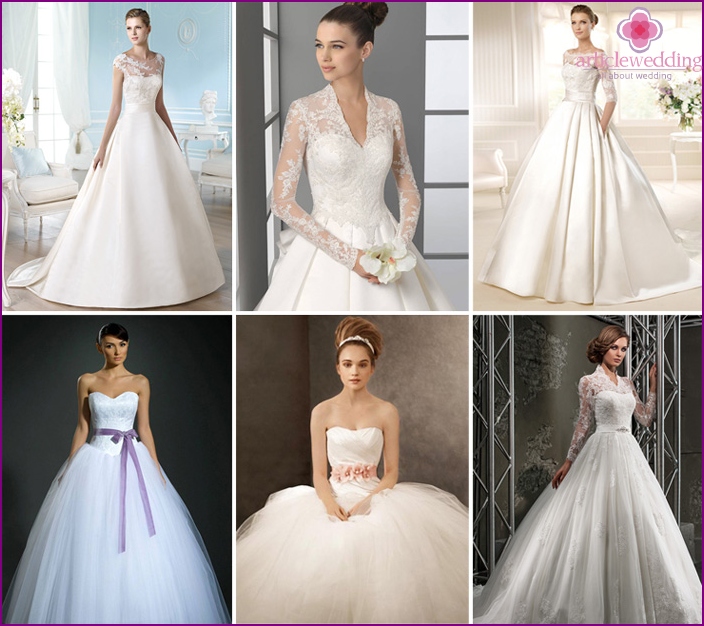 The princess' magnificent wedding dress is a childhood dream of many young brides. In addition to providing the opportunity to feel like a queen, such an outfit will help to hide voluminous hips, which will certainly please the owners of magnificent forms. A multi-layered skirt will make the figure proportional. This model is ideal for girls with a wide shoulder girdle..
But overweight women need to be careful with this type of silhouette. If you really want a magnificent dress, it is better to order individual tailoring, taking into account all the features of your figure. For low-profile girls, along with a fluffy skirt, a modest one should choose a train that visually stretches the figure. Otherwise, a miniature bride can "drown" in an abundance of skirts and ruffles.
The magnificent wedding dress with long sleeves is again gaining popularity among modern fashionistas. A modest closed dress will emphasize the tenderness and innocence of the image. A long sleeve wedding dress is a good find for an aged bride. However, if you have full hands, it is better to refuse such a model. Sleeves may draw extra attention to this flaw..
For full brides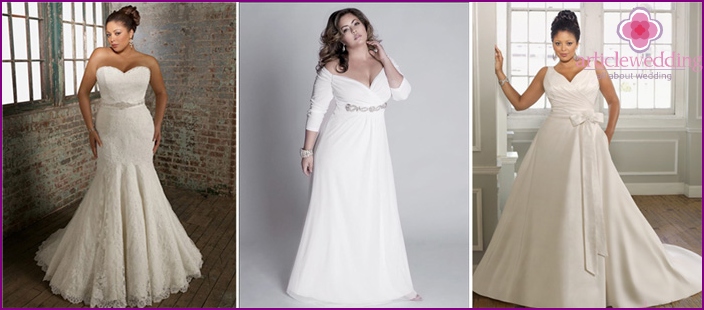 When choosing a wedding dress, full ladies should pay attention to models with a train. This option is suitable for tall girls. Stylists do not recommend wearing long gloves that can emphasize the fullness of the hands. An elegant modest bolero will help to hide the volume in the shoulders. The neckline should emphasize the luxurious chest of the hero of the occasion. But sleeveless and strapless styles should not be worn by women with wide shoulders or too big a bust.
To visually distract attention from the volumetric hips, it is recommended to focus on the chest. Pay attention to modest dresses with decorated bodices. A luxurious necklace or pendant will help to emphasize the main feminine virtue. Professional fashion designers are advised to abandon the styles with an abundance of rhinestones, stones, bows and other decorative details. Longitudinal seams and pleats on the skirt will visually make you taller, slimmer.
For pregnant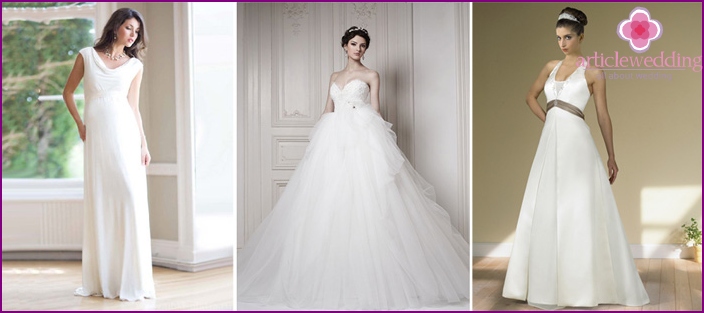 The bride, who is expecting a baby, should be especially careful when choosing a wedding dress. The outfit should be not only beautiful, but also comfortable. If you are in the early stages of pregnancy, you can choose any style, excluding models with tight corsets and bodices. Prefer lightweight natural fabrics - cotton, silk or satin.
For brides with a slightly noticeable belly, couturiers offer a wide selection of modest elegant dresses with a high waistline. Many models are decorated with pleats, lace, bows, fashionable this season. These details are designed to distract attention from the protruding tummy. Dresses in Greek style look especially impressive on pregnant brides. This style will help emphasize the modest femininity of the image. Outfits are decorated with touching pearl applications, sparkling pebbles..
Photo of modest wedding dresses for painting and wedding
Nowadays, extravagance and splendor when choosing wedding dresses go to the secondary plan. Modest dresses, emphasizing the natural charm of its owner, firmly established among the leaders in the wedding fashion market. In order to look spectacular and seductive during the ceremony, there is no need to put on expensive toilets decorated with a scattering of precious stones. See below a selection of charming modest dresses for modern brides.