Contents
---
---
For the past several seasons, dresses with a hem of different lengths (short front and long back) are at the peak of popularity. The fashion industry offers a wide selection of models: both holiday and casual. Brides who want to create an original image are eyeing unusual wedding dresses. For some girls, such dresses are a real find! Learn more about models and styles of dresses with different hem lengths.
Models of dresses short front and long back
When choosing the style of wedding wear, you need to pay attention to the peculiarities of the bride's physique. Dresses that are short in front and long in back are more suitable for slender brides with beautiful legs - both tall and petite. Such a wedding outfit is somewhat outspoken. You should not choose models with a deep neckline, as the whole romance of the image can turn into vulgarity. Popular are: models of straight cut, openwork with lace, styles with a fluffy skirt, an asymmetrical hem, with a train.
A.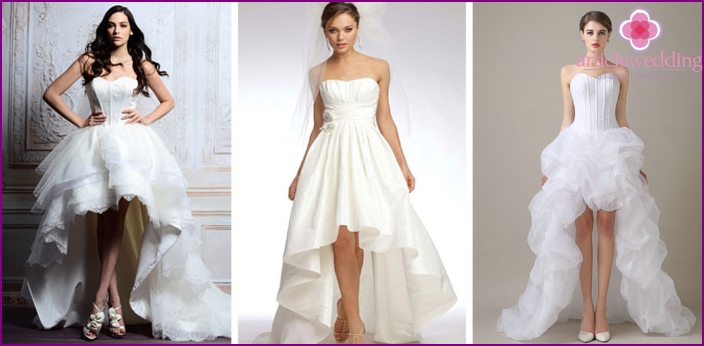 Straight cut
Straight-cut wedding dresses are the choice of courageous girls with a beautiful figure, especially legs. This is an ideal outfit for a modest wedding ceremony. The style compares favorably with others in its classical elegance and even some aristocracy. In fashion now, not only white wedding dresses, but also dresses of other colors - ivory, lemon, especially red. The straight style looks strictly, it will suit girls who like to wear a lot of jewelry. In this combination, the accessories will look appropriate, relevant.
A.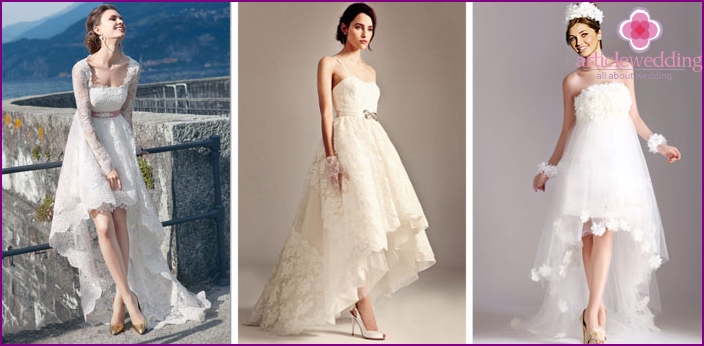 From openwork lace
A dress with a different length, made of lace, will suit many brides. When choosing such clothes for a wedding ceremony, you should focus on its style, color, material. So, for women with wide shoulders or hips, it is better to choose a dress with lace inserts: due to the combination of fabrics of different textures, the figure flaws will not be too noticeable.
Some women are complex about their hands - they seem to them too thick. Openwork sleeves will help to hide this drawback, make it not so noticeable - the entire length of the arms, three quarters, flared sleeves. Lace will emphasize the grace of the wrists, visually reduce the volume of the hands. Such a sleeve decor will make the image tender, graceful, feminine..
If a woman has a beautiful figure, devoid of flaws, it makes sense to buy or order a thing completely sewn from lace. Such clothes for the wedding ceremony look unusually sensual, romantic, sexy. Lace is now in fashion, so a woman, choosing this material, does not fail. The main thing is to choose the right style. Now restrained style is popular, so you need to choose things with a laconic design, without an abundance of decor, structural details. To give the image more solemnity, you should choose lace with large floral patterns..
A.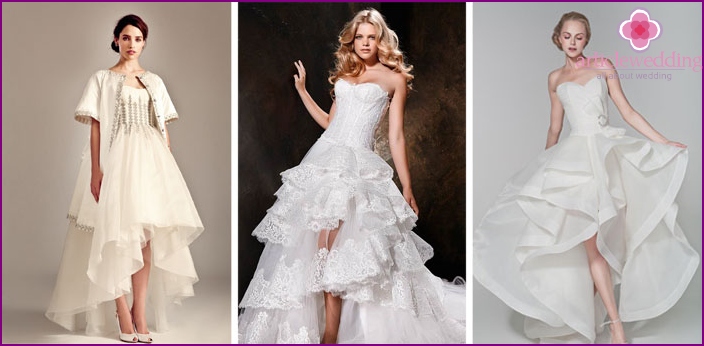 With a full skirt
Dresses with a full skirt are popular among women who want to create an elegant, solemn image. Lightness and airiness will give the image a special festive flavor, typical of all wedding events. For fluffy skirts, it is worth taking a closer look at ladies with figure flaws. This will make it possible not only to make some defects invisible, but also to completely transform the silhouette - reduce waist size, increase hips, make the silhouette slim and a little fragile.
If you want to make the figure more refined, it is better to choose an option in which a fluffy skirt will be combined with the upper part on the corset. A fitted top decorated with satin or lace, combined with a wide skirt will make the silhouette sophisticated and feminine. When choosing a suitable outfit, it should be borne in mind that the magnificent lower part of the attire adds volume, so this will not work for full ladies. They will not decorate thin girls: a wide skirt will attract attention to thin, thin legs.
A.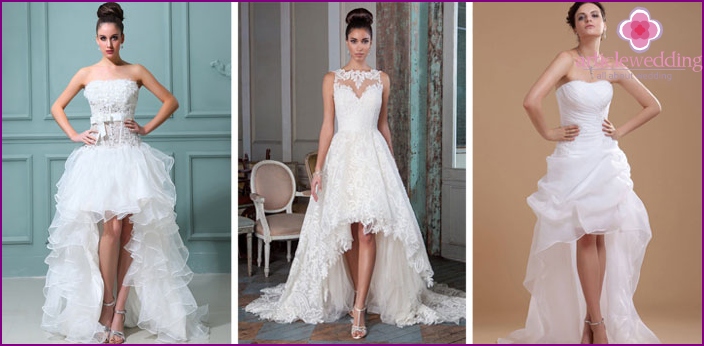 Asymmetrical bottom
The optimal solution for brides who want to create a catchy and unique image - a dress with an asymmetric length. Will it suit or not, it turns out only after trying. In some ladies, legs and calves look attractive only in front, and from behind they appear to be fat. In this case, it is recommended to choose a dress so that it has a floor length at the back, the front part can be both above and below the knee. If the legs look perfect, it makes no sense to cover them from behind.
A.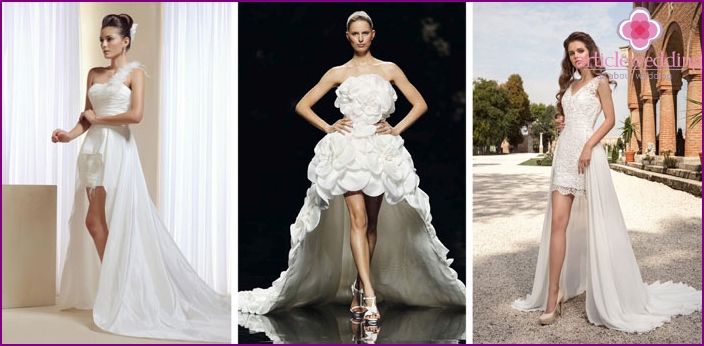 Dresses with a train
A long hem with a train will give the image an unusually bold, bold look, especially if the shoulders are open. The flowing train will make everyone present at the wedding pay attention to the hero of the occasion. The main thing is that the legs are slim, otherwise the effect of the loop will be the opposite. The owner of a beautiful dress with a train should also have a slim figure. This type of clothing goes well with wedding accessories - a veil decorated with rhinestones and embroidery..
Video review of dresses in front short short back long
The varied hem length is the choice of courageous, stylish, modern girls who are not afraid to attract attention with their beauty and style. Wedding decoration with a hem of different lengths will adorn the bride if she has a beautiful figure and legs. You will have to choose another option for wedding clothes, if your legs do not differ in harmony. Want to take a look from the side and evaluate how a stylish wedding dress with an asymmetrical hem should look? Watch the video below.
Photo of short wedding dresses in front
Despite the wide range of wedding dresses, only some of them have a different hem length. Therefore, the choice is limited to several models. How to be? There is one simple solution - order clothes in the studio or from a private master. Look at the photos below, you will surely like some model. All that remains is to show the seamstress you like, pay for the order and wait for its execution.
A.