Contents
---
---
Many couples want to make their wedding special, unusual and extraordinary, so they arrange a themed celebration. The choice of the Japanese style of celebration guarantees that it will be original and bright. But for this, the bride and groom need to think things through well in advance, prepare a lot of accessories, and select the bride's outfit on the holiday theme. What are the Japanese wedding dresses? What to look for when choosing clothes for the bride in the style of the country of the rising sun?
Traditional japanese dress for the bride
For a Japanese-style wedding, a kimono is perfect as a bride's outfit - it is made from a solid piece of fabric. At a traditional wedding in Japan, the bride and groom during the holiday several times should change outfits:
she wears a white kimono on the solemn part of the marriage;
at the banquet, the bride wears colored clothes, and black Japanese clothing is also appropriate for the bride and groom;
for the final part of the holiday, the girl changes into a European outfit with a veil.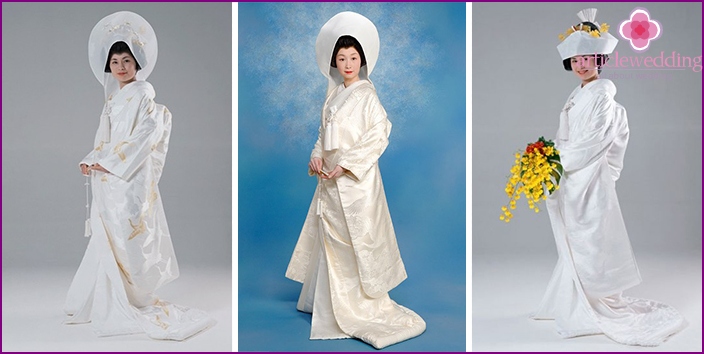 White kimono decorated with pearls and flowers
A bride in a white kimono with embroidered buds and pearls will look beautiful and spectacular at a Japanese wedding. It is called shiro-maku (flawless, white). Each pattern on the fabric of this oriental attire has a specific meaning:
the image of plum-ume flowers or bamboo leaves indicates vitality and stamina,
crane figures - fidelity, happiness,
turtles, pines - longevity.
The female kimono is put on, wraping it to the right and belting it with a special expensive obi belt.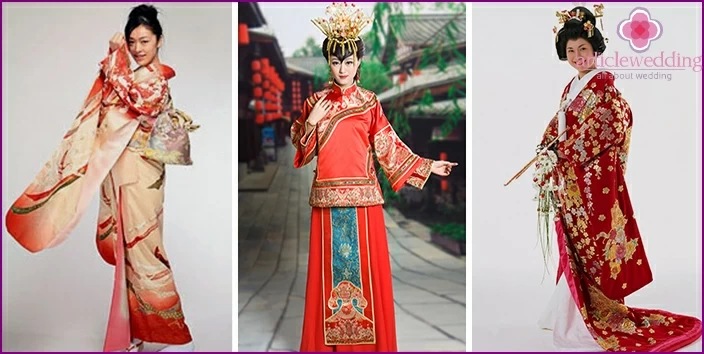 Red and white dress embroidered with silver and gold
Color wedding kimono is called uchikake. He is put on after the official part of the marriage. Fabrics of different colors can be used for sewing kimonos, but red is a popular shade for wedding clothes. The scarlet outfit symbolizes life, youth. Silver and gold embroidery make the kimono festive and give it a luxurious look, while emphasizing the beauty of the bride's skin.
Styles of modern wedding dresses in Japanese style
European outfits stylized as Japan are very different from traditional kimonos. One or several details from an oriental dress are played out in them. For example, the Japanese theme can be traced in dresses with wide sleeves, a straight cut and a stand-up collar. It is easy to turn wedding clothes with an open top and with folds on a skirt into a oriental outfit «Mermaid», with high waist. To do this, add a Japanese-style accessory to the dress or choose fabric with a traditional pattern for kimono for sewing.
The material of the bride's clothes should be light, so silk will be the best option for creating oriental wedding clothes. For its tailoring can use fabrics of different colors, but red, pink, blue material is often used for this purpose. Small flowers on wedding clothes, combined with a plain belt, will create a mysterious Japanese image of the bride. You can make a hint of the eastern theme of the celebration by decorating the dress with the national embroidery of the country of the rising sun. But the lush or too short (above the knees) outfit to stylize Japan will not work.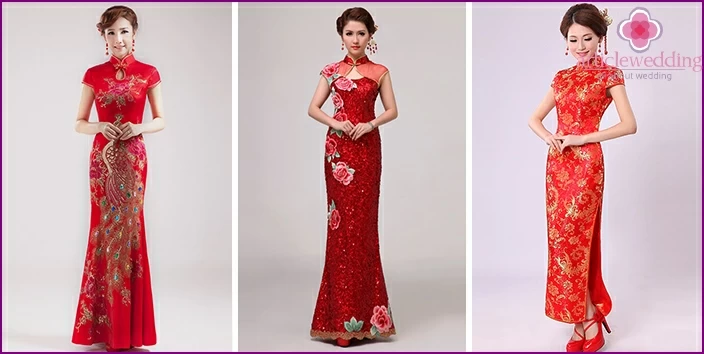 Straight dress with a stand-up collar
The girls look spectacular straight Japanese-style wedding dresses with a stand-up collar. Such dresses can be of different shades, but festive clothing made of red fabric, decorated with embroidery in the form of flowers, cranes, peacocks is a popular option among brides. A stitch collar goes well with a straight silhouette and gives along a bright oriental style. Silk or lace fabric is widely used to create Japanese dresses, and they are decorated with colorful stones, gold embroidery.
A-line silhouette with wide sleeves
It is easy to give an oriental touch to a wedding dress with an A-line. To do this, it is necessary to supplement it with details that resemble kimono elements. The white A-line outfit goes well with a color bolero with wide sleeves and a corset-belt, reminiscent of Japanese «obi». Ethno design of wedding decoration looks original and will make an exotic beauty out of a newlywed.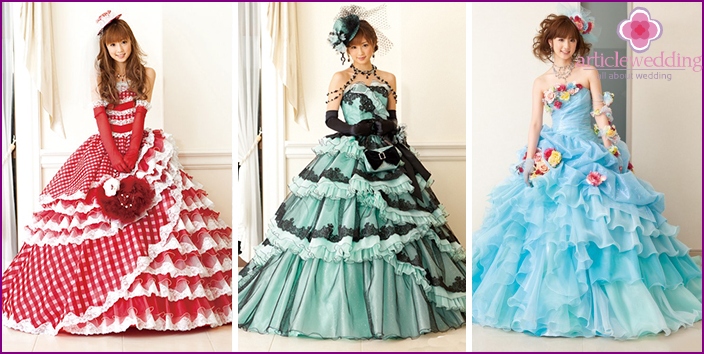 Style dress «Princess» bright colors
A beautiful collection of lush Japanese wedding dresses was created by designer Yoko Ogura. The variety of colors, finishes and textures of his models is amazing. Light and multi-layered yellow, blue skirts with frills will help create a sophisticated and airy image of the bride and groom. And the decoration of the outfit with artificial flowers, which are arranged as if they were scattered across the fabric, looks unusual and romantic..
The transformed belt is effectively combined with a magnificent dress «obi», which girdled a kimono. In some models of the designer Yoko Ogura, it is located in the form of a huge bow on the hip, and in others - a narrow strip encircles a thin waist. Wedding wear looks bold and extravagant, in which parts of the upper skirts are made of plaid or polka-dot material. This style is suitable for the bride with a doll figure and appearance.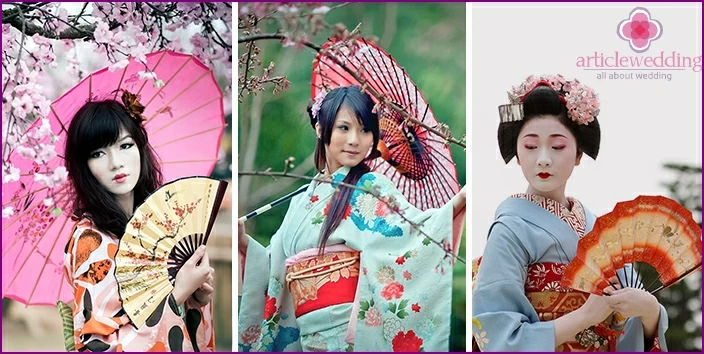 Japanese Style Bridesmaid Dress Accessories
To create an oriental style for the bride and groom, be sure to use traditional Japan accessories: a fan, an umbrella, a flower on the neck with a ribbon. These details of the image of the bride effectively emphasize the theme of celebration.
A fan is an indispensable attribute of a Japanese bride and groom. It is made and painted in the same manual way as 5 centuries ago. To create a fan, 3-, 5-, 7-layer washi paper is used, and the frame of the product is made of bamboo. Expensive items are decorated with precious stones, ivory.
A bright umbrella is an important accessory for a newlywed at a Japanese wedding. It will help create a unique oriental flavor in the image of a girl.
The bride's hairstyle should also be specific. Japanese newlyweds traditionally make complex styling «simada». This hairstyle is complicated and unusual: it looks like an exotic flower. To create a styling, use ribbons, combs, bows, long hairpins. Before, Japanese women used hair accessories made from tortoise shell at the wedding ceremony. They were decorated with beautiful national ornaments..
Nowadays, metal, wooden, bone long hairpins and combs are used for hairstyles in the oriental style. Japanese belt «obi» capable of giving a European dress an oriental flavor. This important piece of kimono has a length of 4 m and a width of 30 cm, and weighs about 1 kg. The belt on a traditional wedding dress is tied with a huge decorative bow on the back. It is made of silk and decorated with gold embroidery or painting. In modern decoration for the bride use a belt with a hint of «obi», but still he gives the dress a bright oriental flavor.
Photo of Japanese Wedding Dresses
If you decide to adhere to the Japanese style at your wedding, then the first thing you will have to choose is special decoration for the bride. This is easy to do, because there are many options for suitable dresses. You can choose a wedding kimono or a festive decoration with elements in the Japanese style. Charming oriental motifs of the country of the rising sun in a bride's dress will look advantageous and unique. They will emphasize the sophistication and originality of the newlywed and will enchant everyone around them at the celebration..