Contents
---
---
Nikah is the most important day in the life of a young Muslim woman. Each girl wants to be beautiful and unique at the wedding. The main thing that dresses for Nikah focus on is decency, honor, modesty of the bride. Allah ordered women to cover themselves in the presence of strangers. The main rule was the concealment of an aurat (body), and a girl can independently choose clothes for the holiday.
What are muslim dresses for nikaha?
Since nikah is a Muslim marriage ceremony, it is important to comply with all the requirements and traditions associated with it. This mainly concerns the dress - the bride's outfit must comply with the rules of Nikah. The bride's robe should hide the figure, be muted in color and leave only hands and face open. Hair, neck, forearms, ears must be covered with clothing. On top of the dress, the bride is covered with beautiful wraps.
A modest free cut that covers the aurat is a feature of Muslim robes, not only for weddings, but also for everyday life. A Muslim woman should not go out in people with her head uncovered with a headscarf or in tight, translucent clothing. Moreover, the rule also applies to a wedding dress. Simple clothes are designed to hide the female figure from prying eyes, and its color should not be variegated and attracting attention.
Types of wedding clothes for nikaha
A Muslim bride at a wedding ceremony can look great in the decoration that completely hides her, without resorting to additional accessories. This is the main advantage of a dress for nikaha. Most eastern men are convinced that their women are more mysterious and mysterious, and therefore beautiful, than those who allow themselves to appear in public in miniskirts. Muslim clothes bring a twist to girls who profess this faith, and the Nikai national robes are very practical and comfortable..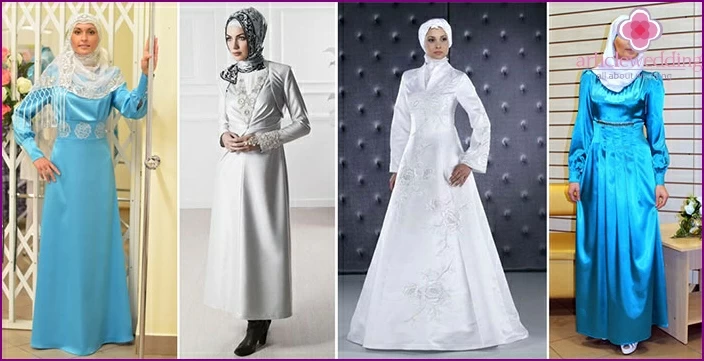 How to choose a wedding outfit?
When choosing a dress for nikah, make sure that in this outfit you will be comfortable not only physically, but also psychologically. Having decided on the style of the outfit, think in what color you would like to see your wedding decoration. Remember that all shades of clothing should be in harmony with each other. Proper sizing is also crucial. If the wedding dress will be small or large, then you will be uncomfortable in it. And on such a solemn day, nothing should distract or cause inconvenience..
Muslim marriage is a special event that has its own rules and canons, including the choice of a wedding dress. High-quality, expensive fabric, hand-made tailoring give a rich look along with it. Ordinary dresses for the nikah ceremony is a full-fledged hijab that closes the aurat, since the beauty of oriental women is similar to a pearl in a shell, only the husband has the right to admire it.
Muslim dresses are a unique thing. There are not many craftswomen making similar outfits, since it is very difficult to combine all the requirements in such a specific product. The strictness of the canons determines the special rules to which the festive garments must meet. Fashion designers who sew such things must strictly observe two main rules:
Make the outfit as attractive and comfortable as possible..
Comply with all requirements for hijabs.
Here are a few basic requirements that must be observed when choosing a dress:
The style should be free, hide the silhouette of the bride.
The skirt is allowed only long, and the sleeves should cover the entire arm to the wrist.
Girls are not allowed to open their shoulders or wear the neckline.
Head must be covered, including neck, hair.
Dress fabric
For tailoring Muslim wedding dresses use different materials. It can be guipure, satin or other fabrics. An outfit can be decorated with a beautiful pin or brooch. Atlas is appreciated by many designers, because the material is considered universal and pliable for sewing. With its help it is possible to create a flowing effect, and visual overflows of flowers on a satin dress will emphasize the beauty of the girl, riveting the eyes of the guests to her. Guipure also has many advantages. He is able to give even a simple style a special luxury, elegance.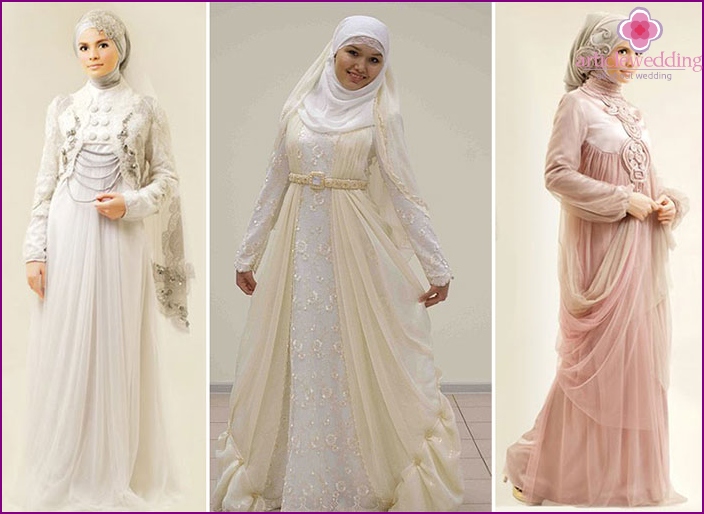 Modern designers use different types of materials for sewing festive clothing nikah: silk, velvet, chiffon, crepe chiffon. Outfits are decorated with thin lace, basques, decorative stones, embroidery, sequins, beads. The free choice of fabrics provides for compliance with the main mandatory rule - the material should not be visible or transparent.
Traditionally, a Muslim woman's wedding dress is complemented by a scarf, which is sometimes worn on top of a veil. A large number of seamstresses who specialize in sewing wedding dresses also make scarves. They are sewn from the same fabric or similar in texture to the decoration itself. Sometimes craftswomen are invited to personally tie a scarf to the bride, as this is a complex process that requires certain skills.
Length and cut
Those brides who comply with Sharia, choose free, fully covering the body of the dress. The outfit is not allowed to fit the figure or focus on the forms of the bride. Her clothes must comply with the prescribed canons, and therefore - be distinguished by modesty, decency. The girl's head is covered with a beautiful scarf, and gloves or sleeves can be bought as an addition to the dress. Choose them according to the color and style of clothing.
Long braids hide under a special dressing put on a head. This garment can be decorated with a veil or veil. Despite its simplicity, some Muslim dresses are a whole work of art. Embroidered with gold threads, bead ornaments, decorated with pearls and lace, they emphasize the importance of the event and make the bride irresistible.
Beautiful large decorations, inserts, handmade stylistic embroidery, a fluffy style with a high waist, flared sleeves, a harmoniously matched headdress (shawl or scarf) - all this creates the image of a Muslim bride. Even modest models of dresses can transform a woman, endowing her with special attractiveness, charm and pure beauty.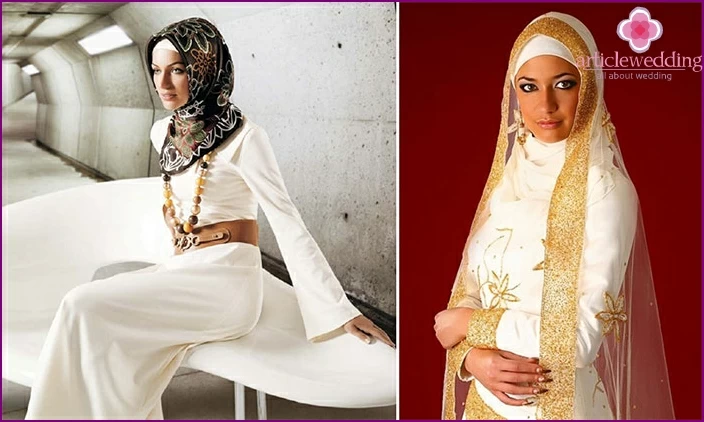 Color spectrum
Choosing the color of the dress, it is important to know in advance what shirt the groom will be at the ceremony. It is good if the clothes of the newlyweds will be in harmony with each other. White and pink dress are considered traditional. However, other colors are allowed. Pay attention to the deep blue and matte shades of delicate beige. In no case should you wear nicknames in red, since the Sharia states that women's clothing should not attract attention and provoke men.
Practicality later on
Another important point to consider when choosing a Muslim wedding dress is its practicality. Choose an outfit that you can wear after the ceremony. If the clothes just lie in the closet, then this is considered an israf - a waste of money. Therefore, you should buy a dress that you can wear after the wedding.
Recommendations for choosing a Muslim dress for full
On Nikah day, every girl wants to look elegant and beautiful. In order for the dress to add harmony to the female figure, it is worth stopping at monophonic models of cold shades. Different patterns, ornaments and lace as ornaments give an even more voluminous effect, so you need to refrain from them. Do not give preference to knitted fabrics, flying silk or light chiffon will be the best option.
Photos of modern dresses for nikaha 2016
Everyone who saw Muslim wedding dresses created according to the rules of the Shariah, was convinced that the robe for nikah can radiate a special beauty and strength. Moreover, in no case will he keep up with fashion trends, on the contrary - he combines romance, tenderness and hijab norms. Muslim wedding dresses fascinate with their mystery, originality and attractiveness.