Contents
---
---
Brocade fabric looks luxurious due to the shiny metal fibers that create a decorative pattern. It was used in ancient times by the richest and most notable people for sewing wedding dresses. Modern brides often choose a brocade wedding dress for themselves, because it has become much more affordable, but this has not lost its attractiveness. Brocade is a heavy, dense fabric, so it is better to use it in the cold season. Snow-white or champagne-colored sparkling outfit will make you the queen, and wedding photos will be bright and beautiful.
Models of brocade wedding dresses
When sewing brocade wedding mollusk, consider that the fabric itself is already an ornament, so it makes no sense to choose elaborate styles. Couturiers know that the model of the future outfit depends on the type and density of the material. Brocade fabric is more suitable for tight silhouettes. Even the most familiar short sheath dress will look chic with the right selection of accessories - veils, shoes, jewelry.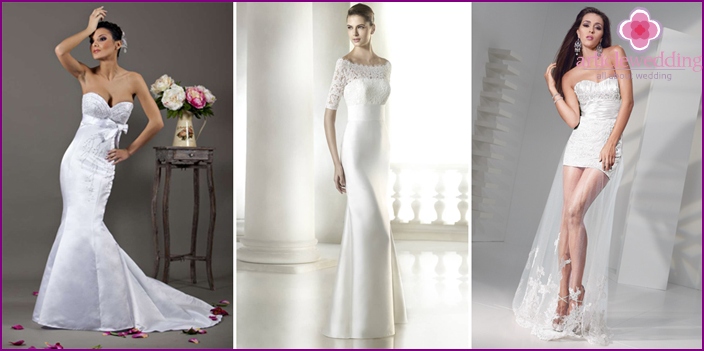 Rays of light reflected in golden threads visually enlarge the figure, making the bride a few kilograms fuller. If a girl cannot boast of ideal proportions, she should choose a model with a corset and bare shoulders. The corset will make the waist thinner, raise the chest, and the exposed areas of delicate skin will acquire a magical matte tint in the sheen of brocade.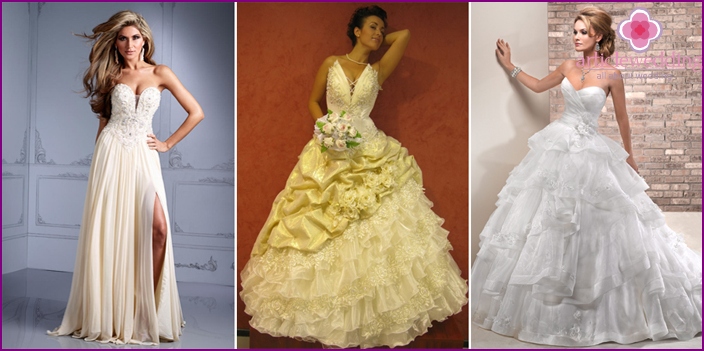 Brocade is perfectly combined with other fabrics - satin, velvet, while the silhouette only becomes lighter and slimmer. From time immemorial, furs are indispensable companions of brocade. Remember the old paintings - merchants in brilliant brocade dresses, arctic fox or fox fur coats ride horse carts. The same principle applies when dressing. «winter» brides. In the absence of a fur coat, a white fur cape is suitable.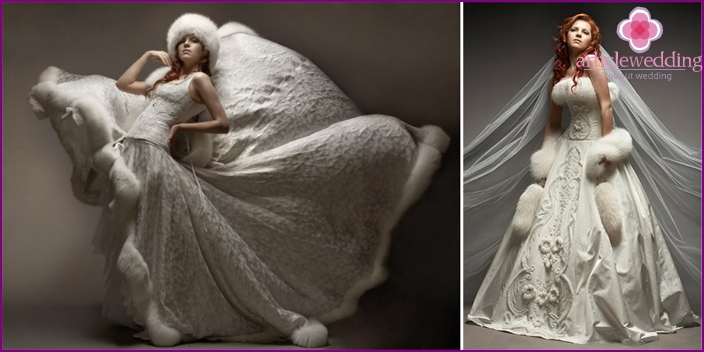 Silhouette «Mermaid»
A new popular trend in wedding fashion is a dress in style «Mermaid». It tightly fits the figure to the knees, and immediately from them expands to the floor, like the tail of a mermaid. This style is not suitable for every girl. Tall and slender beauties can safely put on such an outfit for the wedding, it will emphasize the dignity of their figure. But if the bride is far from a thin waist, too wide hips or short legs, try on «mermaid» should be used with caution.
It is rare to see a wedding outfit of this style, sewn purely from brocade. She performs the upper, fitting part of the dress, and the mermaid tail is made lush and light due to softer, airy fabrics. Often, the back skirt goes into a long train, giving the bride a fabulous elegance. It should be noted that moving in such an outfit will not be very comfortable, but the bride will have a brilliant look.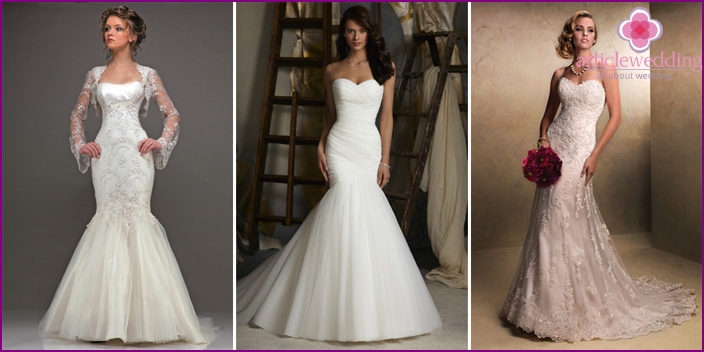 Style dress «Empire»
Greek style brocade wedding dresses for a long time occupy leading positions in the top of the catwalks of fashion shows. Graceful, graceful, they are ideal for romantic natures, make the photo shoot bright and extraordinary. High waistline, brilliant brocade bodice, from which the light, flowing draped skirt, extended from top to bottom, are the main signs of this style. A high waist is a godsend for brides in an interesting position, because underneath it is conveniently hidden a barely showing tummy.
The waist line is for designers the main place to decorate the dress. It is decorated with velvet, satin ribbons, hand embroidery. As an option, the back of the ribbon goes into the original bow. To make the skirts soft, falling, and easy to drape, they use flowing fabrics - silk, chiffon. The back is made either completely open, or decorated with shiny lacing, interweaving of artificial flowers, stones.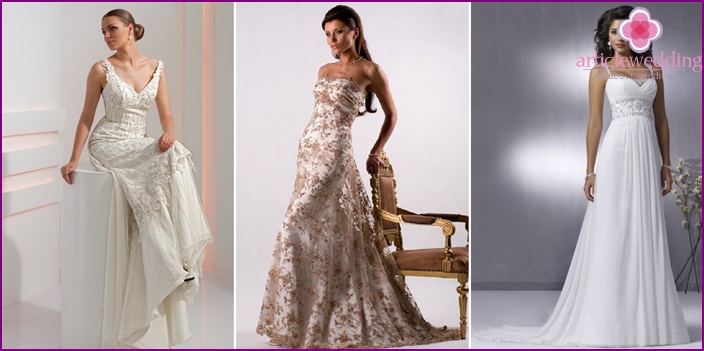 Straight brocade dress
In high fashion there is such a rule - the more expensive and heavier the fabric, the easier the style of the product should be. Therefore, direct classic brocade dresses are in no way inferior, and in their elegance even surpass light and airy elaborate styles. Crafted in shape, they completely fit the silhouette, emphasizing the femininity and beauty of their owners. Girls with a good figure and beautiful legs will look exquisite in short and medium length wedding dresses. And long styles will make any figure slimmer, sleeker.
Straight brocade dresses look great on both tall and miniature girls, lengthening the silhouette favorably. They will not be suitable only for owners of large hips, a large abdomen, and broad shoulders. Choosing a straight dress for your wedding, you will not lose. But, before making a final decision, think carefully about how your figure matches the classic silhouette.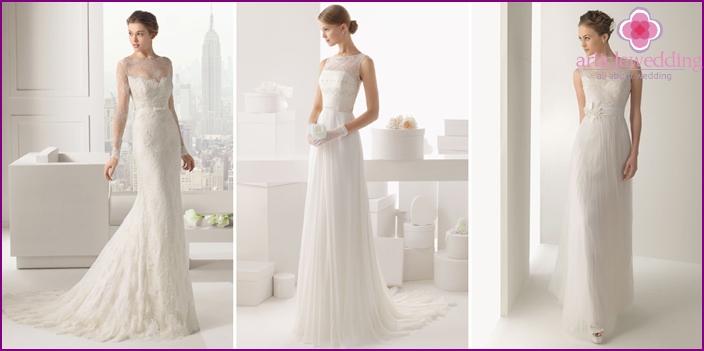 A-silhouette model extended to the bottom
Such a wedding dress will suit absolutely any bride. A tight-fitting, but non-squeezing bodice visually stretches the figure, lifts the chest, the girl seems to become taller and slimmer. The moderately lush skirt expands smoothly from top to bottom, making the silhouette look like a glass. The bodice made of brocade fabric glistens, shimmers, creating the effect of gilding or precious stones. You can decorate a silk, chiffon, tulle skirt with fragments of a brocade pattern, which will add chic, along with showiness.
Brocade, sparkling with patterns in the sun, attracts attention, but dresses sewn entirely from this fabric will look heavy and visually add a few extra pounds to the bride. In this style, brocade blends perfectly with lace and satin. Lace gives the image of airiness, lightness, grace. The skirt decorated with them will make the outfit richer, more stylish. The atlas fits beautifully on the figure and emphasizes its features. An interesting combination of fabrics creates an exclusive A-line wedding dress.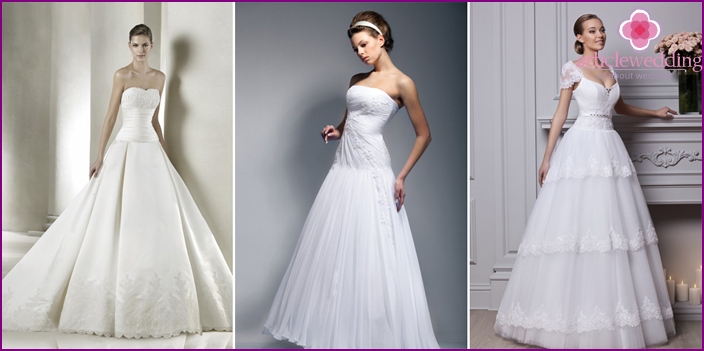 Ball Gown Style "Princess"
A ball gown with a full skirt is the dream of every little girl. And when she grows up and becomes a bride, it is time to realize a dream. A thin waist pulled into a tight corset, a seductive neckline, and a fluffy long skirt solemnly rising on a petticoat with hoops are the main elements of a ball gown. You can see completely brocade wedding dresses, they look like a royal. But so that the dress does not seem too bulky, heavy, it is recommended to use brocade to trim the corset and skirt.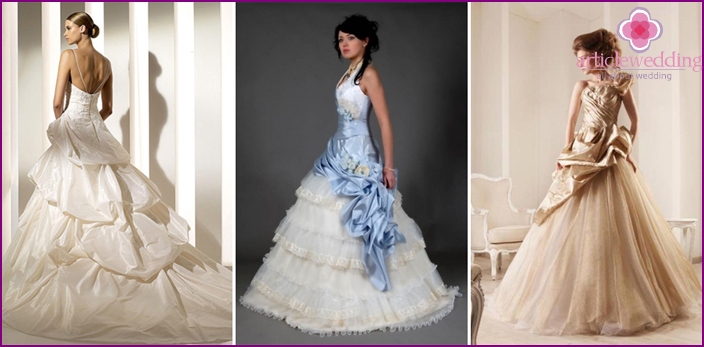 Photo of wedding dresses from brocade 2015