Contents
---
---
One of the most sensitive and piquant questions in the general preparation for the wedding celebration is the choice of underwear. Everyone understands that the wedding set should be so luxurious that the bride could with absolute confidence appear in front of her newly made husband during the first wedding night. Often, choosing the perfect option for this occasion becomes a huge problem, because you have to consider many details. For any girl who is going to get married, this topic is very relevant.
What clothes to wear under a wedding dress?
Always pick up wedding lingerie, given that you have to spend all day in it. The kit should not rub or inconvenience you. Depending on the chosen style of the wedding dress, you should also choose underwear for it. When choosing a spicy part of a wedding dress, you should be guided by the following rules:
For a dress with a deep neckline on the back, it is better to opt for silicone cups that are attached to the chest and hold on their own. Alternatively, consider a bra with racial back straps..

If the wedding dress has a style with a corset that opens the shoulders, choose a bustier (looks like a corset to the waist, only with soft fabric) strapless, a bodice with push-up effect to beautifully emphasize the shoulder line and chest area.
For a tight-fitting dress, a tightening corset or grace is preferable, because these two outfits are able to tighten the stomach as much as possible, raise the chest and straighten the posture. An alternative can be a seductive body, underwear with a seamless effect or flat seams.
A deep neckline involves choosing a bodice that emphasizes the chest beautifully and favorably, but it should not be visible. Choose a bustier, model «balconette» (opens a large part of the chest and lifts it up).

The underwear - panties, should not stand out through the dress. Therefore, wear seamless thongs with smooth material. With the rest of the models, dresses are easier, as you can choose lace panties.
Features of choosing linen for the bride
When choosing your underwear for the bride, you need to consider a huge number of parameters that correspond simultaneously to the main two requirements: beauty and convenience. Therefore, this issue requires a thorough approach, which will not disregard a single detail. These details should include the following:
Choosing a model that will help to hide any figure flaw, if necessary.
Lingerie should allow you to feel comfortable in it, so that nowhere and nothing compresses, does not crush, does not hinder movements, and fasteners do not leave marks on your body. Below, watch a video that tells in detail about how to choose the right underwear in general to make it comfortable for you, and also you will learn how to determine the shape of the breast:
Trends in modern lingerie fashion make it possible to adjust the girl's posture with some tricks in production technology.
Underwear is able to give even greater harmony to the figure, creating «aspen» waist.
When you begin to pick up linen, consider the color, the possibility of using removable straplesses and other key points that will make it possible to do everything so that it does not look out from under the dress.
If the wedding dress has a deep neckline, then prefer a strapless bustier with push-up effect. If it is tight, then choose linen from the finest silk with seamless technology.
Elastic or silk underwear made with beautiful lace will be more seductive..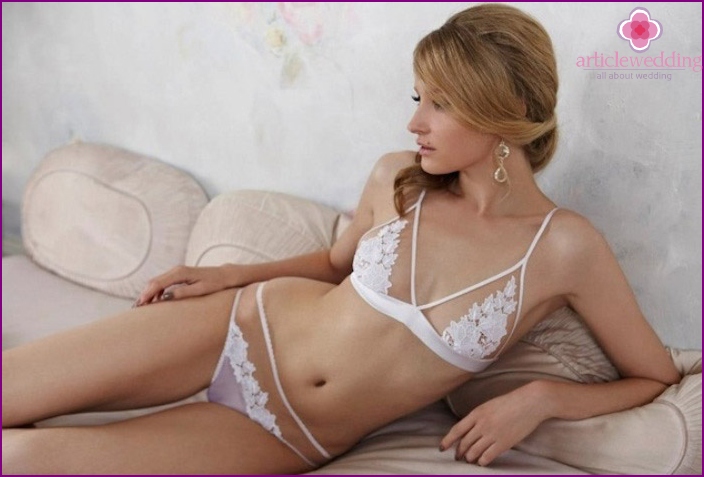 Types of underwear
The choice of wedding underwear is so great that it is not difficult to come up with the perfect look in which you can boldly seduce and amaze your husband. These include: corsets, stockings, tights, garters and other accessories. Check out this variety below..
Panties and bra
There are models of underwear sets from which you can choose a wedding set to your taste. The assortment of more than one well-known brand includes kits that correct any figure, give confidence to the bride, emphasize dignity and give feelings of comfort, self-confidence. You can choose a silk set, seductive lace underwear, a strict smooth set - it all depends on the style of the wedding dress and your preferences.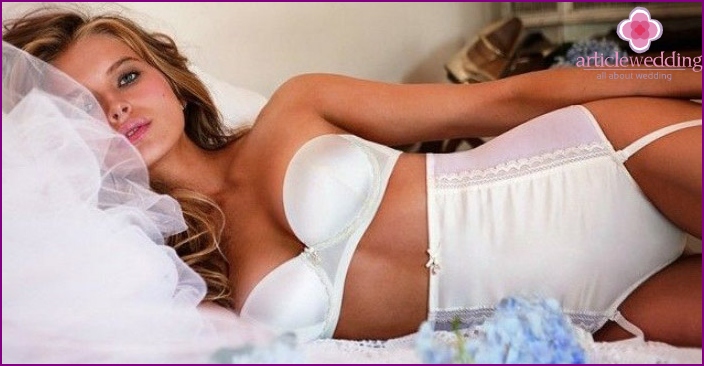 Corset
A corset is one of those feminine accessories that can not only give a sexy appearance, but also correct figure flaws: tighten your stomach, raise your chest, straighten your posture, create an effect «aspen» the waist. The types of corsets that are offered by modern fashion can be varied, for example:
Corset with lacing, which is able to create the most slim waist and emphasize femininity.
Corset in the form of a dense bodysuit with a brightly marked underwired bodice.
Tight corsets made of decorative fabric, laced. In this robe you will be the most seductive woman for your beloved husband.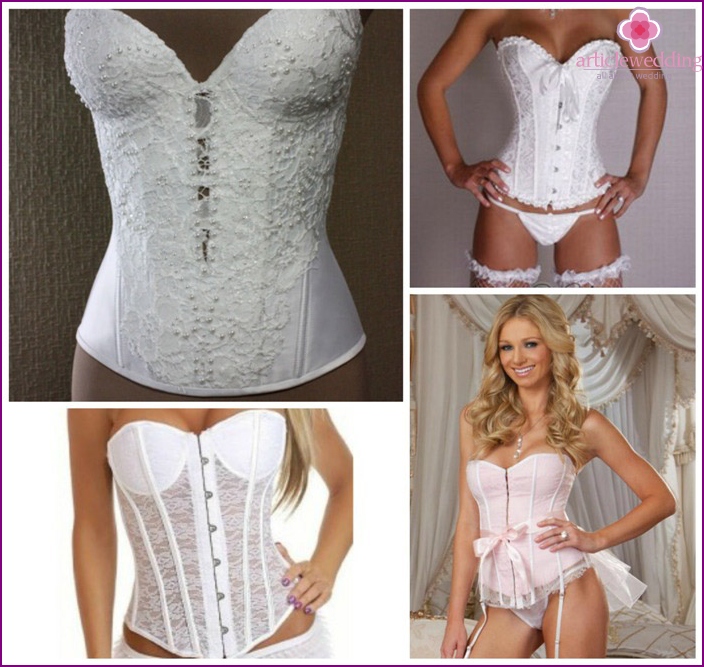 Stockings or tights
A very important detail of the wedding attire is stockings, or tights. The rules of good manners and etiquette suggest the presence of stockings or thin tights even in the summer. If you prefer beauty and sexuality, then put on your own wedding stockings with seductive lacework and silicone clips or with a silky base, which are fixed with a belt.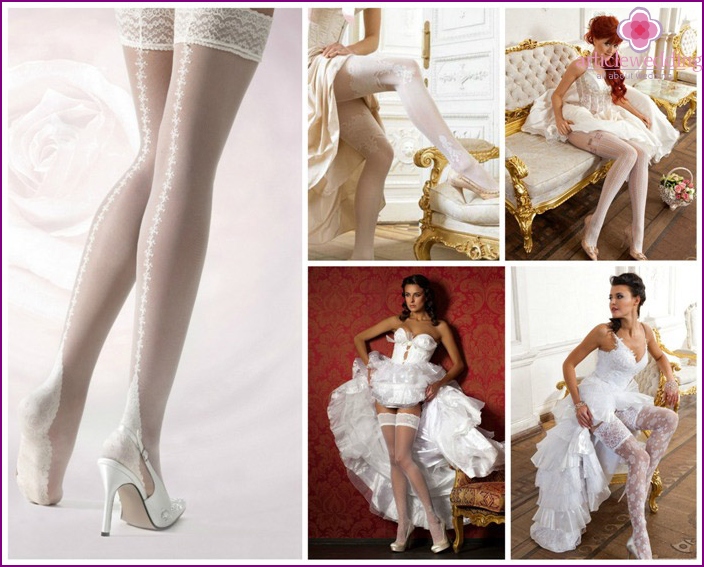 Garter
An integral accessory of the ideal bride is a wedding garter on her leg. This is a kind of amulet for a young girl, which is hidden from prying eyes and is intended to be removed by the groom. Modern customs require a garter for a contest similar to throwing a bouquet, only for men. Therefore, choose an openwork garter so that it brings good luck not only to you, but also to the next owner, who will catch her from the hands of your beloved husband.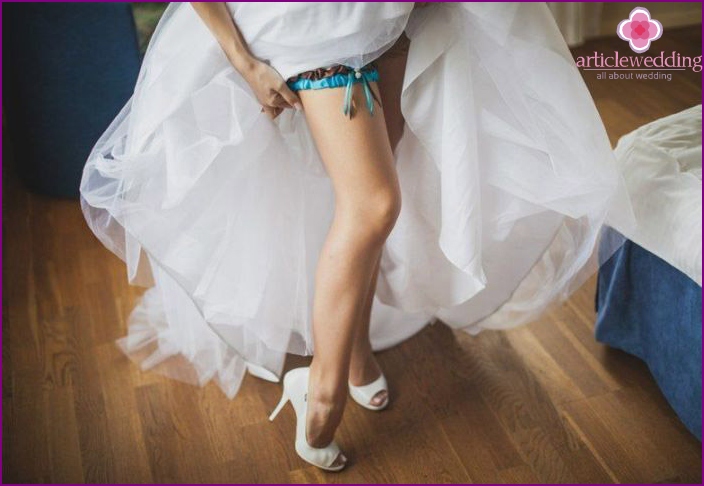 How to choose the right color
When the dress is already selected, it becomes clear what color to choose underwear. It should not differ cardinal bright colors. The traditional wedding dress is white, plus or minus some shade, therefore, the linen should be in the same color scheme so as not to give out its presence, shining through the fabric.
If you additionally pick up linen for the wedding night. There is already no attachment to color, completely surrender to your taste preferences and fantasies that you are going to realize. Do not stop your choice on strict sets, pay attention to additional decorative elements, lush lace, bright colors, iridescent rhinestones, pebbles. All this will add more happy moments in the intimate atmosphere of the wedding night..
Ideas for beautiful wedding lingerie
Options for underwear for a wedding dress exist for every taste and style. Thanks to modern fashion trends, you have the opportunity not only to correspond to an important event in your life, but also to look very seductive. See below great ideas for beautiful wedding lingerie to be able to decide on the model of your kit in absentia.