Contents
---
---
On a wonderful wedding day, any bride wants to be the most charming princess, bewitching thousands of eyes. But what if the density, as well as the length of your own hair is not enough to create a chic hairstyle? For such girls, an ideal solution would be a wedding hairstyle with false strands. Additional strands are easy to fix on the hair, they will give them density, length. Such a volume will help to make any styling you like..
How to choose the color of the strands
When choosing overhead strands, your usual natural hair color is taken as the basis. To make the hairstyle look organic, they must be the same color as yours «relatives». To do this, take one strand, attach it to your hair: if you clearly see the difference between the color of your and false hair - you need to look further.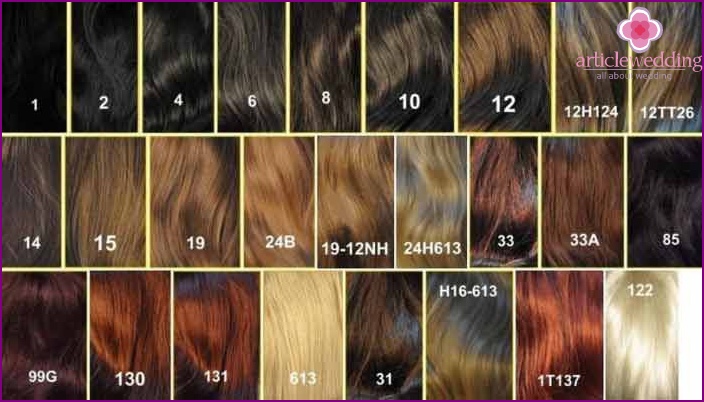 Which are better - artificial or natural
If you do not want to grow hair for the sake of one wedding day, get false locks. In contrast to this method, the building process takes a lot of time, it will also require additional costs.
False strands are artificial and natural. Natural ones have an advantage - they are much more expensive in price, but more practical in application. Using them, you can simulate any type of hairstyle, up to loose curled hair, they will not differ from your own.
Natural false strands are freely painted in any color, perfectly washed and curled, which cannot be said about artificial ones. By weight, such strands are heavier, so it is not recommended to use more than four pieces at a time, so as not to weigh down your hair.
For fashionistas who dream of a romantic wedding hairstyle in the form of long loose curls, a natural option is suitable: strands emphasize all the beauty and health of the bride's hair. To create a charming and delicate look, fresh flowers woven into the hair are used..
Choose natural overhead strands that have no ends cut, then they will be shiny, vibrant. If the budget does not allow them to be purchased, then we recommend choosing artificial ones. You can safely buy them if you want to make a high hairstyle, which requires a large volume of hair. Pay attention to the thickness of the hair - at the top and bottom it should be the same.
For curly styling, it is better to immediately acquire curled overhead strands, since artificial ones are very naughty, do not wrap, and besides, they can melt under high temperature of the curling iron. Keep in mind that faux strands will shine harder than your own hair..
Choose straight or curled artificial false locks, taking into account the type of hairstyle chosen. We recommend that you first listen to the opinion of the hairdresser and decide what suits you best. In the hands of a skilled craftsman, additional locks will help create a real masterpiece!
Wedding hairstyles with false strands
Styling for an important wedding day, including overhead strands, can be different in style, length, and other parameters. The only thing that unites them all is beauty. The bride should be breathtaking, and hair is an emphasis that always attracts attention.
Retro style
Retro style is becoming fashionable in all areas of our lives, he did not bypass the wedding fashion. Retro style hairstyles are always original, often truly luxurious, fit well with a wedding dress.
A simple but very elegant babette, which appeared in the 60s of the last century, finds its fans in the 21st century. There are many variations of this hairstyle, but the main emphasis is on the collection of hair in a volumetric bundle located on the top or back of the head.
Babette can be accompanied by a pile or hanging locks that gently frame the face. Babette hairstyle with false strands looks both with a bang, and without it. She looks great in the company of a wedding veil, is decorated with a diadem or flowers.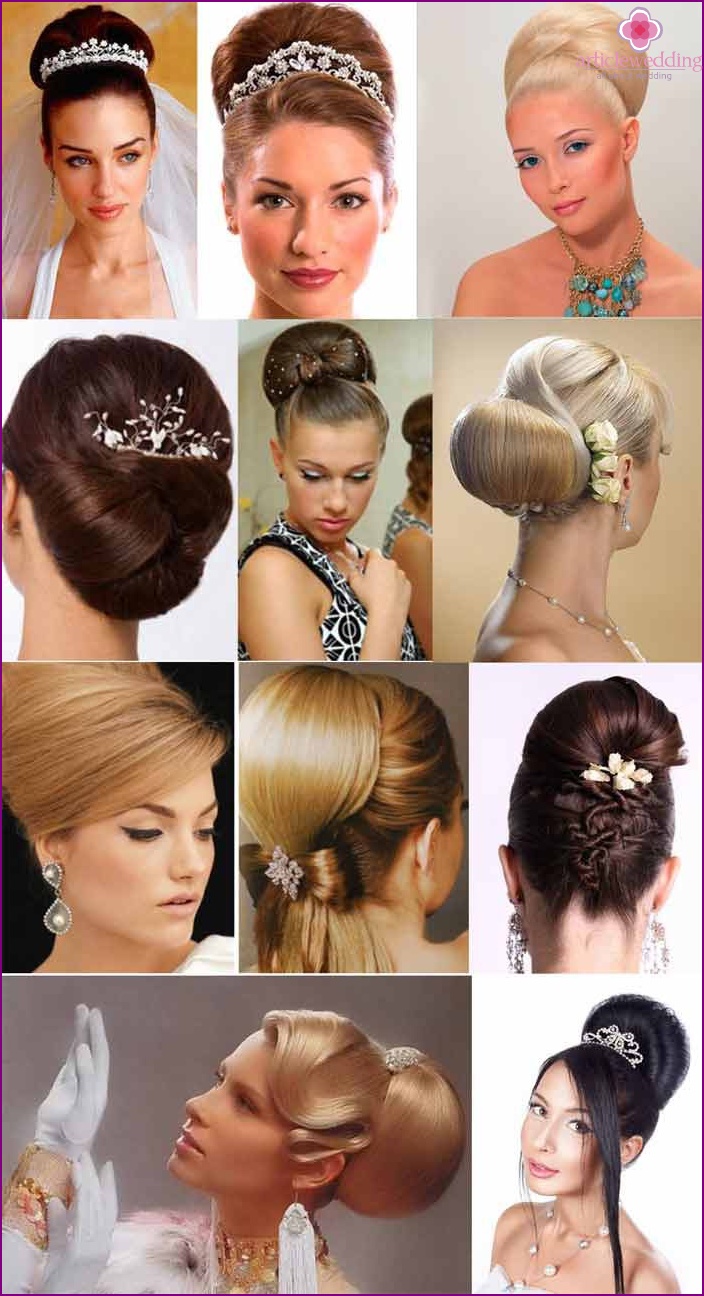 The wedding retro hairstyle is also interesting, where the bangs and the upper part of the hair are pulled up, fixed with a beautiful hairpin or flowers, and the lower part is slightly curled, combed.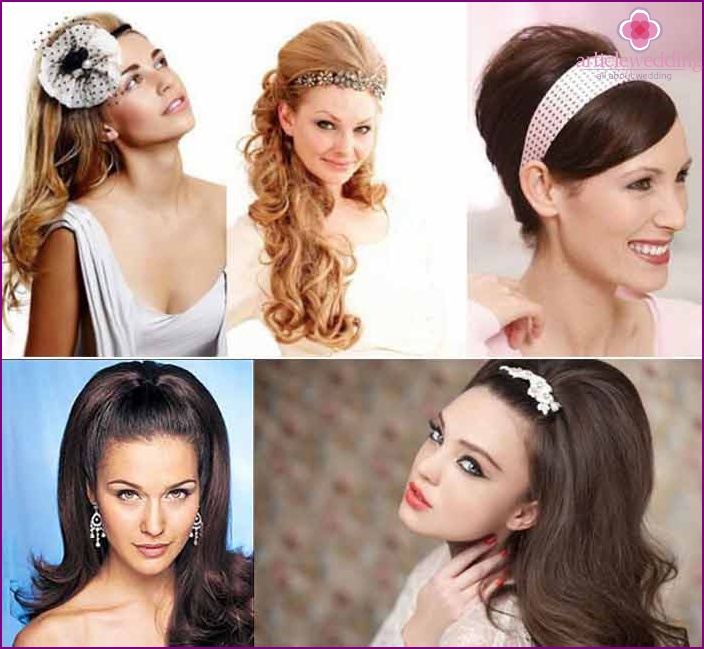 A similar styling option - a hairpin or flowers are attached to the bangs, and the bangs and other hair on the temples are curled in light curls.
For a long time, familiar to everyone, but this has not become less popular, a wedding hairstyle of a shell made with false strands is very well suited to a classic wedding dress. It is also called the French bunch. There are many bold interpretations of the classic shell: it can be laid on the back of the head, crown, side and even diagonally.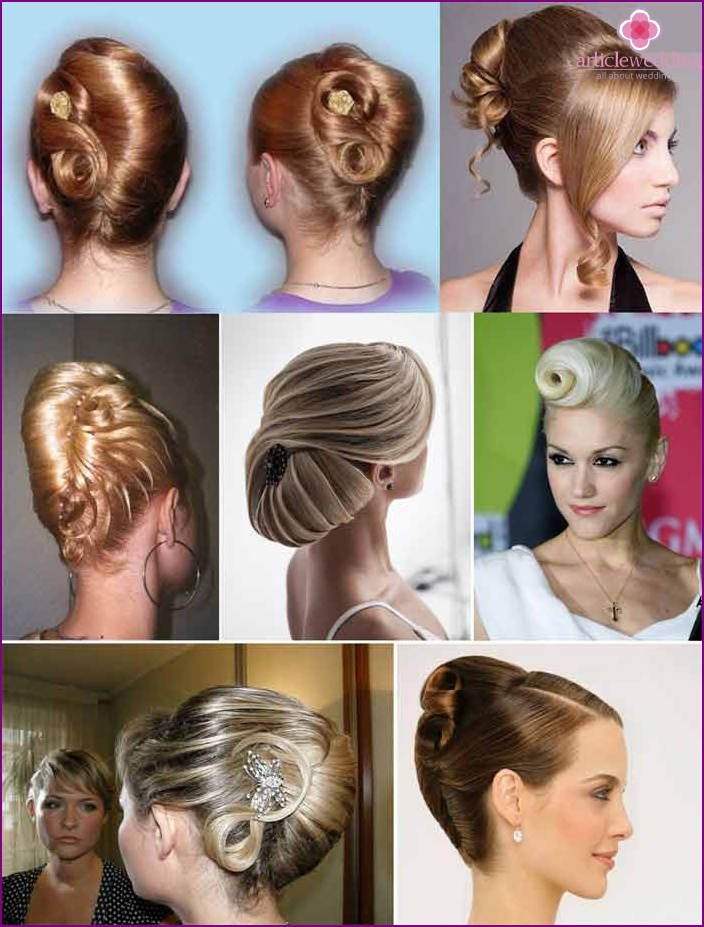 If there are overhead strands, it is possible to leave the tail released from the shell and curl it with light waves. To create a romantic image of the bride, curls are left on the face. Hairstyle makes the neck longer, thinner, making the silhouette slimmer.
Waterfall curls
Curls are extremely popular, they are present when creating 90% of wedding hairstyles. False curls fit differently, of which they simulate a huge number of unlike each other hairstyles, both classic and asymmetrical (sideways, long, Hollywood style), using classic and original partings.
To obtain beautiful curls, strands are usually curled on large curlers. A great addition to them will be braids, ribbons, hairpins, flowers.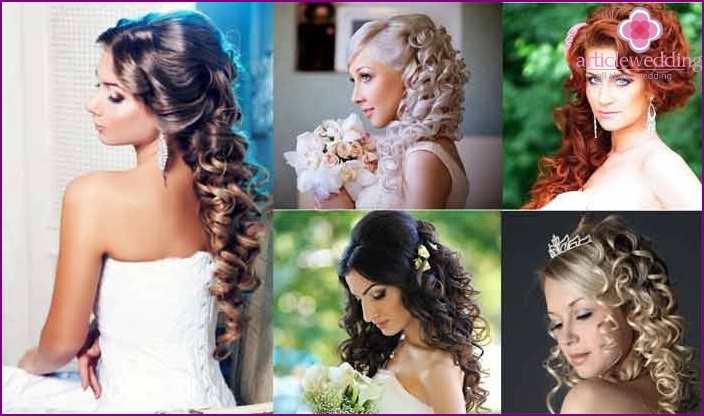 High curls from natural hair
Classics always remain relevant, so if you like tall hairstyles, do not give them up on your wedding day. Open shoulders, a beautiful neckline, high styling from overhead strands - and you are the queen. Laying should be natural, so do not use fleece and a large amount of varnish.
Curls framing the girl's face with gentle waves give her a special elegant, romantic look. They are suitable for all women, good in the company of any wedding dress.
Curls are made only from natural overhead strands, fixed with varnish, hair dryer.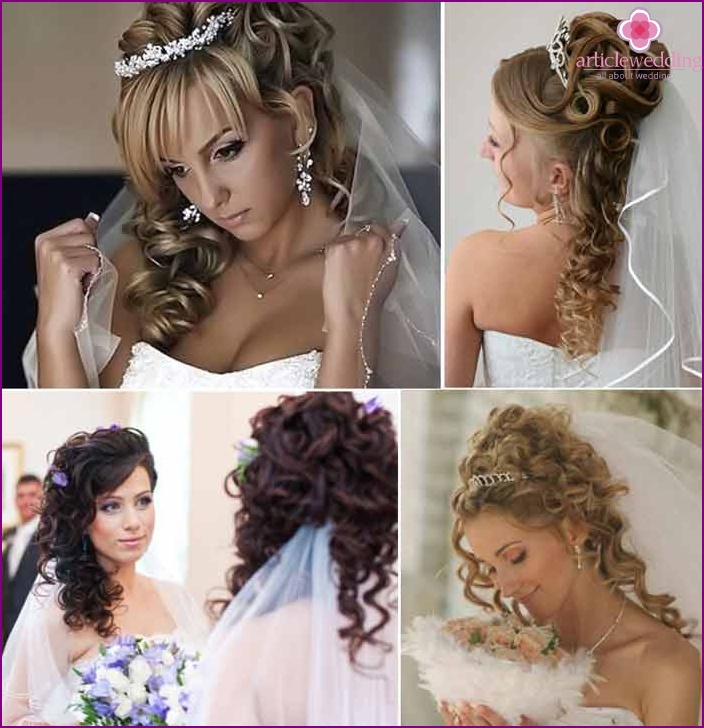 Braids and braids made of artificial hair
A wedding hairstyle from braids with false strands, decorated with many intricate weaves, emphasizes the innocence, grace of the bride, her good taste. Perfectly complemented by the image of ribbons woven into braids, pearl strands, natural or artificial flowers. There are many ways to weave braids from such strands, simple and very complex, the bride will choose an option acceptable for herself.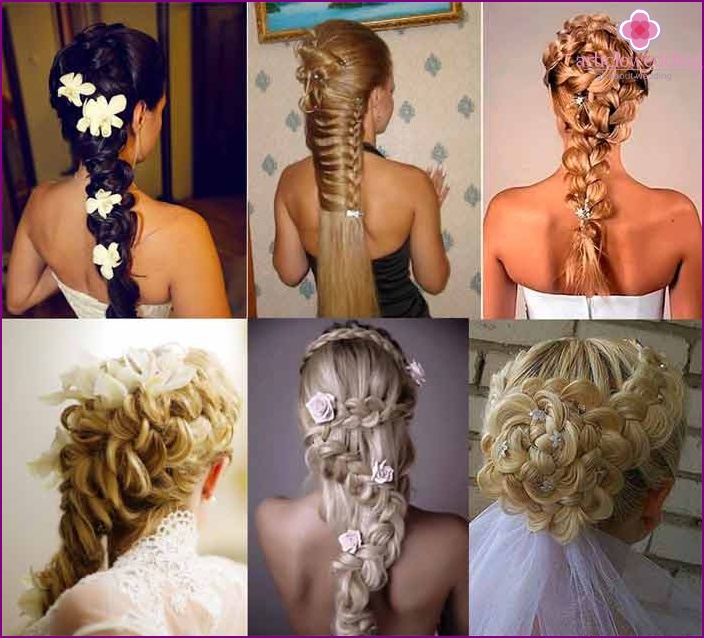 The advantage of such weaving is that it is much more stable than rebellious curls, it remains for a long time in any weather. A veil for styling, including weaving, is selected transparent or attached below the hairstyle, so as not to hide beautifully laid patterns.
Volumetric beam
A volumetric bun hairstyle with false strands is a very elegant wedding option that goes well with a veil, beautiful braid, flowers. Hair is picked up from the face and shoulders, securely fixed to the back of the head with hairpins, clips, silicone rubber, braid, tape, and other accessories. Such a hairstyle will beautifully emphasize the shoulders, neck, neckline.
When using overhead strands, a smooth bundle comes out voluminous, beautiful. You can decorate the bunch with weaving, from this it will only become more beautiful. It can be neat, tightly packed, or be careless, loose. Also popular is a low, fallen bunch, assembled on the back of the head, or laid in the shape of a flower.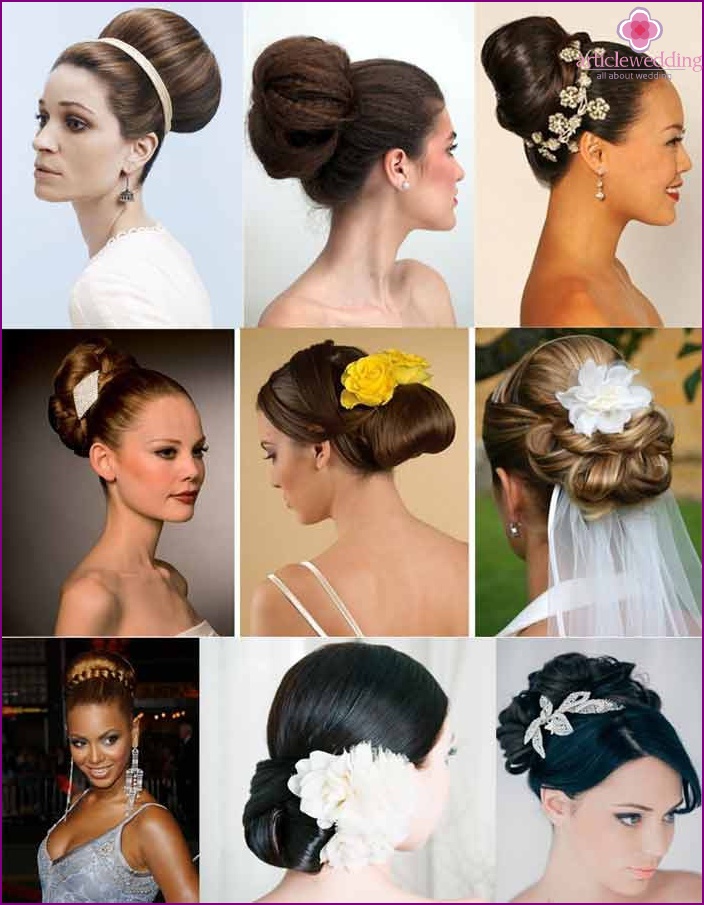 Greek style
With a Empire style dress, styling with laid on strands of the Greek style will perfectly combine. The bride, as if the Greek goddess descended from Olympus, will look perfect. There are many such hairstyles, but the following stand out:
Braids of different types of weaving, collected below.
Hair styling with curled hair, curls, weaved.
Curls fastened with ribbon or artificial flowers.
Highly raised bunch with beautifully curled falling curls.
Many hairstyles in the Greek style with curls and braids are performed with false strands. They are intertwined with bizarre patterns, fit into beautiful patterns on the back of the head. Braids can be tight or loose, they are fastened with beautiful hairpins, invisible. All this creation can be supplemented by decorating with a diadem or flowers. This styling will look perfect with matching color strands. The larger the volume, the more diverse weaving you can build.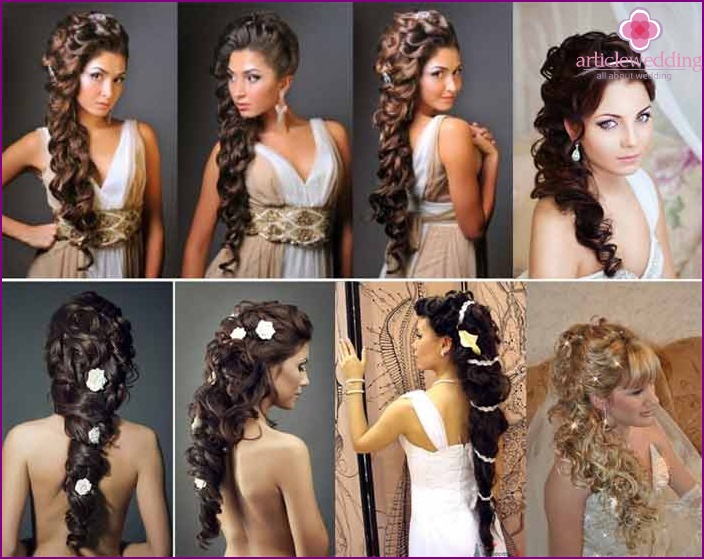 Evening hairstyles with hairpins
False locks on hairpins (clips) will be extremely convenient for creating a festive look. How they look shown in the photo.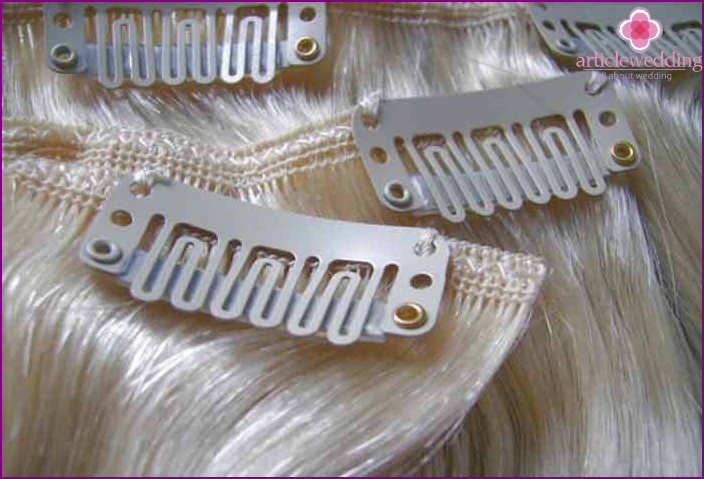 It is recommended to buy natural false locks. They are easy to wash, dye, and style just like your own hair. Laying for a celebration with strands on hairpins can be created in the form of a Greek braid with many weaves and curls or in the form of loose curls.
Examples of evening hairstyles made using false hairpins on hairpins, see the photo below.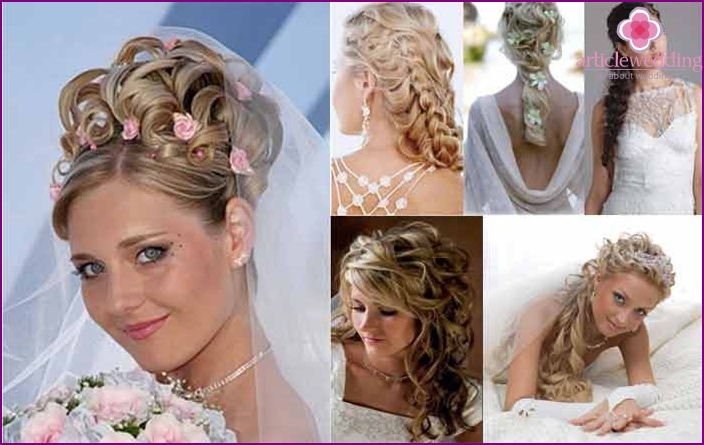 Also, to lengthen the hair, giving them volume, you can use the artificial hairpiece. Here's what such hairstyles look like.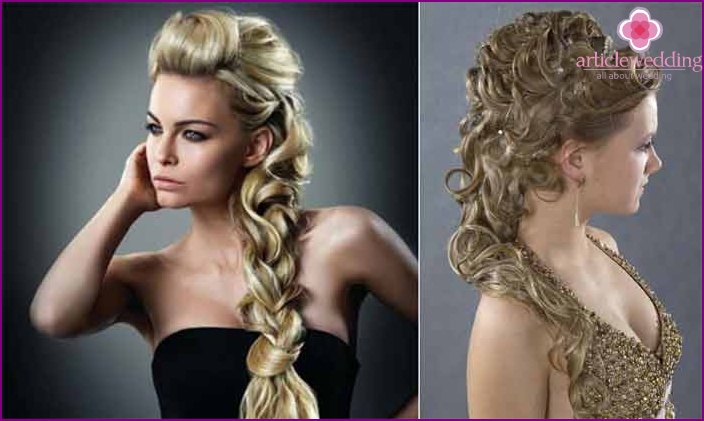 Photo of wedding hairstyles with false strands