Contents
---
---
Wedding hairstyles with veil on long hair
Veil is a beautiful wedding accessory that came to us from antiquity. Previously, this attribute was a mandatory part of the bride's dress during the ceremony, because it was believed that he protects her from the dark forces. Some modern girls refuse this magnificent accessory, but the majority still prefers it. Long-haired beauties have many styling options: hairstyles with a veil on long hair are presented below to help the bride create a suitable look.
Wedding hairstyles for long hair with a veil
To create the perfect look, take care of the harmonious combination of all its elements. If the bride's outfit is decorated with lace, rhinestones, pearls, then the headpiece must match it. A veil looks different on different types of figures: full owners of long hair should abandon a lush cascading veil, and puffy brides should «to play» the length of the accessory, choosing from two options - missing to the thigh line or covering it to the floor.
Short
The short veil is perfect for girls who have purchased a simple, simple dress for a celebration. Hairstyles with a short veil - the length varies to or slightly below the shoulders - can be any, but it is best if the hair is above the level of the fabric. The advantage of this headgear is that it is lightweight, does not interfere with movements, and will allow the bride not to worry about styling all day.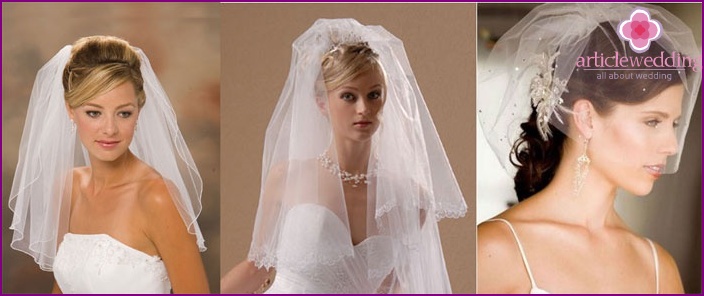 Long
If the bride chose a fluffy style dress «Princess», A-line or any other outfit on the floor, she needs to pay attention to a long veil. It will go well with sophisticated decor, which uses a large number of elements. This accessory is suitable for both high styling and loose hair.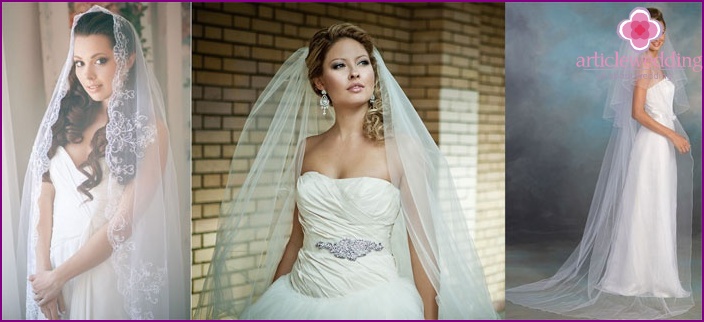 Lush
The classic multi-layered volumetric veil is perfect for the wedding ceremony of the bride. During the ceremony, the upper part of the accessory hides the face, later this layer is removed back. How will a hairstyle with a lush veil on long hair look at the photo below.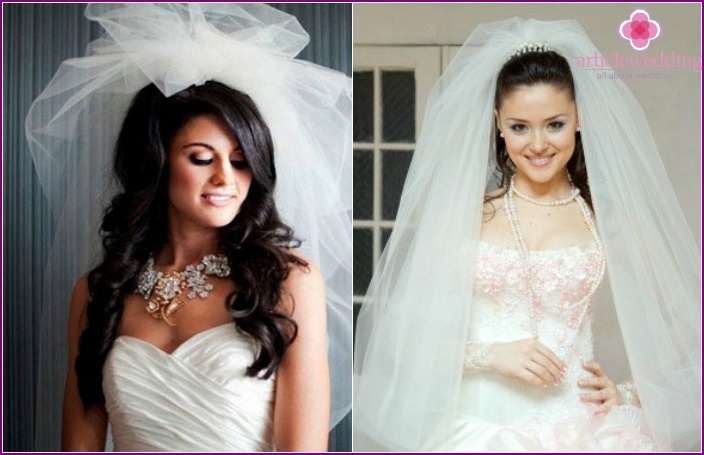 Wedding Hairstyle Ideas with Veil and Diadem
A luxurious diadem will be the perfect ending to the princess's delicate, fabulous look. This accessory can be simple, concise or generously decorated with stones, Swarovski crystals, beads, beads. Hairstyles with a diadem and a veil should be simple, as there are enough jewelry on the bride's head.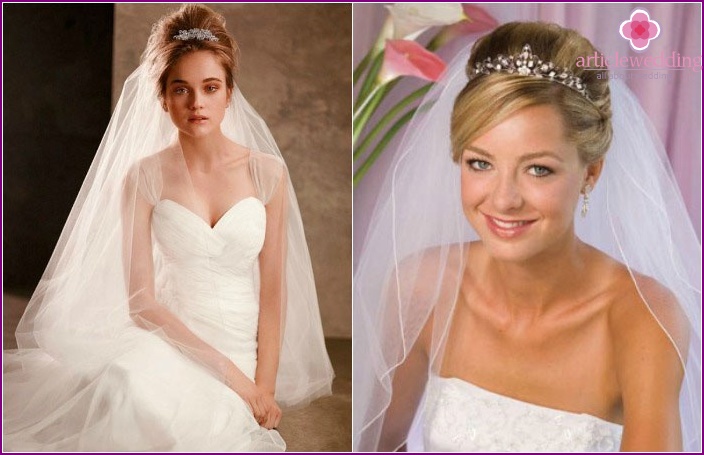 High hairstyles
Tall styling with a veil headgear looks great. All kinds of weaving, plaits can be used in them, then they look like a real work of art. Retro style is especially popular, especially the hairstyle. «Babette». High «Babette» easily make hair stylish. With this option for wedding styling, the veil is usually mounted on the back of the head.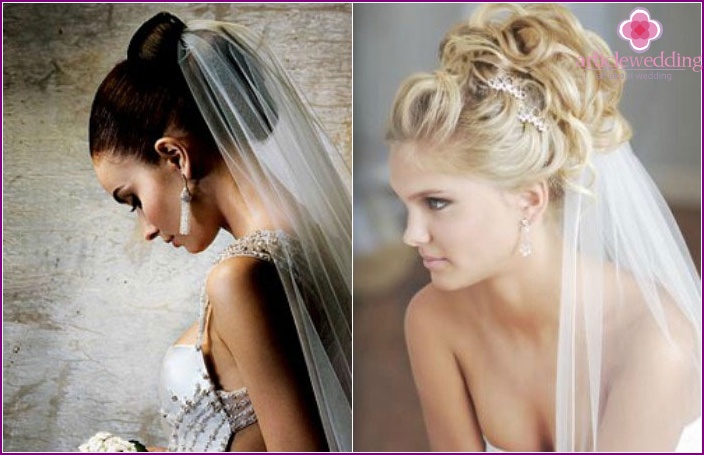 The most popular hairstyles for long hair
Looking at the wealth of choice, it becomes clear: there are hairstyles with a beautiful veil that have become classics. This group includes magnificent Greek styling, all kinds of bunches, knots, elegant retro, a variety of braids, complex weaving, original horse tails. You can use ready-made ideas or express your imagination by inventing your own style.
Straight hair
Straight hair will allow you to make a perfectly smooth bridal styling. Owners of this type of hair can create an interesting tall version of the hairstyle or just loose your hair. Girls with curly hair who want to do such a styling can straighten them with an iron. In order for the loose long hair to look good, the bride will have to think in advance about her recovery. Otherwise, split ends or burned out ends of the strands will be visible..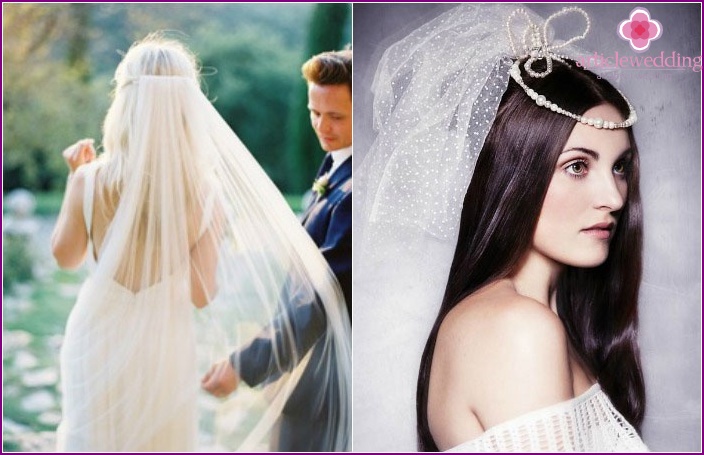 With a bang
Should I part with a bang before the wedding? Of course not! Hairstyles with bangs and veils look cute, harmonious. For owners of a straight straight bang, a simple, smooth accessory is ideal, and asymmetric bangs look good in combination with any headdress.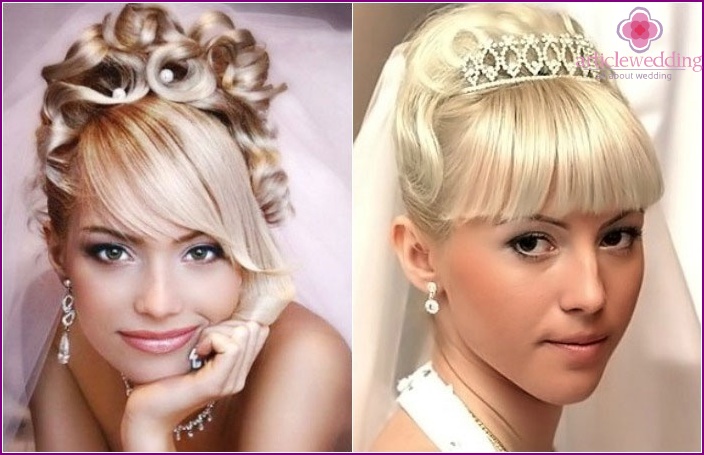 A bunch
The original bunch has gained popularity due to its convenience, sophistication, and the ability to create many variations of this hair styling. It can be lush, smooth, tight or loose. The bunch emphasizes the feminine nature of the hero of the occasion, decorates any outfit. To create a bunch of ballerinas, it is necessary to comb the hair back, put it in a tail, put on a hairpiece, spread the hair over it, put on another elastic band, hide the hair under it, fix it with varnish.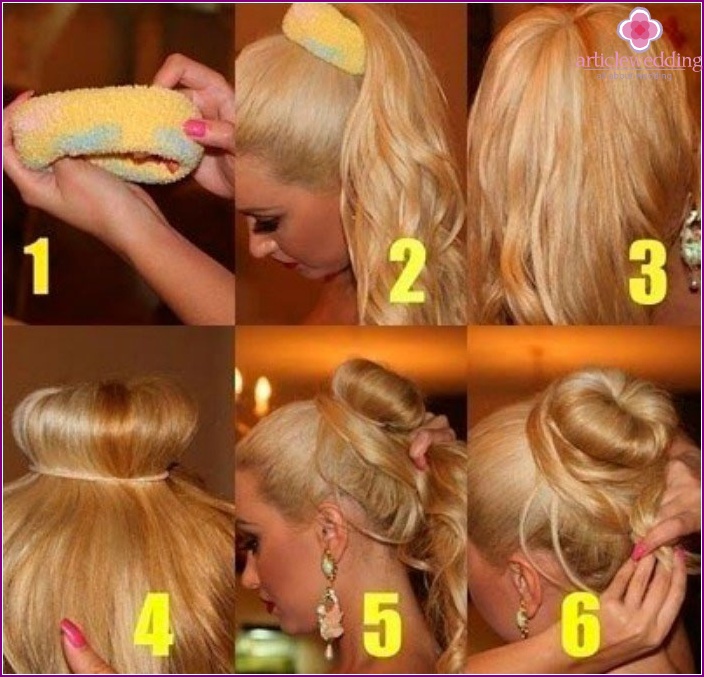 With braids and weaving
A variety of braids, weaving look original in the image of a newlywed. It can be a braid-wreath, braiding its head, a stylish spikelet, a French braid, interesting «fish tail». A professional hairdresser will help you to perform an unusual, stylish weaving that will attract the attention of guests to your hair.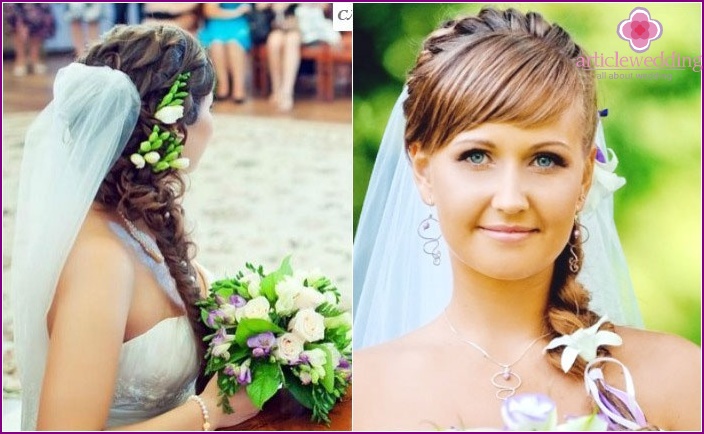 Loose curls
For girls who want to create a romantic, bohemian wedding look, the hairstyle option with a beautiful veil on a loose head is suitable. Curls, curls, large and small curls look great. To do this styling will help the curler, curlers: for this, lift most of the hair up, making a horizontal parting, wind the strands from the lower layers to the upper. Decorate the finished version with flower buds, hairpins, ribbons, dressings.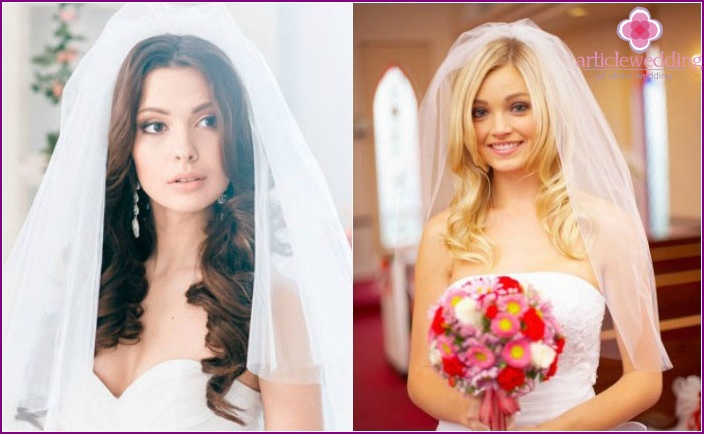 Collected
The hair gathered up will open the beautiful neck of the bride. This styling option is perfect for both the cold and warm summer wedding season. Greek styles look wonderful, where several strands fall at the temples - they make the ancient goddess of the hero of the occasion. Simple nodules look perfect if you fix them on your side, as well as lush high wedding styling with velvet.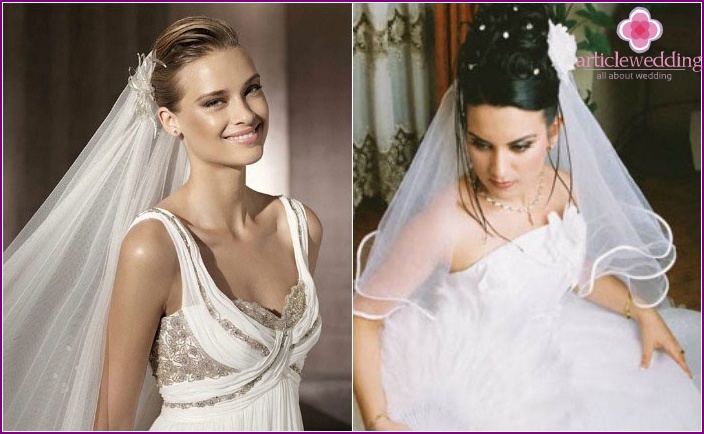 Hair bow
The larger the bow size, the more carefully you will have to select the appropriate wedding outfit. Avoid the combination of such elements of the image as a classic dress and a voluminous bow, this styling will most harmoniously look with a shortened dress. The best complement to the image will be a single-layer veil, which will need to be fixed at the base of the bow.
Do this video to help you create a romantic bow-styling bow with your own hands:
How to fix a veil yourself
This accessory can be attached in several ways:
on a hoop or rim;
on hairpins, invisible on the back of the head or crown;
with a comb.
Most often, a hairdresser fixes a veil, helping to create a wedding image. But there are times when you need to do it yourself.
Photo of wedding hairstyles for long hair with a long veil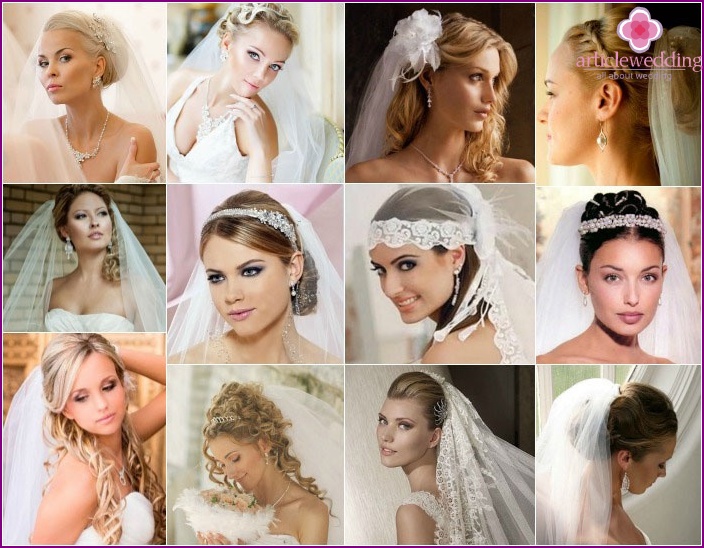 The veil is a headdress that will become a wonderful decoration of long hair. Create a hairstyle according to your image, use imagination, then all those present will appreciate your efforts.
What ideas did you like? Leave a comment.