Contents
---
---
Hair is the main female accessory. To look stylish and unique on the wedding day, every bride will have to take care of a stunning hairstyle. You have long hair, and it's not easy for you to decide on the styling choice? Wedding hairstyles for long hair, depicted in the photographs discussed in the video materials of this review, will help you.
Wedding hairstyles for long hair 2015 photo
You probably heard about fashion trends in clothes, accessories, cosmetics of recent years. The main trends of wedding fashion in 2015: loose curls with a wreath of flowers or herbs, neat styling with a veil, smooth hairstyles, original retro style, all kinds of braids and weaving. Below is a selection of wedding hairstyles for long hair 2015.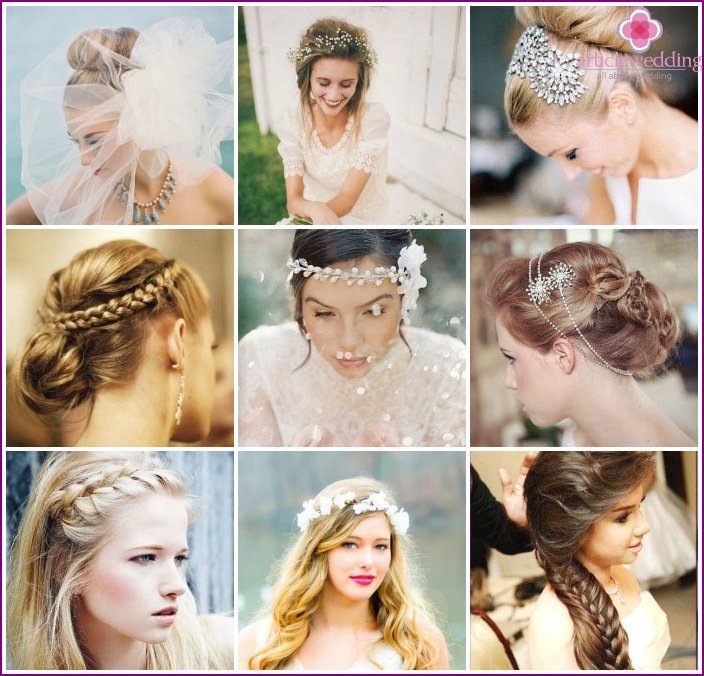 With veil
The airy snow-white veil will give the bride's image charm and lightness. There are several options for securing it..
Collect the locks in a tight or loose bundle, knot, shell, make babette or use weaving. Fix the veil on the top or back of the head.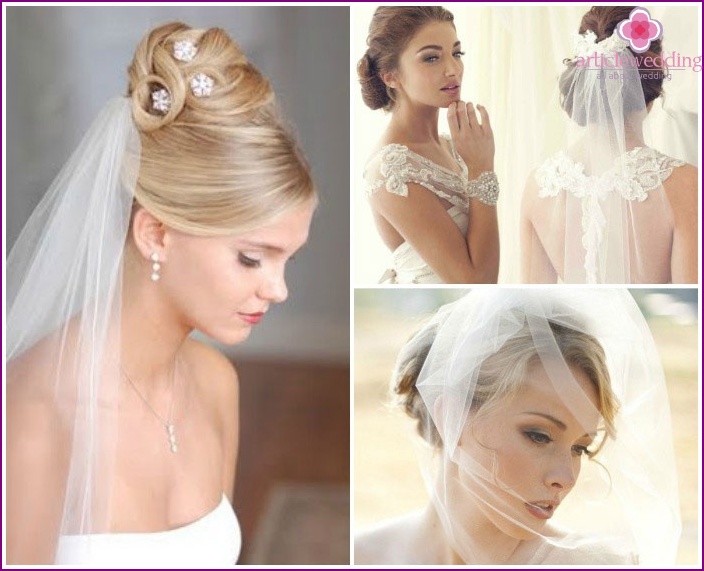 Make a pile at the top of the head, fasten the veil. Will look charming on the long hair of a mulvin.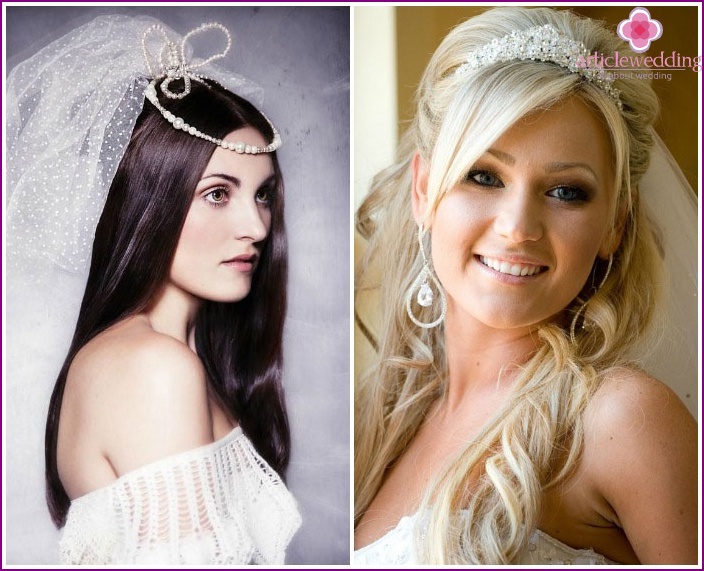 Fata-mantilla will be a great addition to your elegant look - curls or a braided braid are best suited. You will need clamps, studs for fastening. Such a veil should be light so as not to cause discomfort during the holiday.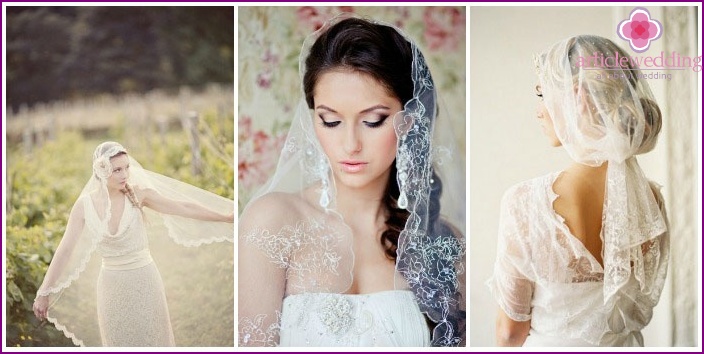 With a bang
The bangs have many useful features - it hides too broad a forehead, is young, makes the face more tender. When creating a festive image, the question will arise how to put it beautifully?
If you have asymmetric bangs, a good option is to carefully lay them to one side. To do this, dry a wet bang, apply mousse, use a round brush to make it voluminous or, conversely, smooth, twist the curl.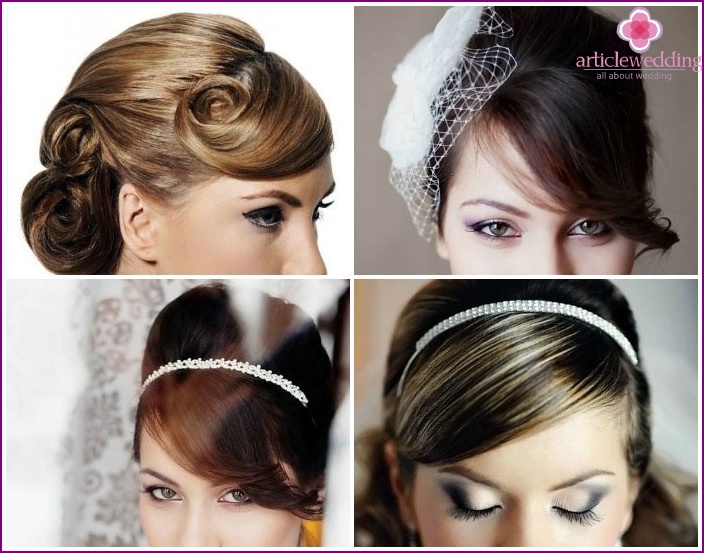 Owners of straight bangs can give her tenderness by separating the ends, or emphasize strict lines, fixing with varnish. For straight symmetrical bangs, neat hairstyles without the effect of sloppy styling are suitable.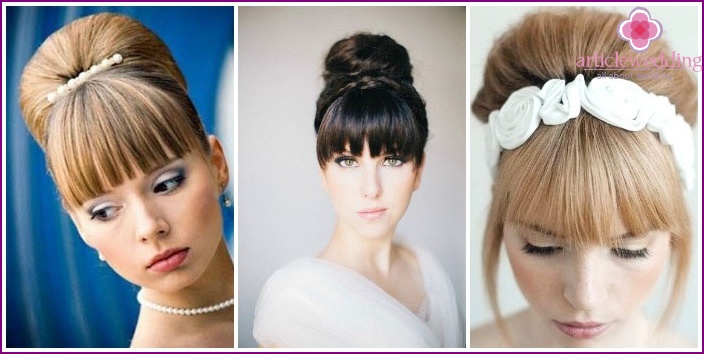 If you want to hide the bangs at all, tell your master about it - he will weave it in a braid, hide it in locks or imperceptibly.
To loose hair
Those girls who in addition to long hair can boast of their density, you need to consider options with loose hair.
Fully straightened hair will look spectacular.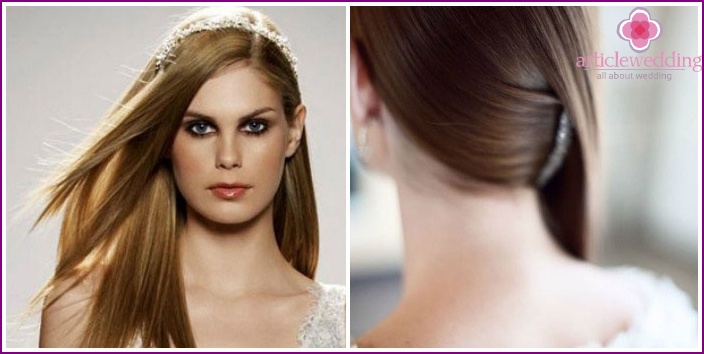 Gentle light waves will make the wedding look romantic, and tight curls will add luxury.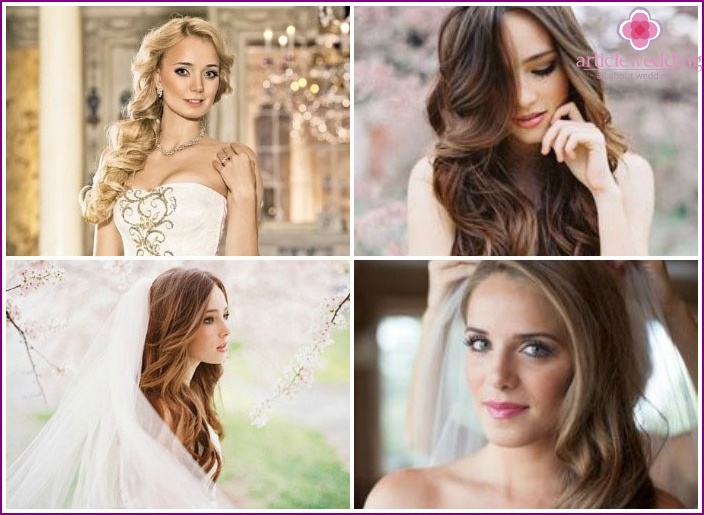 A pigtail in which the front strands are woven, or a delicate mulvinka that opens the face is a great option for those who have the right features.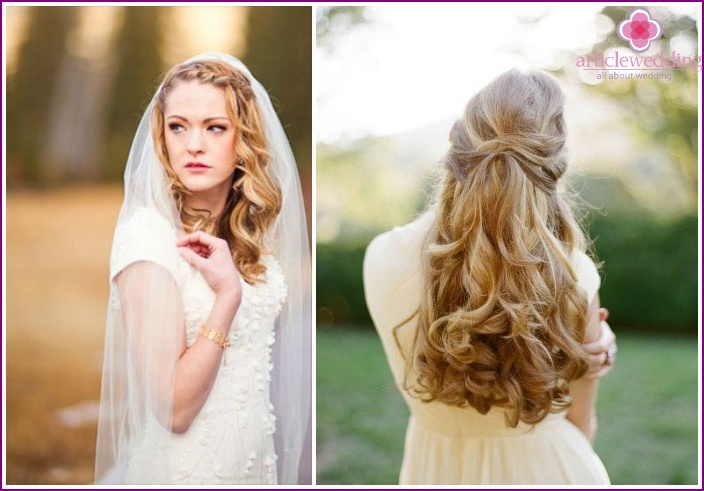 Note: use different jewelry - put on a bezel, stab a lock to one side or tie a ribbon.
Hairstyles with flowers
The bride herself resembles a blossoming flower, so it will become a symbolic wedding accessory. To create a composition with vivid colors, you need to consider several rules:
Plants should match hair color.
Flowers worth choosing the same ones that are in the bride's bouquet.
Large flowers are best used in small quantities (exception - special wreaths).
When choosing plants, consider their lifespan. To keep the shape and appearance of the flowers, leave them in a cool place until the ceremony.
Large flowers are perfect for wedding hairstyles on one side..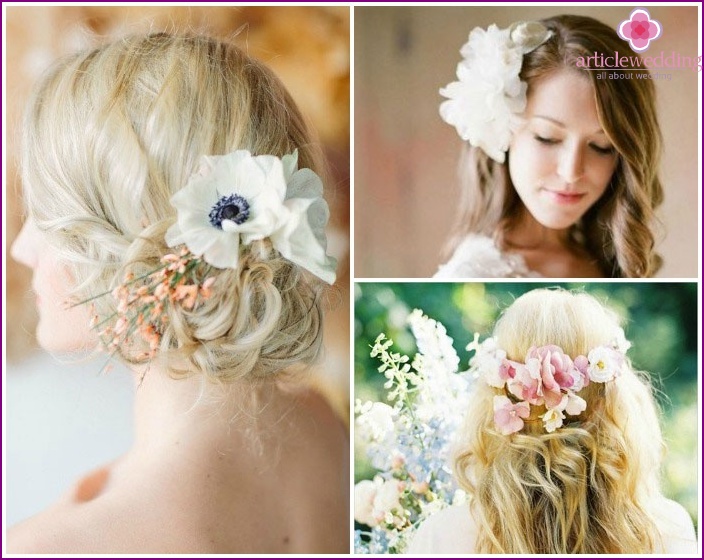 A popular floral decoration of the season 2015 is a wreath of flowers or herbs. He looks rich and unusual especially on long hair, creating a natural feminine look. Please note that such a decoration does not fit every dress.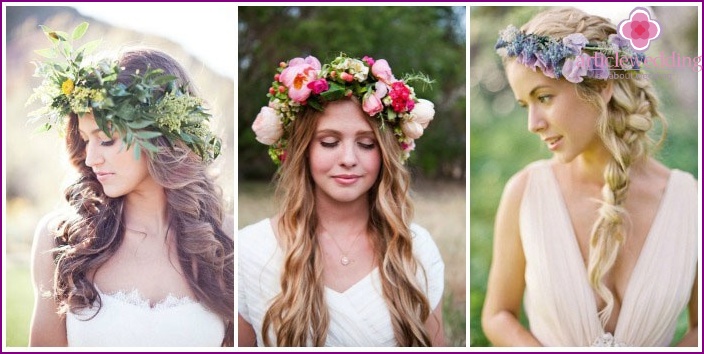 With diadem
The diadem is an elegant accessory that will help the bride to feel like a real queen of triumph. It looks expensive, although it can be decorated with jewelry as well as artificial stones, beads, pearls. Long-haired beauties were lucky, because this jewelry is most suitable for them. The diadem correctly selected by the stylist will suit almost any outfit.
With tail
Wedding hairstyles for long hair with a ponytail look elegant. Even a regular ponytail can be a magnificent decoration in the hands of an experienced hairdresser.
The tail, laid or tied to one side, will add to the image of tenderness. Complete it with various elements - braid pigtails, decorate with beads or flowers.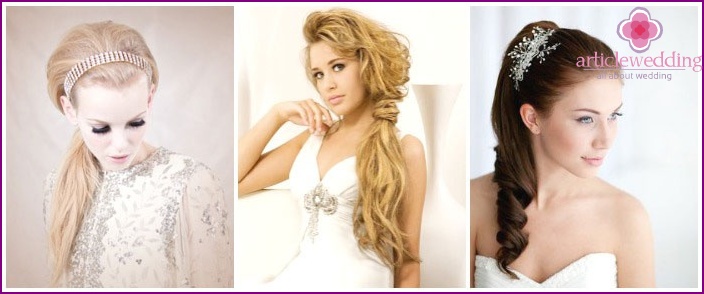 Hairstyles with a tail tied behind will open your face and neck.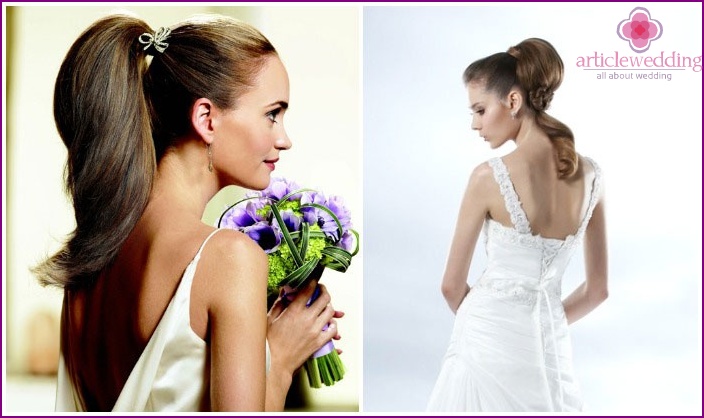 To make it more voluminous, wind each strand onto curlers or curling iron, do a comb.
Extravagant wedding hairstyles
If you want to stand out, but didn't find anything interesting in the master's catalog, experiment by choosing extravagant options for long hair. Unusual weaving, complex designs, feathers, animal pasties, large beads and strange shapes - it all depends on your imagination.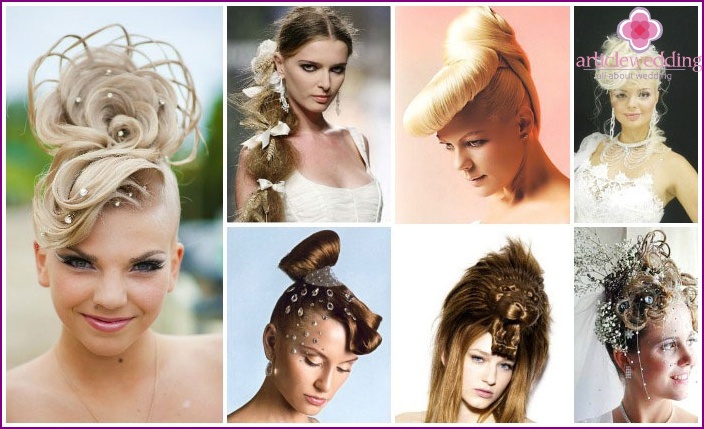 Retro
The retro look is a voluminous babette, a low beam, smooth cold waves. Realizing this style, do not forget about the details: hats, feathers, veils, bows. The bride's dress should also match the image - a straight silhouette is best suited or «fish».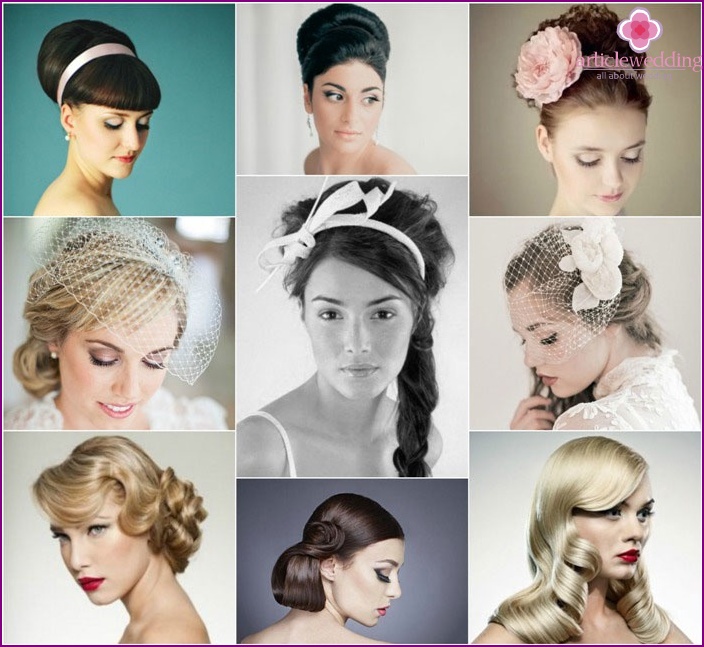 Do it yourself
Some girls trust only in themselves in creating a style - in the salon it is sometimes difficult to get what you want. See examples of how to make simple hairstyles for short hair with your own hands.
Simple and elegant option - styling shell:
Unusual and light tail:
Accessories for wedding hairstyles
To decorate wedding hairstyles for long hair and make them truly magnificent, all kinds of accessories help. We've covered veils, floral accessories, and a magnificent diadem above, but that's not all..
Feathers
Hats
Various hairpins
Ribbons and headbands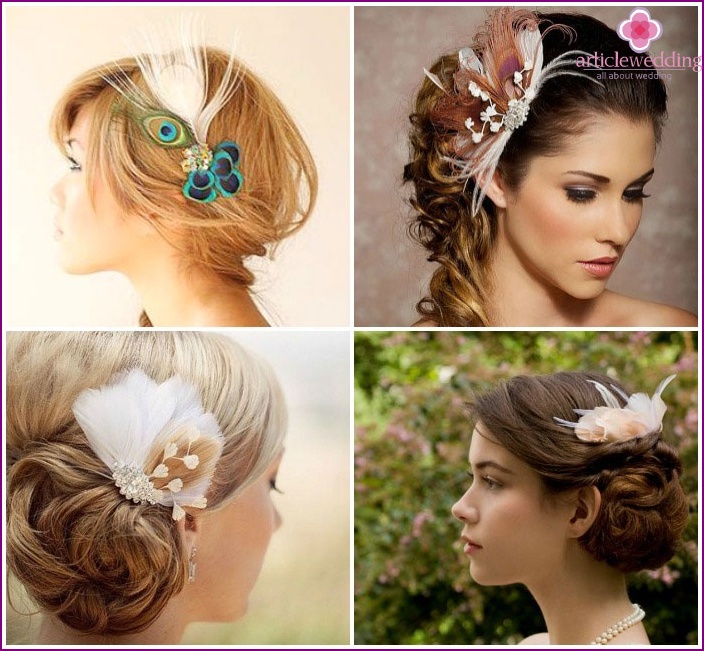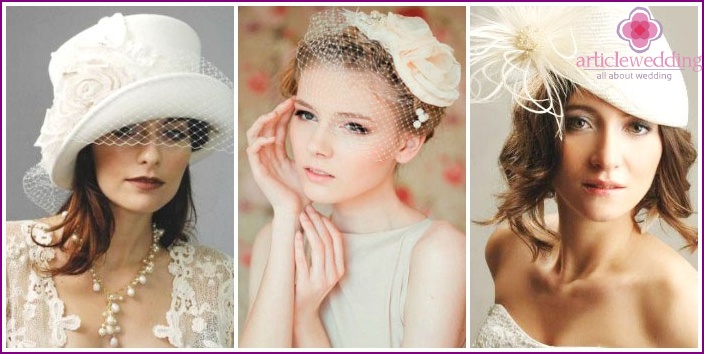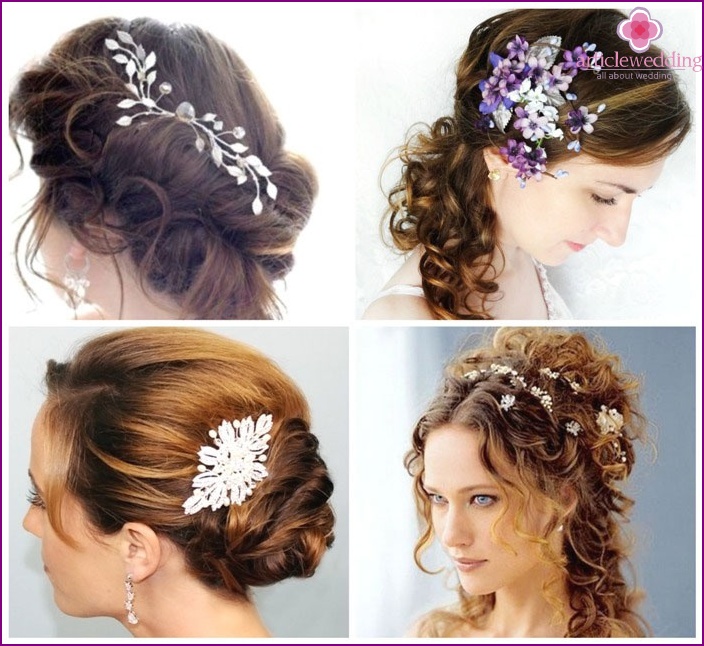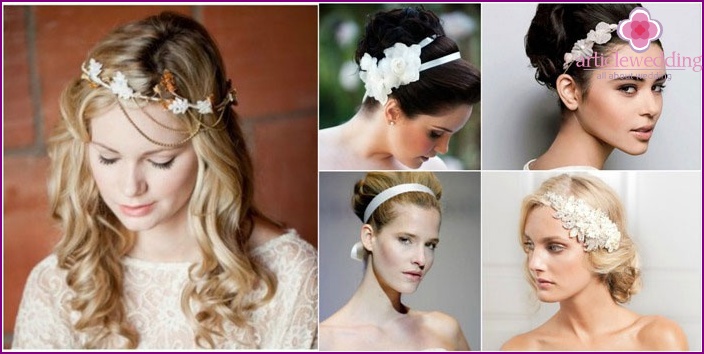 Stylist Tips
Some tips to make your hair look amazing on your wedding day:
If you have chosen for yourself a complex dress that has many details - the structural elements of the hairstyle should match them.
Be sure to determine your face shape and before choosing a hairstyle, ask your hairdresser for advice.
Make a trial hairstyle. Come in testing styling all day. This is necessary so that on the wedding day not to think about an interfering falling strand or a tight hairpin.
Shiny hair from a varnish is awful. The more natural they look, the better. A month before the wedding, give them an express recovery.
Surely you already imagine what your image should be like - careless ringlets with a colorful wreath, smooth shell, perky horse tail tied with ribbon, or a gentle bunch and sparkling diadem. The main thing is that it reflects your personality and makes the holiday even more beautiful. Share your vision in the comments, what should be your wedding hairstyle.