Contents
---
---
Recently, it has been very fashionable to use all kinds of unusual wedding accessories to impress guests and remember this day as the most magical.
Everyone is accustomed to the traditional bride's bouquet of roses, but he has long lost relevance. In order to make the bouquet original and unique, florists use unusual flowers and plants. Succulents such as a stone rose are used to create an unusual bouquet. These green plants really enliven the bride's bouquet and are also suitable for creating boutonnieres.
Why do not you take this opportunity to please your beloved groom? The wedding site www.articlewedding.com will share the secret of how to make a beautiful boutonniere for the groom using similar plants as in your fashionable bouquet. This will allow you to combine your wedding looks. The groom will be pleasantly surprised by such a gift.
Moreover, such a boutonniere will be kept with you for some time and will not fade so quickly. It is made very simply and does not require much time. The main thing is to find suitable plants that can make an interesting composition in your boutonniere. If you are not too lazy, you can make boutonnieres and friends of the groom, who will definitely appreciate your warm attitude to his comrades. It's time to start a master class making a cute wedding accessory with your own hands!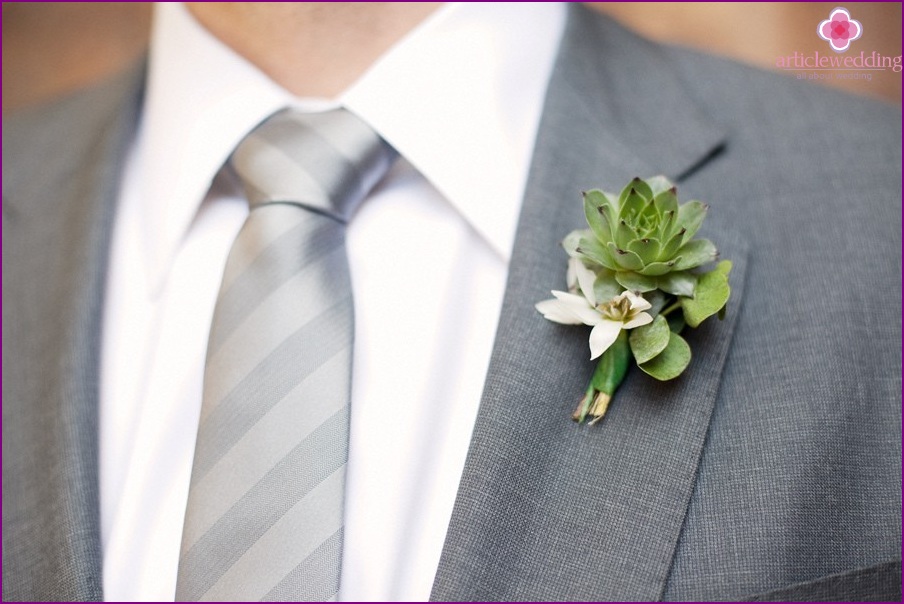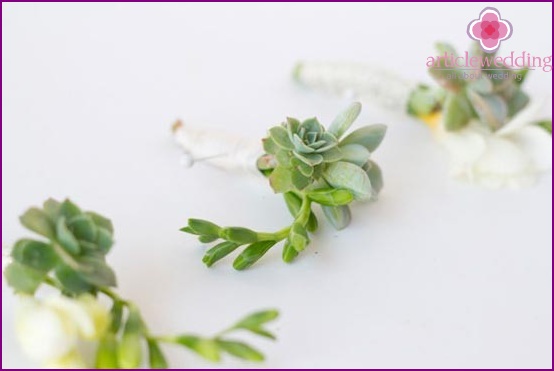 Materials and tools:
succulents;
freesia;
scissors;
floristic ribbon;
rope or tape;
gun with glue;
pins.
Time
: 20 minutes.
Detailed instructions:
Succulents can be bought at the store or ordered online. These plants take root well in the ground and feel good in the water. If you want to diversify the boutonniere, add beautiful flowers, for example, freesia, which blend perfectly with the green stone rose.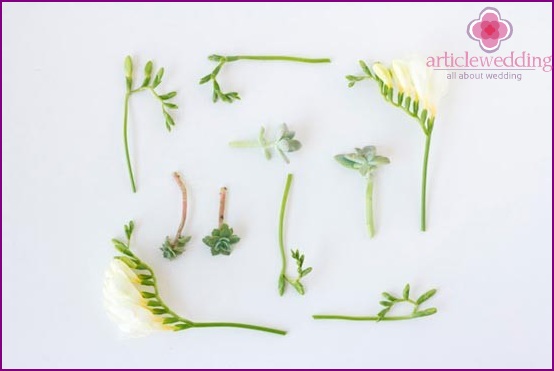 To get started, put the plants and flowers on paper or fabric and clean them of extra twigs so that the legs are smooth. Put several plants together and tie them with a green floral ribbon. Trim the excess stems. Stems should not be too long. It's enough to leave 8-10 centimeters.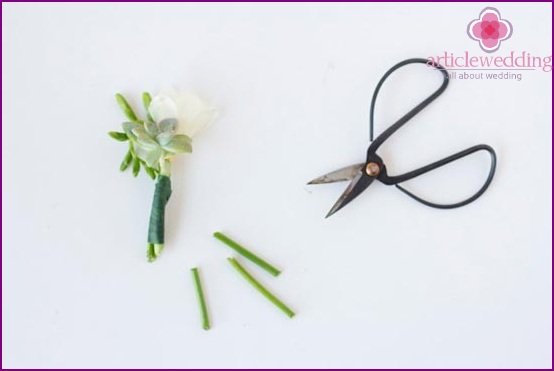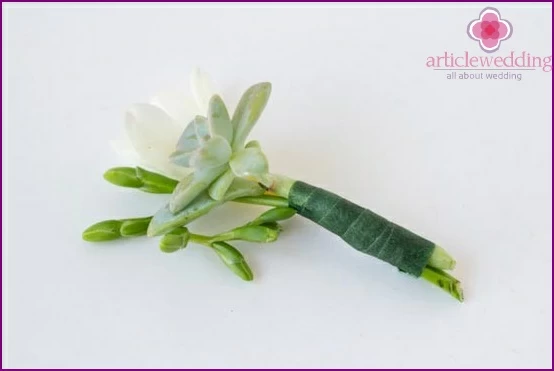 Arm yourself with a rope and begin to carefully wrap the legs of your buttonhole to hide the tape. The rope looks very original and stylish, especially in white, gray and brown colors. Bright colors such as pink, purple or red are not very suitable for a fashionable boutonniere..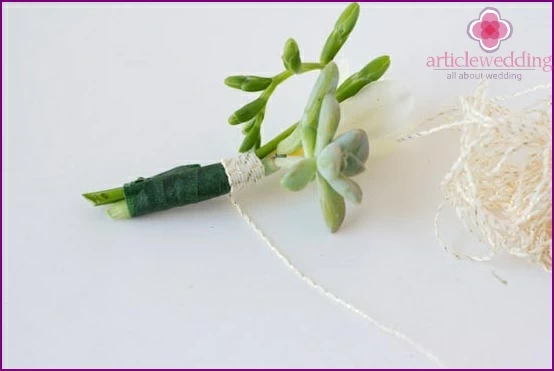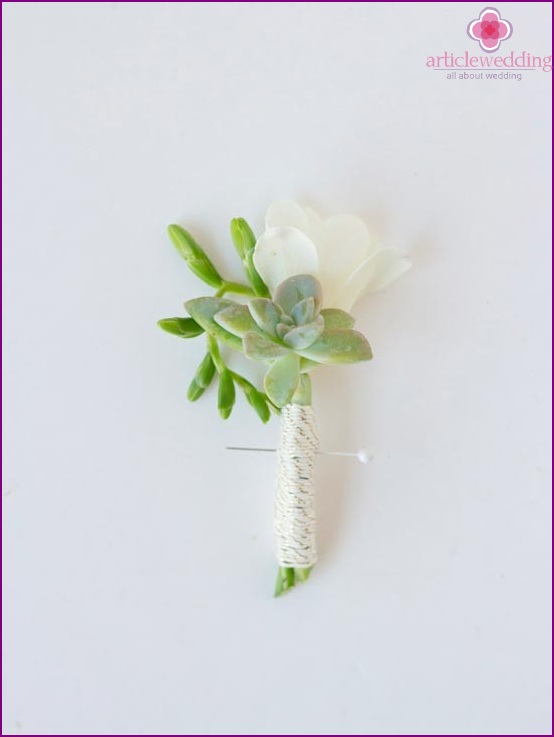 It remains only to fix the boutonniere on the jacket of your lover. Such a cute detail will certainly make him smile, and you will make a bright couple. Make some of these boutonnieres and present to your groom's friends.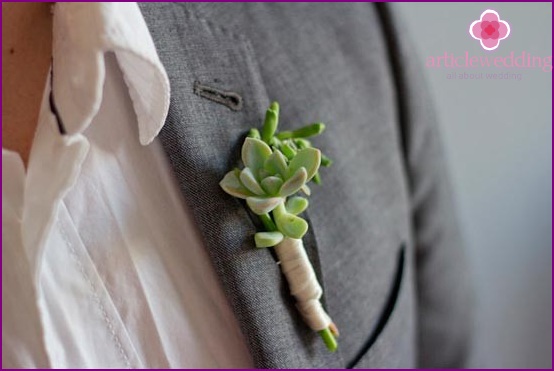 Application options
The advantage of a stone rose is that this plant can last long without water and will not fade. Bouquets and buttonholes using such plants will last you longer. You can make many of these bouquets and give away to guests as bonbonnieres.
You can add various flowers to a stone rose. Looks beautiful yellow and white flowers. Instead of a rope, use a satin ribbon, the main thing is to hide the stems and tightly fix them. The combination of a stone rose and a bushy white rose also looks beautiful. You can also distribute such bouquets to each guest on a plate as a decorative decoration. Succulents can also be used to create a bracelet on the hand of the bride and her friends. These original plants will help you add a twist to your wedding celebration..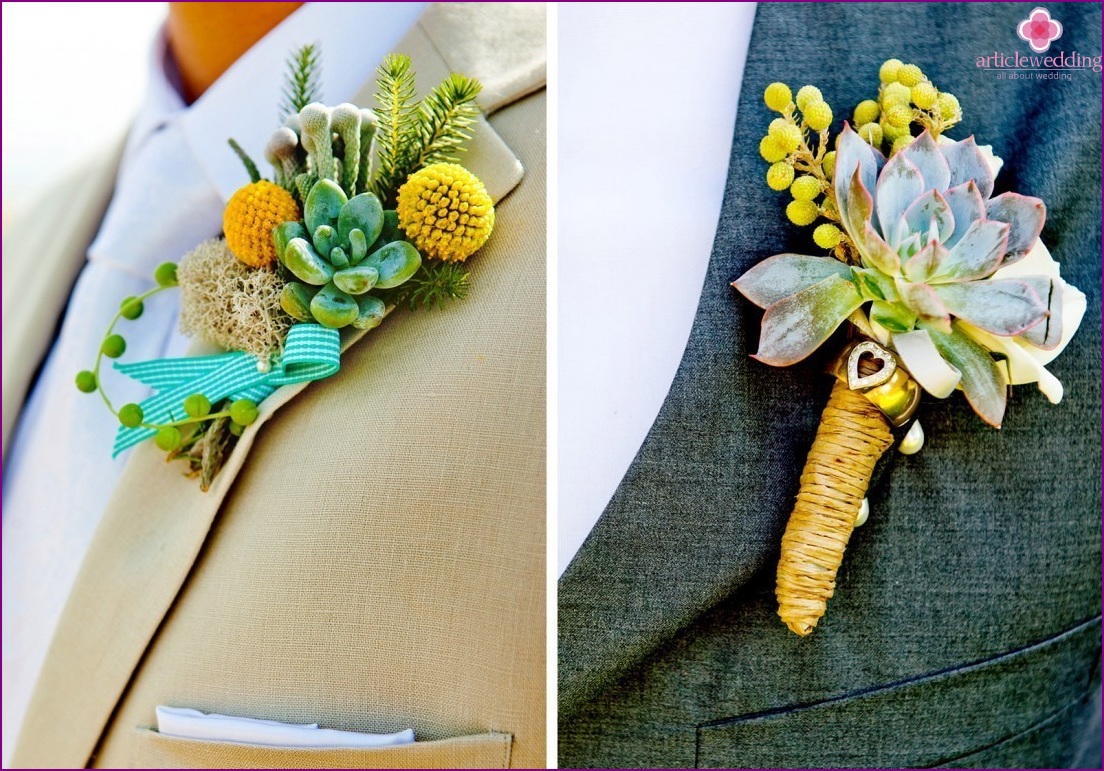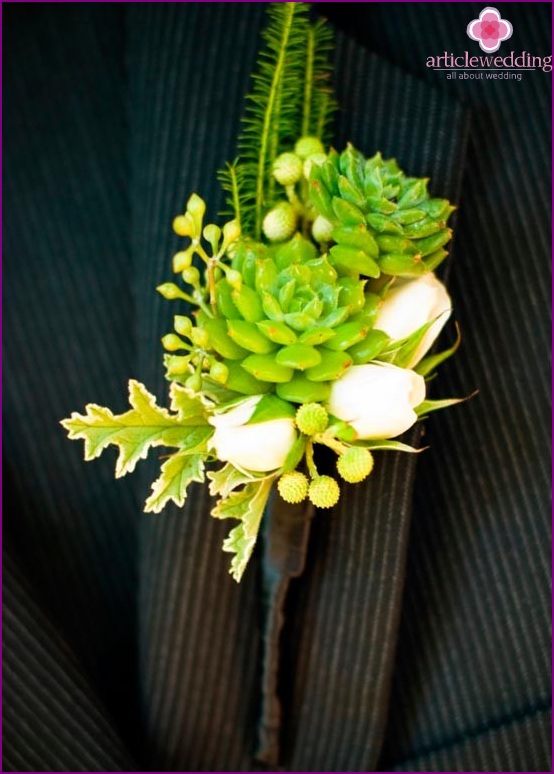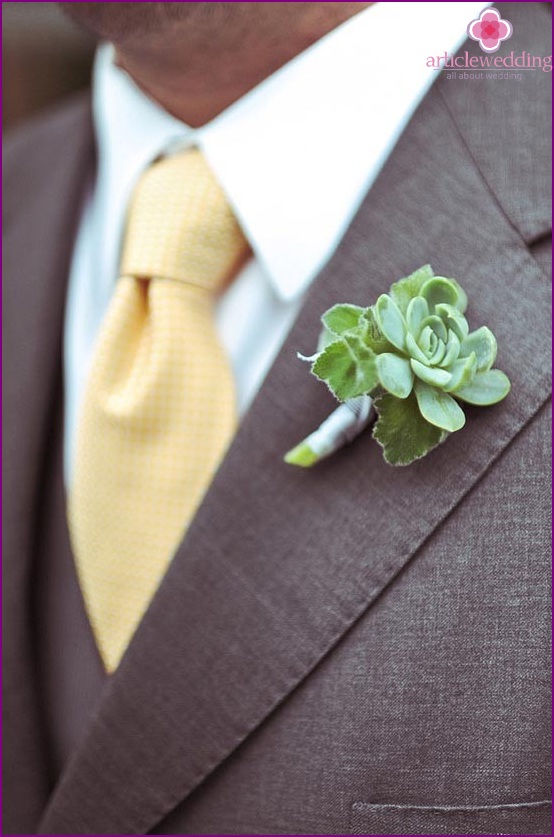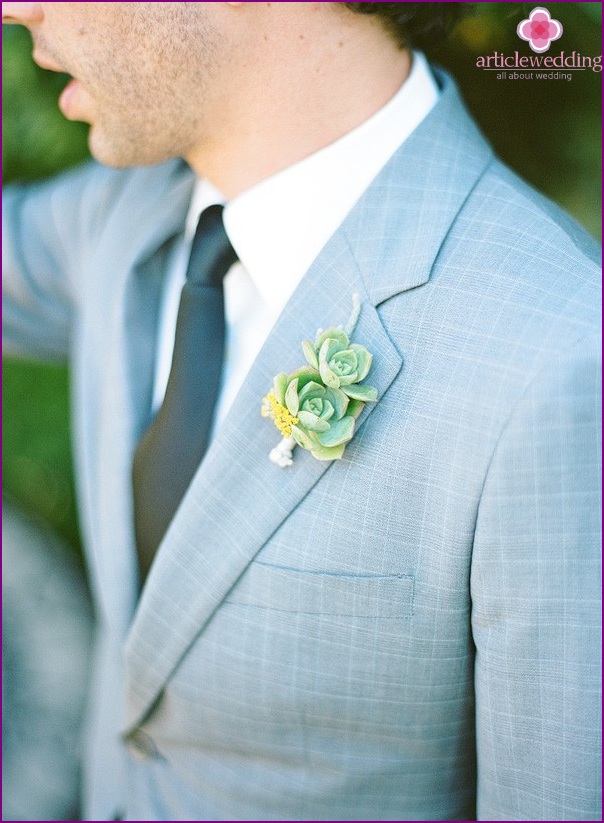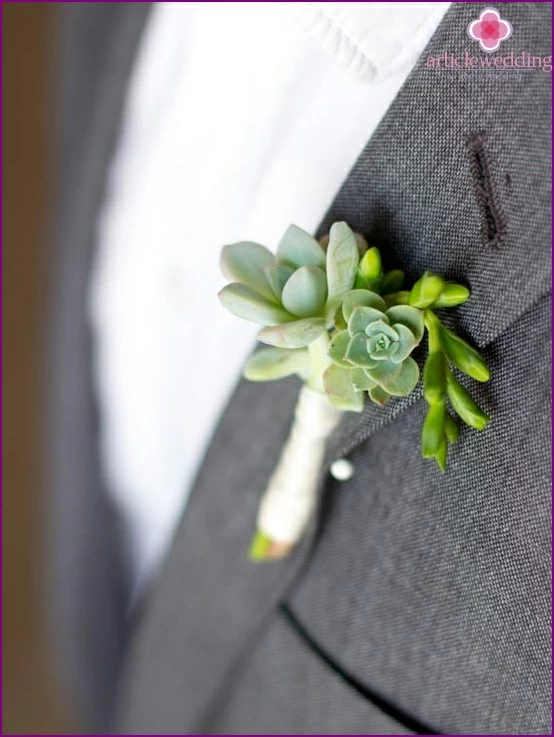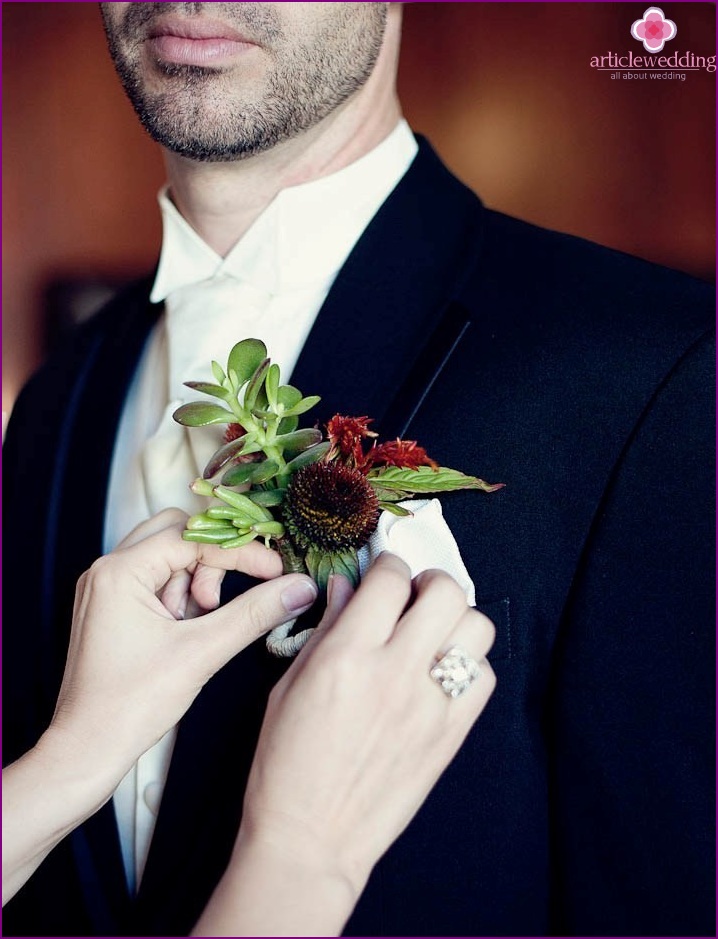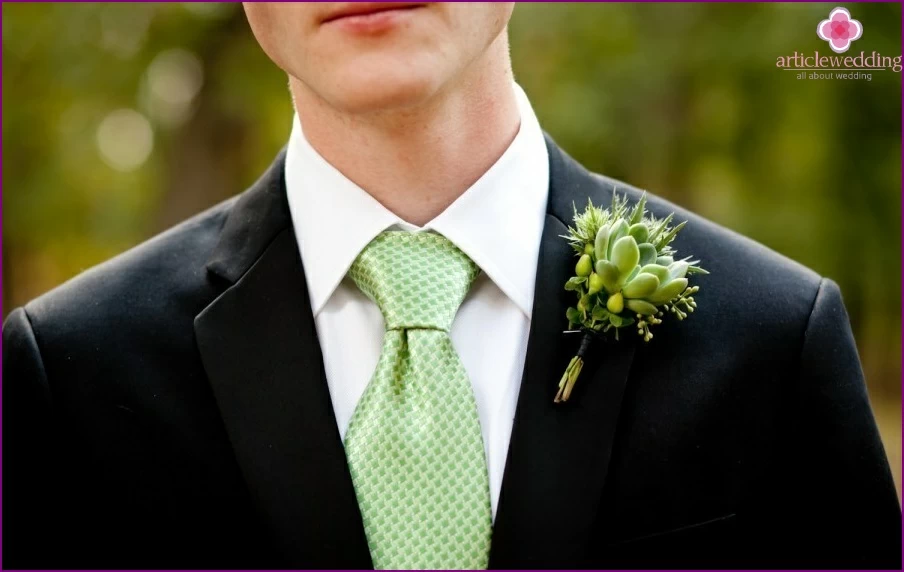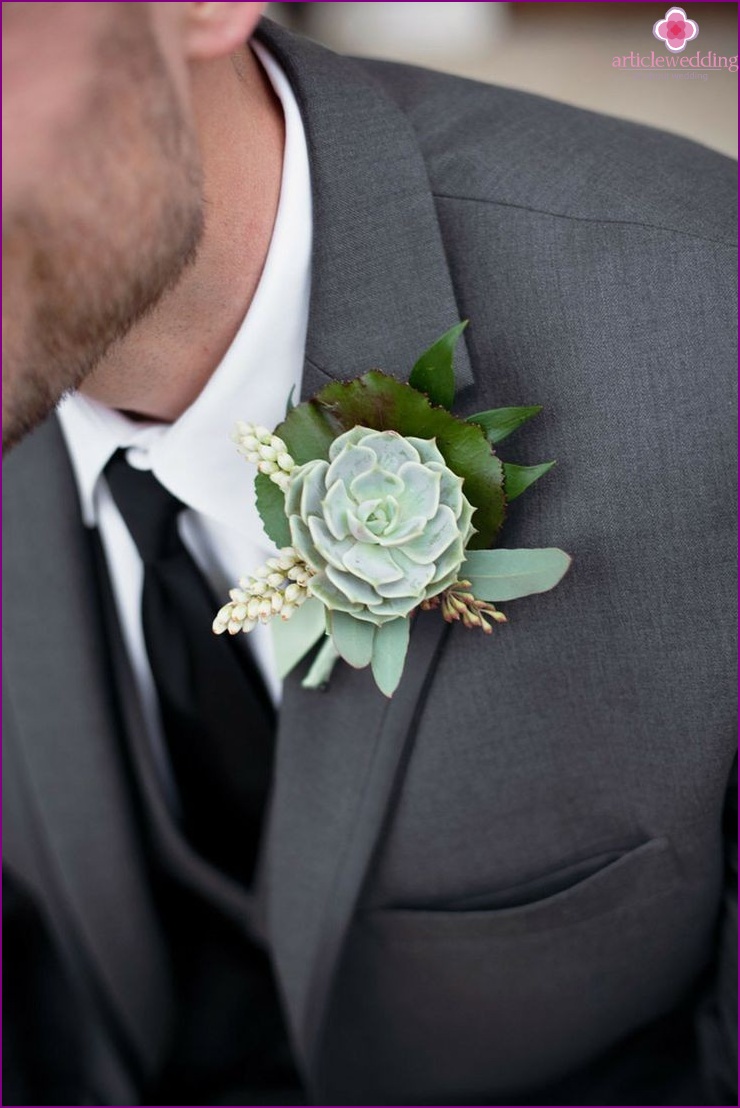 There are many more fascinating workshops on www.articlewedding.com that will help you surprise your groom and impress your guests..