Contents
---
---
Each bride dreams of creating a unique wedding decor so that she does not look like any celebration! If you are full of energy and want to engage in a creative and, at the same time, responsible task, try creating a wonderful bride's bouquet together with www.articlewedding.com that will be bright and stylish and will simply amaze guests with its originality.
When creating a wedding bouquet with your own hands, it is important to consider that flowers are a very fragile material. You should be careful not to break the stem or crush the bud. Also, do not forget that the life of the bouquets is very short, therefore it is best to craft the bouquet the day before the wedding. Flowers must be purchased in advance so that at the right time everything is at hand. Here we go?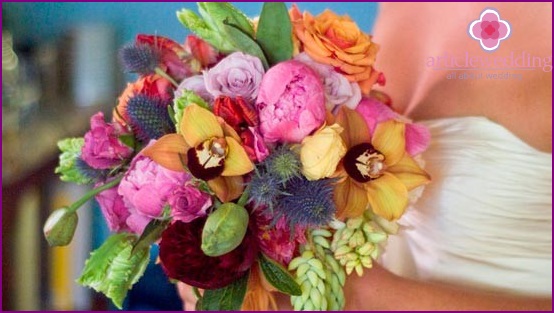 Materials and tools:
flowers for a bouquet (roses, daffodils, hydrangea, peonies, tulips, orchid);
wire;
scissors;
satin ribbon;
gum;
lace tape;
decorative pins.
Time:
30-45 minutes.
Detailed instructions:
The bride's bouquet is almost the most important part of the wedding image. Everything should be harmonious and beautiful. In our bouquet we will try to use all the colors of the rainbow so that the bouquet turns out sunny and bright. Be patient and start creating a wonderful wedding accessory.!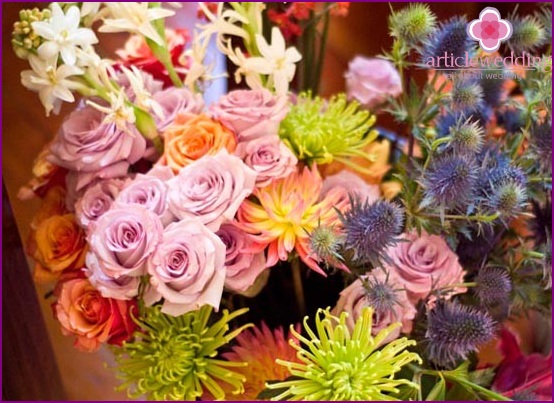 First you need to sort the flowers. Choose the right flowers for the bouquet and cut off all the leaves from them. This is done so that there is nothing superfluous in the bouquet except luxurious multi-colored inflorescences. Use clippers to cut leaves from roses. Be careful not to sting.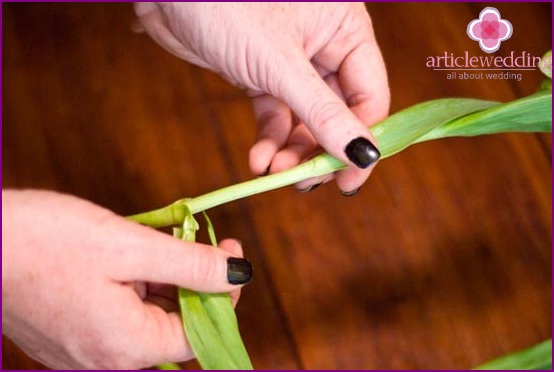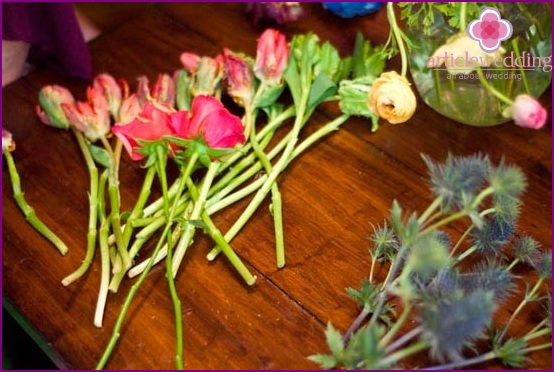 Surely you noticed that each flower has a different stem length. For example, the shortest stems of orchid flowers. In order to fix flowers in one bouquet, simply attach orchid flowers to flowers with long stems using decorative wire.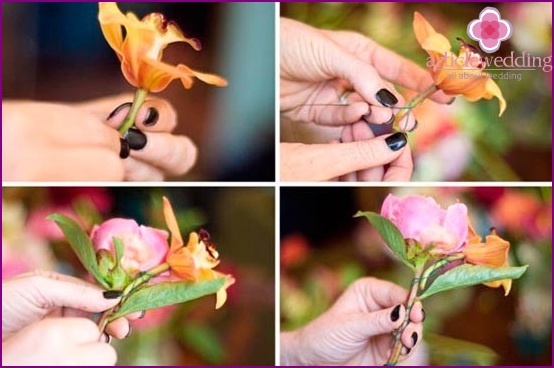 Now is the time to make bouquets. In our case, there will be three. Try to pick flowers in beautiful combinations until you are satisfied with the result. Once the small bouquet is ready, fix it with an elastic band and send it to a vase with water. Make two more similar bouquets.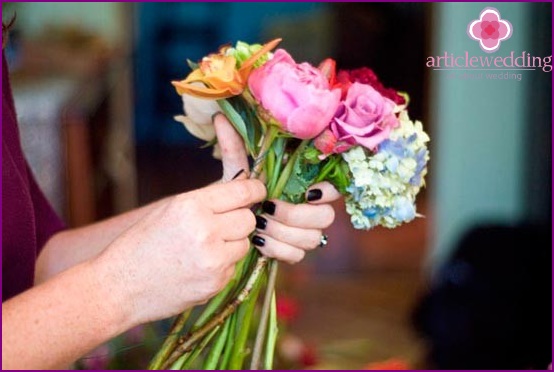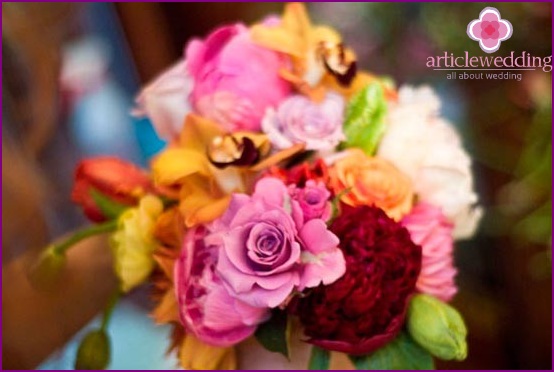 When the three bouquets are ready, remove the gum from them and put the flowers together. Cut the stems of the flowers so that they have the same length. Fasten the resulting bouquet with two rubber bands - top and bottom.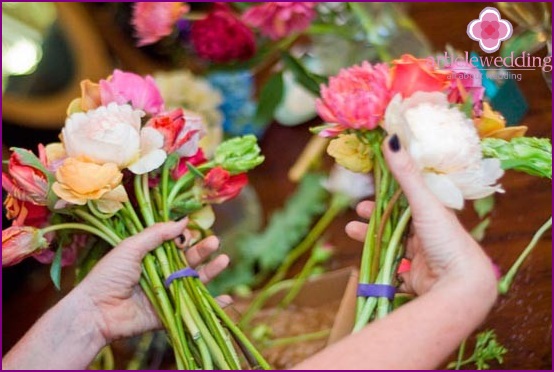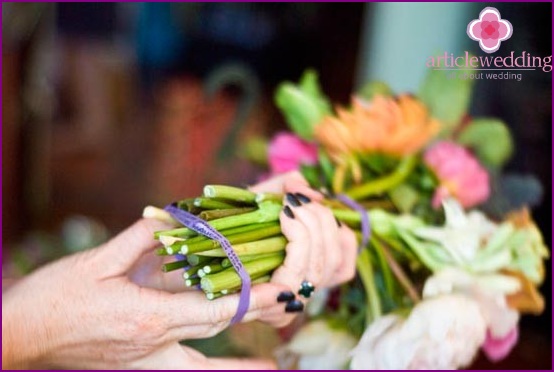 Now you need to wrap the stems of the bouquet with a beautiful satin ribbon. Above it, use lace ribbon to make the bouquet even more romantic and tender. Fasten the ribbons with a dozen beautiful decorative pins. The bouquet is ready!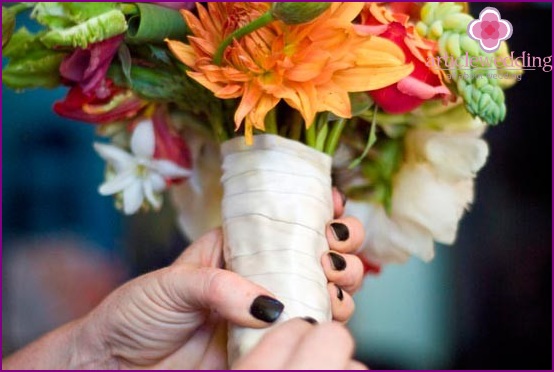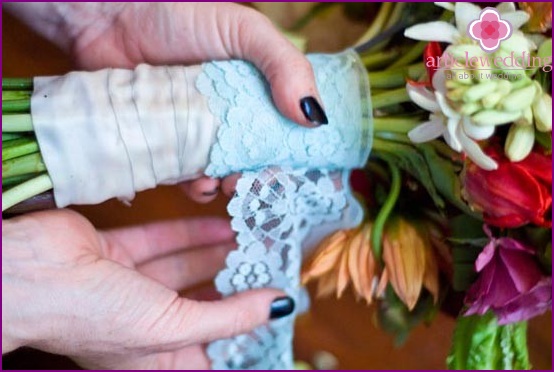 Application options
So, you made a beautiful bride's bouquet of colorful flowers. So bright and fresh, they will make your wedding bouquet rainbow, and the mood cheerful. All flowers for a bouquet can be ordered in advance in online stores. Try to choose only fresh flowers so that your bouquet does not wilt very quickly. If you make it with love, it will delight you more than one day. Such bouquets can also be made for bridesmaids.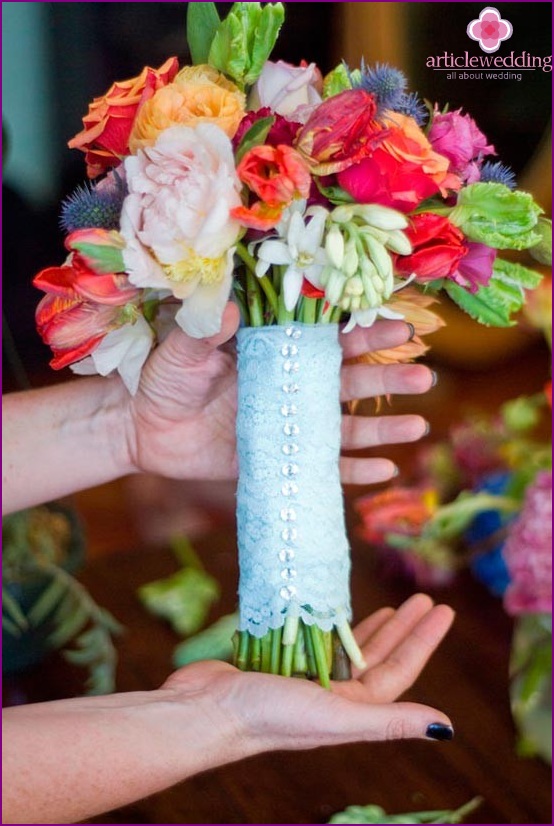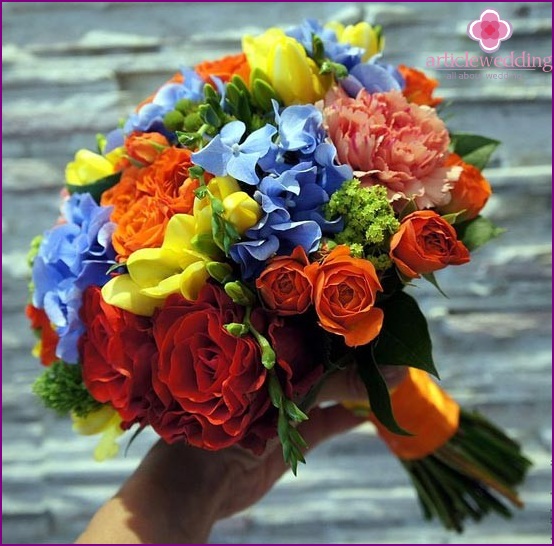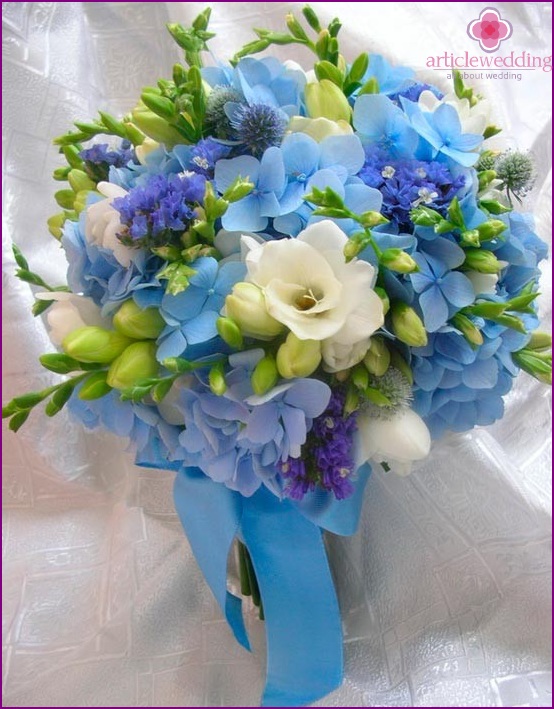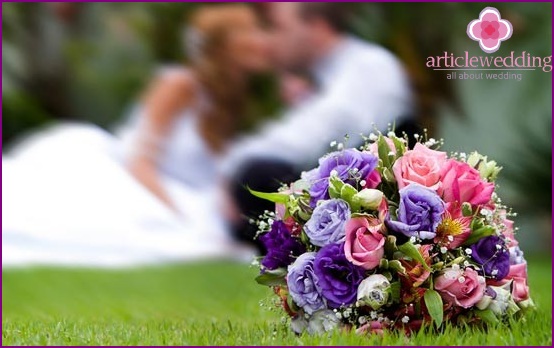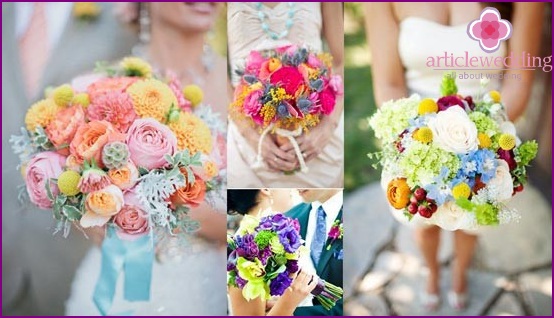 On the wedding site www.articlewedding.com, every bride will be able to find many interesting workshops that will please you and surprise you with their simplicity. Do not be afraid to try new ideas. Everything will definitely work out!