Contents
---
---
Newlyweds are harmony, elegance and sophistication. The bride's style is important first. And it's not just about a wedding dress. It is very important to choose harmonious accessories that are suitable not only for the wedding ceremony, but also for the original photo shoot.
An accessory such as a rose of unusual sizes will complement the stunning image of the bride. Why exactly a rose? Let us recall that this flower is the queen of flowers, a gift from the gods. The bride, in ancient times, was decorated with roses, and lovers in a sign of fiery love sent this particular flower to each other. But the best part is that this decoration can be done independently. So how to make this symbol of eternity and youth?
The site www.articlewedding.com offers you to make bright accessories for a photo session from paper - creative flowers that will become an unusual accent of the image on your wedding. An amazing master class will help you make real bouquets from plain paper that will add bright colors to the wedding celebration.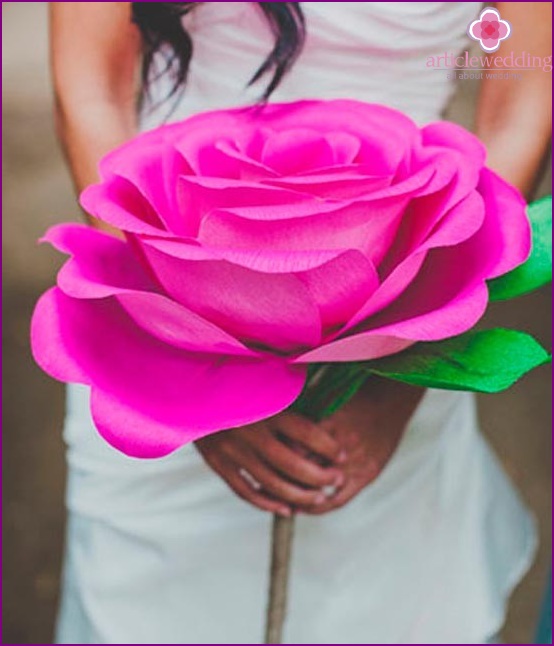 Materials and tools:
a roll of colored tape;
scissors;
colored wire;
4 sheets of corrugated paper for the manufacture of petals, measuring 25 by 125 centimeters;
1 sheet of green corrugated paper for leaves, calyx, stem design;
pencil;
3 leaf mounts in the form of a denser wire;
glue stick or glue for paper;
8 patterns of different sizes in the shape of a heart for the petals;
2 patterns for rounded petals;
1 cup stencil.
Time
: 25-30 minutes.
Detailed instructions:
Surprise your future husband and once again demonstrate that his future wife is not only a beauty, but also a real craftswoman. After you have prepared all the necessary materials, feel free to start creativity.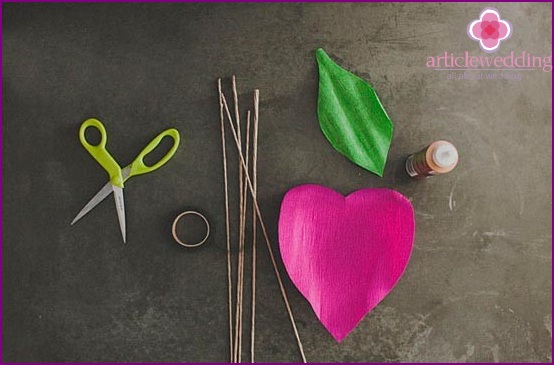 First you need to make the petals. We need heart-shaped petals of several sizes. Those that are smaller will form the middle of the flower. In total, we cut out 15 neat petals according to patterns: 5 - 6 ordinary round petals (smaller) and 9 - 10 petals in the shape of a heart. Corrugated paper must be folded correctly. The direction of the folds should be vertical. The size of the petal will determine the size of your rose. We bend the paper several times into an accordion. There should be as many folds as there are petals.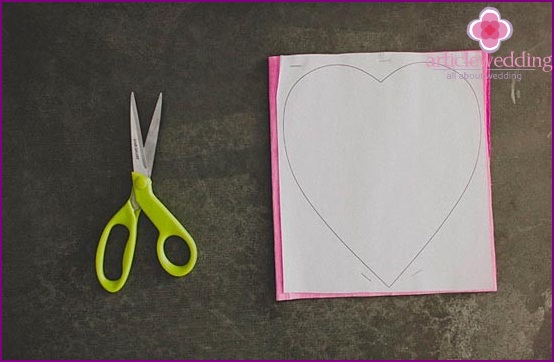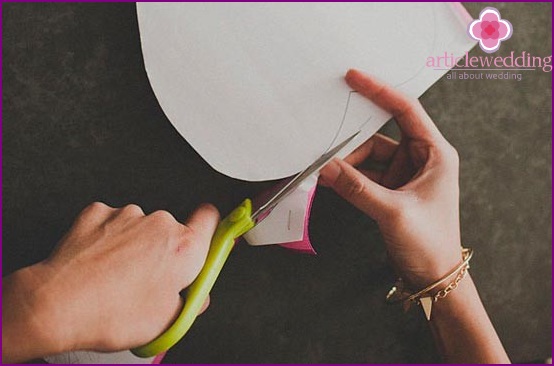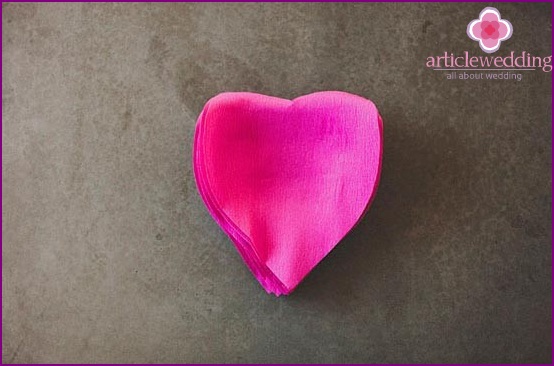 Now cut out three green leaves and a cup from green corrugated paper, which will perfectly combine with bright flower petals. To make a stem for a rose, wrap a dense wire with a colored green ribbon.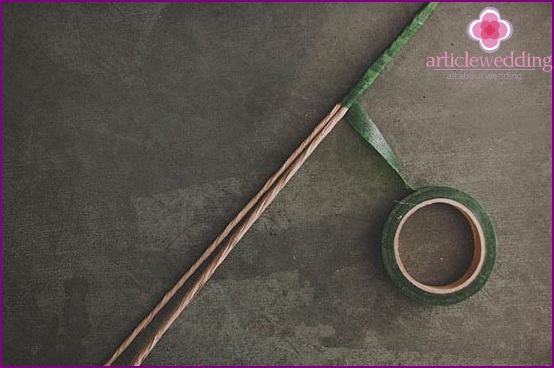 Now you need to give the petals a shape. To do this, stretch them from the center to the edges. Petals will take on a beautiful shape. Twist the edges of each heart with a regular pencil.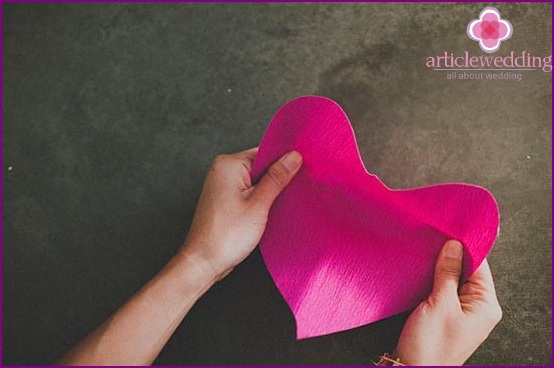 Now we begin to attach the petals to the stem. Petals need to be fixed with a green ribbon. Attach the first petal to the stem and wrap with ribbon. Next continue to attach the petals layer by layer.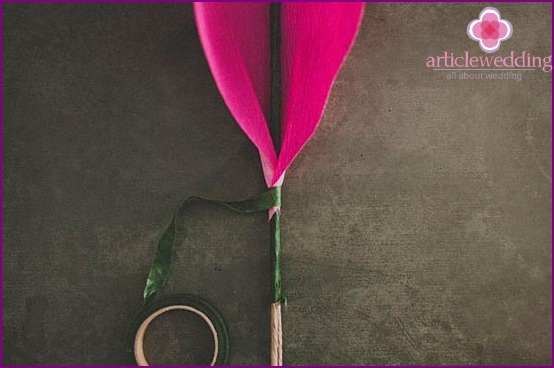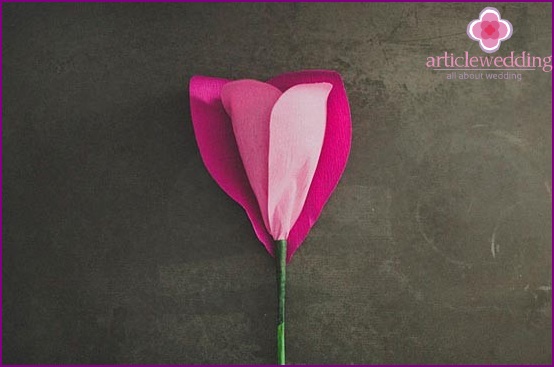 Using glue, attach the leaves to the wire..
Cut and add the stalk to the bud.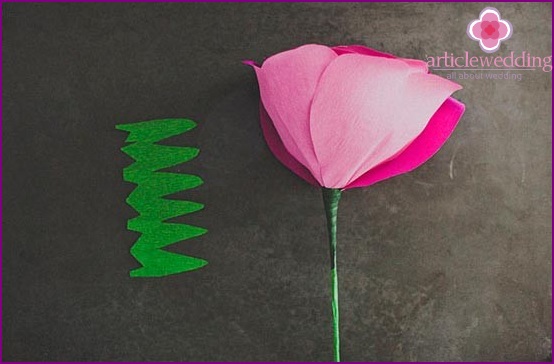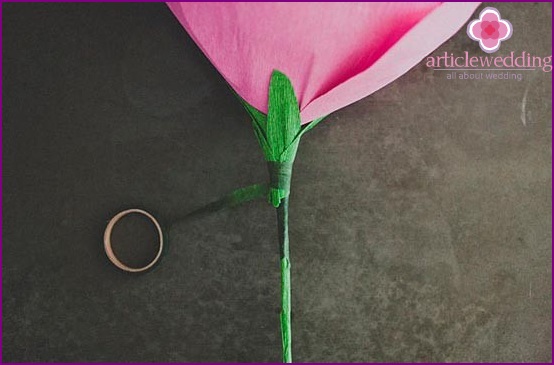 Attach the wire with leaves to the stem.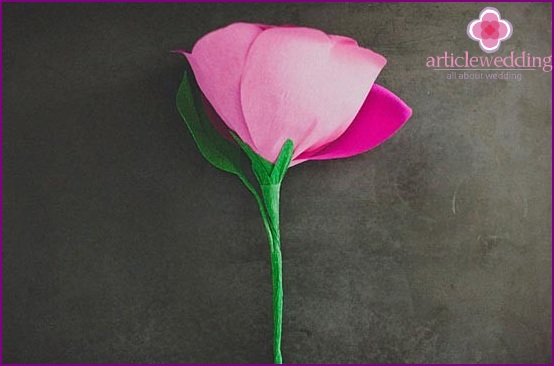 Fluff and smooth your petals - and the wonderful flower for the bride is ready!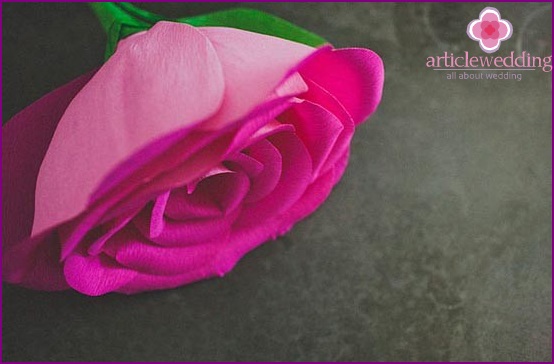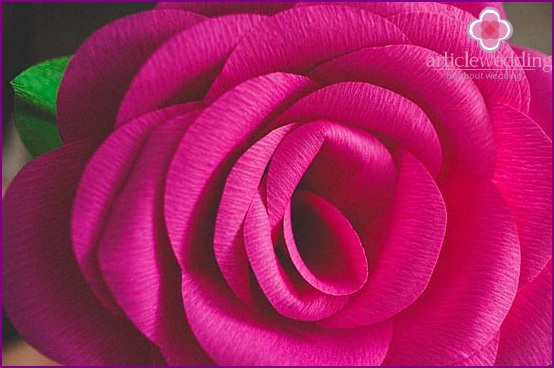 Application options
Such a luxurious accessory will be a great alternative to fresh flowers. A light bouquet that does not fade and does not fade is simply a great option for a wedding celebration and photo shoot! Equally important, such bouquets can be made for guests to conduct a lovely and simply fabulous wedding photo shoot.!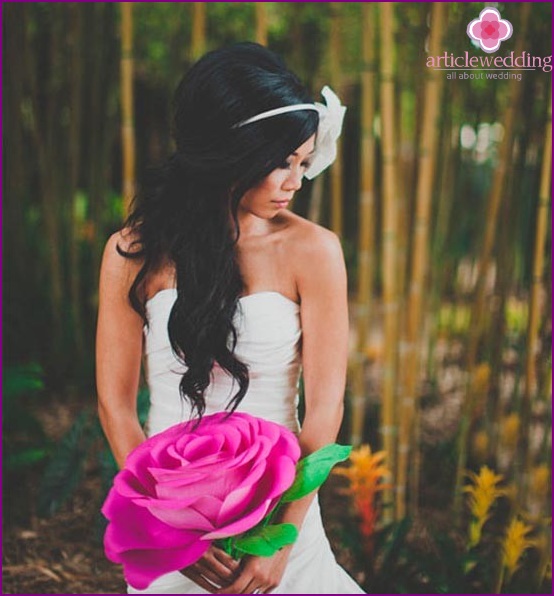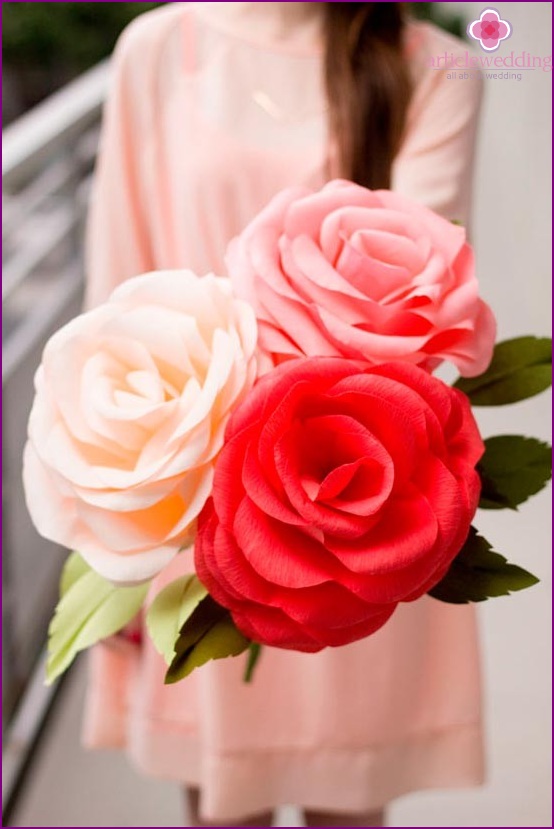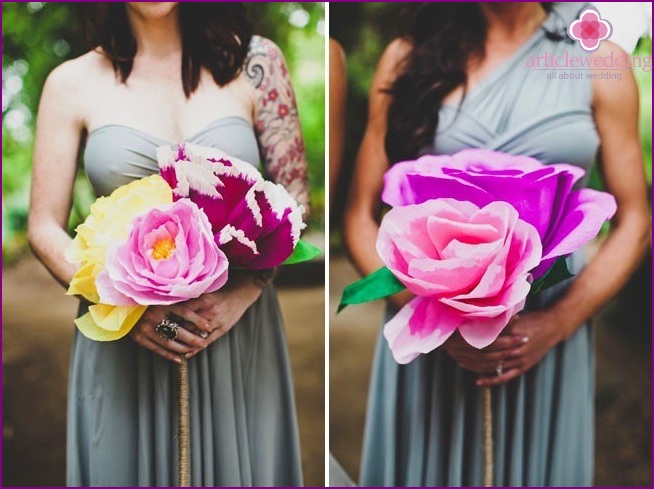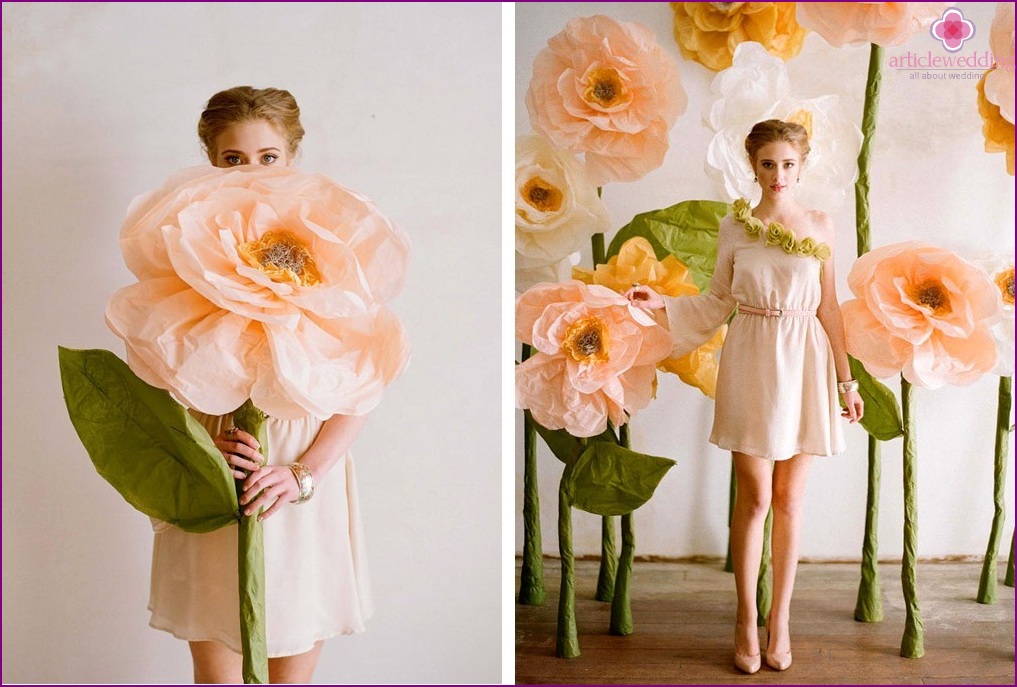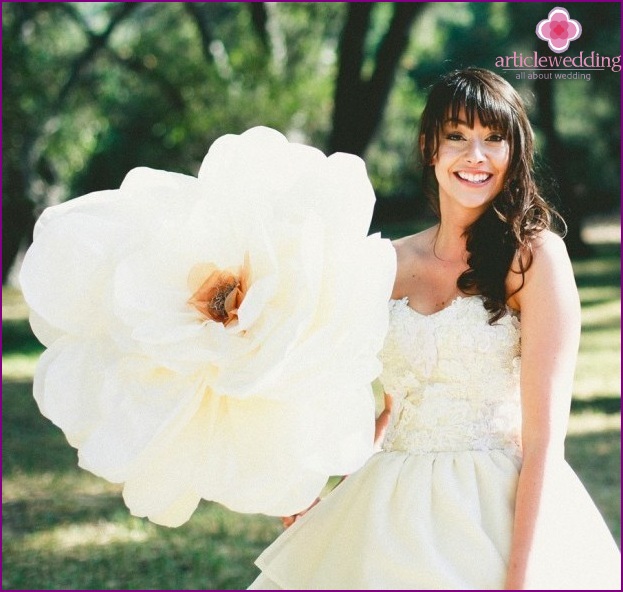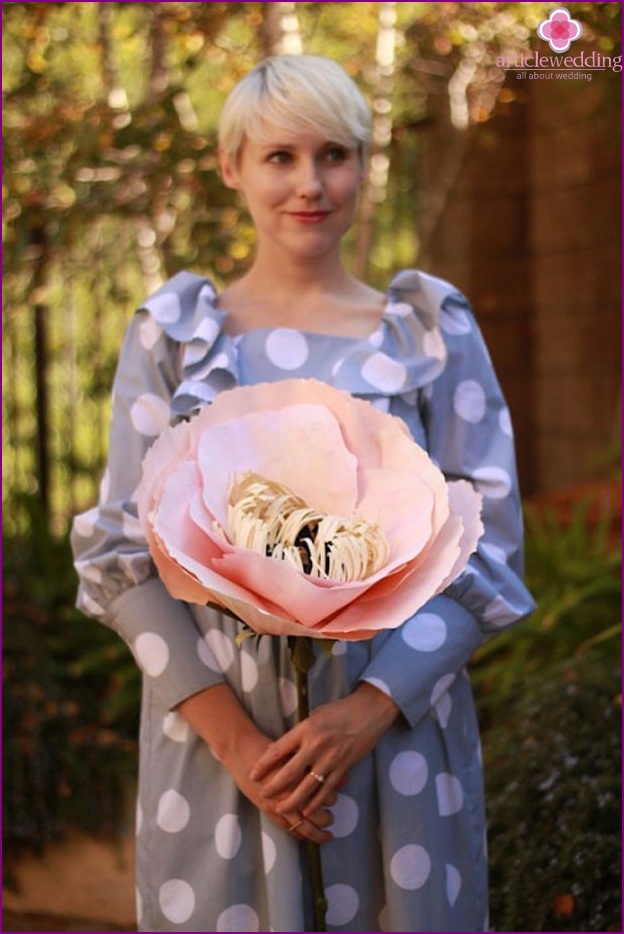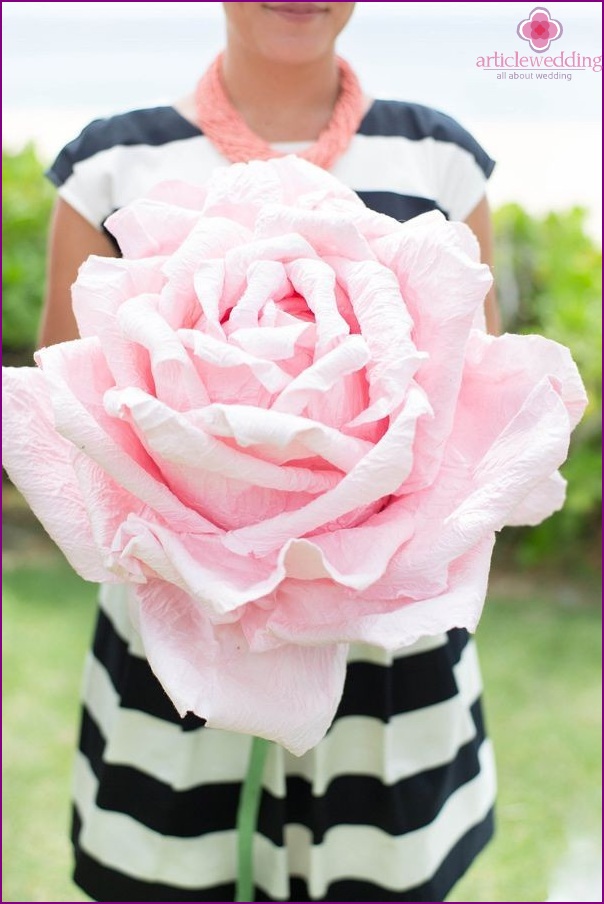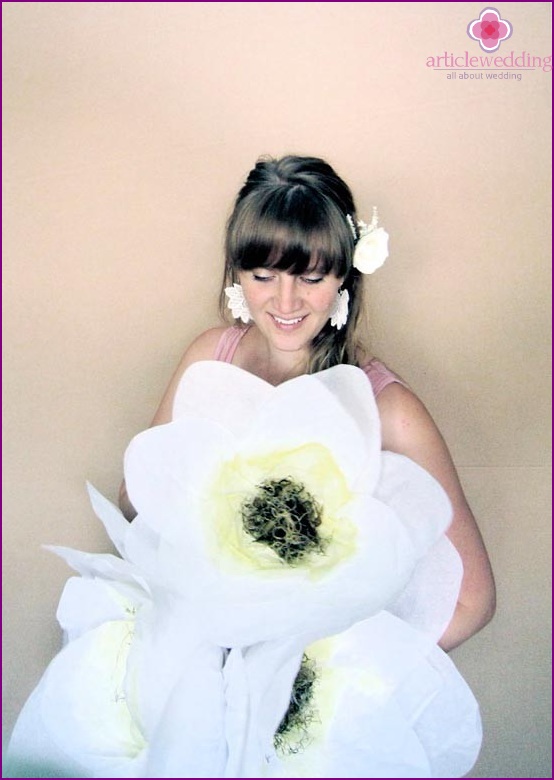 The wedding portal www.articlewedding.com always wishes you success in your creative endeavors!