Each couple dreams that their wedding celebration was a success, and all those present were satisfied. Interior decoration, the program of the event, as well as the musical accompaniment of the wedding, play a role in creating a festive mood. Music – it is the best tool for influencing emotions: it can make you rejoice, sad, empathize. Choosing the right musical accompaniment for the celebration can be difficult, so we present to your attention a selection of popular melodies, compositions, songs that will become a wonderful decoration of the wedding.
What tracks to choose for musical accompaniment at a wedding?
Depending on the style of the event, the newlyweds will need their own musical accompaniment: for a cowboy wedding, a cheerful country will be appropriate, for a gangster theme, jazz songs are suitable. If future spouses are not limited to a certain style, you need to separately think about the musical accompaniment for each stage of the wedding. The groom and the bride can hire a professional host or manager for the solemn day, which will help to compile a good track list, or think it out yourself, armed with a selection of wedding songs.
For the wedding ceremony
Wedding ceremony – this is a momentous occasion for which you need a special solemn musical accompaniment of the wedding. If registration takes place in the registry office, the newlyweds are unlikely to have the opportunity to deliver their music. Most executive bodies offer a choice of several tracks. As a rule, exceptions are made for on-site registrations: there, future spouses can choose the record themselves or invite musicians, for example, a string ensemble. This will captivate those present and create a unique atmosphere at the wedding..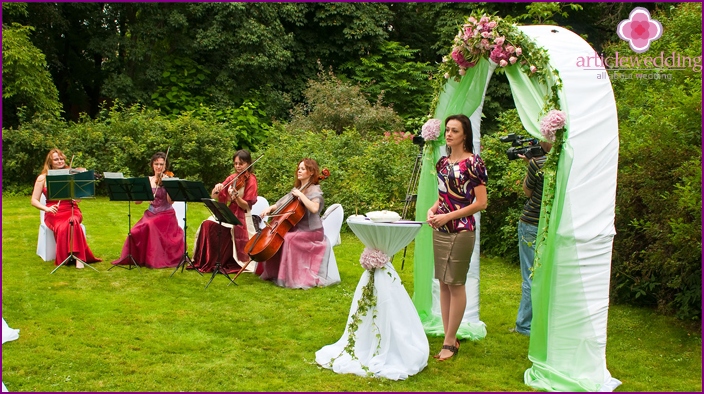 Here are some examples of musical accompaniment:
Secret garden – The promise
Elton john – Sacrifice
Richard Clayderman – Unchained melody
Johann Sebastian Bach – Prelude
Charlie chaplin – Smile
Yanni – One mans dream
Iron & Wine – Such great heights
Frank sinatra – Killing Me Softly With Her Song
Kevin spacey – Simple song of freedom
Ray charles – You are so beautiful to me
For the first dance of the bride and groom
First spouses – This is the main part of the wedding banquet program, so it is important for him to choose the right music. The choice of composition depends on the style of dance. You can choose from a classic waltz, a passionate tango, a romantic rumba, a surprise dance, or a slow dance performance. The musical composition can be in Russian, English or without words, using classical or electronic instruments. It all depends on the preferences of future spouses. An experienced coach will help you find the accompaniment.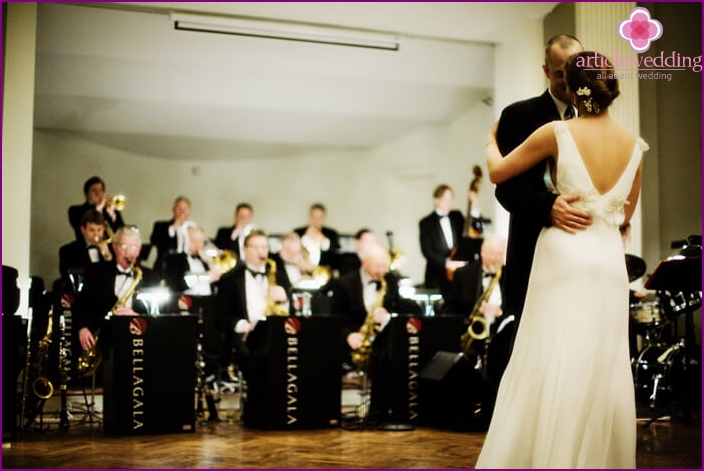 Chaikovsky – Waltz of the Flowers
Keiko matsui – Night waltz
Sarah brightman – Hijo de la luna
James blund – You are beautiful
Oreyro – Me muero de amor
Seal – All for love
Lara fabian – Je taime
Soul ballet – Her hood
Bryan adams – I think about you
Albert morris — Feelings
Background music for a banquet
To keep the festive mood throughout the wedding, future spouses need to make a selection of musical compositions for the background. Instrumental accompaniment for a banquet can be calm melodies, preferably without words. This will allow guests to easily talk to each other, and nothing will distract them. The tempo of the songs should be slow, the volume – low. Newlyweds can search for suitable melodies to accompany the wedding in the musical genres of lounge, ambient, soul, indie pop, or use this list:
Royksopp - Poor Leno
Nouvelle vague – A forest
Nouvelle vague – Dereglee
Lemongrass – Aloha
Lemongrass – Harmony
Lemongrass – Lovely
The shadow of your smile
Astrud Gilberto- Agua de beber
Charles Aznavour – La Boheme (English) (feat. Josh Groban)
Nat king cole – Love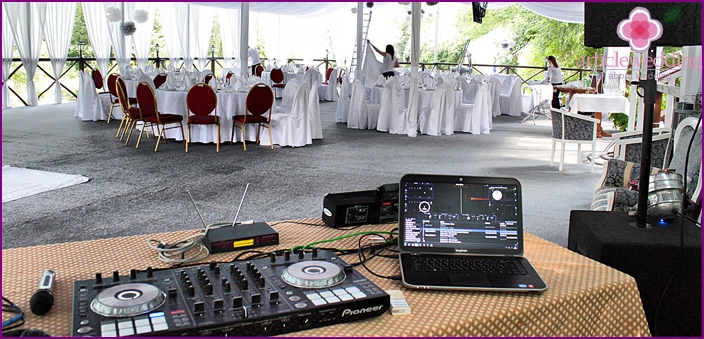 Dance tracks
The dance stage of the wedding is accompanied by musical accompaniment, which is occasionally «diluted» calm songs for slow dancing. Fast, fun music is also suitable for competitions. Newlyweds can make a suitable selection of songs or invite a group whose live performance will surely create a special atmosphere at the wedding. Having decided to hire professionals for the performance, future spouses should listen to songs from their previous live concerts in order to evaluate the vocal performance of the frontman, the energy of the musical ensemble as a whole.
Suitable music:
Danny – If Only You (MaxiGroove Project Remix)
Dj jim & Polyface feat. Jakoff – Just One Night (Tim3bomb Remix Edit)
Michael jackson – Rumba
Red hot chili peppers – Hollywood
The hooters – 500 Miles
Mungo jerry – Alright, alright, alright
Cosmo jarvis – She's got you
Fly project – Musica
Money m – Sunny
Earth wind & Fire – September