Contents
---
---
An ordinary sunflower was seen by everyone. It grows where the seed falls - in the fields, in the garden of my grandmother, just along the road. The yellow fiery head, framed by large petals, pleases with its appearance passers-by, gives warmth, a bright mood. But not everyone guesses that these unpretentious flowers can become the basis for a wedding arrangement. The bride's bouquet of sunflowers seems to absorb hot rays, and then good-naturedly distributes them to others. A bride with such a cheerful composition in her hands will attract the eyes of guests and the attention of photographers.
The meaning and symbolism of sunflowers in a wedding bouquet
The history of this oldest plant is rooted in ancient North America. Watching a large flower turn its head after the sun, local Indians worshiped it, considering it sacred. No wonder the inhabitants of Peru chose him as an emblem for their main deity - the sun god. Over time, country travelers brought flower to Europe.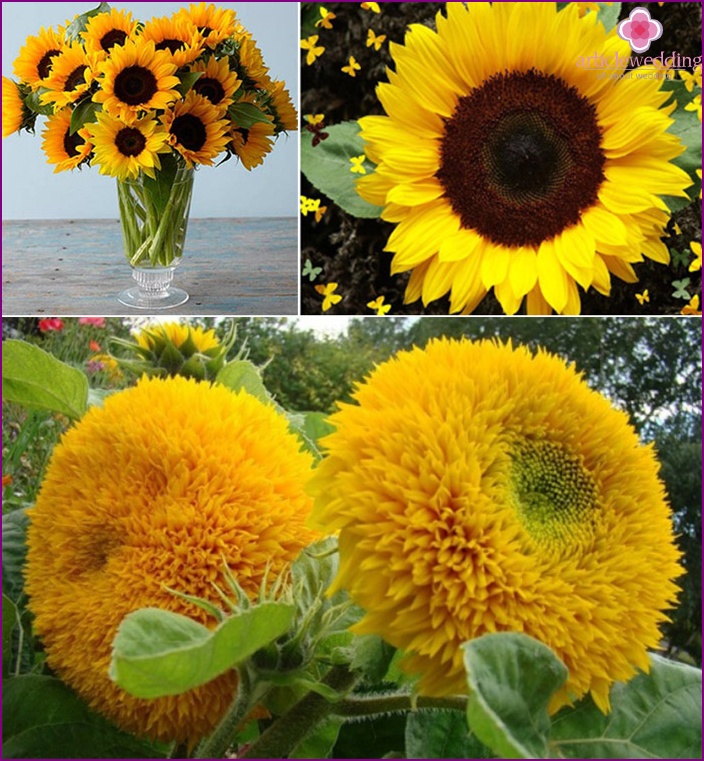 A lot of legends are connected with a sunflower.
The first says that people asked God to never take the sun from them. Then God gave them a sunflower. Not in vain, even when it is cloudy, he turns his head and looks towards the heavenly body. This plant symbolizes the sun, joy.
A beautiful Greek myth tells how the daughter of the Babylonian king abandoned his beloved Apollo, bestowing his sister with his love. A jealous girl killed her sister, she turned into a big yellow flower, she constantly caught the trail of her beloved man in the sky. Therefore, the sunflower is a symbol of fidelity, constancy.
Residents of our country call this plant a gift of the sun, bringing peace, good health, prosperity to the home, beauty to the owners. Gold delicate petals will certainly give you wealth. A sunflower is considered a charm of home and family, capable of driving away evil forces from people. A sunny flower growing in the courtyard will bring success in endeavors, will promote career growth, and improve the well-being of the owner. We recommend a wedding bouquet of sunflowers to cheerful, energetic girls who warm the warmth of everyone around.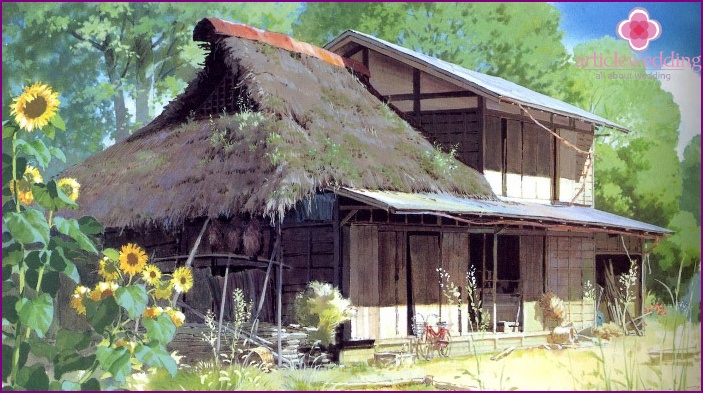 Options for wedding bouquets of sunflowers
Want to be a stylish, unusual bride? Or do you plan «folklore» wedding with a wedding ceremony? Then you just need a wedding bouquet that is different from all, as close as possible to the field. A unique piece of floristic art, absolutely suitable for such a wedding, will be a bouquet of sunny flowers. He has many advantages:
It looks beautiful, neat, since not large wildflowers are taken, but small decorative ones, the size of a gerbera, to compose a composition. Breeders bred several varieties of decorative sunflowers that are not similar to each other..
The plant is able to maintain a fresh look for a long time, you can not be afraid that during the day your bouquet will fall apart or wither. This certainly will not happen, the composition will be fresh until the end of the celebration, and a few days later.
These flowers do not have a pungent, heavy odor, so those present will not experience allergies or other unpleasant conditions.
Extremely bright, eye-catching coloring, large size make the sunflower the undisputed leader in any bouquet. Against the background of other plants, he will stand out, placing his golden accents. Therefore, there are three main options for composition:
The first is to dilute the main yellow color with smaller stars of blue, lilac, pink or white. Anemones, hydrangeas, orchids, white chrysanthemums are suitable. Yellow with blue - the combination of the hot sun and clear summer sky looks amazing in such a bouquet.
The second is to add the same bright, large flowers - roses, callas, lilies to the little sun. You get a fragrant, full of life bouquet, perfect for the bride.
The third is a mono-bouquet of sunflowers, looking like a big sun. They are successfully replaced with yellow gerberas or mini-sunflowers, then the composition looks a little more elegant.

Mono-bouquet of sunflowers
For summer and autumn weddings, feel free to choose a bouquet of sunflowers, you will not regret your choice. Mono-bouquets are on a long leg, as well as round - in the shape of a ball. Plants of the same variety and approximately the same size are selected for such a composition. If it is composed correctly, it will look no worse than complex, time-consuming and expensive. Going to the florist for a wedding bouquet, you should decide in advance on the size and number of flowers. To give monobuquet lightness, grace, the main flowers are diluted with asparagus, hypericum.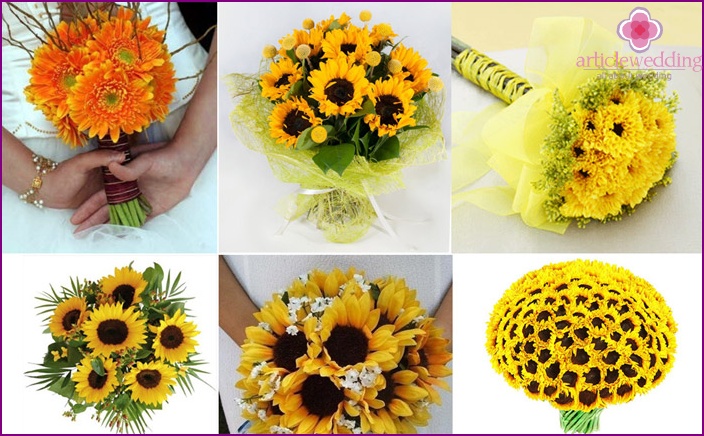 Composition with irises and herbs
Sunflowers are perfectly combined with blue or lilac flowers, for example, irises. The bouquet is built on contrast, attracts the eye with its warmth and heavenly blue, diluted with light greenery. Irises in Japan are considered the guardian flowers of their owners. If you look closely at the shape of the iris petals, they resemble the weapons of a brave samurai. Such a kind of amulet will bring young only good, protect from any troubles. Tie the stems with a beautiful ribbon, and do not take your eyes off the bouquet!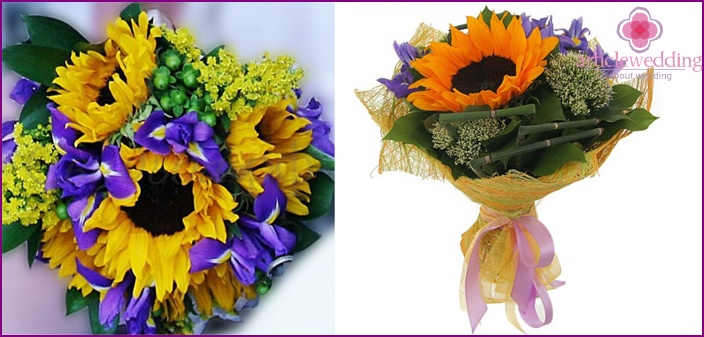 Combination with daisies and orchids
Yellow suns in a white airy cloud of daisies, and in the middle of them, like lanterns, blue orchids - what could be more beautiful than such a refreshing mix! The bouquet overflows with the sensation of a sultry summer day when the sun is at its zenith. It symbolizes a cloudless sky above your head, warmth and prosperity in the house. The aroma of a wedding bouquet will cheer you up, and its bright yellow-blue color will certainly become a bright central spot in photographs.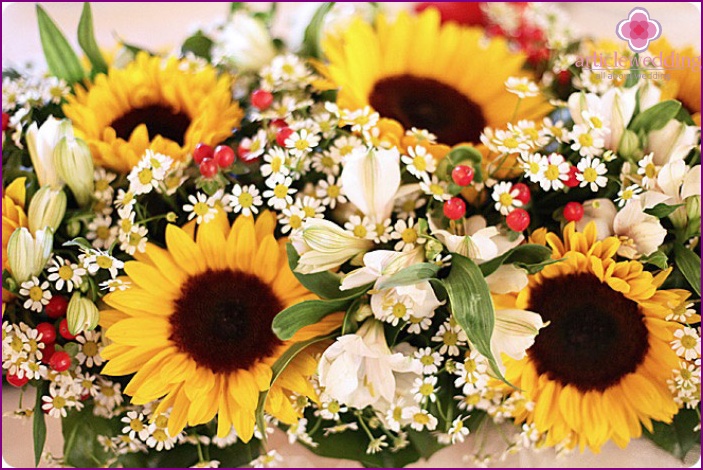 Photo of beautiful wedding bouquets of sunflowers