Contents
---
---
The ancient Slavs, our ancestors, not a single wedding could do without decorations with wildflowers. The central attribute was a wreath with fresh flowers for the bride, which symbolized the natural purity, innocence of the girl. In autumn, at the time of Slavic weddings, fresh flowers were replaced with colorful autumn leaves of trees. There were whole ceremonies for removing a wedding wreath and lowering it into a pond, indicating that from this day on one married woman became more.
How to choose the right wreath of flowers?
The first and main rule for choosing a wedding wreath should be its full combination with the rest of the bride's outfit. When the image of the newlywed is fully thought out, you should contact the florist for advice. An experienced specialist will tell you what color the wreath, with which components, will suit a particular bride, depending on her appearance. Floral wreaths are best suited for young girls up to 25-28 years old, especially for owners of long hair. More mature women with such an accessory can look not only ugly, but even comic.
Options for wedding wreaths on the head
If you decide that your decoration on your head should be only fresh flowers, pay attention that they have something in common with the bouquet in terms of its content and color scheme. Most beautiful plants look on long loose hair. But this does not mean that girls with short haircuts are deprived of the right to decorate themselves with a headdress created by nature itself. There is a flower wreath for brides with any hair length.
From wildflowers
The tender image of the bride will be emphasized by a voluminous wreath created from wildflowers and ears. Soft shades will add airiness to the headdress. A bride with long flowing hair, in a unique image of a forest nymph, will be surrounded by a halo of delicate inflorescences of rue and mint. Such an ornament will suit blondes with fair skin and blue eyes, dressed in a dress sewn in a folk style. Any girl knows how to weave wreaths, but for the manufacture of wedding decorations it is better to contact the florist. Due to the variety of plants, it is easy to achieve excellent results..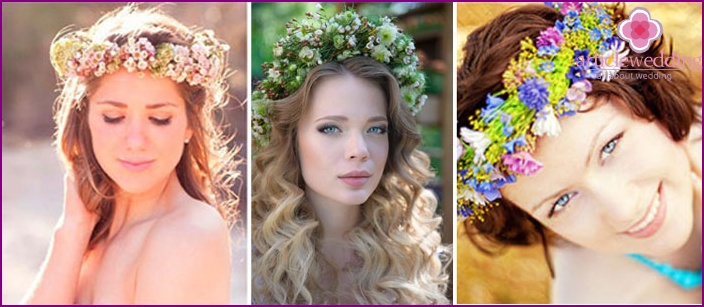 From alstroemeria and spray roses
In ancient Greece, a rose was considered the most important flower and worshiped. No wonder the bed of the newlyweds is showered with rose petals, and the wreath with this royal flower has always been admired. The height of the head jewelry, into which lively curly or bush roses are woven, can reach up to 10-15 cm, which visually increases the growth of a short bride. Wreaths with alstroemeria look no less beautiful and sophisticated. A variety of colors in these flowers gives the image of the girl even more freshness and gentle beauty. Combining these plants in different proportions, you get a unique wreath.

Snow-white wreath from gypsophila
A wreath with gypsophila can only be compared with «crown of an angel», associating with a gentle image, purity. These flowers are suitable for girls with pretty rounded features. Small snow-white inflorescences, as it were, were specially created so that they would decorate complex hairstyles for a wedding or woven into wreaths. A charming flower crown will allow the bride to feel unsurpassed, which will present pleasant memorable moments. Wreaths with gypsophila are favorites for girls gathering at the crown, as they can hold out all day without losing their beauty.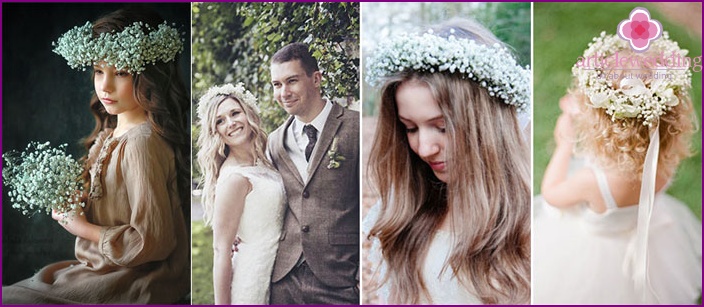 Arrangement of miniature flowers and berries
Decorating hair with berries and small flowers is a tradition dating back several centuries. Women already wanted to look attractive and elegant. Slavic folk traditions are preserved to this day. For example, wreaths of Ukrainian girls, in addition to flowers, must necessarily contain branches of bright red viburnum intertwined with leaves and ribbons. The combination of clusters or individual berries and small, less bright colors gives a special touch to the image of the bride.

What hairstyle suits a wedding wreath?
A wedding hairstyle with a wreath on the bride's head is a whole work of art. When creating the image of the bride, maximum attention is paid to this so that all the elements are in harmony with each other. A smooth transition between the details of the wedding decoration helps provide a variety of decorations. The bride is rarely found without any attributes in the hairstyle. In recent years, there has been a tendency to return to folk traditions. The wreath returning to fashion, decorating the bride's hairstyle, is at the peak of popularity.
The longer the hair, the larger the floral decoration should be. The use of small single inflorescences, correctly located in the collected hairstyle - will add color to the romantic image of the bride. The same small flowers will complement long hair if they are braided in a French braid. An impressive combination of large buds and loose soft curls of hair in the form of freely curly locks is impressive.
For short hair, an asymmetric wreath containing one or three flowers intertwined with lace is best suited. Compositions with delicate medium-sized flowers are more versatile. Especially organically they look on short haircuts and loose hair of medium length. If you correctly attach the hoop with flowers, such a wreath will be a wonderful addition for long hair laid in a hairstyle or freely flowing.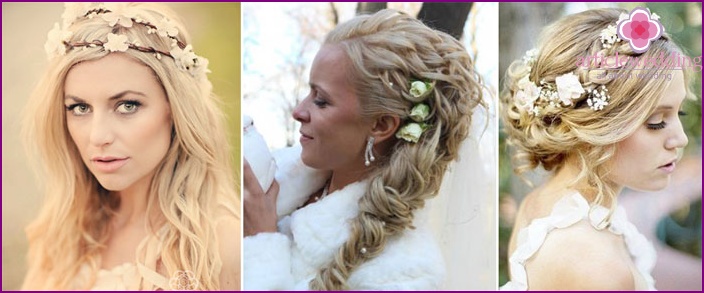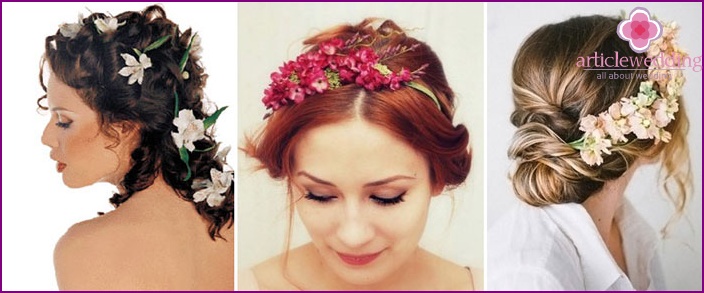 Photo of wedding wreaths of fresh flowers
Wedding hairstyles with a wreath is the trend of the season. A variant is possible when a wreath is worn only for the duration of the wedding ceremony, for the most solemn moment. If it does not cause heaviness or discomfort, and correctly selected flowers do not fade after a short period of time, then it is worth staying in it until the end of the wedding celebration. To extend the life of plants, when composing a composition, florists process them with a special composition.
Skilled hands of specialists create impeccable combinations of flowers, leaves, ears, ribbons, rhinestones, as well as light feathers. The variety of these jewelry should only be surprised. They look very organic in combination with the outfit, creating a single image of the bride. Such a work of art does not require additional jewelry; it is beautiful in itself and only emphasizes the beauty of the bride and groom. Look at the photos below how it looks.