Contents
---
---
Flowers in the hands of the bride - a symbol of the wedding ceremony. Each girl dreams of an unusual bouquet from the groom, who will convey all the depth, brightness of feelings. Traditional roses with long legs, spherical baskets of perfectly matched flowers have become so familiar that they create a feeling of uniformity. Want to get away from the cliche? The disheveled bouquets of the bride and groom - unimaginable shapes, sizes - are increasingly winning the hearts of girls gathering at the crown. It is impossible to resist the wonderful field daisies or daisies!
Options for wedding disheveled bridal bouquets
Stylish, extraordinary disheveled wedding flower arrangements create the effect of slight negligence. As if the bride on the eve of the wedding ceremony fell into a magical flower garden, where she collected the most unusual flowers, often of various heights, shapes. On the way to her own wedding, she looked into the garden, adding green twigs with berries to the composition, or walked through an endless lavender, wheat field, picking up fallen spikelets and inflorescences.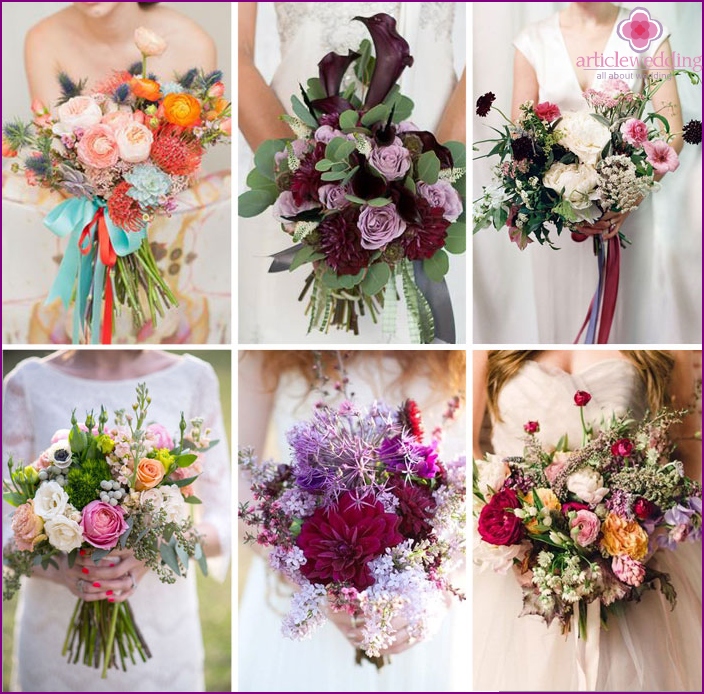 For disheveled bouquets uniformity is not permissible, the beauty of the composition is «combination of incongruous»: strange peacock feathers, garden roses, ears of wheat, peonies, field daisies, twigs of greenery and berries. Rustic, eco, and Provencal wedding styles imply the bride's bouquets of the corresponding type: simple and unusual at the same time, only occasionally decorated with matt or satin ribbons.
The combination of large flowers, small inflorescences on short legs, glossy greenery, garden and field plants allows you to create unusual compositions: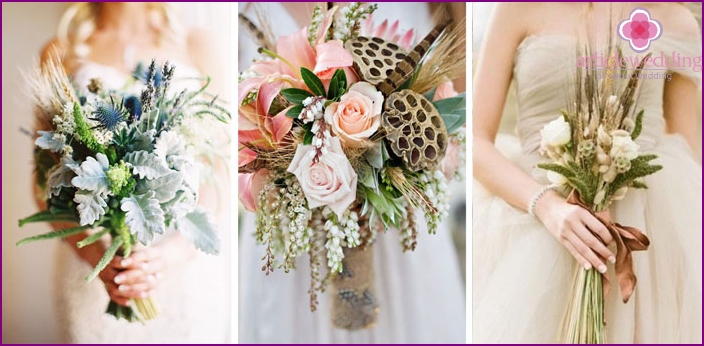 Spherical disheveled compositions of roses, peonies, hibiscus, diluted with branches of ruscus, fern, rosehip berries. Ideally emphasize the image of the bride, refresh the wedding ceremony, organized in both rustic and classic style.
Original bouquets for the bride, whose wedding is held in eco style. Formed on the basis of wildflowers, spikelets, sprigs of lavender.
Large compositions in the form of a waterfall. Fantasy florists' flight reflects: field bindweed, strict dahlias, chrysanthemums decorated with green fern leaves, heather.
Delicate peony roses, ranunculi, combined with cornflowers, daisies. These flowers in a disheveled bouquet will become a unique accessory to the bride's outfit for a style wedding «provence».
Wildflowers
Are you tired «sleek» roses, neat graceful orchids? Are you planning an eco-style wedding? Incredibly beautiful wildflowers will add naturalness to the image, add an exotic touch, and decorate the look of the bride. Lavender disheveled compositions envelop a warm gentle aroma; daisies, cornflowers shade the rich purple color of the robe; green fern leaves complete a sophisticated look.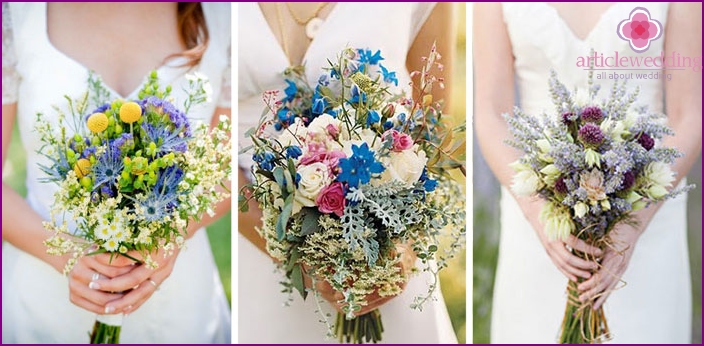 Sky blue cornflowers, colorful daisies on long stems harmoniously fit into a bouquet for a wedding in a rustic style. The graceful cups of lilies of the valley emphasize the elegance of the bride, spinning her head with a delicious aroma. Heather compositions with dry branches of various spikelets, feather grass will become a stylish detail when creating the image of the bride and groom. And how do you look at holding a daisy field in your hands? Large garden flowers, framed by small field daisies, do not need additional decoration.
The combination of large peonies and greenery
Exquisite peonies for wedding arrangements can safely compete with roses and orchids. The advantages of these garden flowers are undeniable:
Marvelous aroma admires at the same time richness and delicate notes.
A palette of various shades, from snow-white to burgundy-scarlet, provides a chance to choose a disheveled bouquet for every taste.
Unusual cup shape, overflow of flower petals will be remembered for grace and style.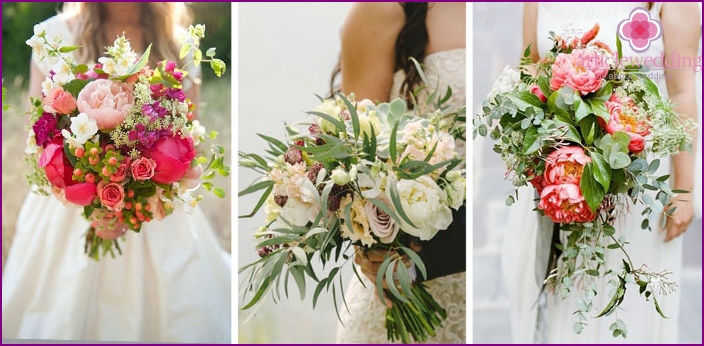 Snow-white peonies are perfectly combined with yellow chrysanthemums, decorative sunflowers, creating a light composition with a bright accent. Ordinary garden peonies woven into a wreath-bouquet will create the image of a delightful village bride. Strict dahlias, chrysanthemums on long stems will set off coral red flowers, and fern will add airiness to the composition.
Heather twigs, half-closed peony buds and ... dandelion leaves will remind you of the beauty of the wild. Stylish matte petals of peony roses of pastel shades, edged with glossy Ruscus branches, decorated with discreet flowers provide an opportunity for florists to create an incredibly elegant Provence-style bride bouquet.
Disheveled bouquet of garden roses
The achievement of gardeners in recent years has been the emergence of a peony rose, combining the elegance of a peony and the aristocracy of a rose. These snow-white flowers compete with orchids, callas, often «winning» last marvelous light aroma and tenderness of shades of petals. They harmoniously look like an accessory of the bride at a wedding celebration of any direction and style..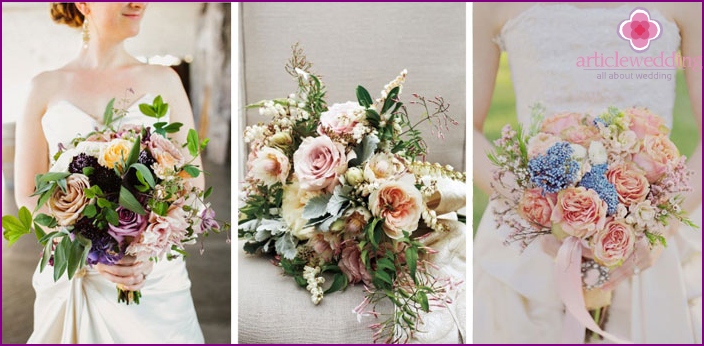 An unsurpassed disheveled composition is created by florists from garden roses of pastel colors, snow-white peonies with bright interspersed greens. Uneven in size buds, some of which are about to bloom, while others have already opened their petals, create a misleading impression of a bouquet just picked up by the bride's hands in her own garden. Roses with irregularly shaped stems of different sizes and buds emphasize the naturalness of the image of the newlywed. Scarlet, yellow, cream, lilac, combined in a disheveled bouquet with herbs, they will recall the beauty of the wild.
Lush bouquet of ranunculus
The unusual name of ranunculus is the European version of the most ordinary buttercups. The outward resemblance to peony roses, orchids, water lilies made them kings among the wedding flowers. Disheveled flower arrangements for the bride and groom, both mono and prefabricated, occupy a leading position in the world of European floristry. No flower can boast such a wealth of shades.
White, cream, pink, pale lilac buttercups emphasize the tenderness, romance of the bride; saturated yellow, orange will fill with energy, and burgundy will give elegance to the image of a fatal woman. An ideal combination of ranunculi with hydrangea, anemones and a rose; the beauty of mono bouquets is emphasized by tender lilies of the valley, gypsophila, ruscus, succulents.
Cascading disheveled bouquets
Lady Diana Spencer became the trendsetter for disheveled wedding bouquets of the cascading type, choosing a similar composition for marriage back in 1981. Flowing roses in graceful waves framed by greenery have become a traditional classic; dahlias, chrysanthemums give brightness and eccentricity along with the bride; orchids - aristocracy. Such bouquets are characterized by jewelry in the form of satin ribbons, feathers, pearls.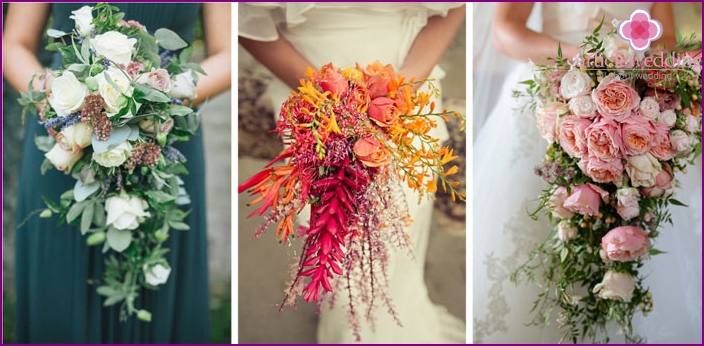 Disheveled compositions of jewelry look unusual: silver threads with strung rhinestones, stones. Do you want to surprise guests, emphasize your love for wildlife? Choose a cascading bouquet made with decorative ribbons and serpentine for the wedding ceremony. Bright colors will set you apart from the crowd, and the decor of the composition will make it unforgettable. Disheveled teardrop-shaped bouquets are preferable to choose newlyweds of medium and tall.
Photo of disheveled wedding bridal bouquets
The variety of disheveled bouquets, their incredible beauty, naturalness led to an ever-increasing popularity among brides. Do not get lost in the vast sea of ​​proposals of wedding compositions will help the photo below. Bright, unusual flowers, combined with spikelets, greens, decorated with rhinestones or feathers, will become an elegant, stylish accessory for the bride and groom.