Contents
---
---
Beautiful accessories on the bride's hairstyle will make the girl's look spectacular and bright. Original wedding hair jewelry favorably emphasizes the good taste of the bride and groom. The comb, tiara, hoop, bandage should be in harmony with the festive styling and wedding dress. Also, the theme and style of the celebration play an important role in choosing hair jewelry. What are the wedding accessories for newlywed hairstyles?
Options for wedding jewelry in the hair for the bride
Wedding fashion offers brides a wide selection of hair ornaments. The traditional veil is beautifully combined with bright crests and tiaras. But often the newlyweds give preference to a wedding look without transparent snow-white fabric on their hair. Instead, the bride's veils decorate the wedding hairstyle with veils, headbands, tiaras, flowers, shiny hairpins. A variety of hair accessories amazes and opens up a wide field of activity when creating an image of a newlywed.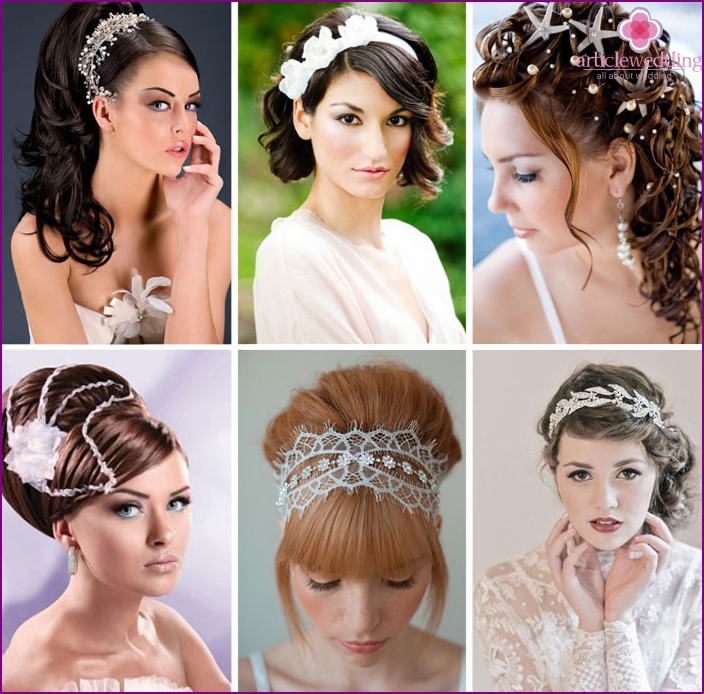 Some jewelry in the hair is luxurious and romantic, while others are elegantly restrained and concise. Accessories for hairstyles can be made of precious metals using jewelry stones. And hair products made from less valuable materials are decorated with glass beads, rhinestones, sparkling Swarovski crystals. Satin ribbons, organza, silk and other fabrics can be used in accessories. With the help of jewelry on the hairstyle, the bride and groom will emphasize their individuality and beauty.
Wide bandages with lace elements
The bride can create a vintage style in the style of the 20s with a headband decorated with lace. Unusual, stylish and fashionable jewelry on the hair will not go unnoticed by others. The lace elements on the bandage are attached to a mesh or dense base, and pearl patterns can decorate the accessory. In the original guipure, the bride will feel special on her wedding day..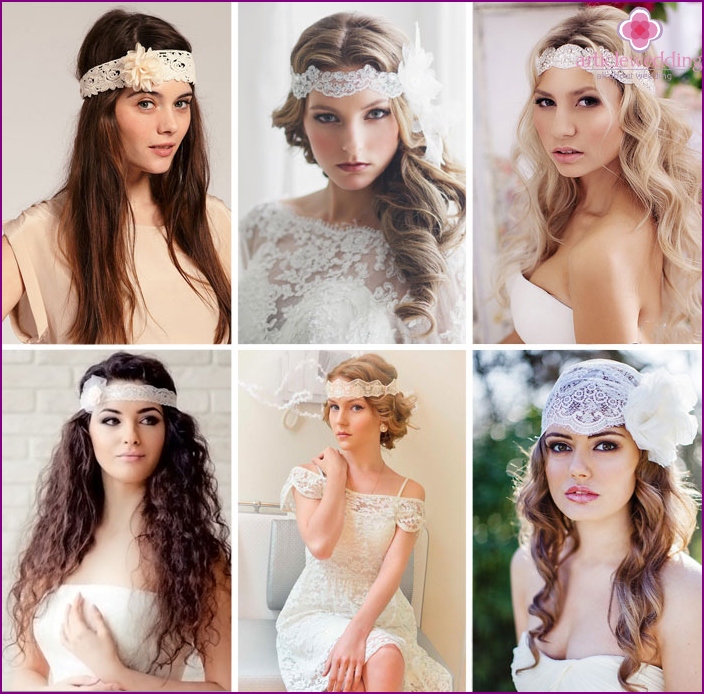 Wedding hoops with fabric flowers
Flower headbands are a popular accessory among brides. Living plants are tender, they may not retain their beautiful appearance during a busy wedding day, so hoops with artificial buds are more practical for decorating a girl's hairstyle. Delicate petals made of white satin or silk will make the bride and groom more feminine and romantic..
Fabric rose hoops work well with loose, slightly curled hair or a careless low bun. For the manufacture of artificial flowers, an openwork cloth, satin or fabric similar to the material of the wedding dress is used. Wedding headbands for hair are decorated with rhinestones, beads. Often, newlyweds choose hoops decorated with artificial roses, lilies of the valley, lilies, daisies, callas, camellias, and orange flowers.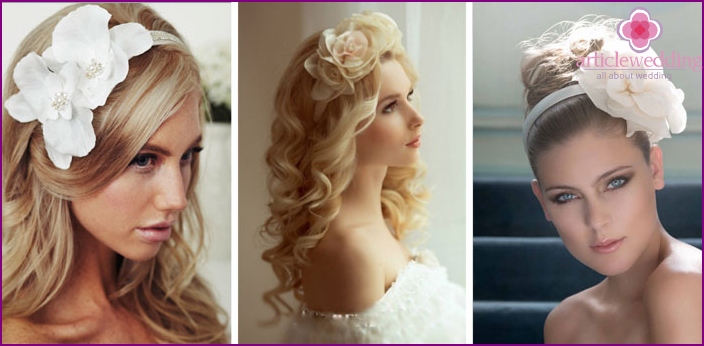 Crests adorned with stones or pearls
An elegant look will be given to the bride by a comb decorated with bright elements. It can be used to attach a veil to the hairstyle. A comb with shiny stones or pearls will suit any styling, but it will look especially impressive on hair that is gathered in a high bun. This accessory will look harmonious if placed at the top of the hairstyle or sideways. The crest design can be varied, therefore, choosing such a decoration, the bride and groom will make their image unique and royal luxurious.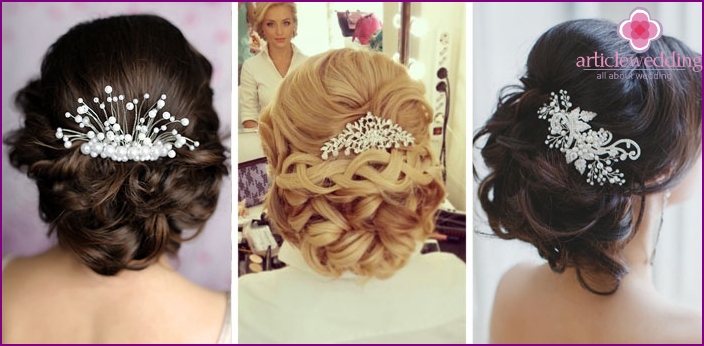 Tiaras or tiaras with rhinestones and stones
All girls dream of becoming princesses at least for a while. Wedding day is the right time to wear a diadem or tiara with a luxurious dress and feel like a queen at a wedding celebration. Fine jewelry in the form of a crown can be made of precious metals or inexpensive materials, and decorated with jewelry stones or artificial rhinestones. If you decide to choose a tiara or diadem as an accessory, then pay attention to a few tips:
A large diadem or tiara is suitable for girls with lush, thick strands, and a narrow one is suitable for brides with a fine hair structure.
The jewelry of the newlywed and the royal crown should be of the same material and with the same stones. Since a tiara or diadem is a bright and large accessory, it is better to choose a small size necklace, chain, earrings for the image of the newlywed.
The crown on the hair is well suited to the outfit on which a moderate amount of bright details in the form of rhinestones or stones. An elegant dress without excessive decor will effectively emphasize the beautiful tiara on the hair.
Different types of diadems or tiaras are suitable for an oval type of face, but it is better to choose an accessory without large peaks in the center, because such models can visually lengthen the face.
For a round face, it is better to choose crowns with a high central part. They will help to make the image of the bride more harmonious. High tiaras visually make the face longer by bringing the round face closer to the oval shape.
A diadem without protrusions will look good on a bride with a triangular face.
A crown with a V-shaped protrusion will give a girl with a trapezoidal face shape a beautiful and harmonious look.
Tiara is not worn on the forehead, but so that part of the hair in front is visible.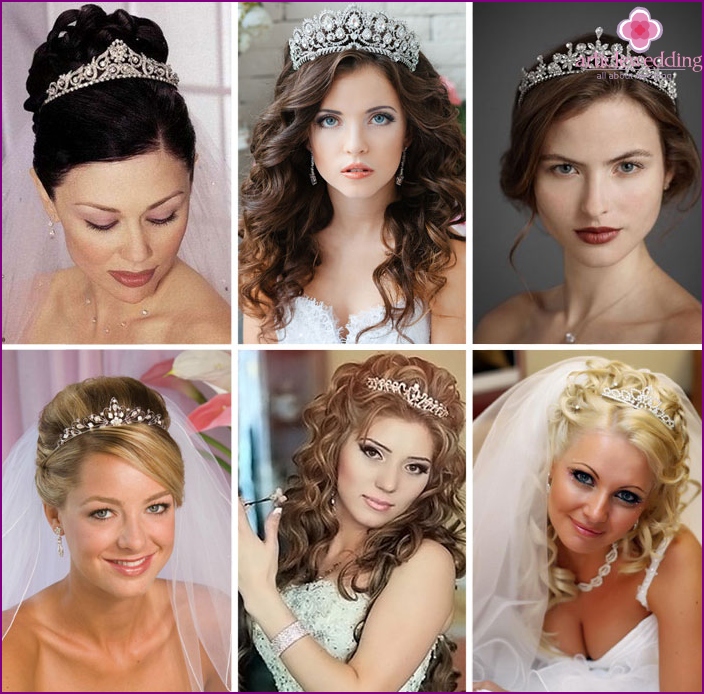 Studs with pearls or decorative flowers
The image of the bride with a haircut decorated with hairpins, at the top of which pearls or decorative flowers, will be modern and bright. Such hair elements will help not only to form a styling, but also to become a bright accent on the strands of the bride. Miniature accessories decorated with pearls or flowers will help to fix the hair in the right direction and give it a beautiful shape.
For wedding styling such as horse tail or French bun, you can use several decorative hairpins for decoration. And on loose or collected curls, placers of pearly pebbles on miniature hair mounts look great. Flowers or pearls on stiletto heels should be in harmony with the shade of the outfit, makeup and the color scheme of the bridal bouquet.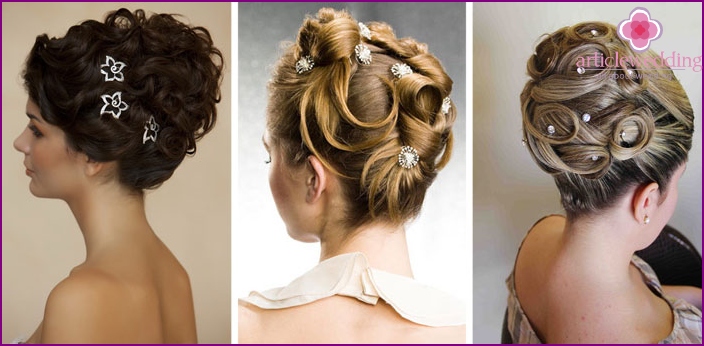 Artificial Flowers Wedding Headbands
An original, spectacular hoop with fake flowers on a newlywed's hairstyle looks spectacular. Artificial buds that are made using modern technology are difficult to distinguish from living plants. Accessories with such elements are not inferior in beauty to real flower wreaths. A newlywed bride will be able to leave a rim with artificial flowers as a keepsake of a happy wedding day, because after many years it will have the same appearance as at a celebration.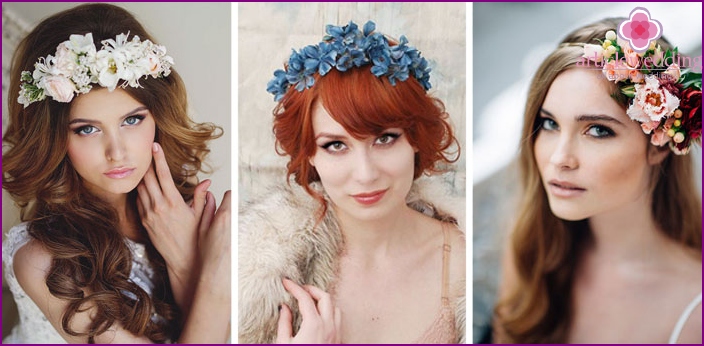 Guipure veil and round hats
For a retro image of the newlywed, a veil is ideal. This hairstyle accessory looks harmonious with long straight outfits and bunched hair. The veil can be supplemented with beautiful elements: feathers, rhinestones, flowers. The mesh is attached to the hair with the help of hair clips, invisibility, combs. To create the perfect wedding look using a veil, consider some points:
The mesh on the hairstyle is perfect for a vintage wedding dress.
If the wedding outfit is distinguished by a large number of decor, then a modest-looking veil will suit it.
Mesh and trouser wedding suit are perfectly combined and complement each other.
A veil looks good with a short wedding dress.
Traditional jewelry for the bride's hairstyle is not always suitable for girls who follow trendy trends. Such persons should pay attention to the original bridal cap hair ornament. This extravagant, unusual round guipure hat is ideal for the image of a newlywed in retro style, the girl in it will look like an aristocrat. Guipure hat, beautifully decorated with beads, rhinestones, emphasize the individuality of the bride.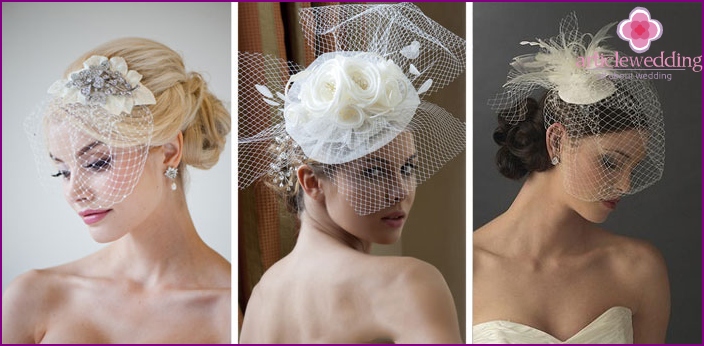 Photos of wedding hair jewelry
For modern brides, there is a wide selection of jewelry for hairstyles. Among a huge number of models of luxurious tiaras and tiaras with shiny stones, pearl hairpins, original guipure hats, bright hairpins with flowers or rhinestones, vintage veils, exquisite combs, headbands and other hair jewelry, each girl will find a suitable wedding option for herself. Spectacular accessories are an important element in creating a harmonious image of the bride..