Contents
---
---
Many girls believe that the happiest day of their life is a wedding. In order for this event to be truly such, you need to work hard: find a room, choose decorative elements in the same style, and most importantly - buy a wedding dress of your dreams. It should emphasize the figure, possess luxury that is ensured by the presence of diamonds on the wedding dress, but it is too expensive! Do not be upset, because you can achieve an unsurpassed image in another way: a wedding dress with Swarovski stones, crystals, rhinestones looks great. Which decor to choose?
Options for wedding dresses embroidered with stones
If you have definitely decided that the stones should be present at the wedding dress, then it remains to choose your own option, which will ideally fit into the general theme of the wedding, emphasize the dignity of the figure. The celebration concept can be a traditional classic, delicate romance, a luxurious ball for the princess, an extraordinary choice in style «Gatsby». It can be supplemented with stones on a belt of clothing, a bodice, a corset, a collar and sleeves (with the option closed), a neckline on the back, the hem of the skirt of the selected wedding dress.
The advantages of a figure can be distinguished with the help of a well-chosen style: «Princess», «A-line», «Greek style» («Empire»), «Mermaid». Having focused your attention with stones on the lush chest, you can visually reduce the tummy by decorating the belt with crystals - emphasize the grace of the waist, placing the rhinestones along the entire length - increase growth. Use such simple tricks and you will be the perfect bride.
Do not forget that wedding dresses, in addition to traditional white, have other options: champagne, ivory, gold, light pink, soft peach, lavender, sky blue, green. They are suitable for non-standard brides who are not afraid of experiments. But even in an extravagant dress, luxury should be present in the form of silver stones or others similar to the shade of a wedding dress.
Empire style with stone patterns
The choice of a wedding dress in the Greek style will allow you to feel comfortable, easy throughout the celebration. Airy, delicate fabrics are appropriate to complement with patterns of stones. Satin, chiffon, silk dresses in combination with rhinestones will help you become the most elegant and sophisticated bride. A hidden lining on the waist inside and lace elements on the outside will help you to emphasize the sophisticated figure..
It's no secret that many pregnant girls pay attention to this type of silhouette, because at the wedding you want to look slim, beautiful, while not infringing on the baby. Visually hide the roundness of the tummy will help you large beads, accented on the chest in combination with small rhinestones, embroidered vertically downward. You can try another option - emphasize the high waist with stones in the form of pearls, and then everyone's attention will be focused on this part of the body.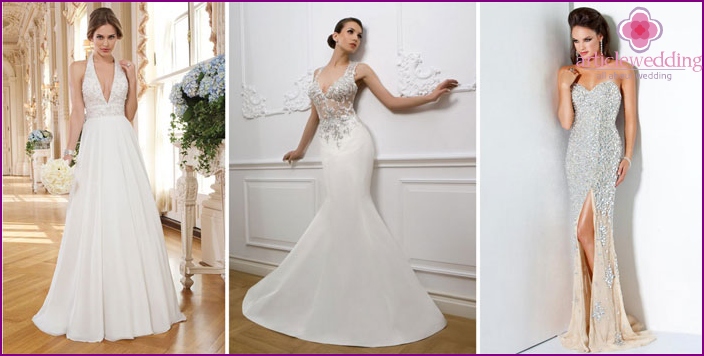 Dress style Mermaid with stones along the entire length
If your figure is in the shape of an hourglass, then you can safely wear a wedding dress «the little Mermaid» to the celebration. This style completely fits the body from the chest to the hips or knees, thereby showing how beautiful your proportions are. And to look even more charming, choose a dress model decorated with stones along the entire length. If you have a magnificent chest, then open shoulders, a neckline in the shape of a heart successfully emphasize this. If the bust is up to 2 sizes, then you can consider models with shoulders or sleeves.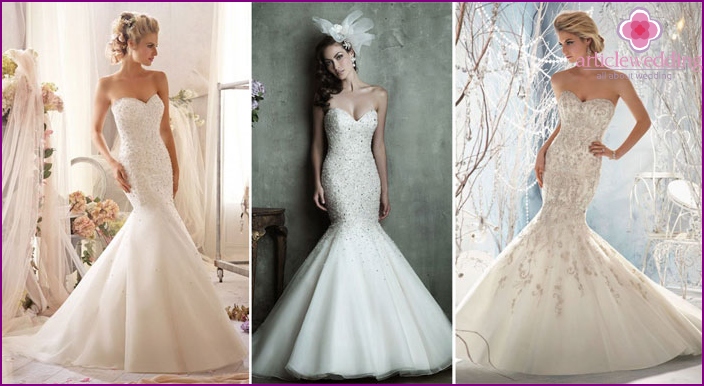 Lush Princess style with stones on a corset
Relief decor is a favorite technique of designers when sewing wedding dresses. This effect distinguishes the bride from the rest, emphasizes the highlighted areas, looks great on photographs taken in different places (in daylight or artificial lighting). Decoration with stones on a corset of a magnificent wedding dress turns any girl into a princess of her beloved fairy tale. Isn't that your childhood dream?
A volumetric effect can be achieved using beads, crystals, rhinestones, sequins. You can choose models with unusual ornaments or find a dress whose corset will be fully studded with luxury. If you want to look like a brilliant bride, then silver-colored stones will suit you. White beads, similar to pearls, look less catchy, delicate, rich, shimmering in the sun is not as bright as the previous version. Colored stones can reflect the vibrant gamut of a wedding (berry style, winter Christmas, marine themes, etc.).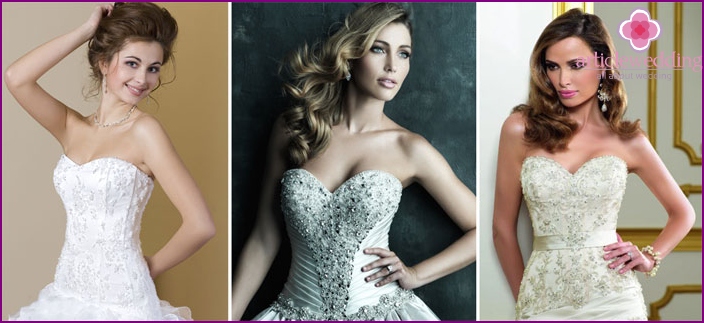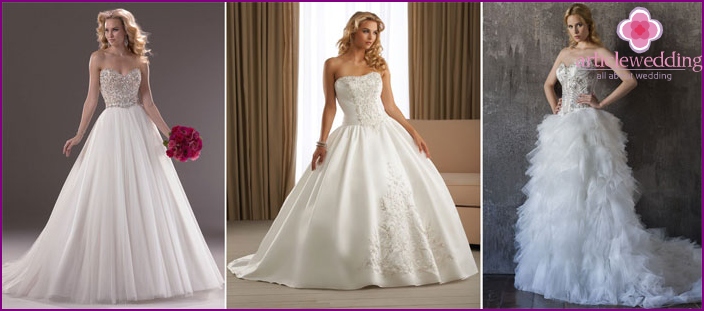 Wedding dresses with crystals on a belt
If you want to highlight your waist, then crystals will perform this task better than anyone. First, it is worth determining how wide the decorated belt will be. It depends on whether the waist is initially highlighted on your dress or if you want to do it yourself. With the first option, you just have to pick up the crystals of the desired shape, color, place them at the junction of the skirt and top. It will be possible to emphasize in the middle, on the side or along the contour of the belt, and also by creating a Greek branch decorated with stones.
If your dress goes smoothly into a skirt without highlighting the waistline, you can do it manually. Example: a wedding satin outfit can be decorated with fabric ribbon, receiving a voluminous bow at the back. And to look bolder, more magical, attach bright crystals to the resulting line of the belt. Fashion for lace wedding dresses does not pass. If you liked this model, but it looks a little constrained, add a belt of crystals - this will be a completely new look.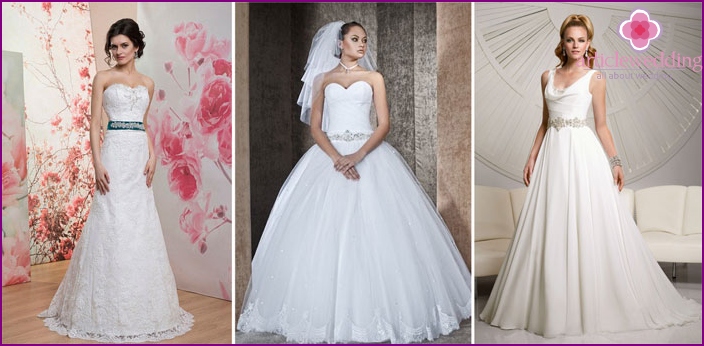 Colored dresses inlaid with stones
A non-standard choice for a wedding is a colored dress. Does that sound scary? This is because many brides perceive color as bright, colorful, juicy, but it is not. To get away from the traditional canons, designers offer delicate shades of pink, peach, lavender, blue, green tones. Ivory and champagne count towards color options. But the girl in such a dress is the same bride, only bolder.
To look amazing, add a colored wedding dress with stones in the form of crystals, sequins, beads, rhinestones. Positioning along the corset and then down the flowing fabric is ideal. If you do not want a lot of brilliant, you can arrange the stones on the belt, chest, patterns on the back or shoulders. Having emphasized your advantages with the help of rhinestones and non-traditional colors, you will remain in everyone's memory as the most extraordinary, brave bride.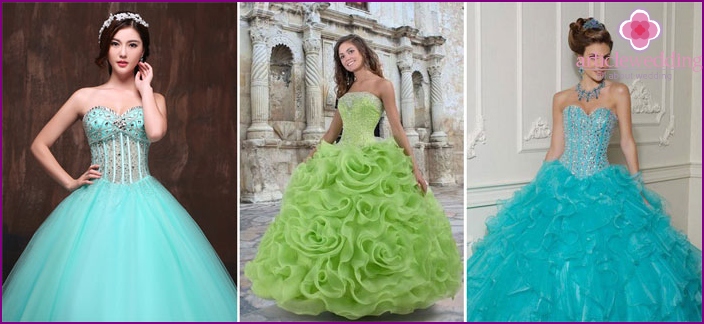 What shoes and accessories will suit a dress in stones
The main rule for choosing shoes and accessories for a wedding dress decorated with stones is not to overdo it, otherwise a very difficult image of the Christmas tree will turn out. Shoes or boots you can choose based on the date of the wedding. A dress with stones will look incomplete if the shoes are simple - fabric, leather without jewelry. It is worth looking for a more refined, bright option - shoes with heels decorated with stones or a brilliant decor element (bow, pattern).
The combination of veils and dresses with stones makes the girl a luxurious, coveted bride. Rhinestones or beads can shimmer along the entire length of the accessory or pick up a veil, decorating only a small hat with shiny decor. Fabric, delicate gloves will help you get the complete princess look. They can be open, closed, but the presence of stones on them is a must. If you don't want to wear a bride's traditional accessory - a bridal veil, you can find original hoops, headbands, hairpins and hairpins decorated with stones that will make the image solemn.
Jewelry in the form of earrings, a necklace, a bracelet is necessary for the radiant bride. Given the main emphasis on your dress, these accessories can be chosen in the same style. Diamond earrings, a rich necklace adorned with stones are a real luxury that not every bride can afford. Therefore, turn to decorative jewelry, which will look great, but will cost you much cheaper.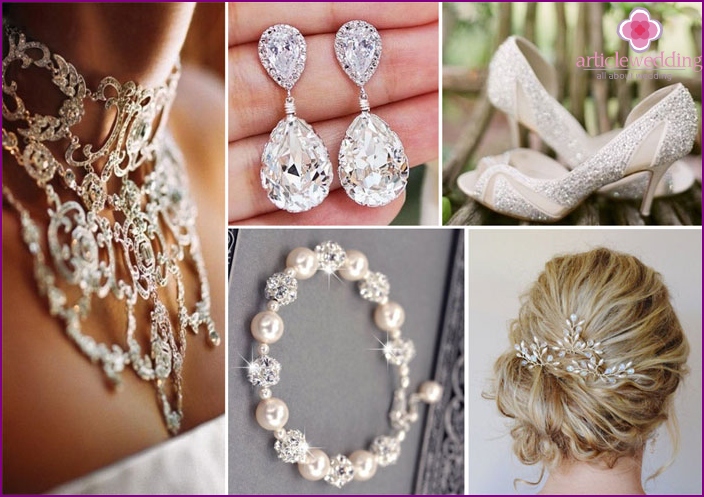 Video: a review of wedding dresses with stones and rhinestones
Decide on the right choice of wedding style will help you internal inspiration, and only then the type of figure, eye color, skin. No matter how much the girl says that she wants a simple dress without jewelry, a little princess is hiding inside, who wants an incredible fairy tale. This effect can be obtained using jewelry in the form of stones. Using crystals, the bride will feel like in a fairy tale, while feeling comfortable.
If you decide on the image of a princess, then you will like the video presented below. Lush skirts, tops, decorated with stones in different interpretations, will help you determine the location of the crystals. An expert from Honeymoon Wedding Salon will present three options for which he will select the perfect pair of shoes, accessories in the form of earrings, scallops, and veils. Have a nice view!
Photo of wedding dresses with Swarovski stones
Elegant, expensive decoration of wedding attire - the famous Swarovski crystals. They are created from crystal, synthetic precious stones, so they look expensive, luxurious, surprisingly believable. Not every bride can afford them, but the one whose choice dwells on Swarovski's jewelry is never mistaken. As a result - a gorgeous wedding dress. This brand offers its line of accessories that perfectly complement the image of a fairy princess. After looking through the photo, you can find your coveted wedding dress.