Contents
---
---
A wedding is an exceptional event both in solemnity and in importance for each person. And the bride especially wants to be the most stylish, luxurious, beautiful. A wedding dress in retro style, which Christian Dior introduced into fashion in the mid 50s of the last century, will help to fulfill the dream. With such vintage styles, as they are now called, the newlyweds of the whole world still do not part. The image of a retro bride is very in demand.
What is typical for a bride's dress in retro style?
Under a retro style wedding dress, fashion designers mean styling modern styles to the fashion of the 20-30s of the last century. Such outfits combine shocking, modesty, mystery and sexuality, which is why they are so popular all over the world. If a girl at her wedding wants to be in a fashionable vintage look, her dress needs to have the following characteristics:
Arms, shoulders, back are open.
The waistline is emphasized by a multilayer fluffy skirt and a wide belt.
The bodice has a neckline, tight-fitting figure.
Knees closed.
To look perfect, you do not have to be the owner of the perfect figure «hourglass». A multilayer bottom and a narrow top will visually make the hips lush, the waist thinner, and if you understand the waist line a little higher, then the girl's full stomach will be hidden. In the days of Christian Dior, lush models were in demand, therefore, all dresses were sewn on full girls, whose figures were fashionable at the time..
To embody the ideal image of a retro-style bride, such fabrics as satin or silk in pastel shades are taken: blue, peach, pale pink, yellow, ivory. For bridesmaids, vintage dresses of light colors are also chosen, only from less expensive materials: cotton or linen. Watch a video selection of interesting models of wedding dresses in retro style.
Models of wedding dresses in retro style
Models of retro style wedding dresses are constantly being improved. Sewing methods are changing, styles are complemented by new unusual elements. Modern vintage outfits are grace, splendor, an abundance of lace, satin ribbons, trains, silk bows, cutouts, artificial flowers. Due to the abundance of materials, styles and colors, it is very difficult to choose a model of a wedding dress in vintage bride style.
Dresses of the 20s were notable for their short length and boldness of cut, because they were sewn under the influence of female emancipation. At that time, the legendary Coco Chanel offered the world a small tight-fitting black dress that opens women's knees, which in the modern version of the wedding dress looks like a pearl pink or white model of the same short dress.
The Z0s were marked by tight models, sexually fitting hips. Their length became lower, reaching the middle of the calf. Brides of that time wore shawls or mantles at the wedding. Post-war fashion introduced to the world dresses with a deep neckline, beautifully emphasizing the chest, with a narrowed waist, a full skirt and below the knee length.
Short sleeveless dress with bare back
A short retro-style dress with a bare back without sleeves makes the image of the bride shocking and bold. Some girls, in order to create the illusion of understatement and nakedness, cover the deep neckline with thin transparent lace. For the first time, Josephine Bonaparte opened her back a little on the dress. Already in the 20s of the last century, women began to constantly wear cropped outfits without sleeves with a very low neck back.
But the bare back does not look the same in all styles. Modern designers have found many ways to diversify the outfit, adding a touch of personality to each model. Depending on the style, several types of short dresses with an open back can be distinguished:
deep neckline extending to the waist;
half-closed back, in which the neckline is decorated with a pattern or weaving;
lace back, popular among modest brides loving retro style.
When choosing a wedding dress with a very low neck, you should remember that this is a complex model in which you need to maintain balance: abandon the transparent bottom, use a minimum of jewelry and wear such an outfit only with high heels. Stylists advise putting on bras without silicone strapless so that they do not remind of themselves with a glossy shine. If possible, it is advisable not to wear underwear at all..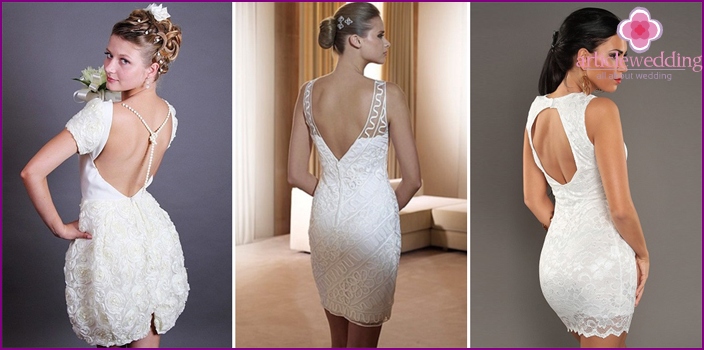 With a long train and a deep neckline
Word «plume» German translates as «long hem dresses». Its history goes back centuries, because a long train on women's clothing at all times looked exquisite. Now this detail of the outfit is short, elongated, falling, lush, sometimes reaching 20 meters. Often retro models with a deep neckline on the back and a long train of the bride choose for a church wedding, covering the neckline on the back of the dress with a shawl or bolero.
A train is an insanely beautiful detail of a wedding dress, but it is not very convenient when the bride needs to dance, walk or participate in competitions. Therefore, designers are increasingly offering models with a detachable train, which is easily removed after the official ceremony. For magnificent weddings models with a small hem from organza, satin or silk are created. Practical and convenient when the long train is equipped with an elegant arm mount.
Wedding fashion in retro style is loyal to all colors of long dresses with a train and a deep neckline on the back. For a wedding day, shades of vanilla, honey, and all pastel colors, silver or gold, are preferred. But some brides choose vibrant saturated colors, the most fashionable of which are pale purple and blue..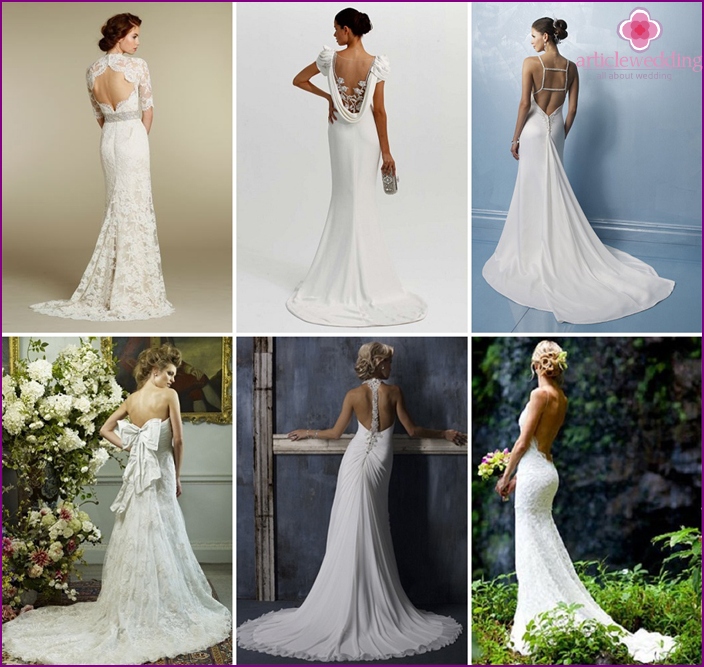 Dress with a full skirt and a narrow top
Lush dresses in vintage style are incredibly fashionable for several wedding seasons in a row. A clearly defined waist, a tight-fitting bodice and a fluffy skirt with a petticoat became fashionable in the mid-50s. For such wedding models, expensive fabrics were used: velvet, satin, light-colored silk. These days, little has changed. Designers only spoil brides with original cuffs or transparent sleeves, adding more femininity to the image..
The main role in such wedding styles is given to the decor: lace, beadwork, beads, pearls, bows. Creating a laid-back princess look for any age bride is not a problem, if you correctly decorate the lace and lace fabrics. A fluffy dress with a narrow top is suitable for all types of figure: a skirt will hide full hips, a tight-fitting top will emphasize a beautiful chest, and the length of the dress can be adjusted.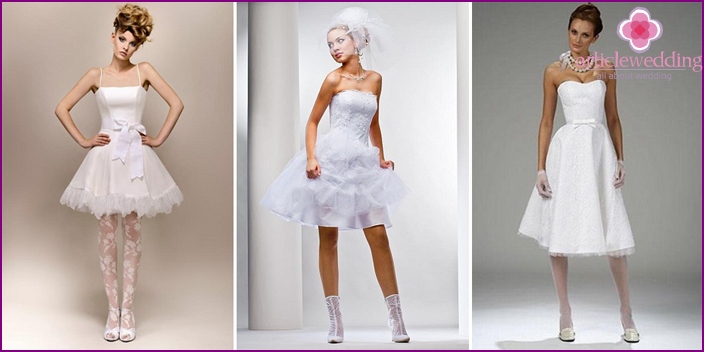 With a deep neckline and lace-up corset
A wedding outfit with a corset and a deep neckline is the dream of every girl. Even if there is no waist at all, an ideal figure will be created with a lacing corset «hourglass», which has always been the standard of beauty. A variety of corsets allows you to fit the right shape for all body types, making a woman attractive.
The first corsets with lacing appeared in ancient Greece, so this part of the women's wardrobe is rightfully considered the main element of the retro style. True, the Greek women, and then the Romans used the corset exclusively to maintain the bust. As a supporting element for wedding dresses, this device began to be used only in the X century, when tight-fitting models came into fashion. Corsets in this period became similar to modern ones, because they began to make them from a flexible whalebone and fabric..
Modern honeymooners choose a corset to create a touching and fragile retro look. And if you want to add sexuality, girls choose models with a deep neckline, emphasizing beautiful breasts. The advantages of the style with a deep neckline and corset are the creation of a feminine and luxurious image when an ordinary girl turns into a queen. Using the silicone knitting needles that make up the corset, the bride holds a royal posture all day.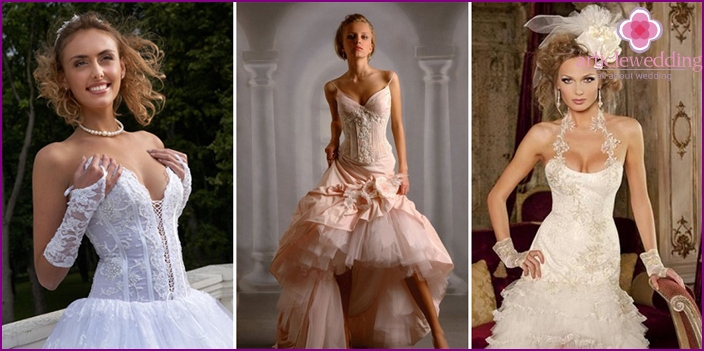 Short retro style wedding dresses
Fashionable women love short vintage wedding dresses, because in them it is easy to stand out from the crowd of brides. The main trend of recent years - short models for the bride and groom in the style of rock and roll: a fluffy short skirt, a wide belt that emphasizes the waist, corset. For such outfits, chiffon, silk, satin and lace with floral patterns are used. Often the deep neckline of rock and roll outfits is adorned with Swarovski crystals around the edge, and it looks amazing.
If the bride chooses a short-fitting retro wedding outfit, she needs to prepare for the increased attention not only of the male half of the population, but also of the female. This flamboyant model will give battle to all classic lush wedding dresses, and this battle will be won from the very first second the bride appears on the street. But before breaking stereotypes and traditions, you should make sure that such a model sits on the figure perfectly.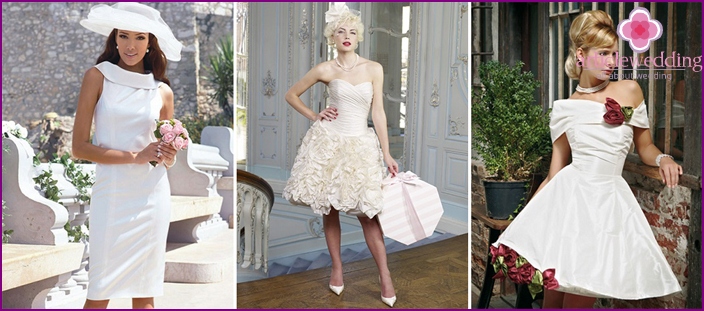 What retro details to complement the image of the bride?
To touch the traditions of one of the old eras, putting on a wedding retro outfit is not enough. To move away from the classic wedding look and look unusual will help appropriate vintage accessories. The first thing that focuses on the retro look is the headgear. As a rule, this is a hat or a veil. Stylists attach these accessories asymmetrically, slightly on their sides, so as not to cover the girl's face.
Important details of a vintage wedding look include gloves, an umbrella, a bridal bouquet, feathers, silk flowers, or brooches on a dress. In order to fully observe the retro style, you need to choose the right shoes for the bride and groom. To do this, buy old-fashioned shoes with a rounded toe, a thick low heel. If such shoes are not found, classic models will do..

Photo of wedding dresses in retro style
Vintage wedding style is a modern charm inspired by bygone days. The creative retro image of the bride has become a very popular trend in recent seasons, because old-time nostalgic weddings make it possible to visit the era of such unsurpassed women as Marlene Dietrich, Marilyn Monroe, Coco Chanel, Lyubov Orlova. To travel back to the distant 20s or 30s, look at the photo selection below and feel like a bohemian lady in a silk glamorous retro style wedding dress.