Contents
---
---
The desire to be the most beautiful at your own wedding, to attract admiring glances, is completely justified. After all, every girl dreams of this day for most of her life. Therefore, the image of the bride should be perfect. An important part of it is the wedding hairstyle. Such a detail becomes especially important when it is necessary to visually adjust the shape of the face, if it is, for example, complete. A well-chosen wedding hairstyle can visually lengthen it, make it thinner and in general set harmony to the whole image.
Tips for choosing a hairstyle for a full face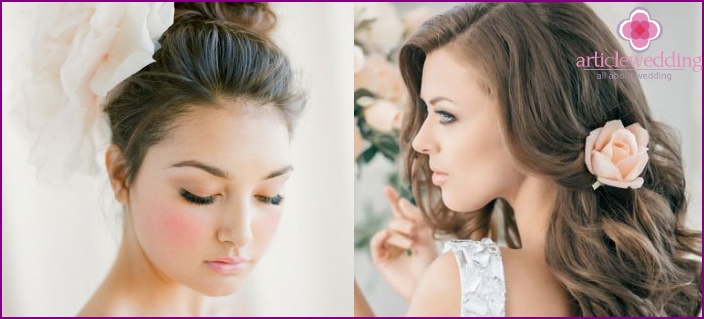 Wedding styling is a real art. To create one that will be airy and light, at the same time hold out throughout the day, remain beautiful, elegant, interesting, not everyone can. The task is complicated if you need a hairstyle designed to hide the fullness. In this case, it is proposed to use details such as ribbons, flowers, curls, and other decorative elements. Such a distracting maneuver visually minimizes the effect of completeness. In this regard, it is not necessary to abandon complex designs, preferring high tails, voluminous curls, smooth buns, hair straightening.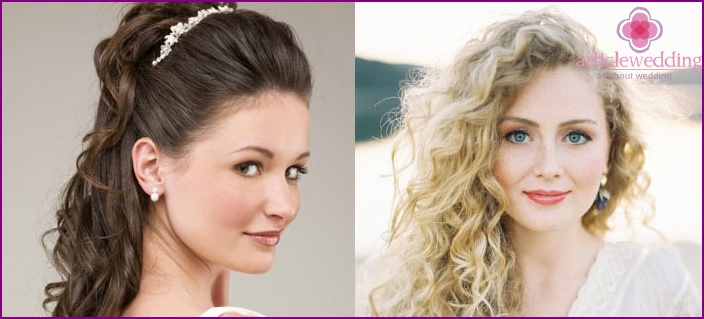 Wedding hairstyles for full girls can be magnificent, with original weaving, asymmetrical, with creative mess. If you want to complement your hair with radiant rhinestones, large flowers, use these accessories. In most cases, chubby is characterized by a square or round face shape. To determine this, pull the hair in the tail and stand at the mirror. With a cosmetic pencil, outline the contour of the face. Move away from the image on the mirror and appreciate the proportions.
If the face is round, you need to hide the horizontal width by adding verticality. Creating extra height at the crown due to, for example, combing, which, in combination with vertical elements, will stretch a visually full face, while retaining all the charm of youth. Soft waves are also suitable, but add basal volume. If you wear a bang, then it should be thin and asymmetric, since a clear horizontal line emphasizes the width of the face.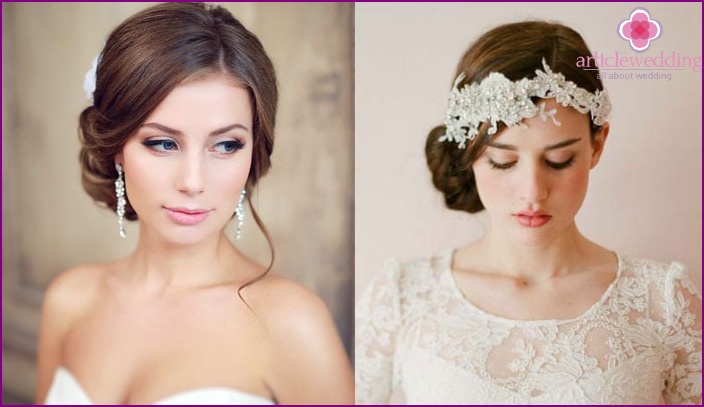 With a square shape, you need to soften the corners. Gentle waves cope perfectly with this. Throwing hair on one side looks interesting and hides corners on the face. Avoid hairstyles that add lower jaw fullness. Strongly smoothed hair is able to further emphasize the angularity. When choosing a installation, follow the following general rules:
Height is what a full face needs. The volume on the top visually stretches and creates the effect of losing weight.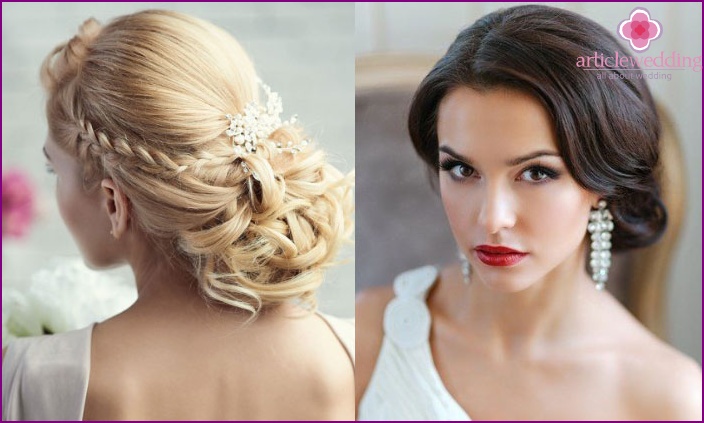 If you want to add bulk, remember that volume is allowed to be added above or below the chin line. Any splendor around the cheeks will add undesirable width even more.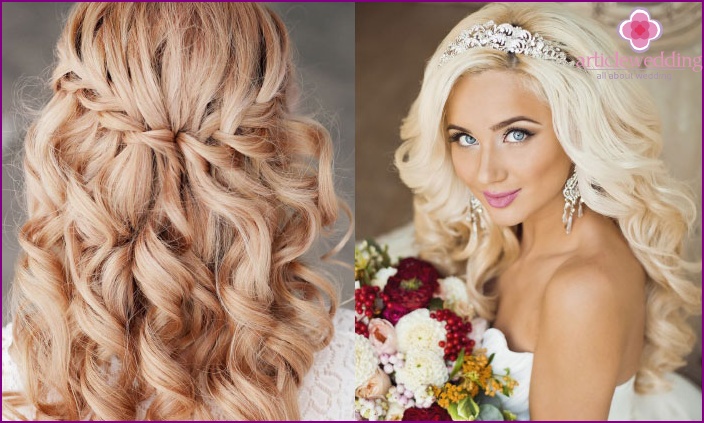 The volume on the crown can be done immediately after the bangs. This technique looks good with the released strands on the side.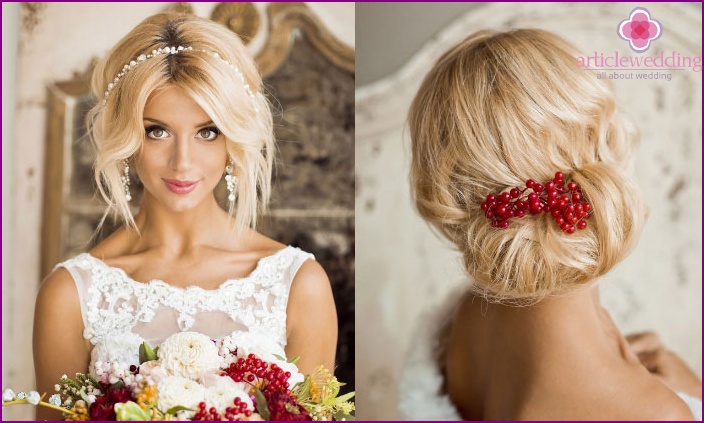 The effect of weight loss, contrast to the full face is added by side hairstyles made in the form of falling curls, various weaving on one side.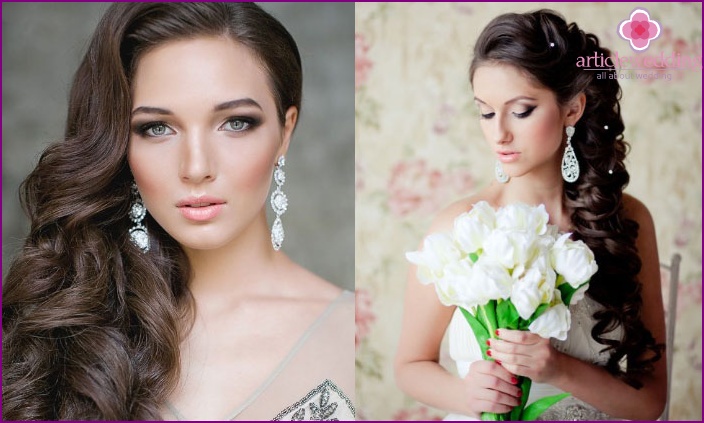 If you want to wear a bang, you can safely afford it. Only it should be asymmetric, combed to one side.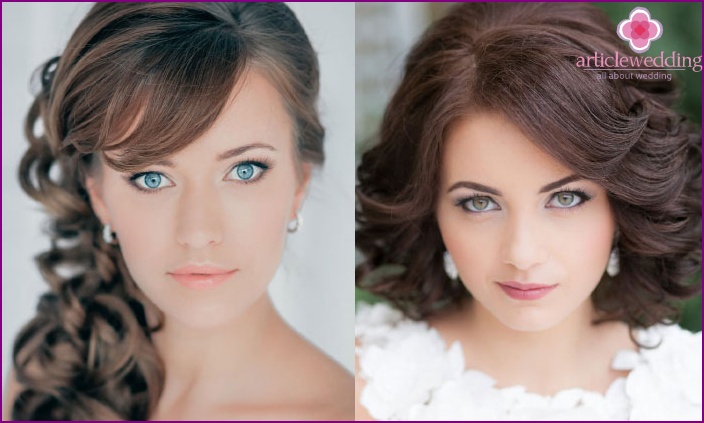 Hairstyle Ideas for Short Hair
Owners of a full face with short haircuts will have to choose from a smaller number of options. And then all the variety comes down to how to stack short locks. For a full face in wedding hairstyles, it is undesirable to zealous with fixing means that will create an effect «woodenness». Hair should be well-groomed, as natural as possible. Simplicity is always in fashion, so without the original hairstyle, you will look careless, behind the times.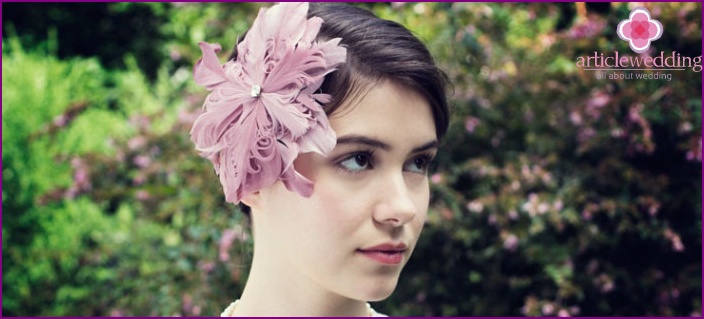 Decorate your hair for a full face with invisibility with pearls, rhinestones, stones. It is also not forbidden to choose tiaras - only elegant, neat, and not massive crowns. Such an accessory should not be combined with others, because it is self-sufficient in itself. In this case, the hair is combed back with a small pile, and the veil is attached to the back of the head or crown.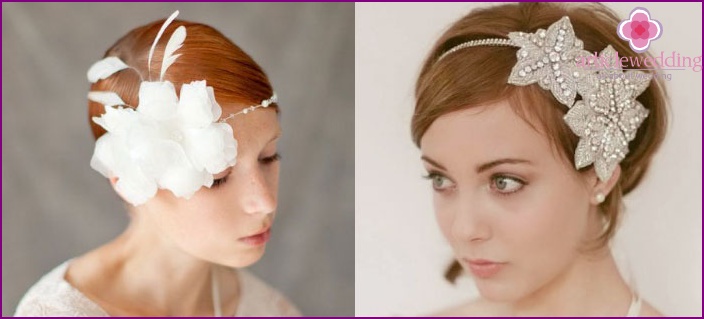 From the number of haircuts for a full face, you should choose a bob, a bob, a cascade paired with an asymmetric bang. For such a length, a retro-style hairstyle with a Marseille wave is suitable. As accessories, choose a light short veil, decorative hairpins, headbands, lace ribbons. Do not forget that a retro-style wedding hairstyle requires the same outfit and accessories.
On medium length hair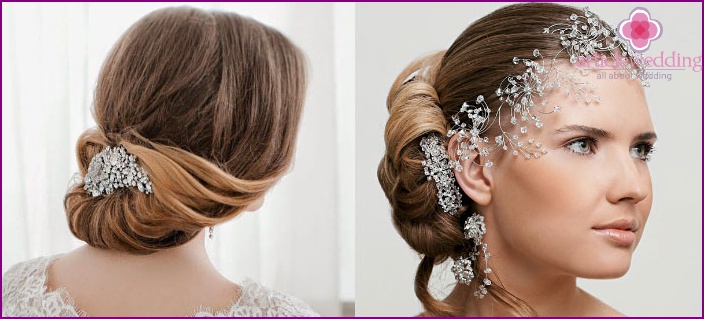 Wedding hairstyles for medium length hair for a full face should make it more elegant visually. If the face is round, and the cheekbones are hidden behind the cheeks, then you should raise your forehead hair, and at the temples - to smooth it. An artistic knot on the back of the head along with a small pile of hair along the entire length will be appropriate. This hairstyle looks good with a long, short, multi-layered veil.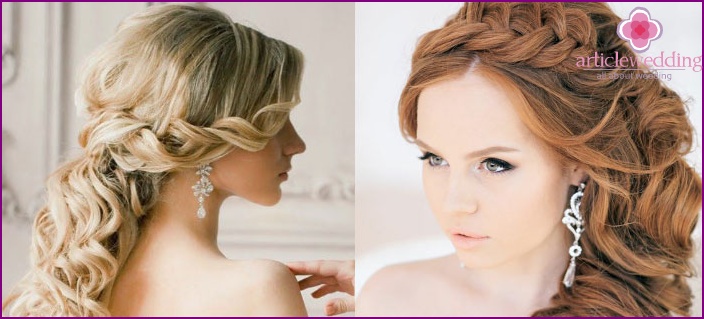 If you are characterized by a massive chin, then you can not do without complex details, pretentiousness, raising hair to the back of the head. Simplicity with large features does not look very beautiful. If the length allows you to make complex braids, laying them on the top or back of the head with a ring, decorating with a flower, crystals, pearls, then you will have an amazing effect. The main emphasis in wedding styling on medium hair should be placed on the complexity of the technique. Do not abound with accessories, do not turn yourself into a kind of Christmas tree.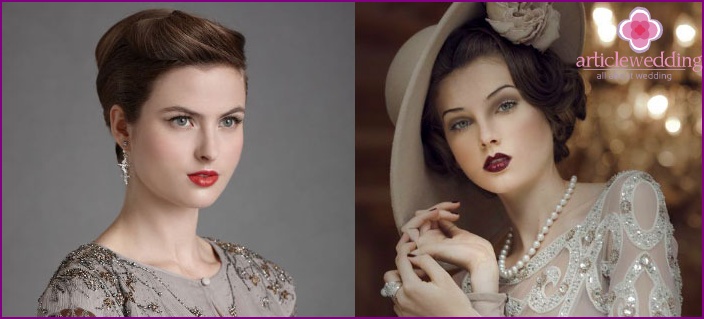 Hairstyles for long hair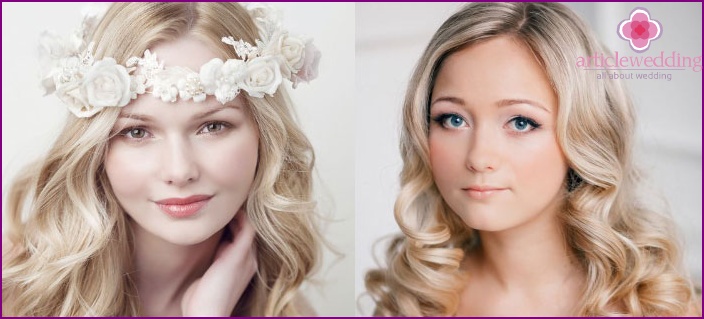 It is advisable for women to make voluminous hairstyles for long hair for a full face. It is not forbidden to imitate the style of rebellious hair. Discard tails that focus on the fullness of the face. It is allowed to make voluminous curls, parting, to decorate a wedding hairstyle with a hairpin. The accessory should be chosen spectacular so that it is not lost in volume. At a wedding, it is not forbidden to decorate a parting with shiny stones, which will distract from fullness. Curls lying along the face visually lengthen it.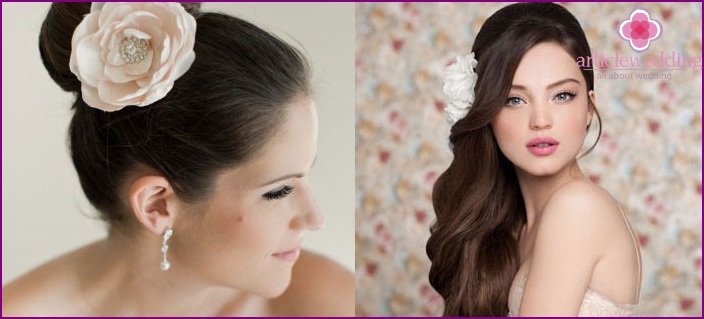 If you do a hairstyle with curls, use accessories such as artificial and living flowers, rhinestones, decorative hairpins, combs, and hairpins at the wedding. It is not forbidden for a full face to do hairstyles high, with complex designs, weaving. Always leave a couple of strands near the face outward, curl them with light curls. Beam-based wedding styling adds growth, lengthens the face.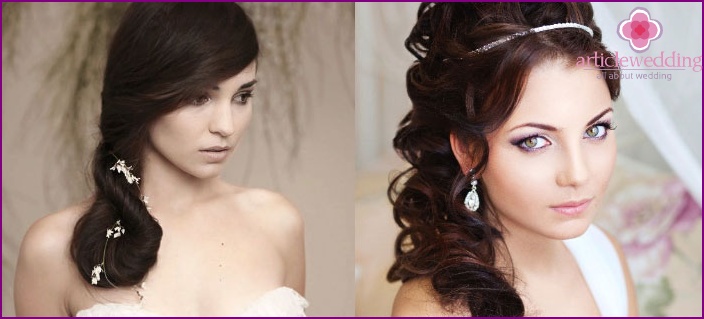 Full-face girls can choose Greek-style wedding styling. In this case, give preference to such jewelry as veils, flowers, rhinestones, tiaras with spades. In addition, the style of the dress should correspond to the chosen hairstyle - light flying dresses will not burden the full figure, giving elegance and airiness.
Video: options for women's hairstyles for round faces
The video presented demonstrates the process of creating a hairstyle for a full face. First, the locks are wound on a curling iron, after which the French weaving is created on one side. As a result, we get an elegant braid with a volume on the crown. It visually lengthens the face, slender.
Photo of fashionable wedding hairstyles with and without veil