Contents
---
---
In anticipation of the long-awaited wedding day, the bride's head is spinning from cares and troubles: organization of the ceremony, banquet, choice of attire and accessories. What have you forgotten about? About shoes for a wedding. She should be comfortable, stylish, comfortable and incredibly beautiful, to match a newlywed. Wedding boots will become a non-standard choice for the bride and groom: lace products with high heels will emphasize the beautiful long legs of the bride, fur will warm you during walks and photo shoots in the snowy city, rubber ones will protect you in dank, inclement weather..
Models of wedding boots for the bride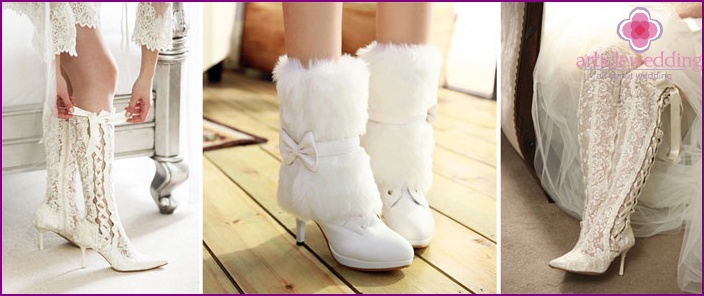 Wedding Day is not always a summer event. Young people play weddings in frosty winter, dank autumn, and early spring. Wedding boots will help to warm, protect from fragile and rain the fragile beautiful bride and groom. The variety of offers is breathtaking. If in European countries with moderate winters such shoes are considered to be bad manners, then where snowstorms are sweeping, heavy rains occur, wedding boots will become a real gift of fate. What models do designers offer?

Fur winter boots. High boots, boots, ugg boots stylishly set off the bride's outfit, not allowing her to freeze. For walks in a snowy forest, park; winter photoshoots are not ideal shoes.
Ankle boots, ankle boots with an insulated lining, trim with chic natural fur will warm the legs of the newlywed, walking with her groom along the snow-covered streets of her beloved city.
Autumn weather does not always indulge in sunny days. Is it raining on the wedding day? Good luck! Feel free to wear rubber boots yourself and advise your girlfriends: snow-white products with decor and rhinestones will emphasize the unusualness of the outfit; bright multi-colored - will create an accent, raising the mood, pleasing the eyes.

Snow-white ankle boots richly decorated with stones, pearls, high-heeled shoes or a platform will not only warm you in cold weather, but will also become a delightful accessory for a wedding outfit. Additional growth centimeters will be in your asset, and any dress, especially a wedding one, goes well with high-heeled shoes.
Is the weather hot outside? Lace high boots with ribbons, bows, and rhinestones will emphasize the charming legs of the bride and groom, creating a sensual, elegant image.
Will the wedding be in a country style? Cowboy boots made of the finest leather will perfectly fit the style of the celebration, emphasizing the image of the bride.
How not to make a mistake with the choice of wedding shoes? For «winter» brides preferably choose two sets:
boots for traveling around the city and beyond and photo shoots on the street;
elegant shoes for a wedding party indoors.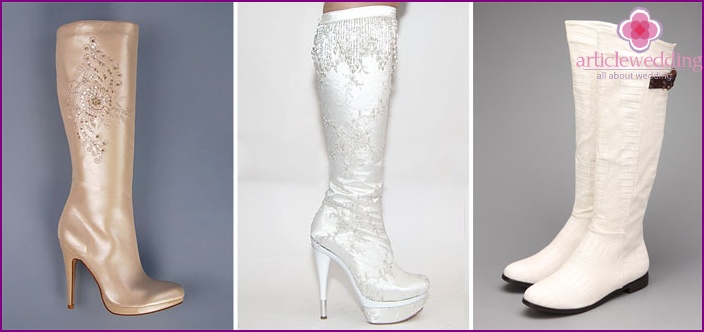 Color spectrum «outfits for legs» for the wedding involves not only snow-white shades. Boots of gentle pastel colors - ivory, pearl gray, cream, are becoming increasingly popular. To create contrast, winter boots of bright colors will be a good find: red, purple, bright blue. Do not ignore the witness, the bridesmaids, inviting them to join «stocks» - wear shoes in the same style.
Lace high boots
Have you chosen a short wedding dress? Want to demonstrate slim tanned legs? Pick up laced high heeled boots. Light, airy, they will add romanticism and sensuality to your image. You can emphasize the beautiful shape of the legs due to the tight fit of openwork lace tightened with satin ribbons, adding the appropriate details to your bouquet or outfit.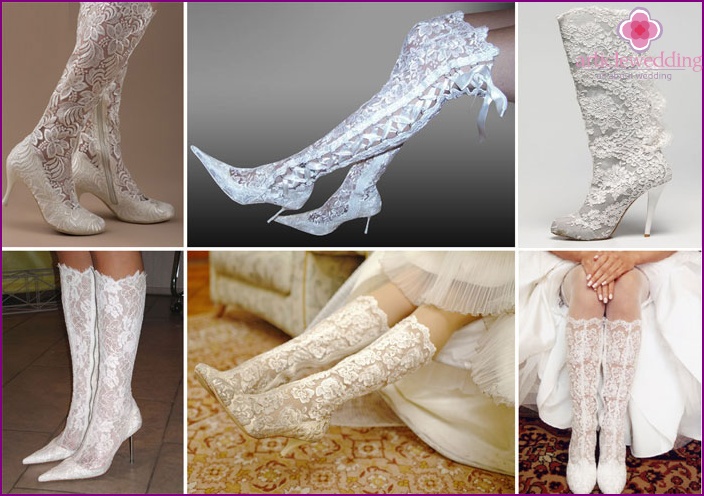 The lacing options are supposed to be very different: lateral - from the outside, back, traditional - in front. Lace-up high-heeled boots with a zipper look less catchy, but more elegant. They will go to an elegant short dress knee-length, as well as to dresses with a train. In cool weather, high leather boots embroidered with lace will become a chic accessory for the image of the newlywed.
Rhinestone Ankle Boots
Short ankle boots richly decorated with rhinestones and embroidery will turn your wedding walk in the cool autumn, spring or snowless winter into a pleasure. A high thin heel will give grace, and catchy decor will not leave others indifferent. You can choose half boots embroidered with pearls with a low stable heel so that your legs feel great by the beginning of the wedding banquet. For a themed wedding «a la princess» vintage satin lace-up ankle boots with rhinestone buckles will be irreplaceable.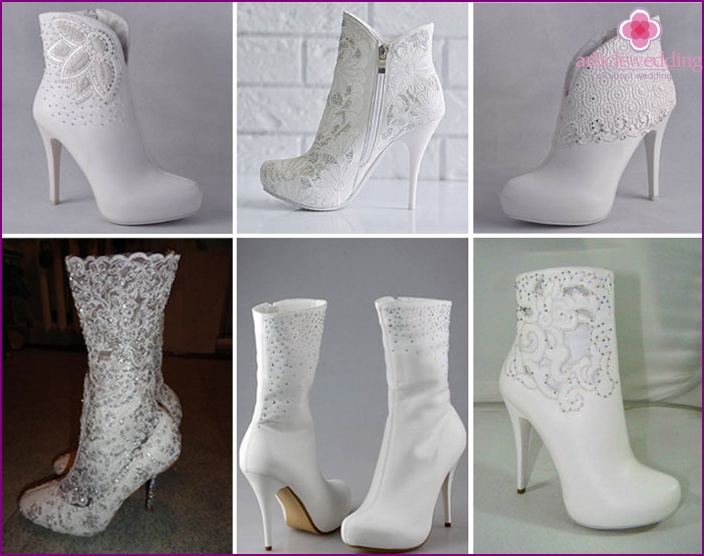 Stones and Lace Ankle Boots
Lacy patterns embroidered with stones with gold / silver ornaments will decorate the bride's wedding shoes. Openwork lace throughout the boot conceals the heaviness of the model with a high platform, giving lightness. The nobility of patterned embroidery, the richness of the decor give aristocracy to the image of the bride and groom. World-famous designers offer brides ankle boots that look like sandals encrusted with stones due to a translucent mesh-lace.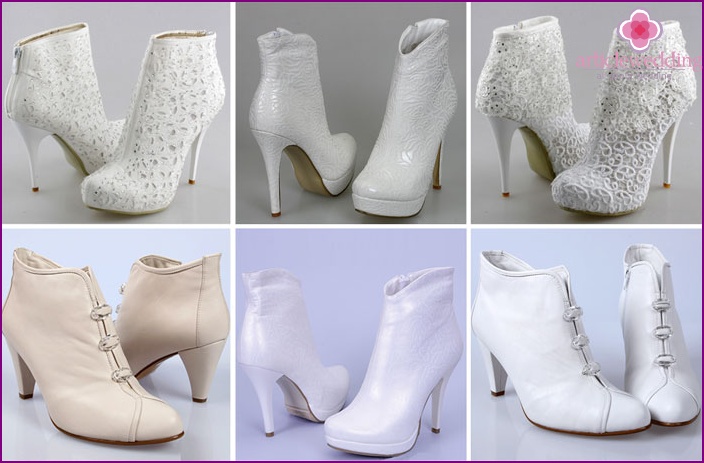 Wedding uggs
Snowy frosty winters, sleet make modern bride and groom think about «out of date» wedding shoes. The distinctive features of which are warm fur lining, non-slip sole and the preferred lack of heels. Choose traditional boots for Russia: custom made on the basis of light felt and cashmere, they will give a stylish accent along. Fashionable, warm ugg boots smoothly switched from casual shoes to must-have «winter» brides:
Designers decorate short boots of light shades for a wedding with inscriptions «Just married».
Silver, gold sequins shimmer like sunshine, drawing attention to the bride's legs.
Embroidered with pearl beads, designer ugg models impress works of art.
Options for Flat Boots
Is your height above average? Are you not impressed with the whole day spent in heels? An excellent solution would be boots for a wedding on a low go! Lacy items for warm weather will add charm; white leather - warm your legs in bad weather. Want to play in contrast with different styles of outfit and accessories? The combination of a chic dress with lace frills, rich decor with «heavy» Dr. wedding shoes Martens will create an indescribable image of the bride and groom, leaving a feeling of admiration for such insolence.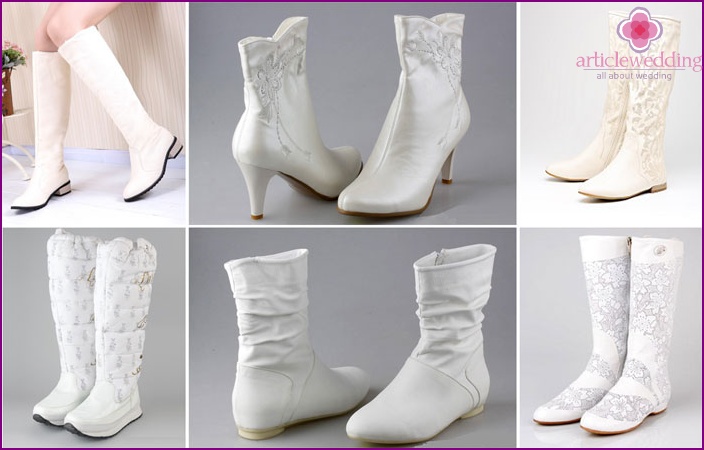 Photo of wedding boots for the bride
What is the reason for the growing popularity of wedding boots? Making such an extraordinary decision, the bride and groom is guided by several motives:
Fur uggs or vintage felt boots will help keep the legs warm..
Leather ankle boots, ankle boots will give elegance, not allowing to freeze.
Rubber or cowboy boots are called to leave feet dry on a rainy fall day..
And finally, the beauty and grace of the long tanned legs of the bride are emphasized by lace, lace patterns.
Made from a variety of materials, the wedding boots presented in the photo below will captivate you with their design, variety of shapes, unlimited choice. You can pick up an incomparable option «clothes for legs», harmoniously combined with a wedding dress and the image of the bride. Do not forget that wedding boots can be a great accessory for bridesmaids, giving a single style of a wedding ceremony.