Contents
---
---
A Provence-style wedding captivates with its unobtrusive sophistication and charm. This style for the celebration is chosen by romantic persons in love with France. However, before buying a wedding attire in the Provence style, it is worth exploring its inherent features. There should not be luxury, frankness or pretentiousness, but only simplicity, lightness, femininity. Therefore, you need to forget about extravagant fluffy skirts and a too open bodice.
The main features of a wedding dress in the style of Provence
A wedding dedicated to the French province of Provence is a celebration with a very tender, mysterious and romantic atmosphere, which can not be expressed in words, you can only feel it. Naturalness, straightforwardness and romance - these are mandatory components of the image of the bride. Dresses in this style are distinguished by soft colors. The main tones here are: muted blue or pink, lavender, milky, soft terracotta, olive. Outfits of young people should be created using exclusively natural fabrics.
Femininity determines the style of Provence, so it should be noticeable in everything: form, style, decoration of a wedding dress. As a rule, models of wedding dresses of the bride have a semi-fitted bodice and a slightly flared skirt. Actual for the Provence style is the high waistline and belt in the form of an assembly or elastic. Such dresses are decorated with lace and delicate embroidery, giving the image a young tenderness and pretty.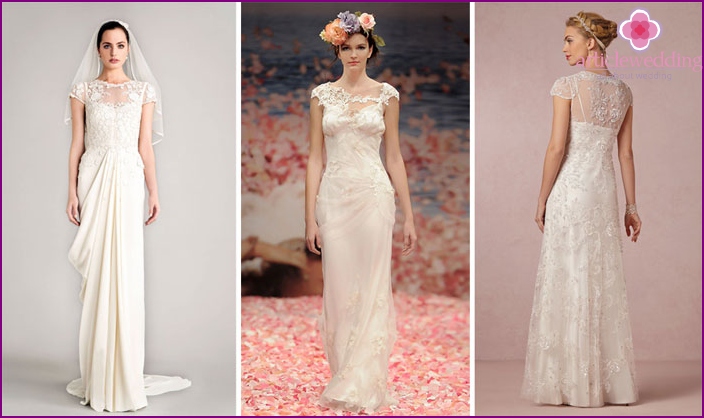 The ideal option is if the bride's wedding outfit will be very simple, but at the same time beautiful. You should choose free styles of dresses from light materials. No corsets or tight-fitting elements are needed. Lush and pompous robes will also be inappropriate. The bride for the Provence style is a touching tender girl. You can choose a small veil for the wedding dress, which will add more romance to the image..
French Style Wedding Dress Ideas
The bride, who has chosen the Provence style for her wedding, should appear before the guests in the image of an elegant French woman. And since such a role is characterized by simplicity and sophistication, the magnificent ball gowns should be left aside. Pay attention to a long light dress of a simple cut, decorated with light lace. For a wedding, Provence is allowed even a sundress that will meet the basic requirements of the chosen style.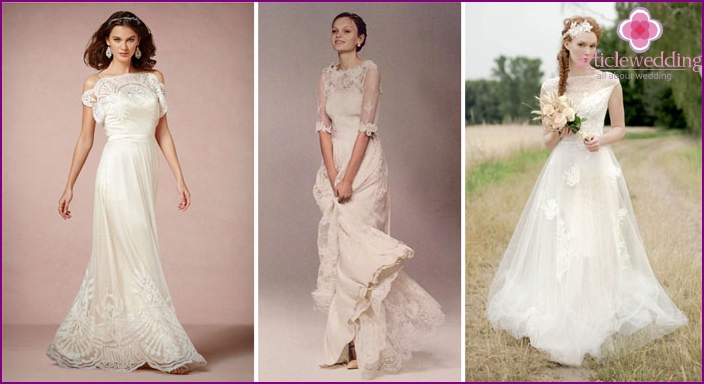 Simple drop-down dress with lace
A wedding dress of simple cut, decorated with lace, carries a certain «rural» charm, and the bride in it resembles a field fairy. Please note that chic trains, crinolines or puffy skirts are not suitable for Provence. A simple dress made of delicate, smooth material, decorated with lace, will look amazing on you. Complete the image of the bride by placing small wildflowers or ribbons in her hair.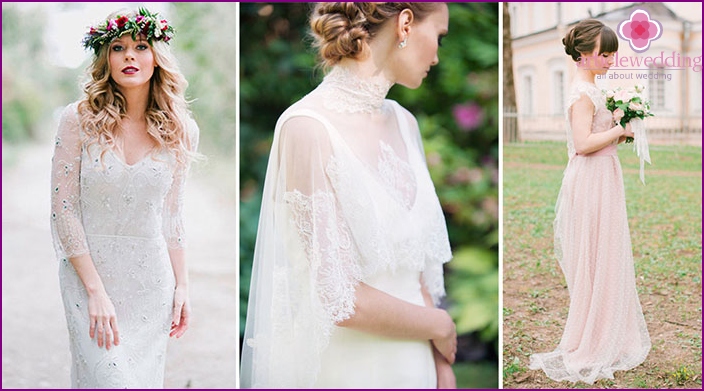 Dress made of translucent fabrics with embroidery
Adherents of true femininity and romance will suit a translucent dress with embroidery. The style with a round neckline on the back will add spice to the image of the bride. The open area is veiled with delicate lace or translucent material with embroidery, which creates the effect of tantalizing playfulness. This model creates the illusion of an open dress, although in reality it is not..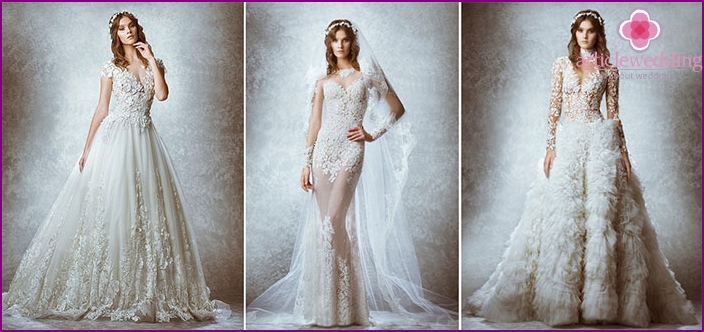 Milky airy dress
Milk tone is also called «ivory». This color is associated with luxury, sophistication, but it is more vibrant than classic white. A milky tone captivates more and more brides, allowing the possibility of creating with its participation a variety of combinations. An airy, light sundress of a milky tone will be a good choice for a wedding in the Provence style. As a material for its sewing, you should choose environmentally friendly fabrics, for example, thin cotton, lace, jacquard.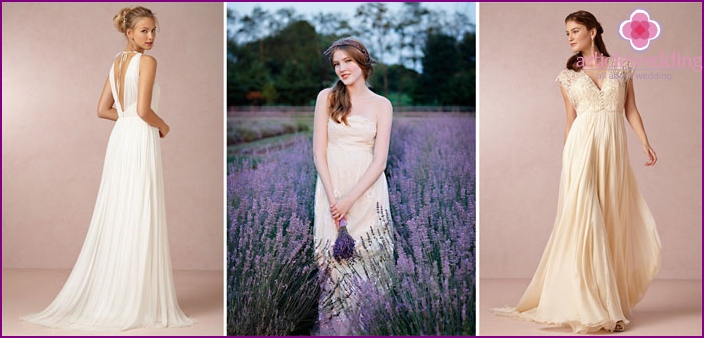 Additional details that make up the image of the bride
The main focus will be on jewelry. They should be vintage or antique. Granny hairpins, beads, necklaces, a medallion, a small brooch will do. Expensive bulky decorations for a wedding, made in the style of Provence, are not suitable. It is better to give preference to neat items made of silver or gold, with precious stones - they will emphasize the beauty and femininity of the bride. For a light sundress, a string of pearls on the neck of the bride is ideal.
You can complete the image of the newlywed with an elegant shawl or an elegant white guipure umbrella. The bride's makeup should also be given special attention - it should be as natural as possible. As a hairstyle of Provence style, freely falling curls and all kinds of braids will harmoniously look. The veil will bring to the image of mystery and a share of playfulness. In addition to dresses, jewelry and hairstyles, you should take care of choosing the right shoes. Comfortable and easy sandals, sandals or shoes with a small heel will be an excellent option..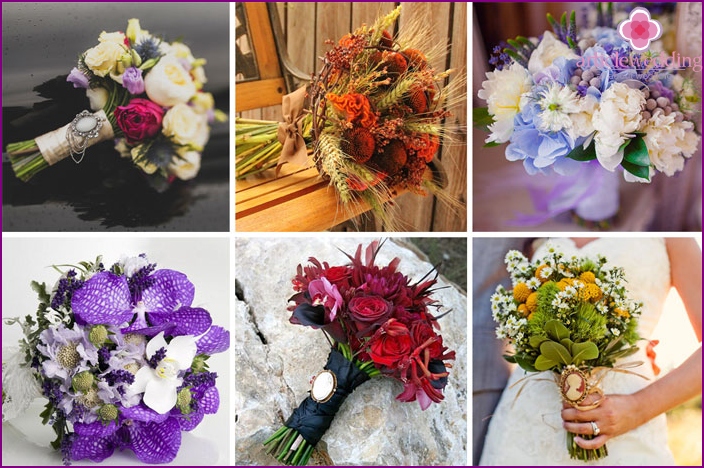 Since the Provence style implies an inextricable connection with nature, compositions created using non-natural materials will not work as a bride's bouquet. You will look harmoniously with wildflowers, which should be diluted with fragrant French herbs. Lavender will be the ideal basis of the bouquet, but if you could not find it, then you should use lilac cloves, blue hydrangeas, violets, pansies, anemones, ranunculi.
Photo of fashionable wedding dresses in Provence style
Modern fashion designers have worked great many different images of the bride in the Provence style. Each style is based on simple, natural cut and materials. The color palette of the bride's dress includes delicate shades: cream, pale pink, milk, sand, calm lilac, pastel blue, terracotta, beige, olive. The bride, who has chosen the Provence style, looks elegant, gentle and filled with romance. Her charm lies in the maximum simplicity of the outfit and accessories..