Farewell to the girl's life is always freeaccompanied by the cheerful festivities - a bachelorette party. The main organizers of the day - her friends. They are preparing for the bride something funny, unexpected, breathtaking and very often with a wedding overtones. Above all, a bachelorette party atmosphere reflect cakes that must be ordered for the heroine pals celebration. Their forms are so diverse, original, spicy, bold and artistically executed, that are fun and unexpected surprise for a future bride. Which cake is better to order a bride to a bachelorette party?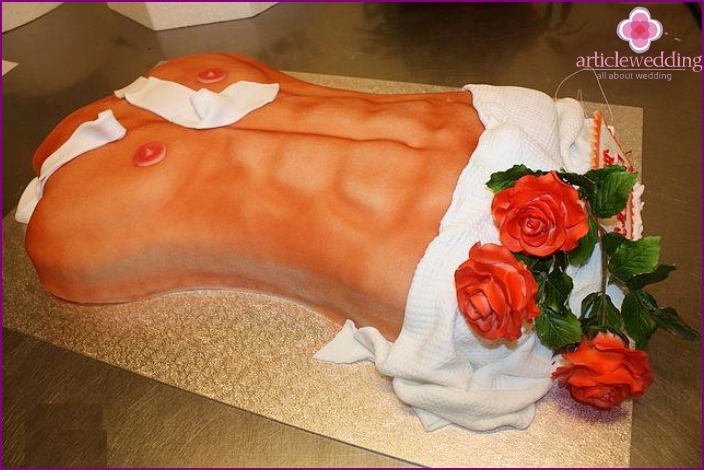 How to choose a cake for a bachelorette party
When choosing a treat for a bachelorette party, most importantly, whatIt should be guided - it is the bride's character (degree of modesty, sense of humor, presence of bias and "painful" fact). But the true fellow member should know about his girlfriend all, so the problems with the selection of a suitable form is ideally goodies should arise. If the bride:
It is at the moment in a position or a bachelorette partyreally want children, ideal cake for her - in a wheelchair with a child, cabbage Baby, baby supplies (slippers, bootees, nipples with milk, caps);
the bride is not associated exclusively with marriage and motherhood has a sense of humor, give her a treat in the form of a diaper;
bride - a fashionista, loves brand handbags, lipstick, perfume, shoes - give her a dessert in the form of "small women's pleasures";
Bride cultural, not a supporter of the juicy - order it for dessert in the form of a wedding dress or decorate a small tiered cake veil;
bride loves surprises, presented hersweet surprise - a big cake with the living stripper inside. This will not only appreciate her and all those present, but also effectively help all move to the next stage of the party.
the bride will not be shocked by the piquant topicsfriends can form a cake to hint at an intimate part of her married life. Here a vast field for the realization of a fantasy - from the "innocent" images to a completely unambiguous figures (which to choose depends on modesty, seriousness, sense of humor celebration character), but they produce a sensation on the bachelorette party unreal.
Cakes with spicy overtones may resemble:
expensive women's underwear;
male naked torso;
bed with the future spouses on it;
men's underwear, men's dignity and completely naked men;
desserts with a half-naked figure of the groom or the top of the stripper.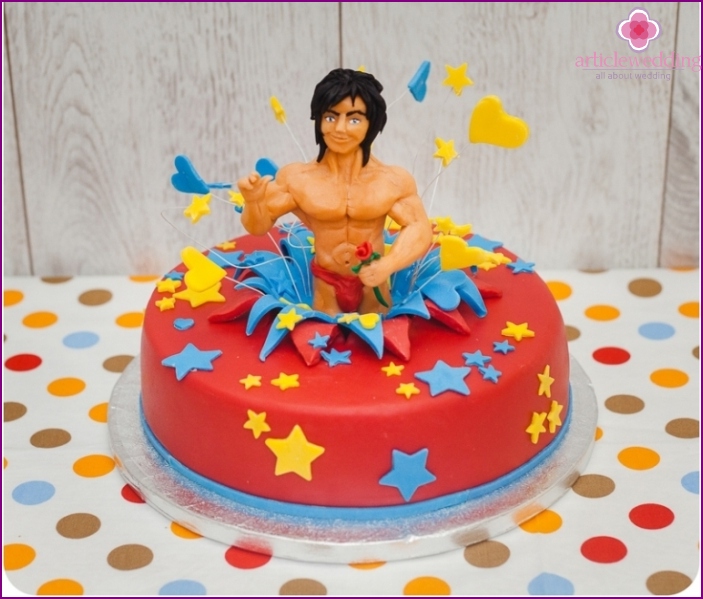 Choosing a sweet surprise for the bride, it is necessaryguided and budget. However, if you come on holiday many friends, collect the necessary sum would be easy. The most economical way to get dessert to prepare it at home, the most expensive - custom-cake with a surprise stripper inside. When choosing the method of choice goodies important idea whether it will be made to your taste, based on sketches by someone from girlfriends or ready templates confectionery. In the first case it is necessary to select a firm request, because form cake can be very specific.
Interesting ideas for a bachelorette party cakes
Interesting design ideas for the bride on a cakebachelorette party offer specialized confectionary producing desserts for weddings. Their portfolio contains dozens of treats, differing in form and content, decorated with funny inscriptions and drawings. This choice can satisfy any customer. Let us consider the most interesting.
Cake in the form of a wedding dress
On the nature of the bride elegance, neutrality anddecency of bachelorette party says the cake in the form of a wedding dress. Decorated in a way suitable for any meal occasion. An interesting idea of ​​design will not only white dress, "decomposed" or "delivered" on the cakes, and some small dresses in other colors (for girlfriends) surrounding the wedding.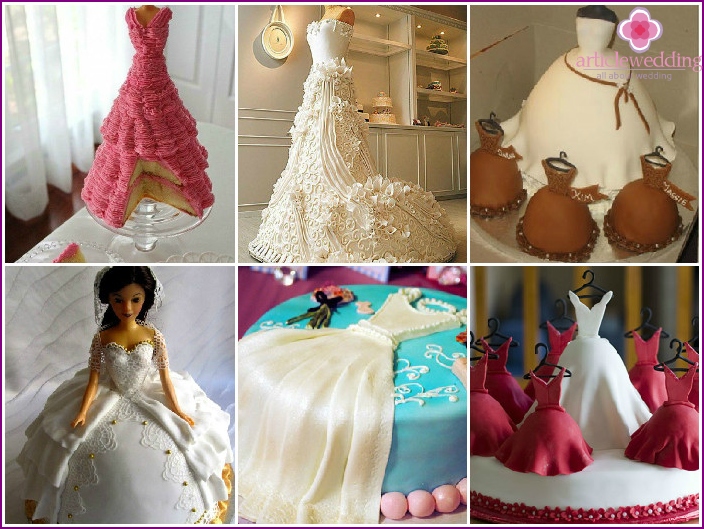 Such decoration is easy to perform and independently,dresses can be formed not only difficult to manipulate mastic, but also by a conventional protein cream and cooking syringe. See how fast and easy dessert for a bachelorette party is made by one person. And if you cook will be a few girlfriends? Rate the ease of manufacturing the cake for the bride and learn to do it at home you can, watching this video:
Cake on a hen party in the form of a handbag
Cake in the form of bags formed byspecial shapes, and then "drape" mastic layer. If friends are able to work with this material, they can easily produce a high rectangular cake of several cakes and decorate it as a favorite accessory brand bride. However, this is a very time-consuming process, which is better to pass on to the shoulders of professional confectioners.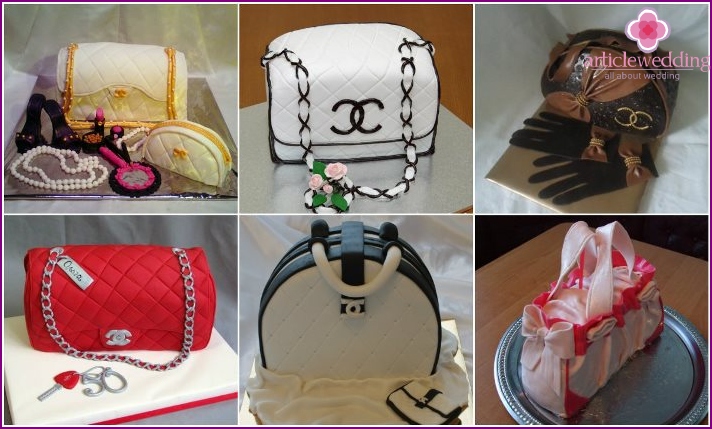 Dressed male figures
Cake in the form of a male torso - is lowoblong cake, often consisting of 2-3 cakes, "steering" mastic. Put a figure of a man with the help of this material is not as difficult as it might seem at first glance. This exotic delicacy can make themselves friends of the bride, but in this case before actually manufacturing the best a couple of times to practice.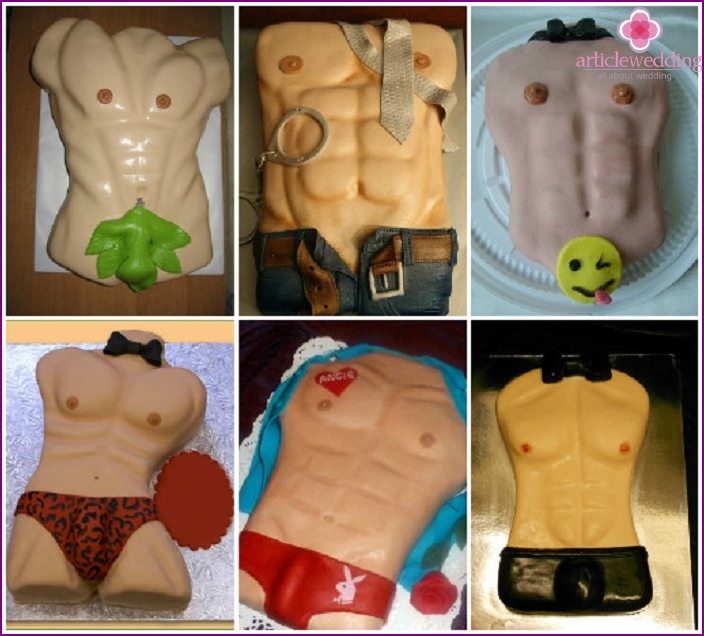 In a baby carriage or
Cakes with ornaments in the form of babies aredifferent configurations: a cradle with the newborn, the child itself (very rare), with baby strollers and cabbage, which sleeps a family of replenishment. Such treats difficult to produce on their own, but if the bridesmaids want to contribute, they can order data figures of mastic, and themselves, and make cakes smeared with yourself by setting top ready symbol.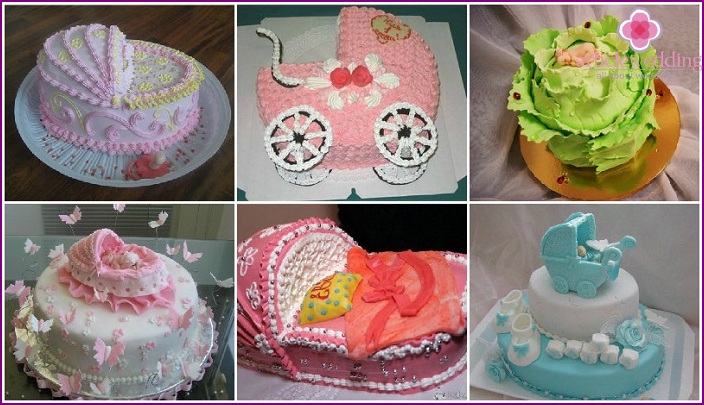 Cake with beautiful underwear
Often friends bachelorette party presented a beautiful brideunderwear, which she will be able to surprise and conquer her husband in family life. The traditional gift is easy to replace a delicious cake in the form of a cute female corset, body, or a combination of the bodice. The decor of this form of surprises by its similarity with the original, performed by professionals will be very skillful and original decoration of the festive table.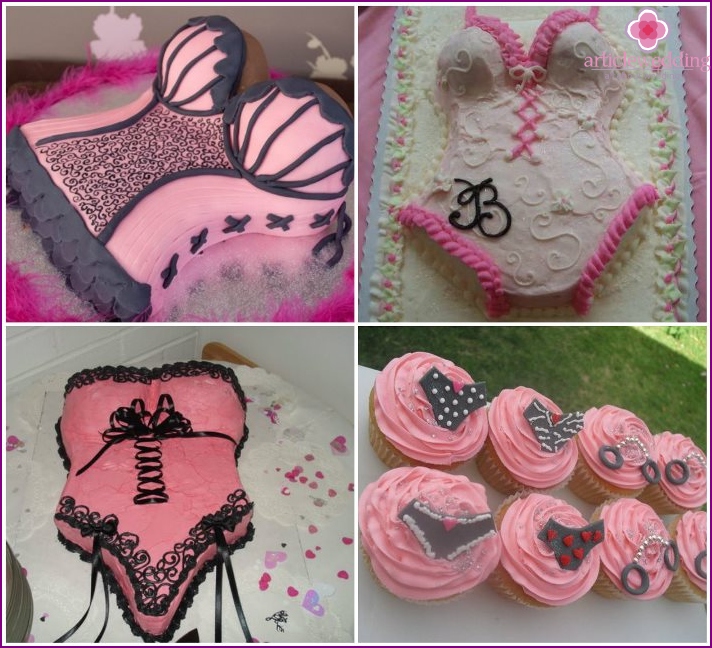 In the form of a bed
Desserts in the form of a bed in store for thebold and daring brides who need to have a sense of humor, fantasy, cheerful disposition. The marriage bed can be made of mastic, or is formed by the shortcakes. This will be the highlight of the meal bachelorette party, especially if it is originally trumpeted girl friends with appropriate wishes.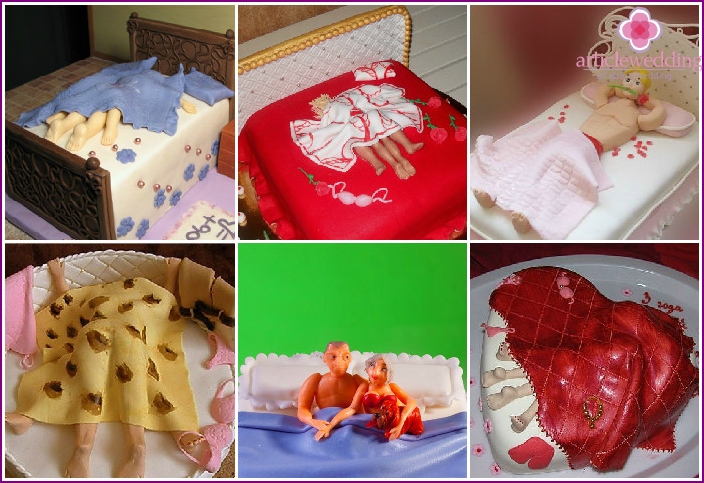 Cake "Surprise" with man inside
Often friends are invited to the bride's bachelorette partya male stripper to future wife could last bask in the charm of another man, not her husband. This idea lay in store at the end of the event, and the cake can be a transitional link from feast to show if there suddenly appears the long-awaited actor. This entertainment will delight and amuse all invited friends.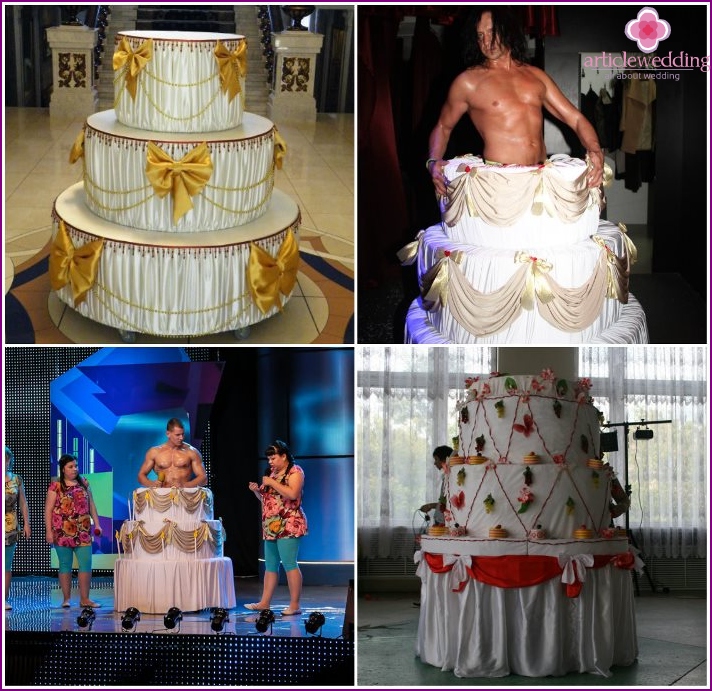 Original labels for cake
Fancy goodies for brides often accompanied by the original inscriptions, which enhances the design dessert. This may include the following sayings:
"Walking as a walk!" (In any dessert with a picture of a bachelorette party celebration).
"Bite me!", "Lick me!" (In the dessert in the form of a male torso).
"Game Over", "Gotcha!" (On the cake with figurines of the bride and groom, which the bride "wins" the groom).
"It Ivanova (the future name) is impossible, and Petrova (true) can be!" (With the figure of a stripper).
"Bright Future" (on the cake, diapers).
"Teper it's yours!" (A dessert in the form of a bed, with the figure of her husband).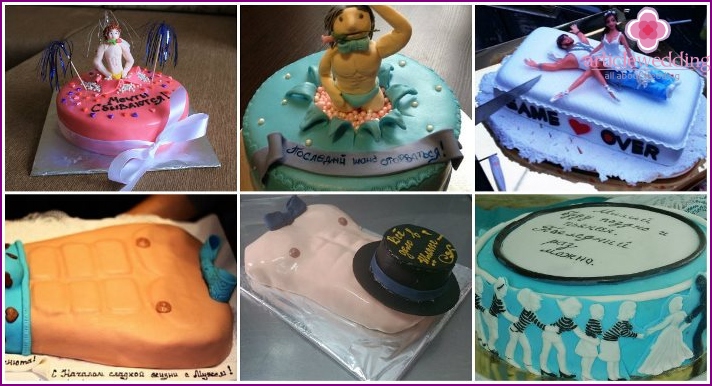 Photo Cakes on a hen party for the bride
There are many other design optionsmost original dessert - cake for the girls on a hen party. When ordering a meal, you can come up with something of my own or use ready-made ideas presented in the photo below. See a selection of photos of the most original and unusual cakes with women's issues: