If you are not indifferent to the film "Breakfast atTiffany "and the image of its main character is close to you, then you can easily make it realistic, organizing a hen party this style. The main character - a refined nature, which has exquisite taste and great love for jewelry. If you are such, then a hen party in the style of "Breakfast at Tiffany's" in the image of Audrey Hepburn - this is what you need. Let's see what you need for his company.
Venue - a cozy retro cafe
For the pre-wedding party "Breakfast atTiffany "best place to be a little cozy cafe retro style. The walls of the cafe, as a rule, are decorated with posters of stars, newspaper clippings, posters, as well as a variety of photographs. Cafes furnished with antique furniture made of natural wood. Subdued light create the atmosphere that is needed for the evening, the prototype of which was the famous movie with Audrey Hepburn.
The highlight of these cafes are considered players, fromwhich sounds lovely romantic melody that can distract you from the ordinary, make a note in lyrical mood. These cafes are easy, comfortable, because this place - perfect for a farewell party with an unmarried life.
If you can not visit the cafe orrestaurant, do not worry, the proper environment it is possible to create a home. This will require a little more time and effort to prepare and decorate the room is not difficult.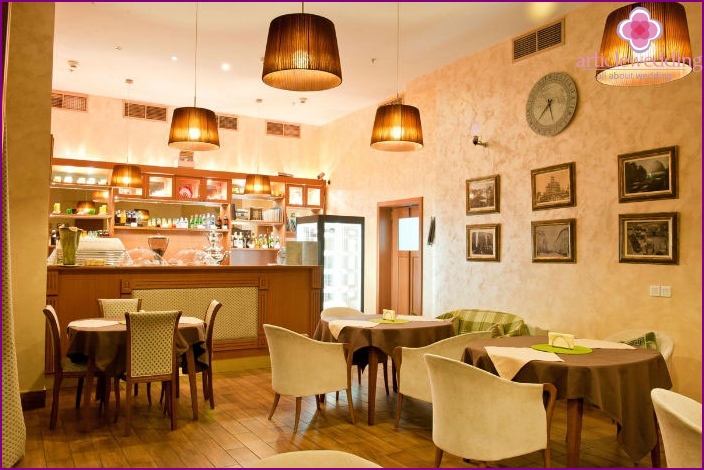 Color pm - Blue
All the elements, accessories, gifts, glassware,Invitations should be issued in one color: blue with shades - king party. This color is considered to be the brand in all Tiffany collections. You can combine it with white, pink or other shades of the base color (eg, cyan, purple, aqua-green), but more importantly, that all looked harmonious and stylish.
The drink of the evening - a martini
Smokin 'drink on the bachelorette party based on a picture"Breakfast at Tiffany's," says Martin, because he has a very pleasant taste. This drink goes well with olives and a slice of juicy lemon, representing the relaxation and enjoyment. Martini - the drink that will help create a festive mood. Less commonly used champagne, which also love the girls.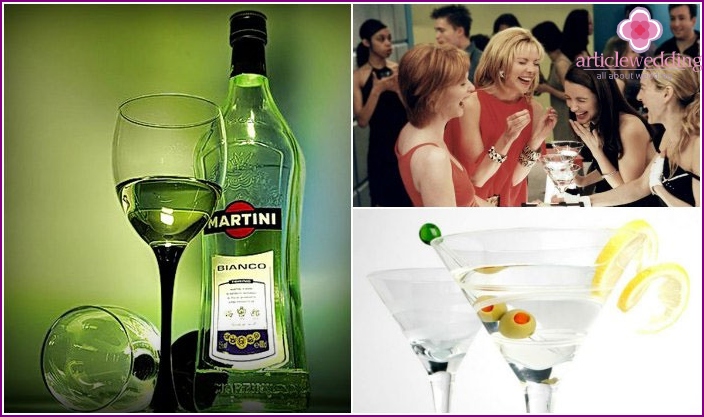 The selection of music, composition «MoonRiver»
Indispensable attribute of any bachelorette partyconsidered music. For parties in the Tiffany style is perfect for your favorite music from many of the film "Breakfast at Tiffany's." It is also a great option - it is the composition of rock and roll, boogie-woogie, jazz, swing and other music of the 60s. This music can be found, and burn to disc, its filling out nicely.
Good idea - to arrange a fun competitionsmusic, because it will help to entertain guests. But the original composition on the composition of the bachelorette party will «Moon River» by Henry Mancini, which at one time brought the coveted Oscar statuette composer.
Menu
The main dishes are sweet holidaycakes, muffins, cookies. Often, these sweets are also decorated to the style of "Tiffany". Lovers of sweet pleasure considering the possibility to book a luxurious cake decorated with mastic. Example sweets can see in the photo.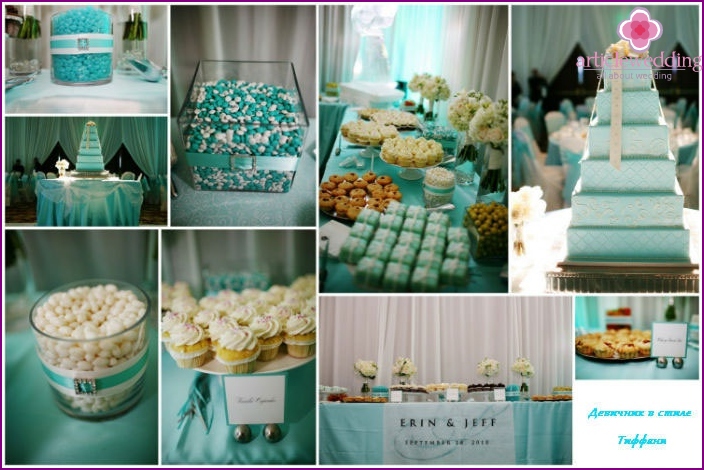 Dress code
To create an image of Holly Golightly culpritcelebrations should wear a short evening dress in black. From the bride jewelry is best to use medium-sized jewelry or pearl - necklace and earrings. The bridesmaids can also wear a black dress - so the company will look elegant, refined, and a guarantee of a successful evening.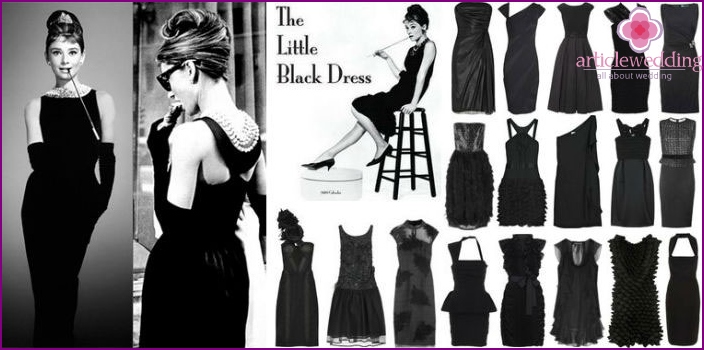 Hair and makeup
Round off the image of hairstyle and helpmakeup. Hairstyle participating party in the style of "Breakfast at Tiffany's" to be highly collected (a kind of beam). Makeup is better not to do too bright, but be sure to highlight your eyes, for example, by using the arrows or eyeliner.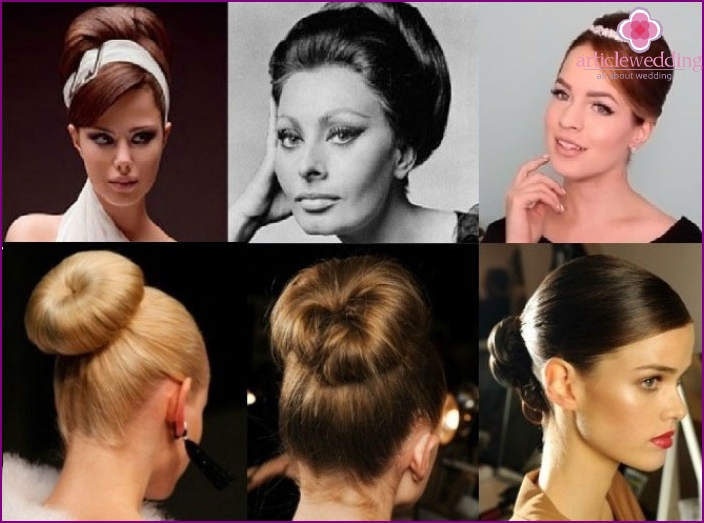 Manicure in blue tones
Manicure - an important detail of the image. As the bride and her bridesmaids, it should be blue tones. Welcome decorations on the nails: crystals, paintings, french manicure.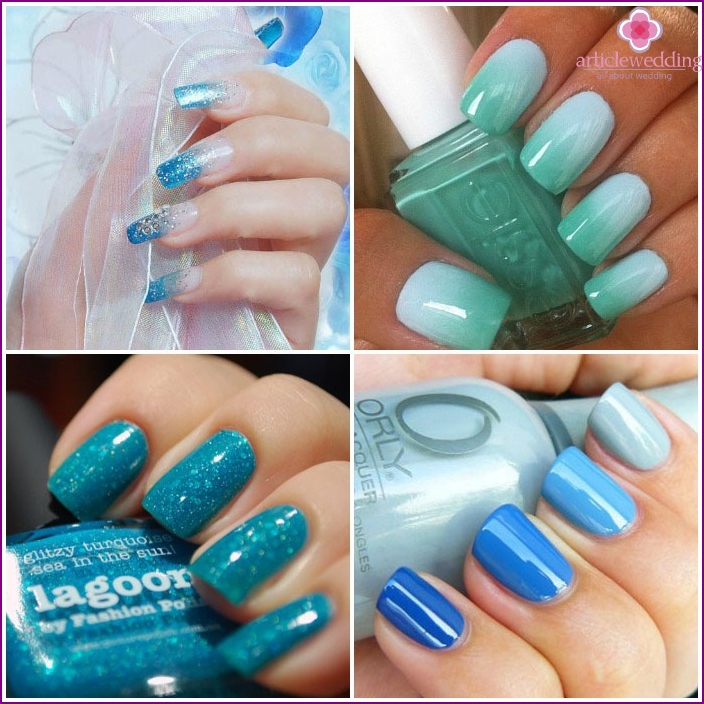 Making gifts in Tiffany style
What a bachelorette party without gifts? Gifts should be issued as well as the entire holiday. Himself a gift can be absolutely anything, but as a rule, give beautiful clothes, ornaments (jewelery) or spirits. It is important that a box has a corresponding color.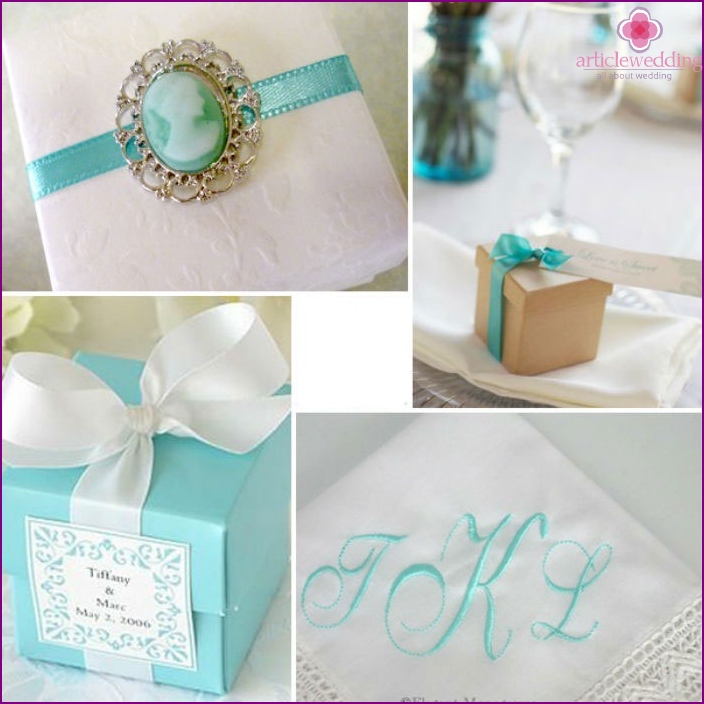 If organizing a bachelorette party in "Breakfast in styleTiffany "have inspired the eponymous film, then you should take care of the necessary accessories, pay attention to training, to warn girlfriends, what style will be used for the celebration. This hen party obtain a luxurious and stylish, and you'll look charmingly through the creation of the original image.
If you decide to have a party in the style of "Breakfast at Tiffany's" and you useful tips in this article - leave your comments.