Pre-wedding party bride to beunforgettable, bright. Great idea to its realization - a hen party in the style of Barbie. Juicy colors with prevailing pink skirts, high spirits - these are the components of the bachelorette party. But the main thing that all of these elements match the bachelorette party style - namely, expressed carelessness, joy, unbridled joy. Put on your rose-colored glasses, plunge headlong into his childhood, remembering the dollhouse and exciting games Barbie - do not limit yourself, because soon you will find a way to adulthood.
The choice and design of the place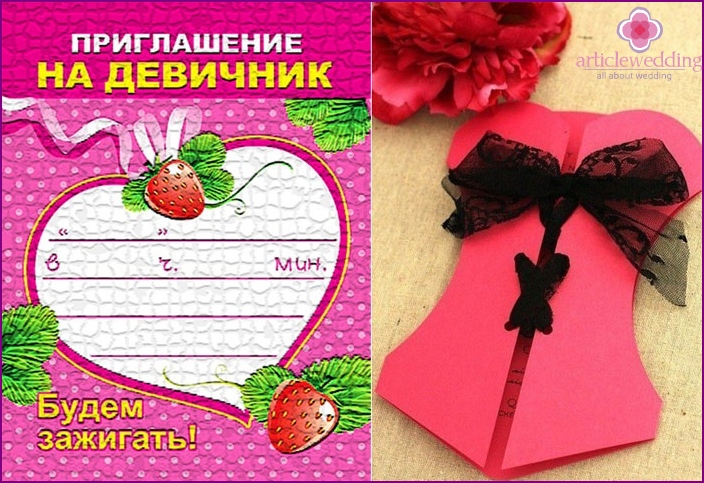 To start defining the venuebachelorette party: the best option is to own apartment. Make of her Barbie doll house style, add accessories - box for dolls or Ken of cardboard, but not necessarily in all growth. It is useful to you to create a memorable photo.
But if you decide to celebrate a bachelorette partyinstitution, then you need to choose the appropriate style cafes, focusing on the possibility to introduce an element of Barbie style. Banquet hall is better to decorate the interesting items:
Jewellery as wedding suit and a glamorous - pink, white, red.
Tables decorate bows, balloons, nets organza - pink as Barbie herself.
Glasses decorate the skirts of chiffon, sofas - pink pillows, hearts, soft toys, Barbie dolls.
How and whom to invite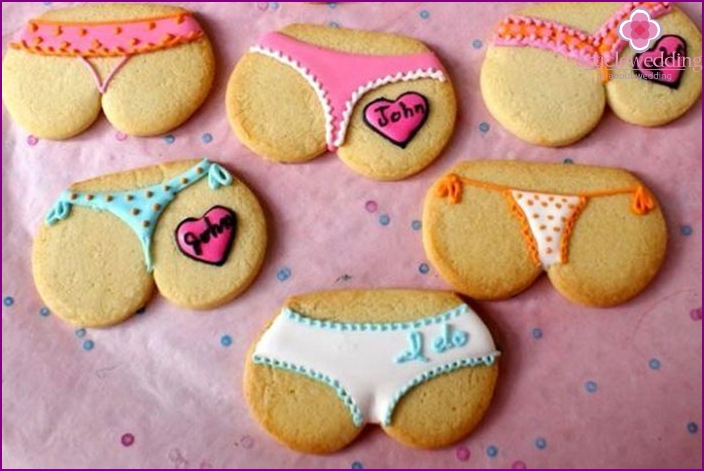 For an invitation to a bachelorette party doll style, makeinteresting postcard-invitations that they may be pink, decorated with rhinestones. Create invitations with your own hands, or use ready-made templates of cards, a bit of spice them through his imagination. Invite to a bachelorette party should be the best girl friends - all who will guarantee a fun pastime.
Menu
Before drawing up the menu with treats for guestsdecide to design a festive table in the doll style bachelorette party. This can be buffet of appetizers, full - hot and cold, or BANQUET option - with sweet treats and beverages.
snacks suitable for buffet,canapés, desserts - cakes, cookies, candy, cupcakes and fruit. What alcohol drink Barbie dolls? Of course, it's a martini or cocktail "stronger", dilute sweet drinks.
If you want to fully feed the guests ather bachelorette party, include a delicatessen menu (meat, fish, vegetables, slicing), salads, hot dishes (a la carte or holistic), garnish (baked or fresh vegetables, potatoes). Alcoholic drinks - martinis, champagne or wine, but if invited women prefer strong alcohol, then choose vodka or cognac production.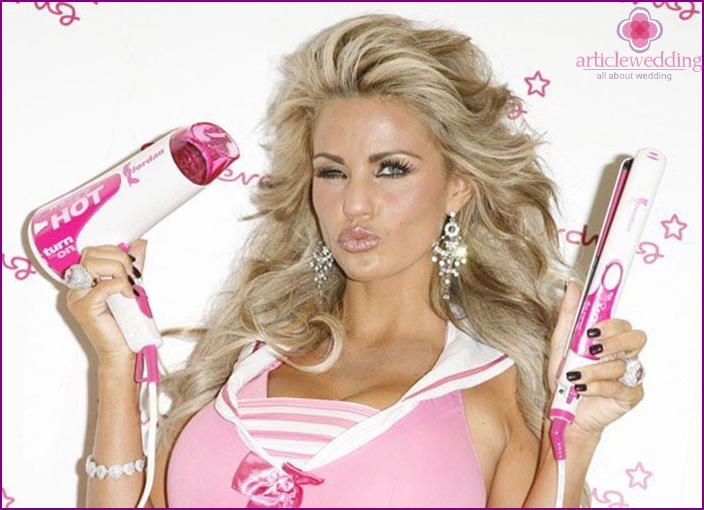 Option with registration fourchette sweet tablebachelorette party on brightly decorated a la Barbie implies air cupcakes, jelly, multicolored marshmallows, muffins, donuts, chocolates in colorful wrappers. Be sure that all sweets are pink, turquoise, peach color. Sweet table supplement fruit of alcohol is perfect martini, champagne, white wine, or a variety of cocktails, decorated with bright umbrellas, tubes.
Makeup
Going to a theme bachelorette party, pick up the makeup that complements your image and style of holiday. How to create beautiful make-up on a hen party in the style of Barbie dolls?
Analyze the state of your skin. After all, Barbie dolls skin smooth, bright, almost transparent. To create such a little face you will need: makeup base, concealer to hide bumps, pimples and under-eye circles, as well as the foundation of natural or light pink color.
Large doll eyes. Of course, the emphasis in the make-up should be on the eyes. This does not necessarily choose the shade of pink and all its shades, because there will be plenty of clothes and accessories. Give preference shades of fuchsia, lavender, honey. To make the look more astute, put on the inner corner of the eye light shadows, into the middle of the century - the tone is darker, and just below the eyebrow, use a lighter shade with sequins or pearl.
Use black eyeliner, but do notarrow too thick. Ideal - a thin line from the inner eyelid, turning into a slightly thickened to the outside. To fit the image of the puppet silver, purple eyeliner with glitter.
Cilia should be long, lush, like a Barbie. For this purpose, can be used overhead or draw the cilia own several times a thick ink.
Perfect eyebrows. You've seen what a doll's eyebrows? They have a nice, smooth shape. Fill in all the gaps between the brow hairs with a pencil or shadow beveled brush. The right eyebrow line is ready.
Plump lips. Make lips luscious, beautiful with a pencil, lipstick and gloss. Choose a lipstick color that is suitable for the tone of the entire makeup. Look beautiful is not "flashy" and more soothing colors of caramel, peach, burgundy, coral or pink. Lip contour pencil circle under the tone of lipstick. After applying lipstick, add in the center of the lips a little shine.
The gentle glow. The final touch doll makeup - blush. Apply blush on the cheekbones, pale pink or peach color and make-up on the doll style bachelorette party ready.
For a good example of creating a puppet makeup style a la Barbie, see a video tutorial.
Hairstyle
Blonde girl is indistinguishable from Barbiebut who said that the dolls are not dark-haired? To create a doll hairstyles for a bachelorette party fit voluminous curls, high tail, greased back hair. Boldly, originally, in the style of a party dedicated to the beloved by millions Barbie will look wigs of different colors, the ideal is to be pink.
The appearance of the bride, her bridesmaids shoulddisplay the childhood favorite dolls, so do not be afraid of bright colors, as well as the excess of decoration. Use hair clips, feathers, tiaras and hats can also make a veil of chiffon, decorated with rhinestones, sequins, bows.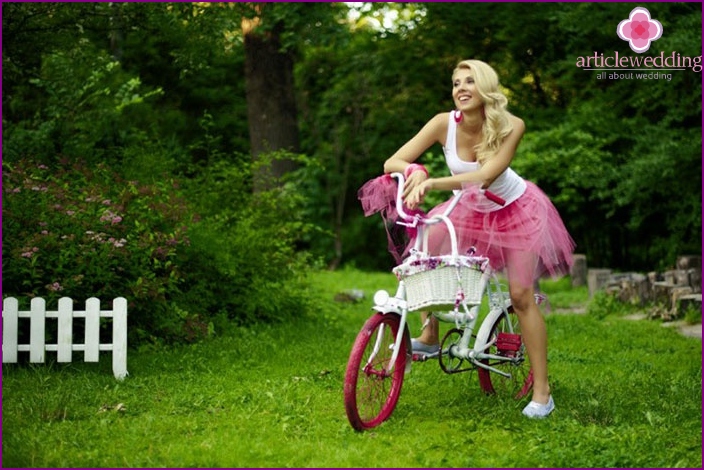 To add an image for a bachelorette party will help totailored suits. Dressing Barbie style must contain t-shirts that are painted or embroidered with beads and sequins. Please add them simply: make good use of colored tops, skirts, white or colored stockings, high-heeled shoes, fur boas, colorful handbags made of leather. Even in the absence of the brightest elements of the costume, you can quickly make fluffy skirt of organza fabric and a piece of gum and Barbie dress style is ready.
Entertainment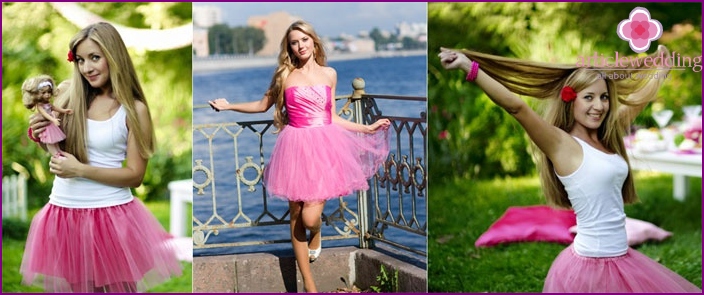 How to have fun on the puppet bachelorette party? In order to maintain the image of a bright and mischievous Barbie dolls can:
Try on outfits. Barbie dolls - these ladies, so if you are celebrating a bachelorette party at home, arrange a competition of disguise, which aims - to create a beautiful, colorful image of a puppet. In the order of the girls will your clothes, shoes, accessories. The winner of the contest - the girl whose image will most elegant.
Rent a bike with a white coloringpink baskets and go to the park to ride. Do not forget to bring a camera and a picnic rug. Knurled enough, you can take a break, to spread a mat in the park and photographed - will turn out beautiful pictures on the memory of the bachelorette party.
Rent a bright pink limousine. Laminated on the main square of your city, let everyone see these dolls Barbie, learn that one of them today bachelorette party.
Sing and dance. For this purpose, after the bachelorette party refreshments head to dance till dawn in a night club or sing funny songs at the karaoke bar.
Invite Ken. If the main hero of the occasion does not object, order for her stripper dressed in the style of Ken. It will be a pleasant surprise at the bachelorette party, which will please and amuse not only the future bride, and all the invited girls.
Gifts
What holiday without a gift? What to give the main culprit celebration at the bachelorette party Barbie-style:
Beautiful, elegant doll - porcelain, Barbie, or any other.
Linens pink.
Underwear. Bright, original in the form of a corset and panties fuchsia or pale pink set for the wedding night.
Soft toys - big teddy bear with a pink bow or other animals.
Makeup - bright nail polish, lipstick, gloss, powder. All this is packed in a beautiful makeup.
To keep the memories of the bachelorette party,Give each other Barbie dolls, picking up for every one that is most similar to his mistress. All gifts to wrap, adhering to the style of pink paper and decorate with large bows, rhinestones, ribbons.
PHOTOSESSION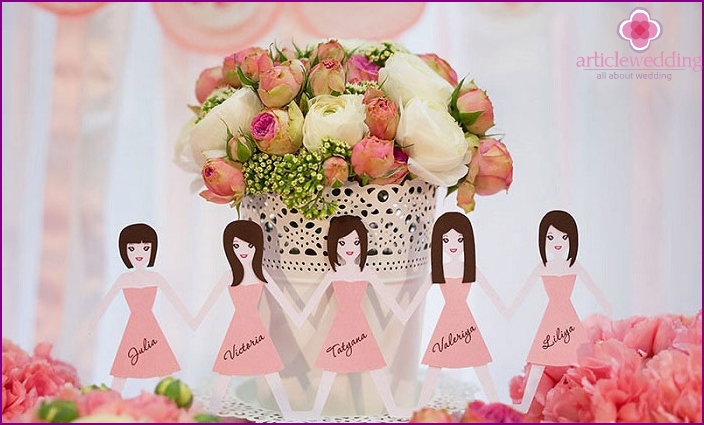 After the bachelorette party in the style of Barbiebe sure to take a stroll through the city, a ride in a limousine, walk to interesting places of memory. All this time, you should be close to a photographer who skillfully engraved moments of fun. Going with my friends after some time, you will have something to remember, something to laugh heartily, looking at pictures and remembering the highlights of your bachelorette party.
For the photo shoot, you can use accessoriesBarbie style: balloons, big bows, Inscription, toys and houses - in short, everything that is associated with childhood and dolls. Then have it all depends on your imagination boundless flight.
If you are celebrating a bachelorette party in the style of Barbie, and you have something to say about it - leave a comment.