Bachelorette party - it's the last day of the "free"an unmarried girl's life. There is one story ends and another begins, a brand new adult life. But it will be later, but for now it is necessary to organize the last party with her friends that she remembered everything and for a long time. Depending on the theme of the holiday, you will need different accessories for a bachelorette party, who may buy in the store, order or make their own hands.
Accessories for the party in the style of Tiffany
Girls with thin delicate taste perfectlysuitable holiday "Breakfast at Tiffany's." Preparation for such a bachelorette party should be initiated in advance, because you need specific attributes, to create the right atmosphere.
The main bachelorette party accessories:
Dresses 60-70s. About this party, and the subject is better to prevent girlfriends (event participants) in advance, so that each could choose and find a suitable dress.
Hair and make-up, imitating Audrey Hepburn - a great option.
Be sure to come in handy cakes, cookies and a variety of snacks.
It is worth remembering, items must be of the same color (use of different shades), for example in the turquoise-blue (even dishes, tablecloths and bedspreads).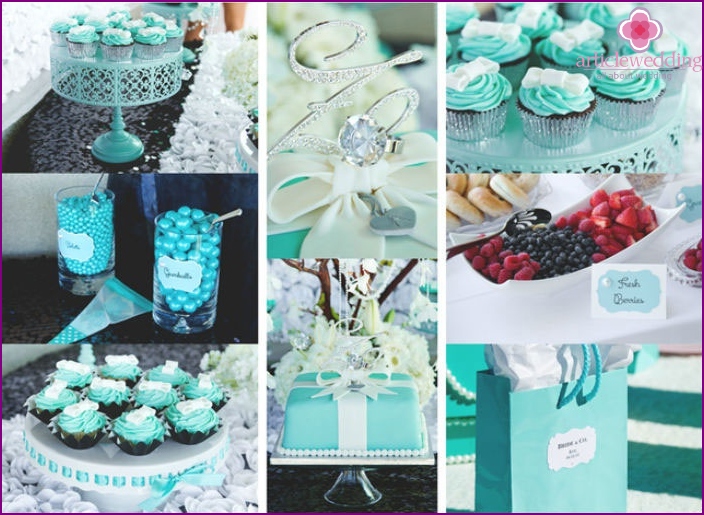 The Oscar-style
Hen "Oscar" for those who preferto do everything in a big way and so on holiday, if not the entire city, the region. Required attribute - known figures of the "Oscar", or that you lead, if any, will be awarded a prize for her friends some merit.
Bachelorette party will be an indispensable accessoryshiny rhinestones, feathers, tiaras, earrings, leopard skins. All of these attributes will help to create a festive atmosphere, you will be able to live one day as a star, enjoying the luxury and wealth.

For the bachelor-bachelorette party
If the bride has decided to "break away from the full", then, as an option, it is possible to arrange a bachelorette party, bachelor party. Original, fun party, where the bridesmaids dress as grooms.
Accessories for stag parties stag - malejackets, shirts, suits, suspenders, hats, shoes. All this is in the box of costumes, but in most cases you can get it from the shelf from a friend or neighbor. Ideal would look false mustache. The bride, as a rule, on a hen-party puts on a short evening dress and high heels.
For a bachelorette party in Euro style
Lately more and more popularacquires holding pre-wedding party in the European manner. On this bachelorette party should completely abandon all formal, you need to relax and feel distraught teenager (even if you are a little over thirty). You will need a good company, the number - the more, the better.
Note that such a celebration may respond to criticism from supporters of the Orthodox canons and traditions that prefer the standard "ceremony".
To carry out such a party, rent clubalong with his master, then you do not have to worry about any accessories for a bachelorette party, because everything will take care of lead. If you decide to pursue this kind of party at home, then you should definitely take care of the appropriate music, to create a favorable atmosphere to prepare a drink, as a rule, sweet cocktails, alcohol, and delicious food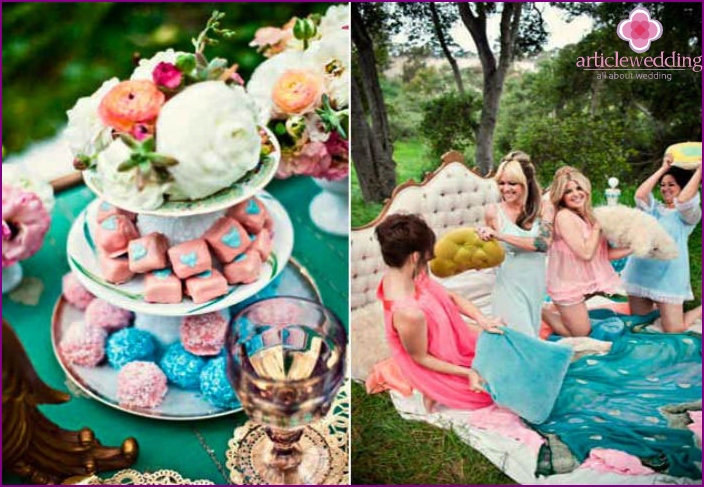 Thematic dress code
If you decide to spend a thematic party,be sure to pre-warn her friends, consider a scenario, write instructions, pick the appropriate accessories for a bachelorette party. All guests must wear identical outfits that match the theme. So, pajama party implies that the guest will seize with a pajama or nightgowns; the marine party, wear a striped vest or marine caps.
Also, sometimes distinctive thematicparties are considered to be accessories for a bachelorette party - original hats, wings, masks and so on, that only come up with the bride or the organizer of the festival.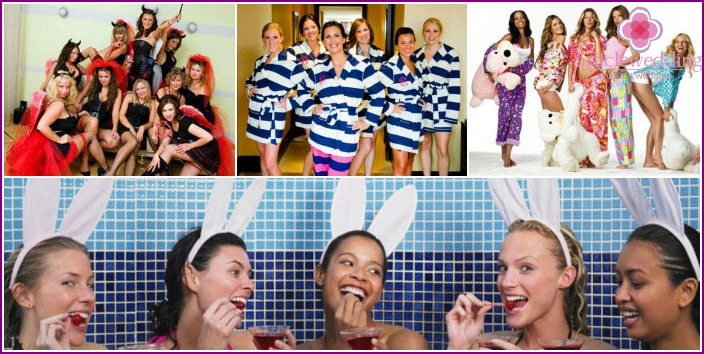 Accessories for your head
Often used a variety of accessoriesdecoration for a bachelorette party on your head, allowing to create accents. As a rule, it is the crown - the bride more, and her friends - a little less. Popular wreaths or flower decorations (which can be done by yourself), as well as the ears, unusual hats, relevant topics of the evening. Also used rims (wide or narrow).

T-shirts and skirts in organza
Especially popular among accessoriesbachelorette party T-shirts are a fun, comedy and intriguing inscriptions, drawings. The choice of these t-shirts is huge, so do not make much effort to find the ones that fit you specifically.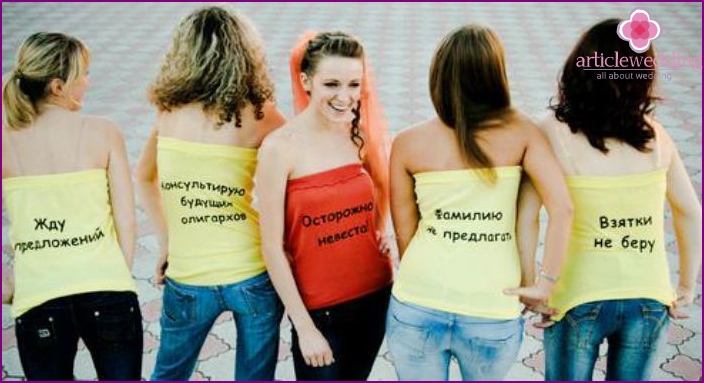 To pick up a T-shirt often skirt of organza. Such an outfit for a bachelorette party accessory extravagant looks, attracts the attention, but your bachelorette party will be remembered not only for you. Often, the skirt is composed of two layers of different colors, which makes the outfit more interesting. How are this kind of skirt, looking at photos.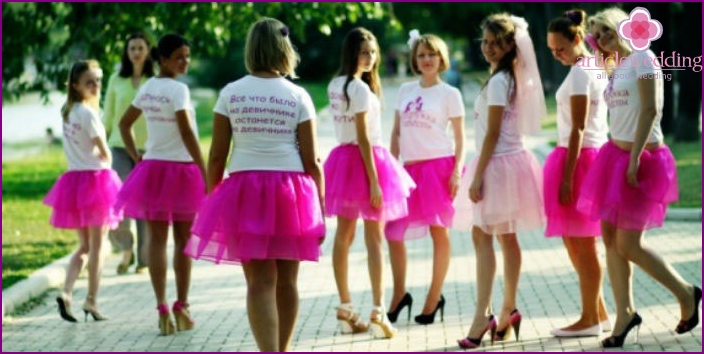 This skirt you can buy ready-made or make yourself, thoughtful design, how do you tell a fantasy. Watch the video master class on making this skirt:
In the style of Coco Chanel
Girls with exquisite taste is perfectParty in the style of Coco Chanel. The main attributes are: a miniature black evening dress, a lot of various jewelry, a minimum of makeup. Evening toilet should be kept, but sexy. It would be nice to stock up on various sets of jewelry.
As starters are ideal croissants, eclairs and cakes "pasta".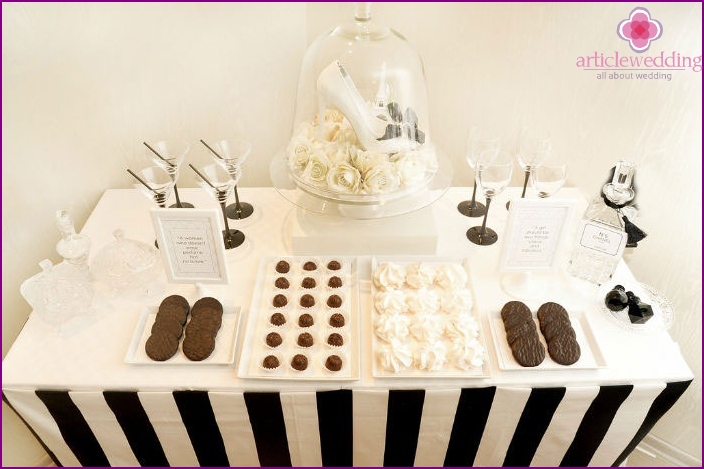 In a marine style
If you prefer a seaside holiday and enjoy thistheme, then this holiday will bring a lot of fun. What accessories are needed for a bachelorette party? Firstly, this outfit moryachek - vest, short skirts, etc. Second - candles with sea pebbles, seashells, lamps. All attributes must be designed in one color - aqua.
Treats that are present on the holiday table can be shaped marine paraphernalia - anchor lifeline - or in the form of marine life: fish, stars, shells and other.

The denim style
To hold a bachelorette party in jeans styleProper attire is required: it can be shorts, skirts, overalls. Making room with the help of accessories for a bachelorette party - napkins, coasters made of denim or with its use - create the right atmosphere.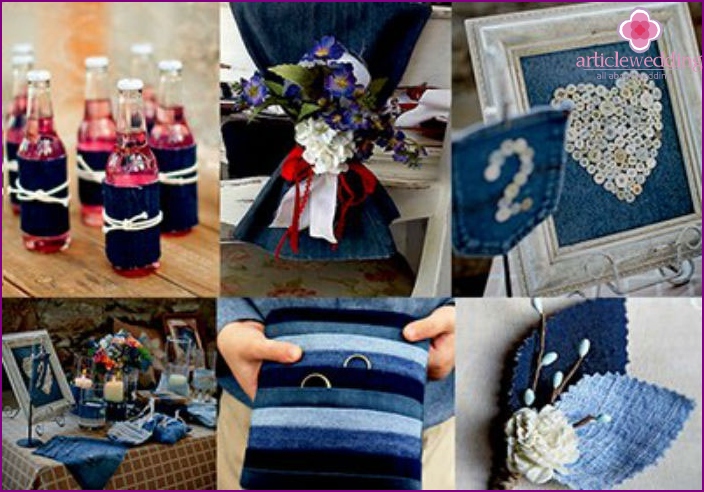 Accessories to decorate the room
When choosing accessories for a bachelorette party, namely -Jewelry, which will serve as decoration room where the celebration will take place, keep in mind the theme of the holiday. Wonderful decoration of almost any holiday will be balloons, garlands of cut out hearts, posters.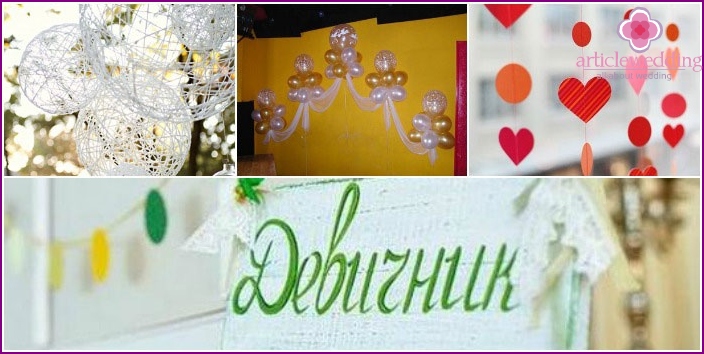 Accessories for tenders for a bachelorette party with your own hands
Accessories for tenders bachelorette party should be individualized on the basis of the program. The main attributes of the competition is to balloons, whipped cream, various clothes and other items.
How to make a bride's veil for hen party
Fatou at a bachelorette party is uncomplicated to do, butThat's interesting. As a rule, you can use the materials at hand - for example, tulle - and a simple pattern. Attach this veil will not be difficult with the help of clips, many people prefer to sew it to the gum, then it is convenient to be attached to the hair.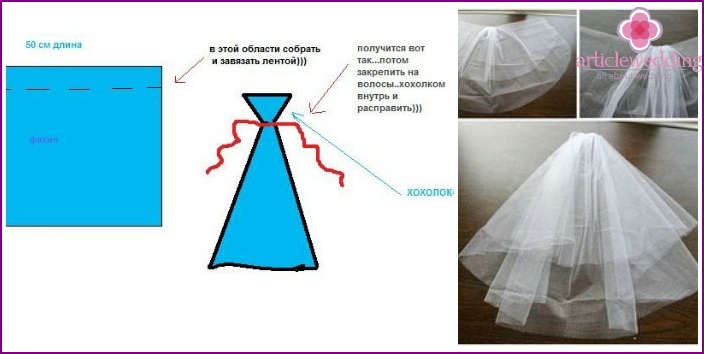 Video: How to make your own veil
Fata with your hands is simple and looks original. Check out the video below to understand how it can be done independently.
Based on the theme of the event,there is a need to use a variety of accessories for fun. Choose something suitable is not difficult, as long as attributes harmoniously combined with each other and fit the style of the event.
If the submitted article has helped you prepare for the party, and to find the right type of accessories for the bachelorette party, leave your comments and do not forget to share the experience.