On the wedding anniversary golden wedding notefiftieth anniversary of married life. Nowadays, very few people survive to that age, so we can safely say that the couple, gone over the brink of fifty years of experience, who have lived together before this wedding anniversary, golden wedding after starting to like the new period of his family life - new half-century.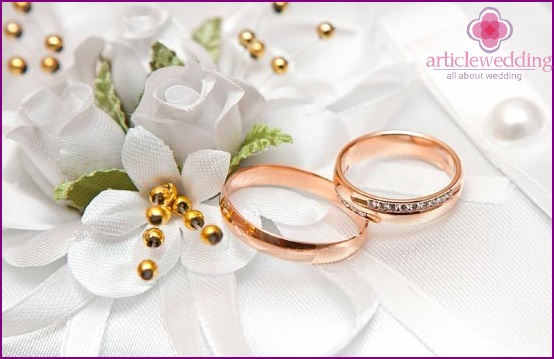 Everybody knows that the gold - noble metalyellow, ductile, extremely chemically inert, air does not change even when heated. Is it not true, because in order to achieve this wedding anniversary, fifty years to live together, we need a special "malleability" character, unchanging feelings even "when heated from the outside." Inertia also symbolizes constancy of direction in the movement of the target. So we are married for life are moving toward a common goal together, confident in the reliability and support partner.
Golden wedding anniversary is rare, but itif the mark, then it becomes really great and joyful event for the whole family anniversaries. It is a holiday that allows you to feel the cohesion and unity of the family tradition, established in her. It is this wedding anniversary in many ways says that in this family of love and happiness are inherited, are a sign of the family. Near the hero of the day is the fruit of many years of their life together: happy children, grandchildren, great-grandchildren.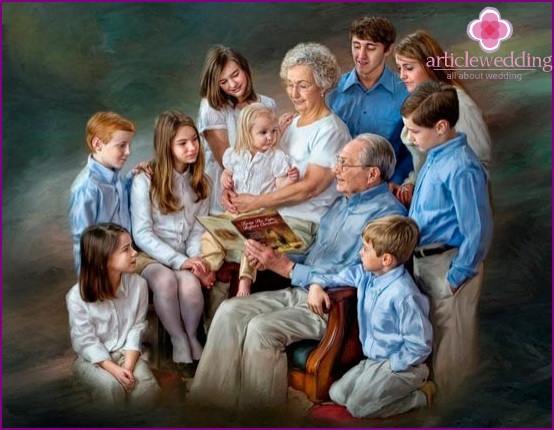 Tradition gold wedding
The fiftieth wedding anniversary is celebrated by almostas magnificently as the very first anniversary. It is important to be well prepared, it will be pleasant surprise, not only by the jubilee, but the whole family. Golden wedding parents - a really great holiday! And it should shine from snow-white tablecloth with gold ornaments to gold-plated cutlery. Appropriate will also be decorative gold-colored - vases, napkins, etc.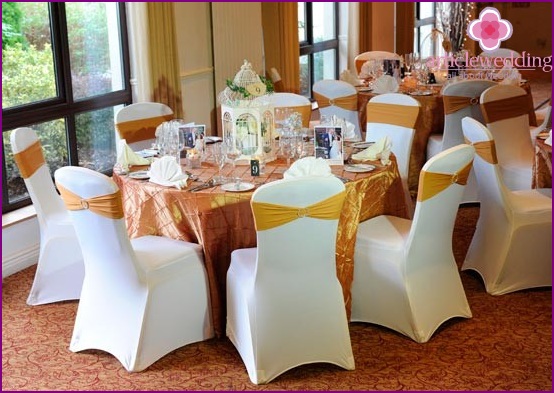 There are many interesting traditions,relating to the golden wedding. So before it was decided to shower the couple "golden rain" of the coins, rice and grains. Thus relatives and friends want to spouses of well-being, understanding and health for 50 years.
two rites can be found among the gold wedding traditions migrated to it from wedding celebration. One of them - a couple dancing in a circle,educated family and relatives with candles in their hands. A second tradition - is throwing the bouquet. Catch the bouquet and married and unmarried girls and women. If you catch the bouquet of an unmarried girl - so she will marry soon. If it is a married woman - so they, too, will live with her husband of 50 years in a happy marriage.
If the heroes of the day have not changed their wedding ringson the other during the early wedding anniversaries, it's time to do it and put the rings in his casket for storage for their grandchildren and great-grandchildren.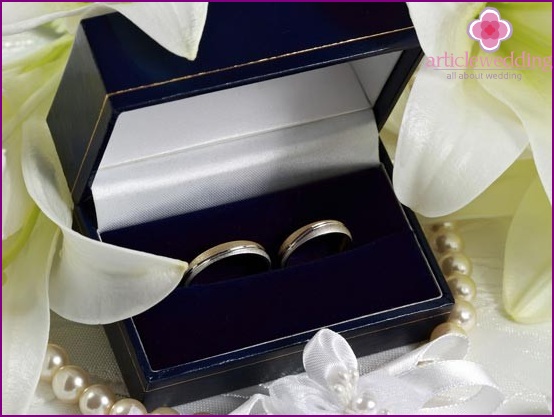 At the end of the festive evening the couple sit at uncleared table and drink a cup of tea. This ritual symbolizes the unity and mutual understanding between the spouses.
Congratulations on the gold wedding
Golden wedding - a beautiful anniversary, filled with love, happiness and joy. You do not know what to wish a lovely couple who have lived together 50 years? Many beautiful congratulations you will find here:
Congratulations on the gold wedding.
Congratulations to her husband with a wedding anniversary.
Congratulations on your wedding anniversary.
What to give for a golden wedding?
Traditionally, spouses in the wedding anniversary of products presented with gold:
sets,
decor items,
picture or portrait of anniversaries in a gilded frame,
gilded candlestick for two candles.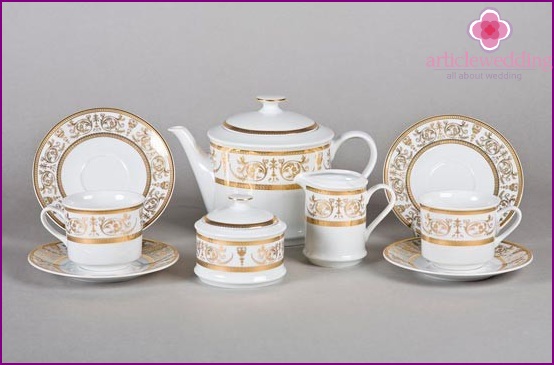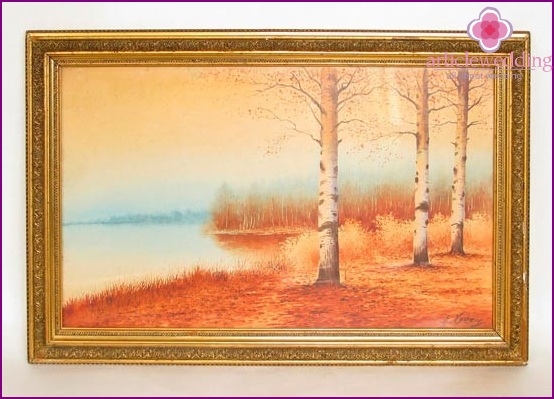 You can also buy watches, statuette or unusual vase and put on her birthday inscription in the form of a gold-plated engraving.
A husband can give his wife a shawl woven with goldthread and gold jewelry -. ring, earrings, chains, pendants, etc. The wife can give her husband the gold cufflinks. The same gift may well make children their parents.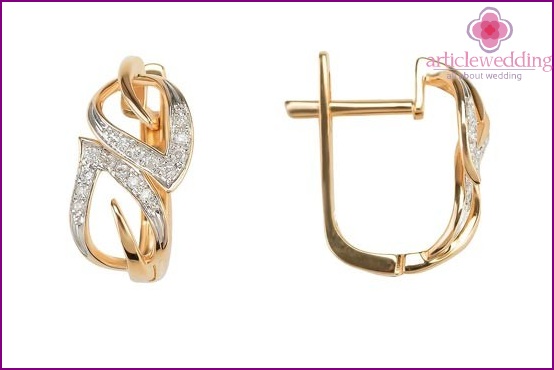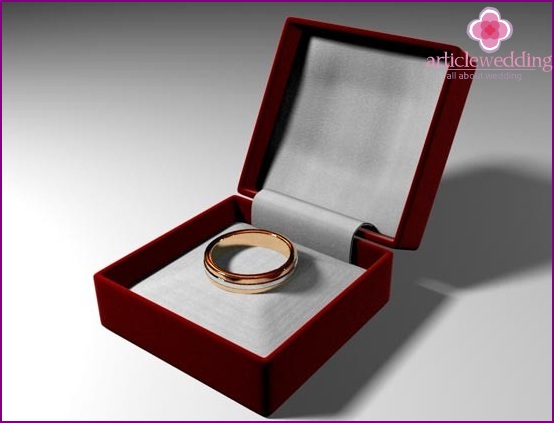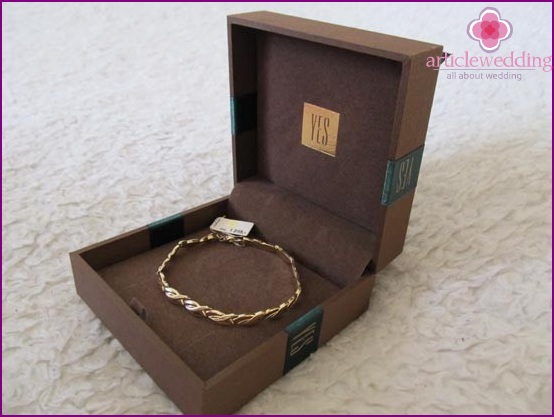 Traditionally, children and grandchildren to give spouses of newwedding rings, as their rings have worn and it's time to replace the shiny rings. Children and grandchildren can also prepare a jubilee surprise in the form of a collage or a beautiful cake theme.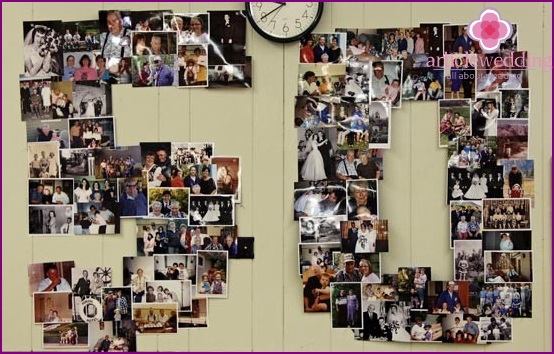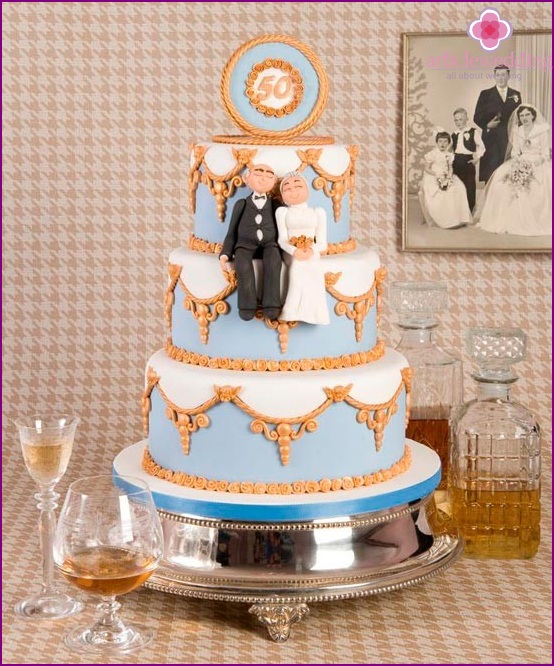 Whatever gift you decide not to give an anniversary jubilee, it should be wrapped in paper gold color or decorate gift gold ribbon.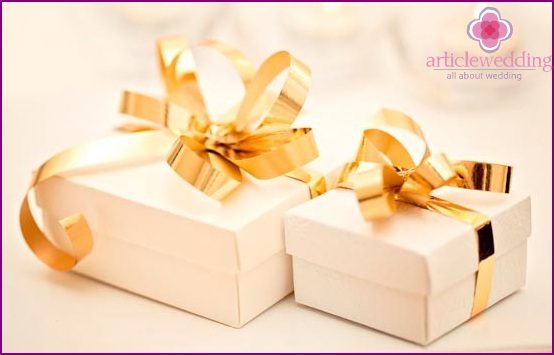 After the golden wedding should diamond wedding.