Harmoniously combine flower decorationwedding and its theme - not an easy task, because it is necessary to take into account a lot of nuances: a place of celebration, seasonal flowers, the bride dress, cake. Peony Wedding reflect just two fashion trend: single colors and floral accent. Peony symbolizes wealth, happiness and fertility, combines softness and luxury available in the spring and summer, so rightfully occupies a leading position in the design of weddings.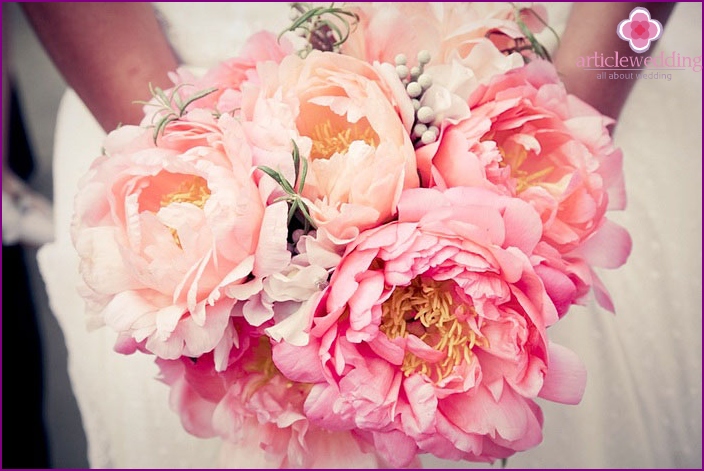 Peonies in the image of the bride and groom
Peony Wedding easily find a response in the form ofbride. Live or artificial flowers look great on a belt dresses in a bracelet or garter. The design of the wedding dress theme support peonies in the form of embroidery, appliques or prints. Brave girl who prefer non-standard solutions, can be dispensed with in favor of a white dress color. Hue attire should overlap with the overall wedding color solution - pink, peach or fuchsia.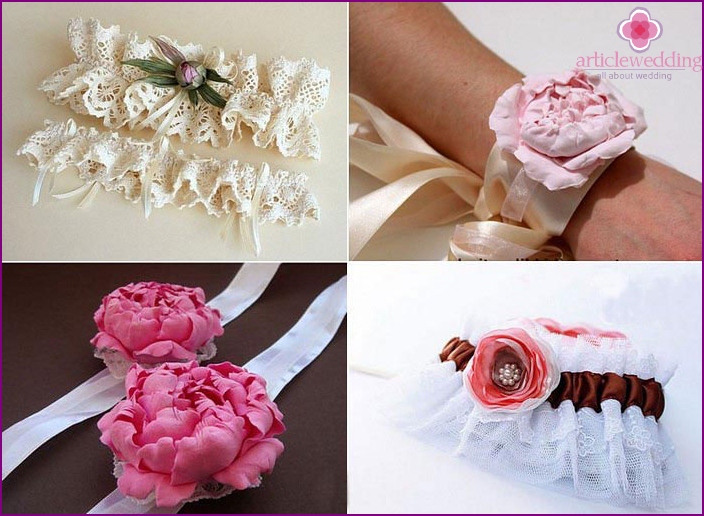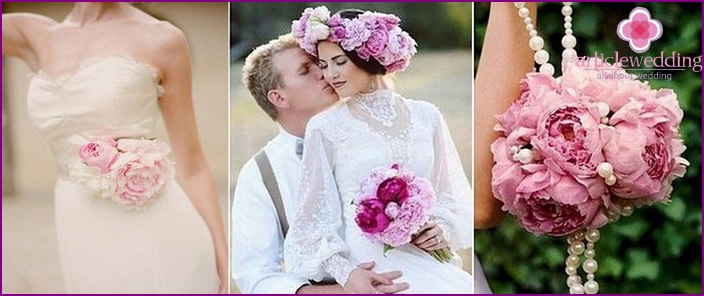 Hair bride - is another important focus,which successfully accentuate the wedding theme. Live peonies decorating the bride curls, touching and look stylish at the same time. Very romantic looks like a wreath of delicate flowers, which replaces the veil. Do not overload the image of the abundance of flowers - enough of a flower accent (a dress or hairstyle) plus bridal bouquet, groom otherwise at risk of becoming like a flower bed.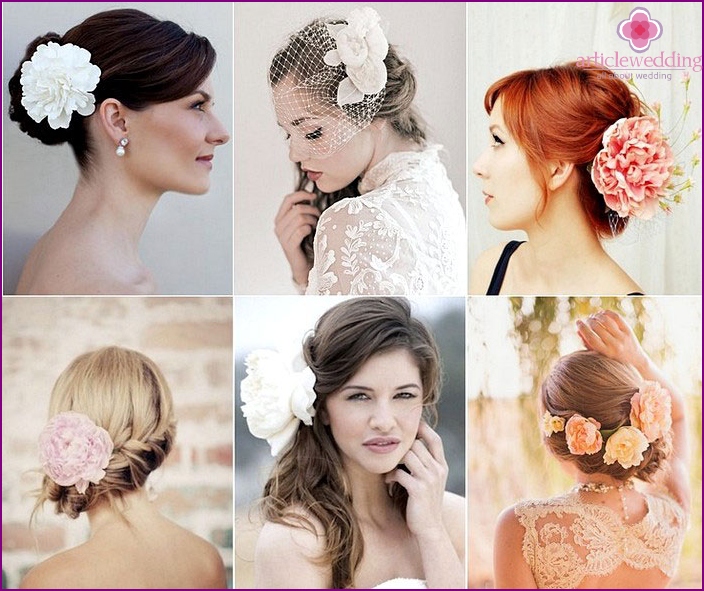 Groom boutonniere should overlap with a bouquetbride, so the lapel new husband would be appropriate to single peony or a small floral arrangement with this flower. For daring creative men fit shirt, tie, socks or pink cufflinks desired hue (in harmony with a bouquet of flowers or a dress of the bride).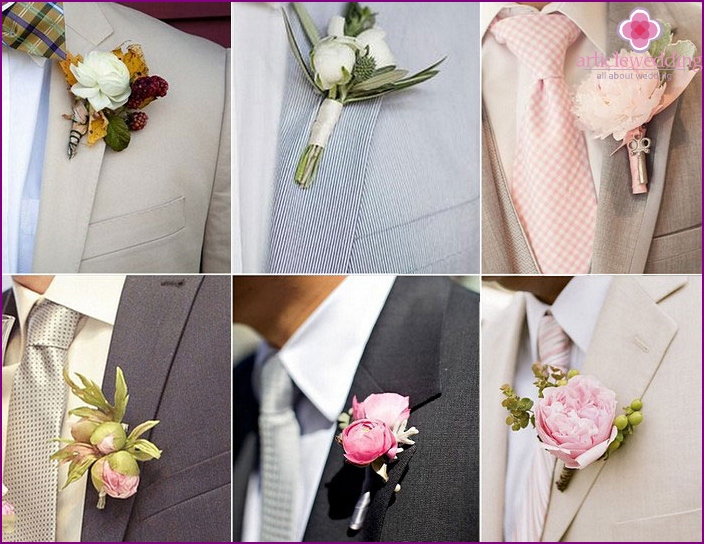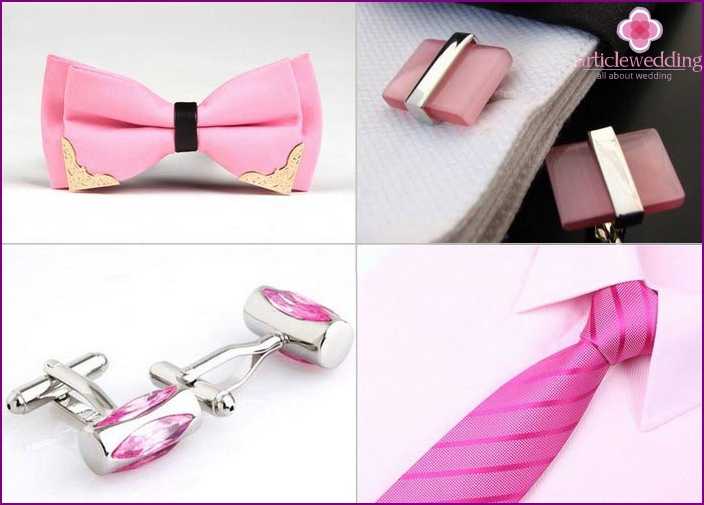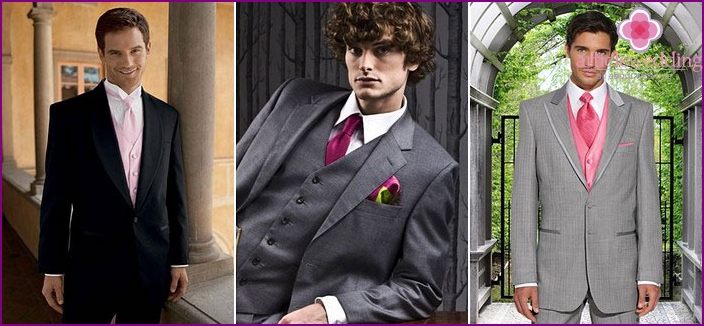 Design ideas propionic wedding - photo
Season peonies flowering occurs in May and June, and inwarm regions of the flowering period starts earlier. If the wedding is planned in the other months, to purchase a large number of these colors will be harder and more expensive. In winter, spend a wedding in a style inappropriate, since buy peonies in necessary for the triumph of quantity is only available on request (winter flowers supplies Russia Europe).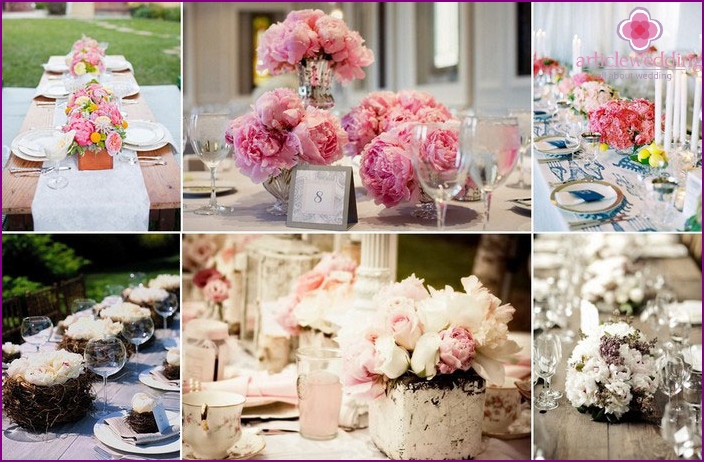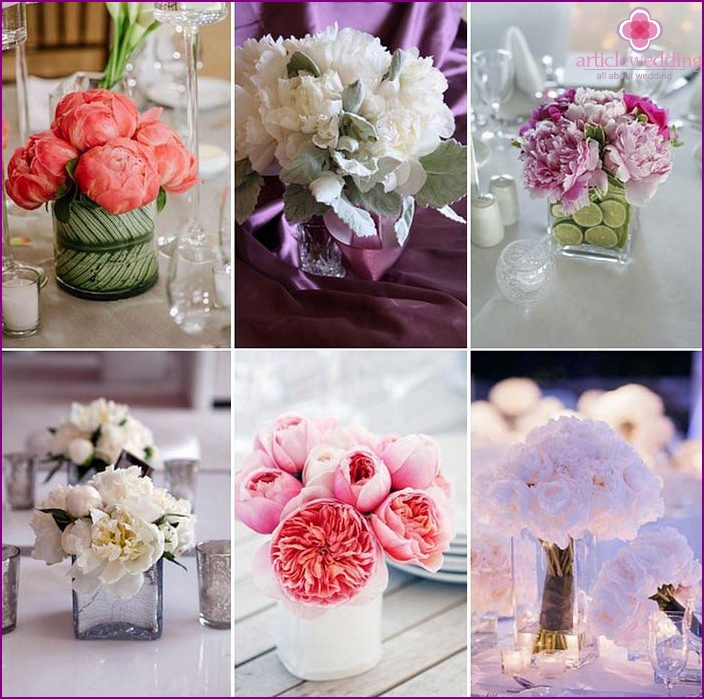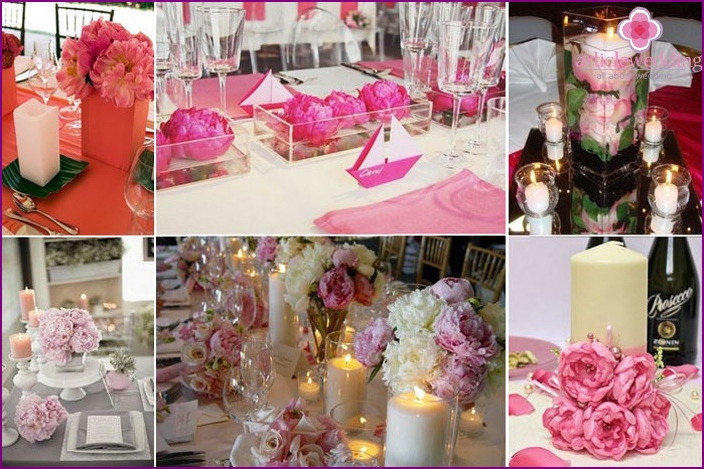 Shapes and colors of this delicate flower greatset, so the couple must choose the main color of wedding and used in the design of the buds of the shade (and close to it). Peony is magnificent solo, as well as in combination with many other colors. This roses, hydrangeas, tulips, lilacs and many others. Choose flowers in colors close. Peonies are perfectly combined with a white color - use this feature in the design of the wedding, and you will not regret it.
The decor of the banquet hall
Wedding venue responsible for the overallEntourage creates an atmosphere of celebration and that will certainly be reflected in the wedding photos. Banquet traditionally decorate flower arrangements and fabric drapes. Venue exit ceremony decorated similarly, but it is appropriate to add a flower arch and a path to the altar, as a very touching look peonies petals.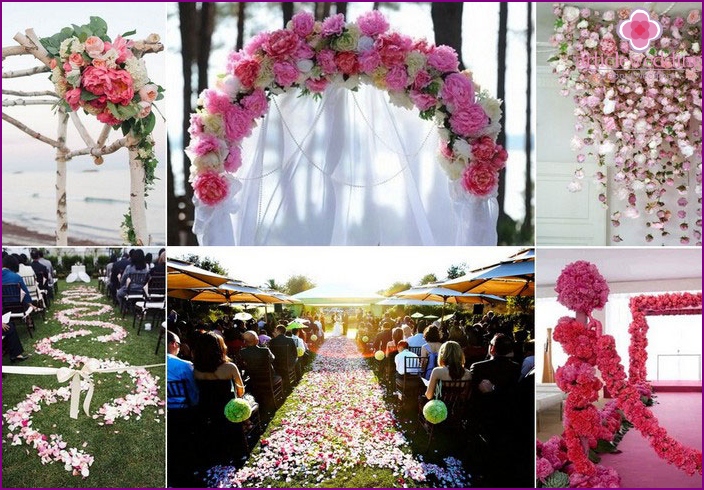 To make out the place of the holiday should beabout a day, so it is important to calculate the time of the order and delivery of flowers. Peonies are used for bouquets on tables in outdoor vases, hanging decorations. Light composition with one bud perfectly decorate the chairs (with or without covers), plates, napkins or cloth drapes. If you for some reason, decided to dispense with the decorator, use our advice.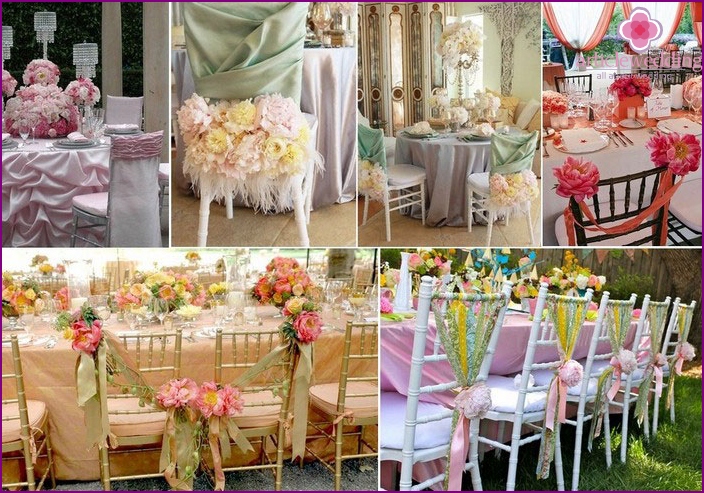 What goes well with living peonies:
Glass interior.
White or bright solid color tableware.
White or pink candle, especially thick.
Balls of yarn.
Light transparent, translucent fabric, plain matte materials.
Accessories and furnishings of brushed metal thin openwork (candlesticks, vases, napkin holders, chairs, arches).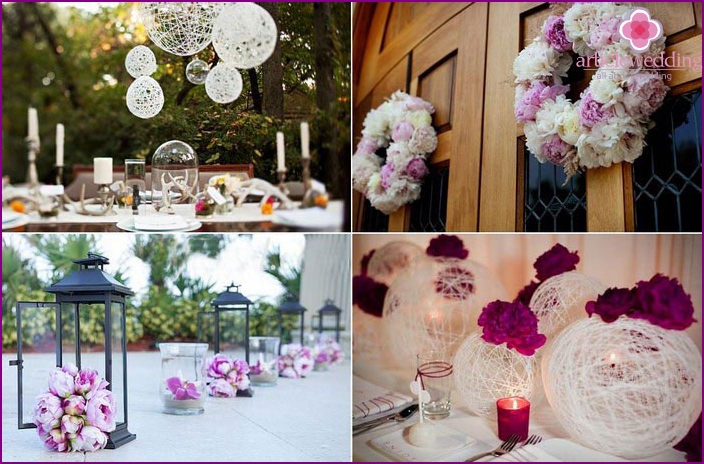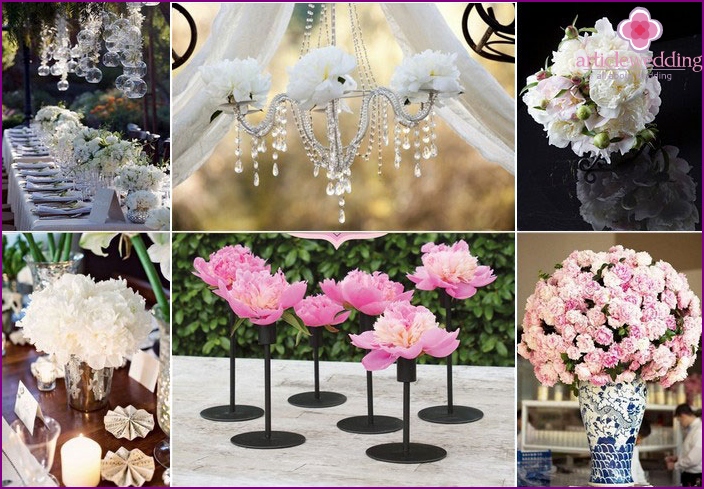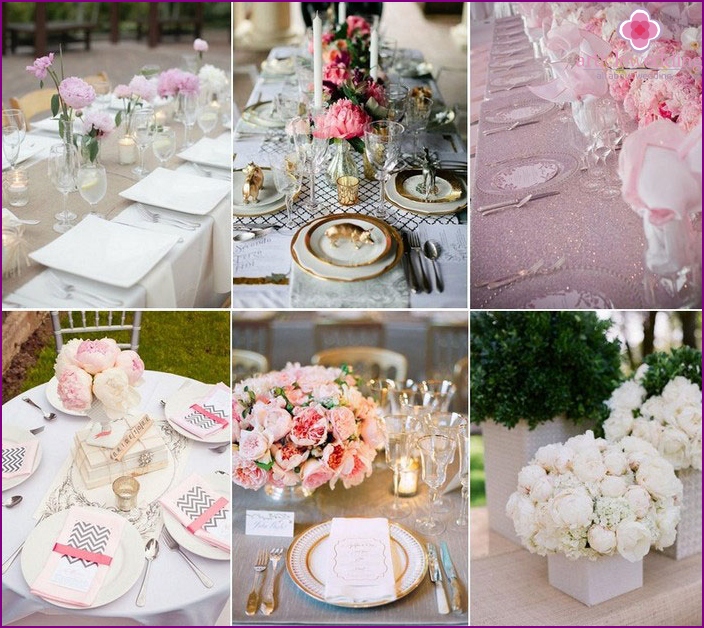 What will not tolerate propionic wedding:
Balloons and feathers. Neither one nor the other is not combined with a floral design and will cause a feeling of congestion.
Flashy colors - leave them for decorationcreative weddings. By contrast, allowed to use one close to the basic design of a shade that is used on a minimum (for napkins, ribbons, utensils, separate accessories). For example, for a wedding in a light pink - a burgundy, dark pink or chocolate. If selected for the decoration of the wedding peonies bright saturated colors (purple, burgundy, yellow), whereas the brightest spot in the decoration should be the flowers themselves.
A large number of other flowers and plants. The temptation to use together with peony roses or tulips is great, but there should be a little bit different style lost purpose - it will not propionic wedding, just flowers. Exception - green for complex cascade or suspension formulations, production of which is better to entrust the florist.
Shiny satin fabric type. Use of such a material with a large number of flower arrangements should be at a minimum - for example, in strips or napkins. But shiny tablecloth or chair covers will draw attention to themselves by making an artsy decor. The exceptions are printed fabrics (eg alpacas).
Wedding accessories with pion
To propionic wedding was the moststylistically, do not forget about decorating with these colors such important things as a wedding car, pillow rings, goblets and champagne for honeymooners, for the money chest. These accessories do not require the same amount of manpower and resources, as the decoration of the banquet hall, so it is possible to arrange them yourself or have friends and relatives. Flowers suit live or artificial.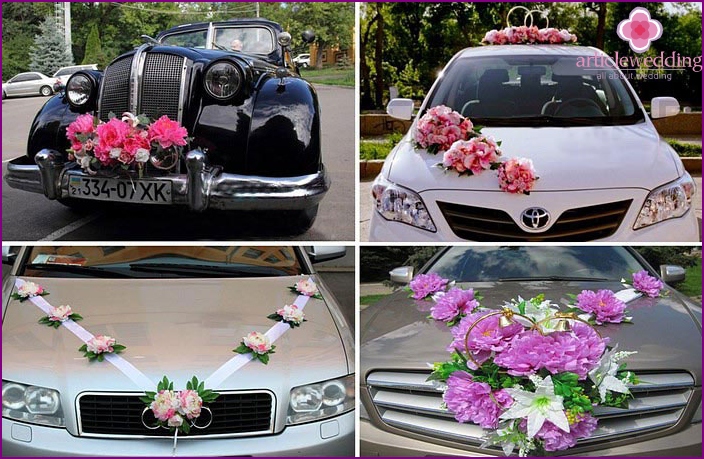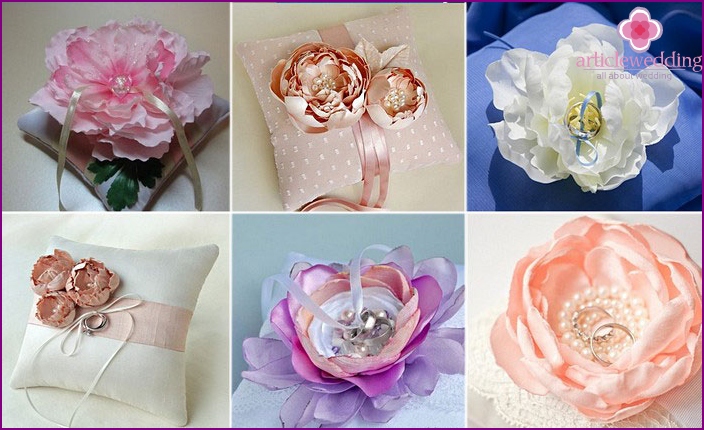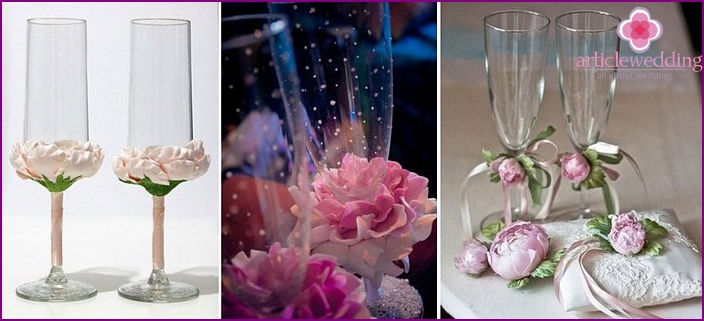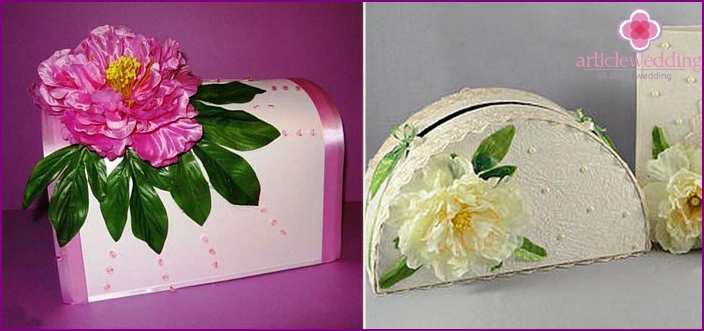 The bride's bouquet
Bouquet of peonies looks gently and sensually,regardless of the color. To the white dress will suit any bouquet of colors. It is necessary to select a color along the buds so that the color of the fabric and the bouquet is not discordant. Do not forget about makeup - to the fragile pions choose delicate make-up and make-up artist will help to determine the color scheme. The bride is also necessary to think, does not cause if she has a strong scent of these flowers irritation, because wedding lasts one hour.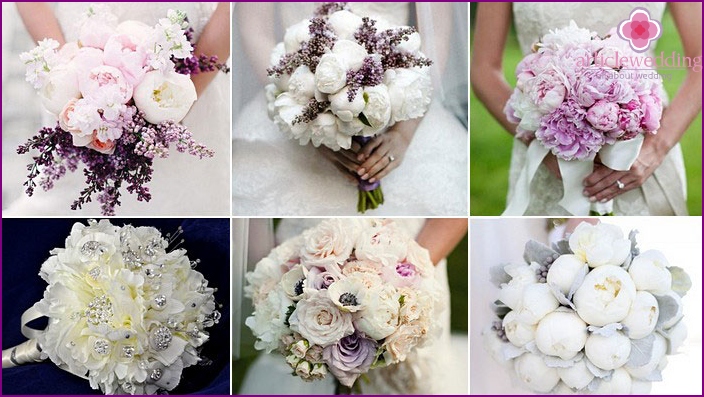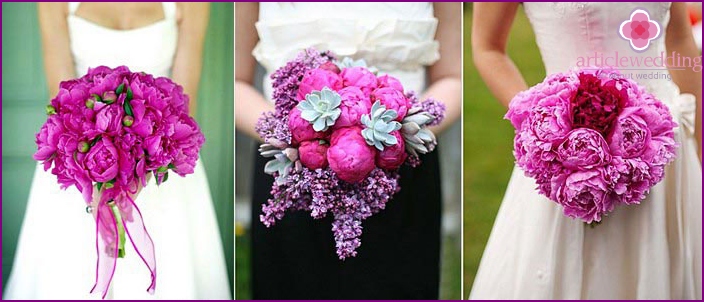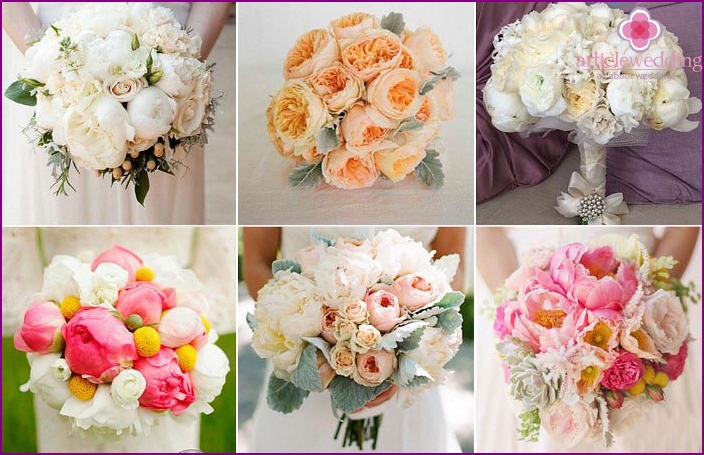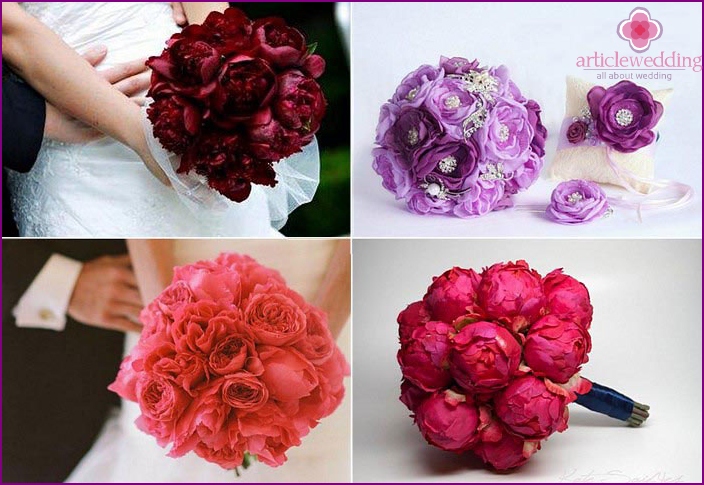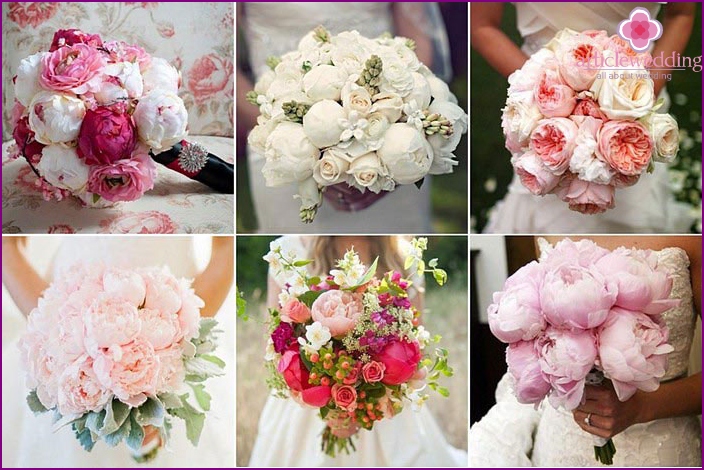 If you intend only the composition of the pions,a bunch of easy to make the bride and her friends. Lower leaves must be cut, and half-open buds use. If you want a complex composition with different colors, it is better to use the services of florist. Fresh buds well persist for many hours. It has long cut flowers quickly wither and fall off, so you must use a stabilizing solution (this will also help the florist).
Invitations and cards for guests
Production of invitations, it is desirable to entrust theprinting or master scrapbooking. Cards for seating guests, usually done in the same style with the invitations, but not necessarily in the form of traditional cardboard cards. Their role is played well, for example, live buds pions on plates or cups with the names.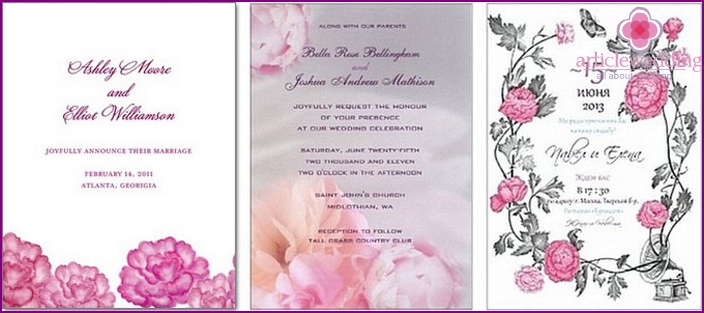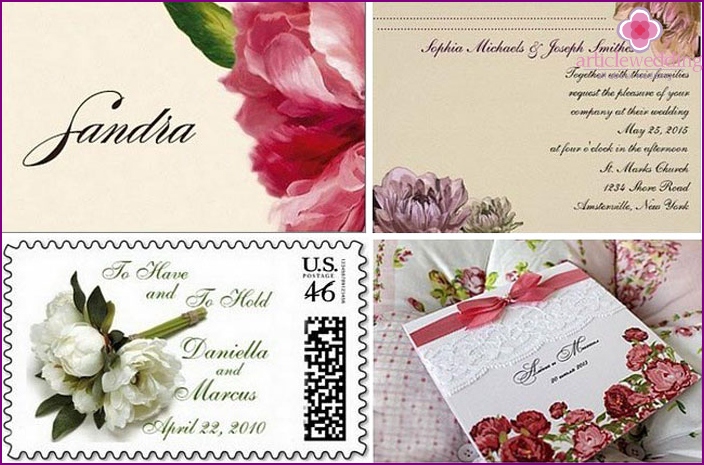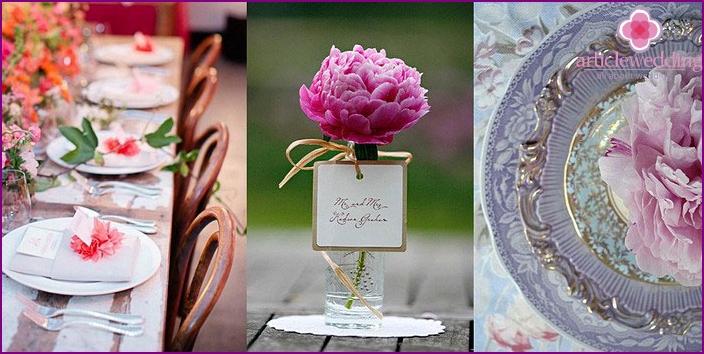 A wedding cake
Cake - it's not just a tradition and food, but alsopart of the overall wedding design, necessarily echoing with festive decoration. Order cake with peonies is not difficult - modern confectioners make to order any size flowers and shade. For this, generally used sugar paste, at least - printing, chocolate or cream.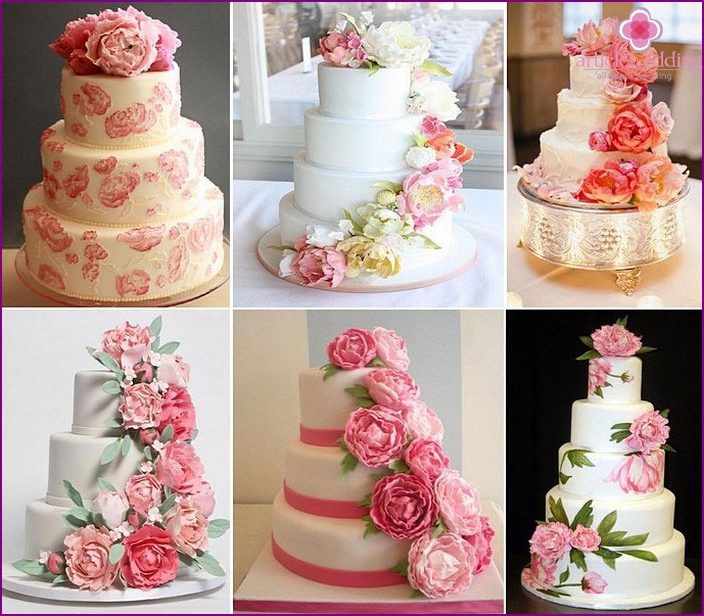 Ostromodnye trend - use designcakes fresh flowers. At first glance, this is the perfect design, which handle any. However, there are some nuances. For the cake you need to choose fresh buds, grown without the use of pesticides (eg, summer). Decorate with fresh flowers delicacy not earlier than 2 hours prior to the filing of cake on the table.
To plug the flowers in the sponge, usestem or bulb special containers with water, which will exclude contact with the product and the plant will extend its life (or wrap the stem with cling film). Peony good combined with other colors, especially in the cascade. But it must be remembered that not all live plants suitable for food decoration. Do not use lilies, hydrangeas, tulips, hyacinths, white lily, calla lilies, pink carnation, jasmine - these plants are toxic.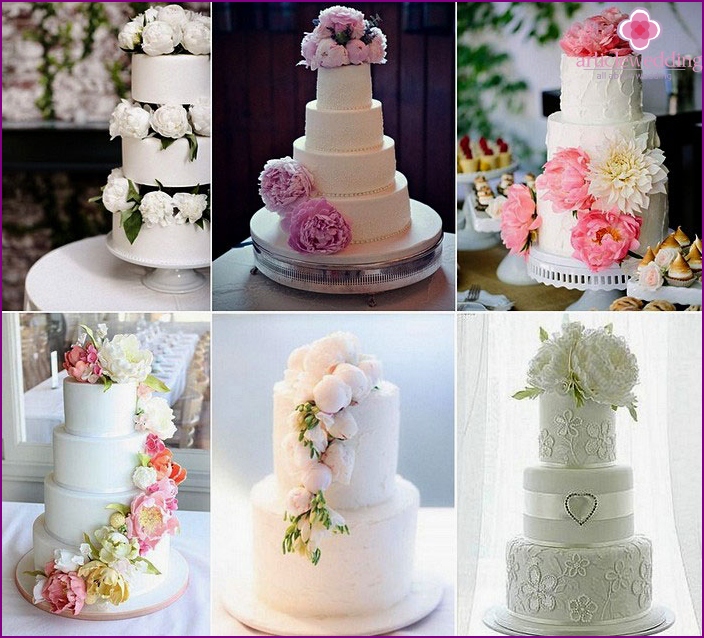 To decorate with fresh flowers is perfectwhite cake. On the surface pastel shades look great pink, purple or yellow peonies. For fashionable metallic coatings (gold, silver), choose bright or dark flowers (burgundy, purple, red). For trendy cakes Naked Cake with "naked" Korzh fit any color peonies.
In addition to design entire bud wedding dessertfashionable to decorate with fresh petals. Pion is particularly suitable for such a decor, as he large pitch suitable shape. The main thing that the cake itself was monotonous, not overloaded with details. Then fresh flowers on serving, will not stain lurid and bright accent that complements the overall atmosphere and highlights the stylish weddings.