Warm smell of trees, fresh greenery, softtone woods that surround the Suite - is it possible to come up with better decor provided by nature? The natural holiday in the forest-style restraint involves in detail, the muted palette of soft, natural materials. Ideally, forest wedding will be inscribed in the forest landscape, but when he is not at hand, it is easy to recreate the right atmosphere in any place. This publication contains the best design ideas of the forest celebration - be inspired to your health!
Where to organize a wedding in the style of a fairy tale forest?
Muted color palette with brown orgreen tones or, conversely, as a deep dark berries, natural materials, a lot of leather, wood, herbs, fruits and flowers - all this will help to recreate the atmosphere of a magical forest, if you find a suitable site. Dispatched deaf thickets in search of places of celebration is not necessary. Choose to celebrate a spacious meadow at the hostel or in a country park. Remember that the closer to civilization, the easier it will host the organization.
Forest wedding is held directly on thenature or in a nearby restaurant with views of the forest. Particular attention should be paid to table decoration - a variety of colors and wood elements will enhance the enchanting atmosphere of the forest. Floral design should be based on pot plants, using cut. If you found a nice clearing, it can seat guests on it, and a wooden screen to dissociate itself from the bustle of civilization.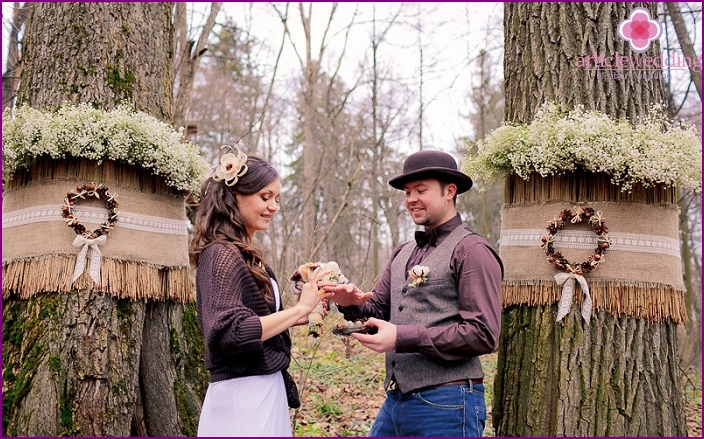 If you have decided to arrange a celebration in the forestthe territory of a country restaurant, then take care of the presence of natural materials for decoration, plant compositions. To further deepen the theme of the wedding, use of the composition with small birds, mushrooms, butterflies, elves and other magical forest dwellers. Unusual, surprising, very warm and welcoming you arrange a wedding in the middle of the forest country cottages or rented houses from the wooden frame.
Visiting the marriage ceremony, held inforest, forever remembered for the newlyweds and guests. To arrange a wedding the newlyweds have to take care of the delivery of wedding arch-type accessories, carpet, table, recorder, etc. To extend the celebration of forestry for a few days, it is better to rent houses in the camp. Relax in a picturesque place, open-air banquet - perfect for a themed wedding.
Images of young and visitors to the forest-style wedding
Forest style ceremony involves the creationdelicate images that are close to nature. This careless tresses, soft waves, floral wreaths, flowing styles of dresses, bouquets forest, delicate makeup, relaxation and no official, businesslike rigor. Guests should be forewarned about the topics of the upcoming wedding, so they can think about their outfits. Bridesmaids can dress up in the same airy dresses that will look very well on the photo.
Wedding dress for bride and groom
Image Suite Forest weddingcelebrations in many ways echoes the rustic style. In appearance, it is desirable to introduce a few details relating to the nature, such as an armful of flowers interspersed with forest, fern branch or boutonnieres for hairstyles, jewelry made of bone or wood. For the bride a wedding dress fit a simple Empire style or straight cut. It is necessary to avoid the pretentious, sophisticated decor, shocking, because in the forest theme will look more organic thin fabric flying, simple lace.
Hairstyle bride at a wedding should belight, simple in execution - a wreath decorated with flowing hair, all kinds of disheveled tresses carelessly curled hair, loose bunches. Makeup follow in golden brown tones. Eyes are allowed to emphasize the green. If your wedding style is dominated by forest berries color, make emphasis in the make-up of the same tones, for example, berry lips.
The groom is dressed in a classiclightweight style, and the informal. Permissible to dilute the image of hats, leather jackets, denim shirts, bright ties and other attributes that are relevant to the forest theme. Shod bridegroom at a wedding Forest style is like cowboy boots, Cossacks, lace boots, shoes, casual style.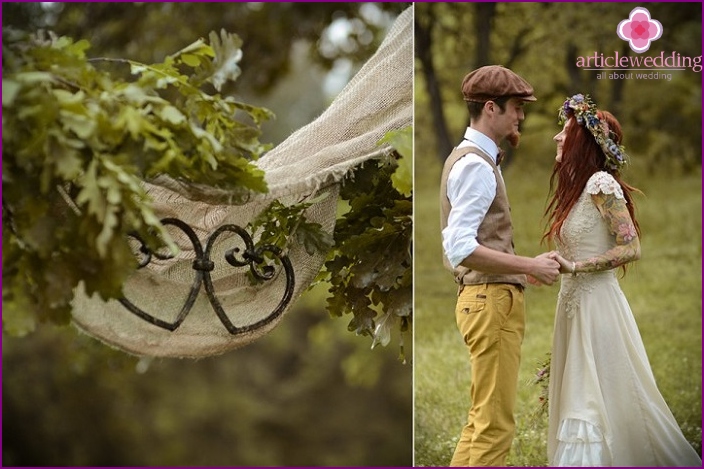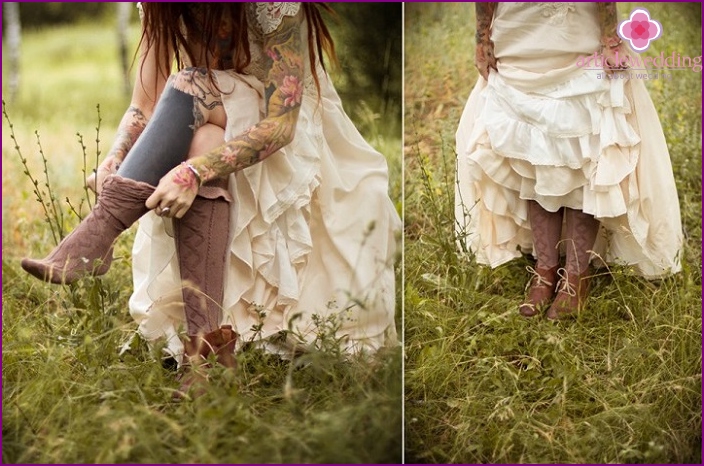 Dress code for the bridesmaids and guests
Invitees should support forestfocus celebration. Notify them in advance of the wedding format, indicate the approximate dress code. Suggest a visiting certain colors of dresses, paying special attention to the bridesmaids' dresses. Interestingly on the girls will look beautiful hairstyle with flowers, wreaths, so the girlfriend will look like wood nymphs. This will give you the opportunity to stunning photography. Children at the wedding forest style dress up with pleasure as forest elves, fairies and other fantastic creatures.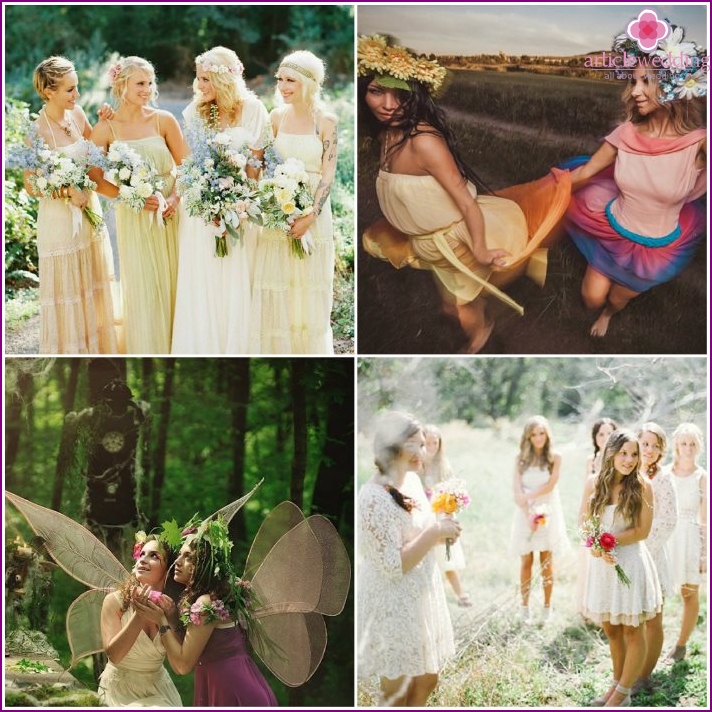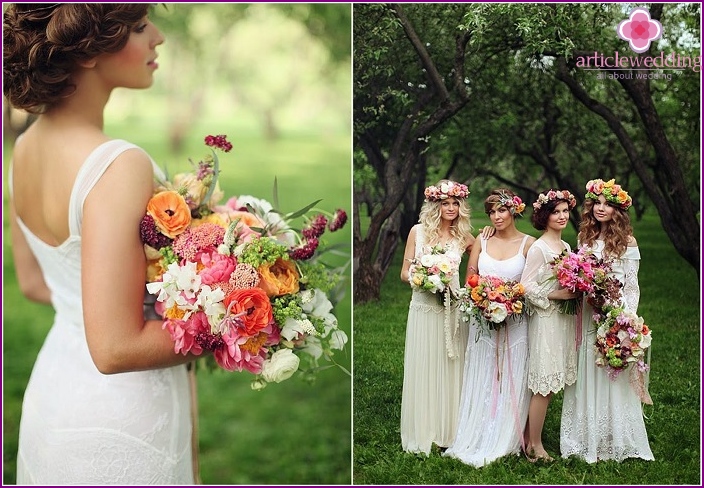 Design ideas in the forest-style wedding
When making a wedding Forest style is necessarythe maximum use of natural materials. Common items here will look a whole new way. Wood saw cut easily turn into a menu, room tables, nursery card, stands for desserts and cakes, candle holders and other items. Moss serves as a background for the scheme seating guests, decoration material seats and chairs, the track for the table. Feathers, fern, pine cones, feathers, berries - all play a role, provides a framework for forest-style wedding.
Complimentary for guests
The images of plants, animals, natural materials,warm green and brown tones should predominate in the wedding printing forest style. Invitations may be in the form of simple postcards with wood texture and drawings, executed as if by hand. You can choose something a little more complicated, for example, appropriately decorated with a decorative box, inside of which is a nest with a scroll.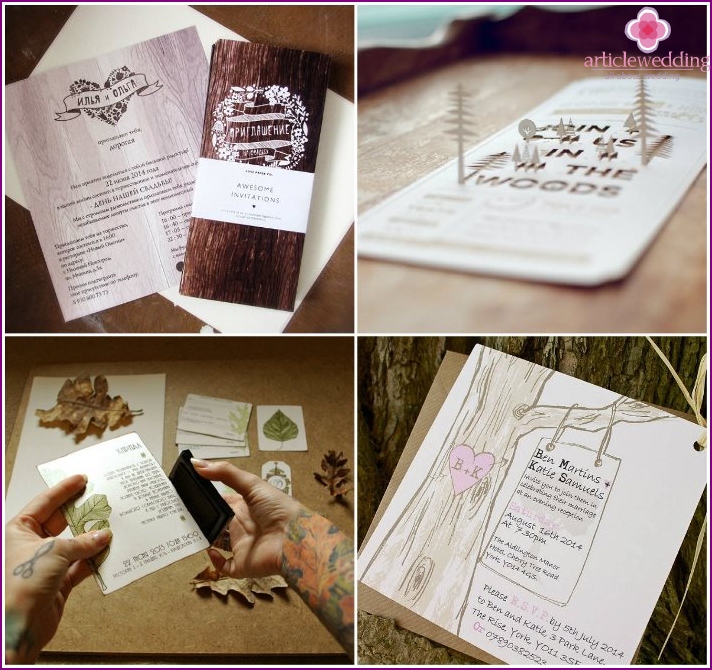 Venue of the wedding ceremony
Wedding dinner timber threads could run insideTent, where you need to think through entertainment area for guests. For example, in one Arrange competitions in archery, the other - burning wishes of the newlyweds on a specially prepared for this wood Spili, third - drawing owls on slate tablets in the form of silhouettes of birds. Organize fotobudku Interestingly, the pictures of which will be a souvenir for guests.
The space, which will host the wedding foresttheme, decorate with unusual lamps made of twigs, moss voluminous letters, colored paper pompoms. Excellent idea - the decor fit into the surrounding nature have, for example, hang a chandelier with candles on the tree.
The color palette of the forest-style wedding can bemuted or very colorful, berries of all hues, such as blueberry and violet, orange cloudberry, cranberry red, cranberry, burgundy and shades of blue of the sea. Zone easy to arrange the wedding ceremony ribbons main wedding color, hang them on the branches of trees. back of the chair as making multi-colored ribbons.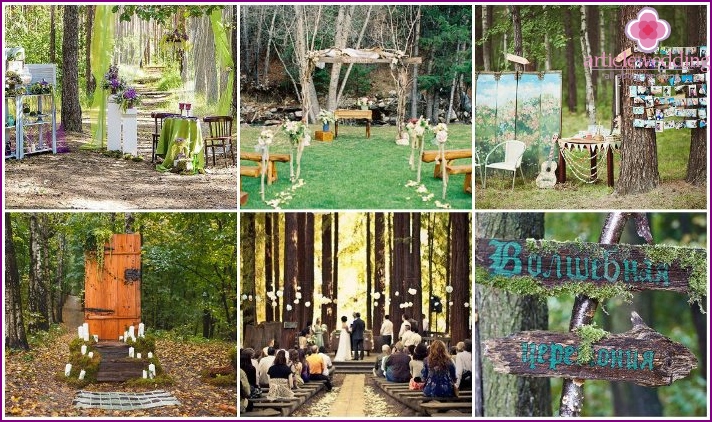 Decoration of the holiday table
For the wedding style is ideal for forestryunvarnished wooden table, where the material does not look too well-groomed, home. Must create the impression that the trees are cut down for him recently and hastily put together logs nails. Dear crystal ware is irrelevant, choose ceramic painted plates, wooden saucers. To decorate the table stand under a nursery cards can serve cones.
The backs of chairs decorate with garlands,multi-colored ribbons. Table bridal wedding style decorate the forest tracks that support the theme - wooden planters. If the triumph of bright berry colors, express their bright orange chrysanthemums, purple hydrangeas, purple and burgundy roses, juicy shades floral berries, sprigs of pistachios. Cones, logs, moss, greens - all the wealth of forests suitable for table decorations.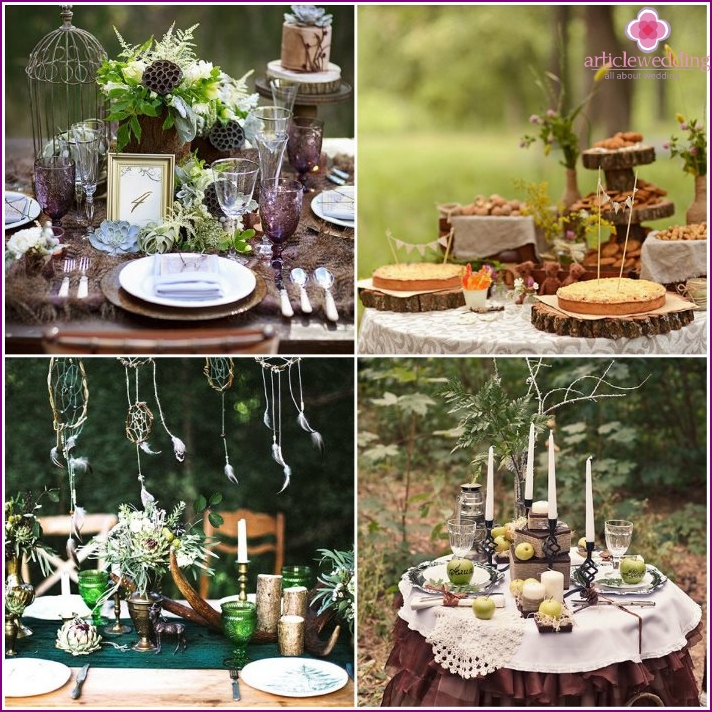 The bride's bouquet
Wedding bridal bouquet may includeferns, wildflowers, berries, branches, twigs. The larger, bulkier composition is, the better. Bouquet should embody all the natural resources, seem as if he had just torn down in a forest glade. Decorating the wedding song of the forest there is no sense of style, limit dense ribbon lace, leather lace.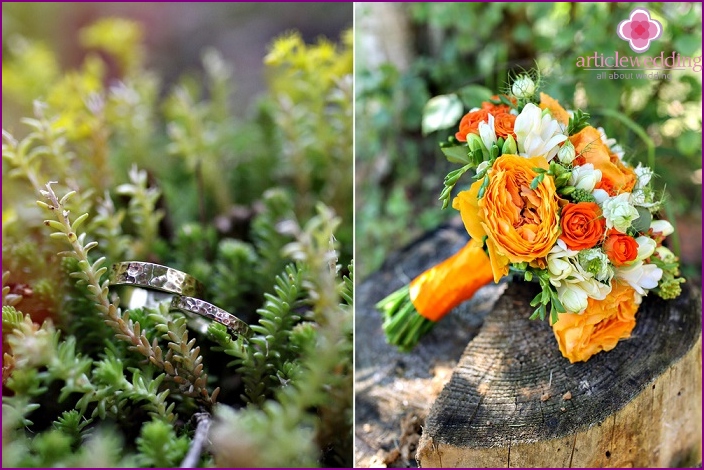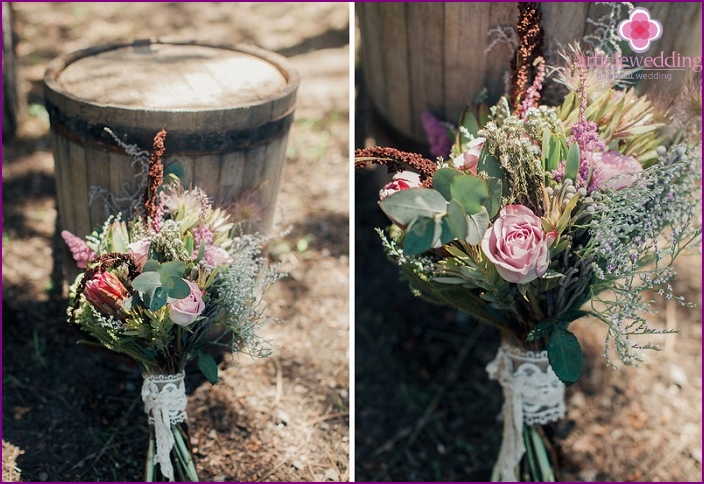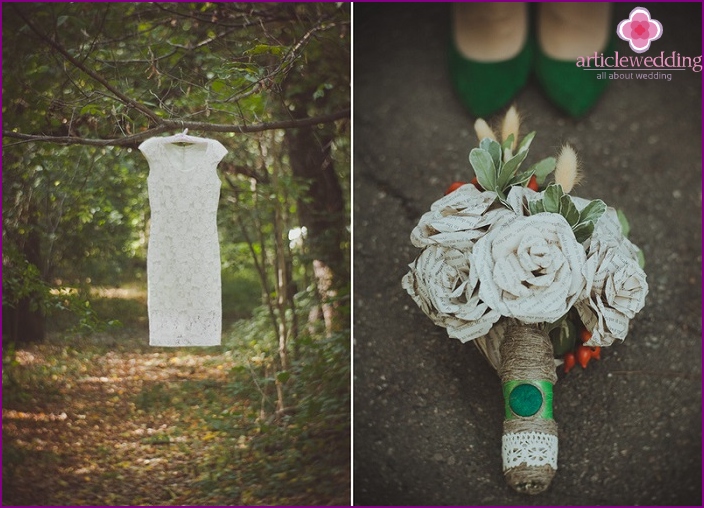 A wedding cake
A fitting end wedding Woodland styleCake will be in a rustic style of rough sponge cakes with fresh fruit, berries. In addition, the main delicacy can be a real work of confectionary art with painted glaze, cream-colored flowers and leaves, images of animals and birds. Stand for cake and other sweets can be cut of a tree.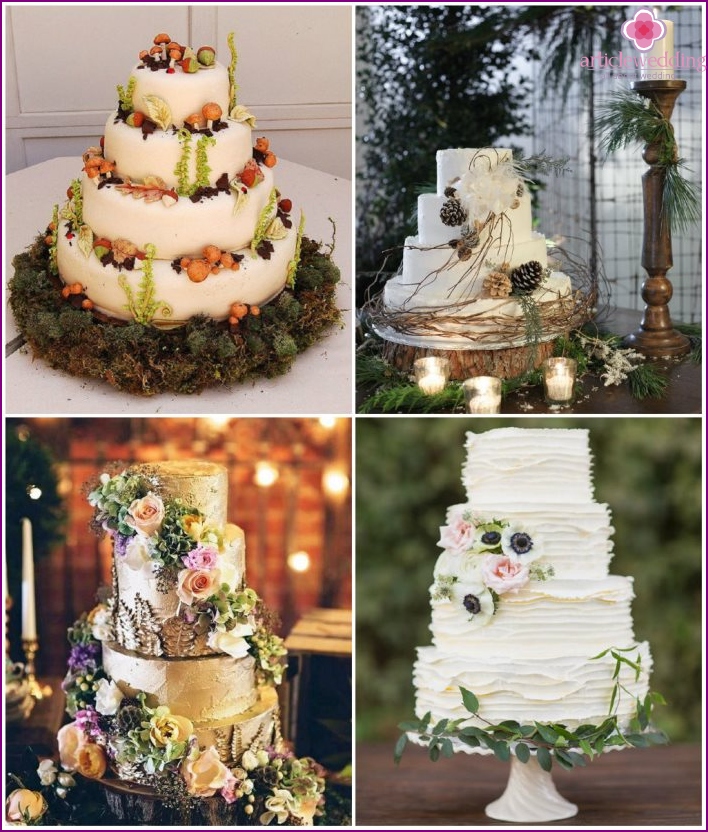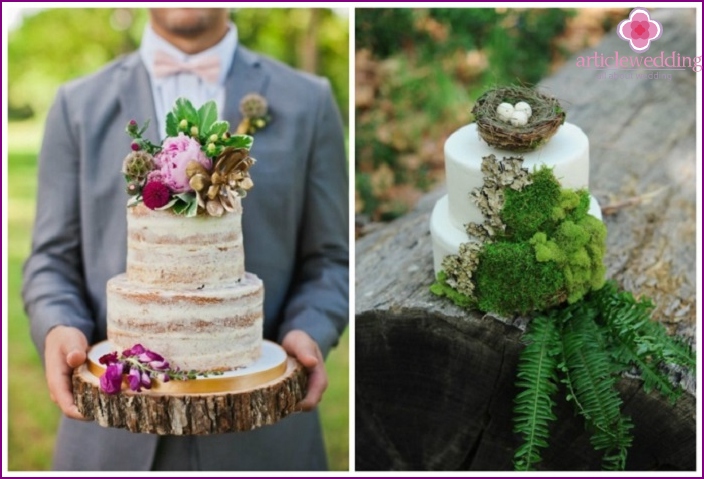 Accessories for forest wedding
An interesting accessory at a wedding Forest stylecan become animal horns. Use them to decorate the space, combining with fruits and flowers. For guests prepare a small candy boxes. Considering the style of wood, elaborate gift, for example, honey, homemade jam with a commemorative plaque with your names and wedding date. Superb wedding accessories will serve as wood, moss, burlap, vines, rocks, climbing plants, lamps.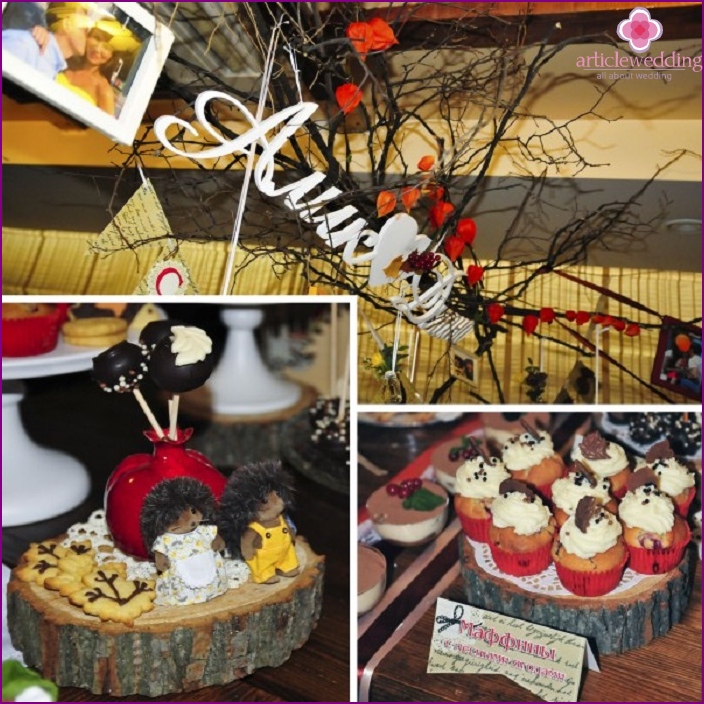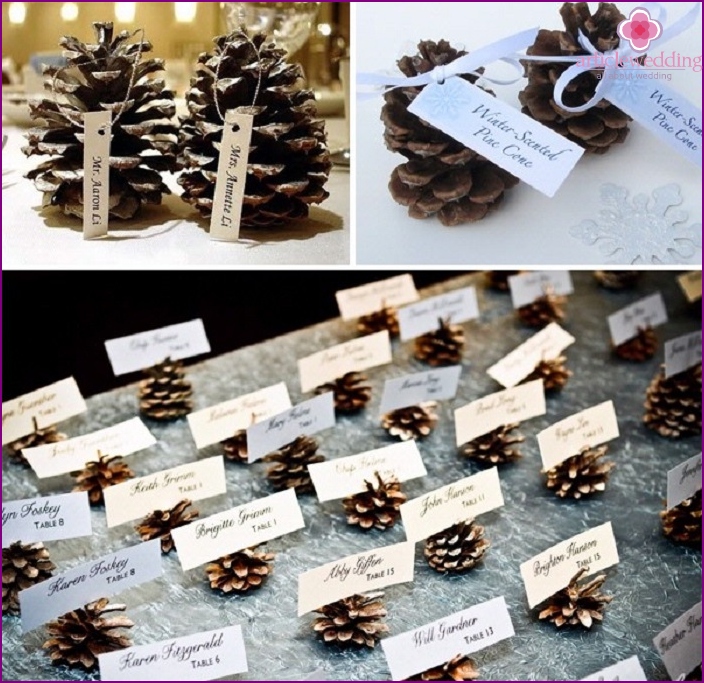 Theme wedding photo shoot
Forest will give you a stunning background for weddingphoto shoots, special feeling of romance, privacy. These pictures will be soft, sensual. The tranquility of nature will help you to relax, free to pose for a photograph at a wedding. Walk through the forest, find a beautiful clearing, trees, fields of flowers. To make a photo shoot in the mystery of the forest theme, you can use special effects and bring a pair of owls and a smoke machine.