Wedding - a bright event in the life of every girl. Preparations for this festival is always going well, it takes a lot of effort, time, but the result exceeds all expectations. Every bride strives to create a most memorable holiday, beautiful, not like at all. Recently newlyweds began to enjoy huge demand themed wedding, the design of which used an interesting combination of different colors. For supporters of the extraordinary highlights of the topic would be highly relevant in preparation for the wedding celebration.
Common colors for the decoration of the wedding
Traditional wedding involves somegrand style in which the holiday is made for several generations in a row. It is a noble white, symbolizing purity relations, chastity and faithfulness of the bride men. Another common color at a wedding party - a delicate pink, which is present in the newlyweds dresses in a holiday decoration. Another relatively popular wedding decoration shade - it is blue, it is associated with a maritime theme.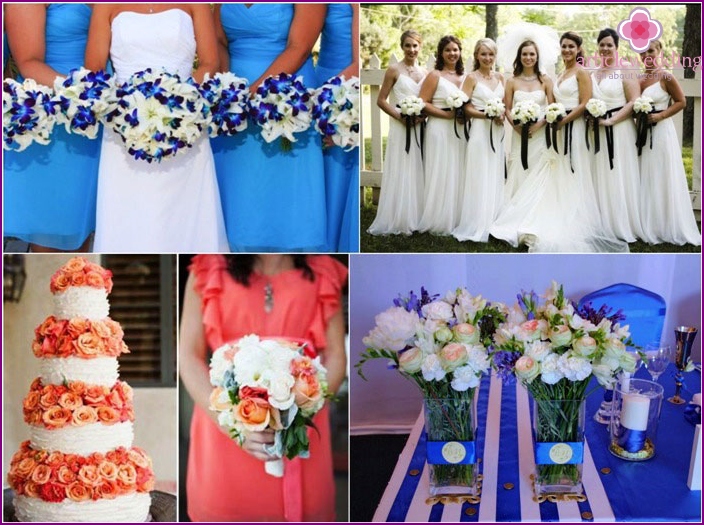 Chart color combinations for your wedding
If you are tired of the wedding decoration incommon color scheme, come up with something unusual, choosing your favorite color in an interesting combination with other colors. It is important not to overdo it with the experiments and make the correct palette, choosing the perfect combination of favorite colors, and for this there is a special chart color combinations. It helps to visually create an overall picture understanding of how different colors are combined with each other.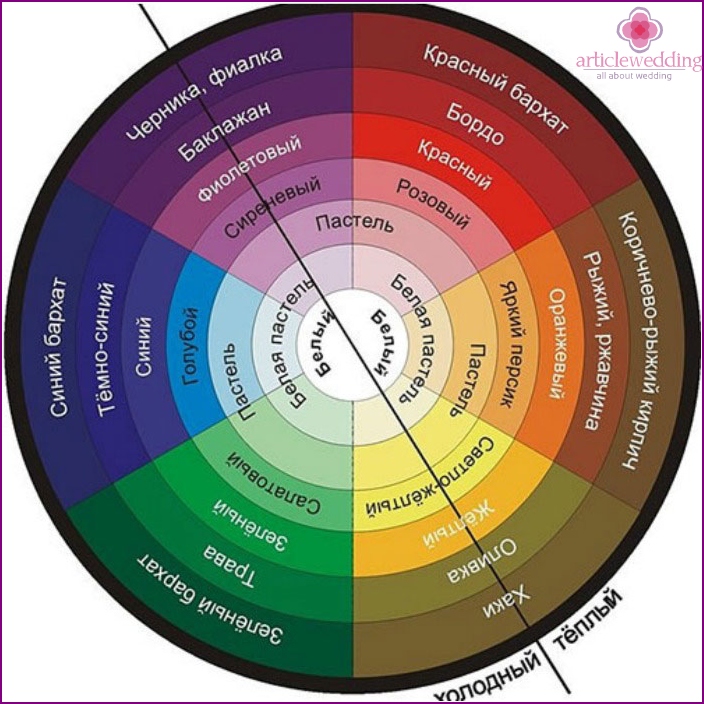 The diagram shows that the color palette is divided intowarm and cool shades. They combine opposite each other, so each shade has its own tone color wheel in the opposite zone. Look at the picture and determine for themselves what colors and their variations would you choose for your own wedding. Here are some tips to help you decide on the color scheme for celebration:
White. This color acts as a classical variant for the wedding. Use it as a background to frame the selected colors. It is the ideal choice, because the color blends perfectly with all shades to complement their fine.
Red. Very bright color, which is a symbol of life and passion. It goes well with green, gold, orange. Blue does not fundamentally suited to this shade.
Pink. An excellent choice for a wedding in the summer or spring seasons. It causes tender feelings, fills the atmosphere around him romance and good combined with brown, chocolate, burgundy, silver or gray. By Pinks do not fit these rich warm colors like orange or red.
Purple. This color can be used successfully in any season. Combine it with the color of lavender, pink, purple or light blue. Do not add red or green to purple shades.
Golden. It symbolizes wealth and success, and looks great with a green or red. It is best not to choose this color combination in orange or yellow colors.
Green. This calming color harmony, which would be appropriate to look at any festival. It symbolizes the Mother Nature. It goes well with the purple, pale blue and gold. Avoid the combination of green and blue shades.
Orange. This color is a symbol of happiness, smiles, joy, it emits a positive atmosphere around themselves. Orange tint perfectly to ally with the color of aquamarine, pink, brown or yellow.
Silver. With this color your celebration acquire special brightness shine. Combine it with a touch of blue, pink. Silver looks bad in combination with orange.
Blue. It is the color of lightness, freshness, it is remarkably fit into the theme of the sea. Use the blue tones in the design own wedding, together with muted shades of green, deep red, lemon or chocolate.
The black. This shade is great for creating a contrasting effect. Thanks to some parts or accessories in black, you will create a stylish version of the theme wedding. Such tone perfectly with the warm and rich shades.
Beige. This is a very restrained color that looks nice in combination with gold, green or ivory.
Combining those or other shades on weddingcelebration, it is important to adhere to certain rules. If you arrange your own wedding, you may not know some of the subtleties and apply incompatible with each other color.
Top - 5 successful combinations of colors in the design
The choice of colors, you can be absolutelyfree, completely surrendering to his flight of fantasy, taste. Cognition comes through comparison, so feel free to experiment, add, use the non-standard approach. Well, if you are not particularly good at self-combined color palette, be sure to check that the stylists recommend professionals. They are convinced that, under the proposed color combinations TOP-5, your wedding can turn into a real masterpiece. For more information about each combination, read on.
Green and Yellow
If the middle of winter you suddenly wanted to summerbeautiful riot of bright colors, choose a basic color scheme wedding in green and yellow shades. Use the bride's bouquet of flowers of a combination of colors, the groom boutonniere attach the same, even if the witness put on the green-yellow dress and decorate the room with balloons, florist and fabrics in similar color tones. It will truly colorful celebration, filled with warmth, happiness, joy and unexpected summer mood.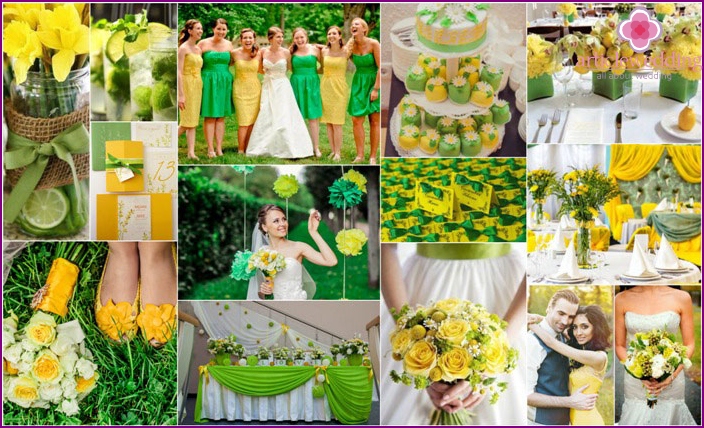 Coral and Tiffany
Let's say you - a fanatical fan of the Tiffany style, wherenoble blue tones that blend with the air lace, ribbons, rhinestones. However, this subject has already podnadoest its popularity in various weddings. Therefore, in order not to be corny, think of something bright and unusual, adding to this style of coral color. You will be surprised how nice it can look a combination.
Use coral and literally to Tiffanyeach attribute wedding: blue cake with a huge bow coral, coral and blue flowers at the wedding the bride's dressing, etc. Just imagine how great it will look and décor of the hall banquet table in blue tones with small pieces of coral color. This shade will add even greater tenderness, elegance your wedding with Tiffany style.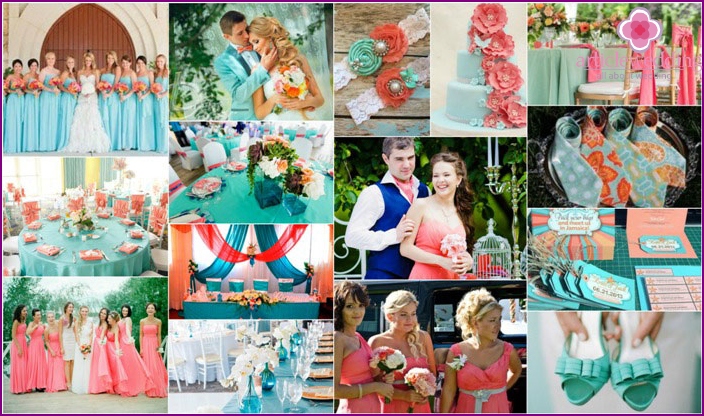 Brown and blue
Brown-Blue range for the wedding ceremony -this is a very stylish idea, which will exceed all your expectations and views. These two colors can create a unique image of elegance, sophistication. These colors are so harmoniously fit into the wedding entourage, you will immediately feel yourself cozy and comfortable. Let the bridegroom uses some accessories, and parts of his image in this color (for example, a butterfly, a tie or cuff links), or wear a full dress brown - along with the bride in a blue dress, they will look just perfect.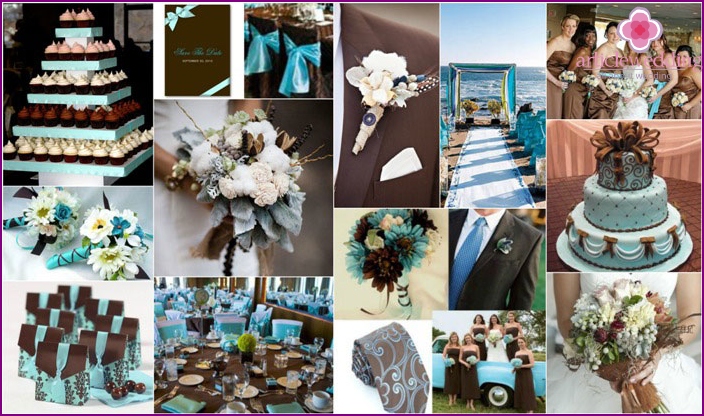 Red and purple
If you select a color palette for the generaltheir wedding concept - you're obviously not ordinary person who likes bold actions and decisions. Red and purple combination will give you a special atmosphere during the autumn weather. The combination of these colors will look exceptional way in the midst of a snow-white winter. This is a good option for a hot summer, colorful. It all depends on your aggressiveness, determination, because you have to wear a dress of non-traditional color (eg, purple). This color scheme fits perfectly in the retro wedding.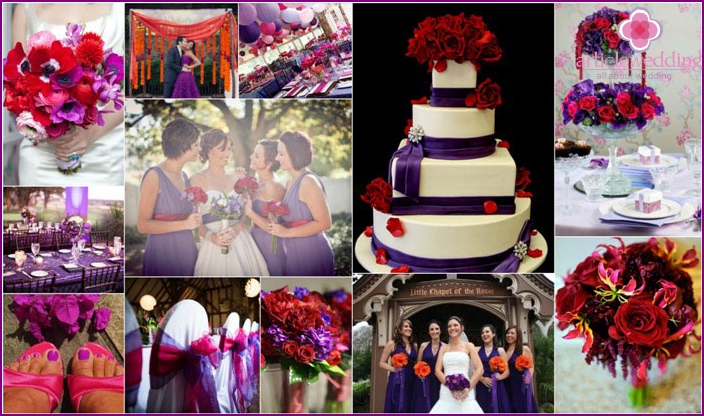 Pink and yellow
For romantic people and personalities subtle psychicorganization fit pink and yellow palette to design her wedding. It is such a gentle holiday option that features a summer mood, romance, ease, informality. Just imagine how it will look bright, if you wear a wedding dress pale pink, dilute it with a beautiful yellow bow at the waist. The groom will only look, if put on a yellow suit with a bright pink tie. Another bright idea for the realization of a retro wedding.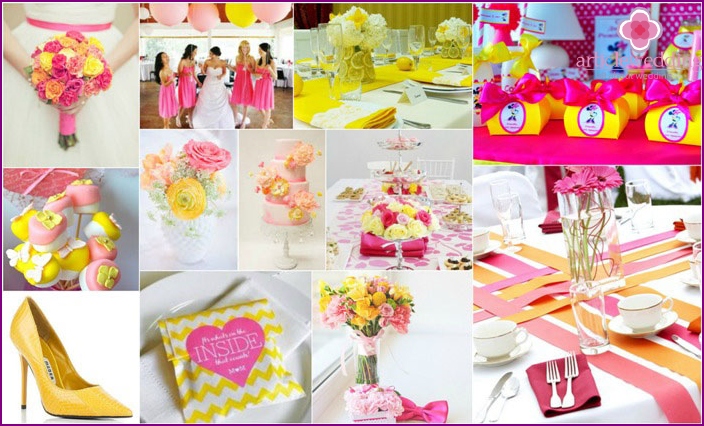 Trendy color combinations for a wedding in 2016 - photo
2016 offers a very beautiful shades ofcolor palette with pastel colors. They will be appropriate to combine with more vivid, saturated colors, as well as be used to design a wedding in the style of Ombre. This is another way to realize the incredible idea of ​​combining pastel shades with opposite. To see firsthand how it will look like in practice, look at the photo below, which presents fashion color combinations on the wedding ceremony of this year.