Wedding celebration - the most important day fornewlyweds. Every loving couple intending spouses want to make the holiday was perfect and long remembered by visitors. Ice sculptures at the wedding - original decoration, which will make your celebration a truly unique and elegant. With a wide selection of ice figures, it is possible to choose the option that is not only stylistically fit into the format of the event, but will also carry a specific functionality. What sculpture choose for your wedding?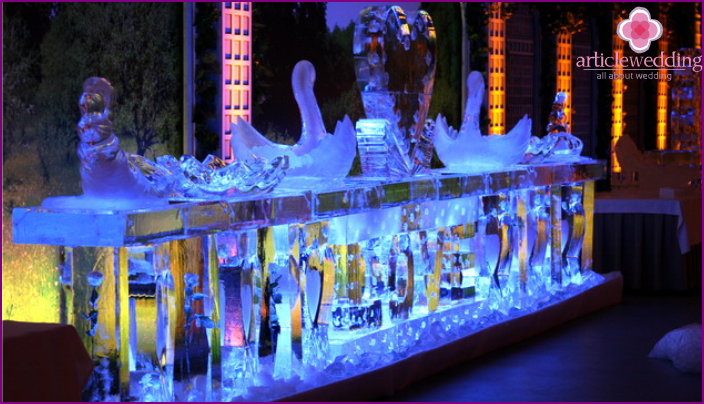 Making wedding ice sculptures
Making ice wedding figures - complex,but doable task. A wide range of products, which offer companies and private master ice art makes confused when choosing the right option. Book proven over the years the standard wedding pieces of different sizes, or arrange for the manufacture of a sculpture on an individual sketch. Decorating wedding possible with the use of:
small jewelry up to 50 cm clearance for banquet or buffet table;
Sculpture above 50 cm in height to create original compositions or zonal separation facilities;
large structures that carry the functional load, for example, completely ice bar with a stand for placing refreshments and drinks, as in the photo below.
Shapes can be made of a transparent orfrosted with ice application of the different letters and inscriptions: the names or initials of the newlyweds, warm wishes, declarations of love. Popular compositions with frozen fresh flowers such as roses, lilies, tulips or bright fruit (oranges, pineapple, grapes). Looks spectacular ice sculptures, illuminated with LED technology.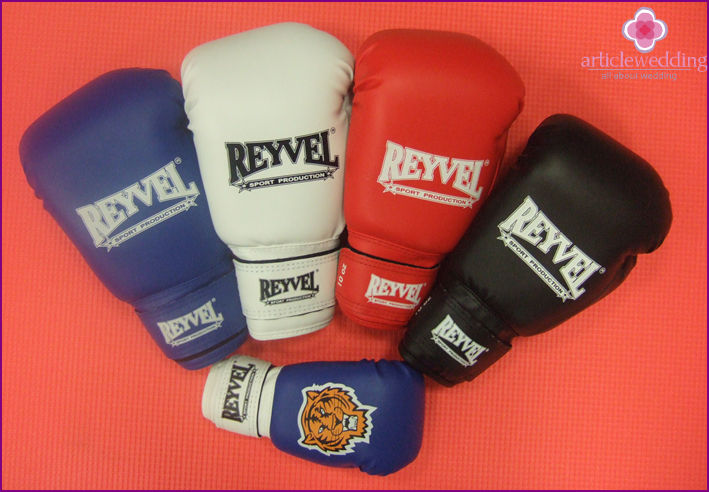 Thanks to modern methods of manufactureWedding ice ornaments to decorate the celebration, they are used not only for winter, but also for a summer wedding. To preserve the appearance of the sculptures using special freezers stand, which help to maintain the desired temperature minus. Small pieces of ice and 50 cm at room temperature not exceeding 22 degrees, will have pleasing clear contours for 3-4 hours. Large sculptures of more than 50 cm under the same conditions will retain the shape of 8 to 24 hours.
Ice arch
Ice arch - original room decorationfor the wedding party. Sculpture can be used for framing exit the marriage ceremony, to serve the beautiful decor entrance to the banquet hall, or be part of, to be zonal share a room. With the help of ice carved arches it is possible to organize a beautiful composition for the photo shoot newlyweds and wedding guests, which will long be remembered participants. Examples of the use of such decor, see photo.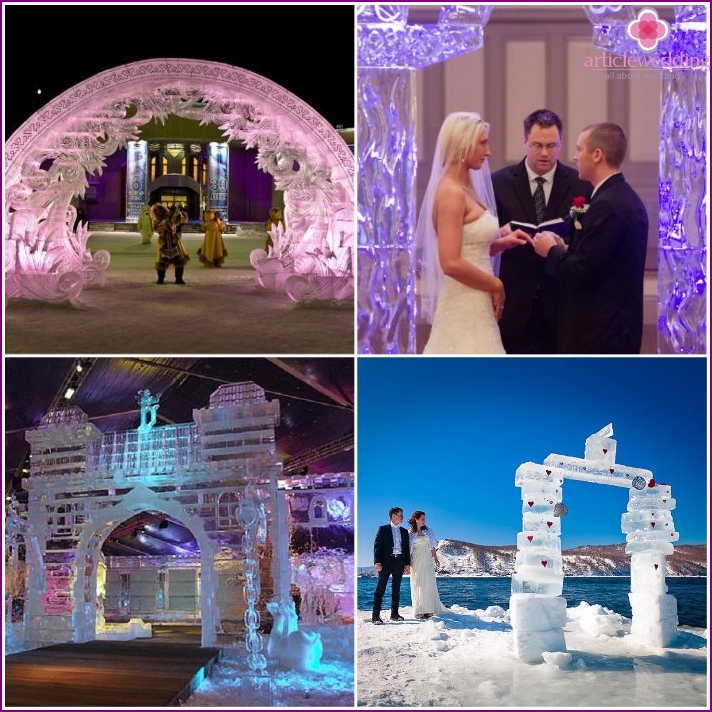 A pair of swans or hearts
Ice figure in the form of a pair of swans or hearts -beautiful decor, symbolizing love in a sturdy marital union. Small sculptures of up to 50 cm in height, complete with live or frozen flowers and fruits can be used as a central element of the composition, decorating the newlyweds table. Originally look pair made in the form of food for fruit, snacks at cocktail party and banquet tables. Examples of wedding couples of swans or hearts, see the photo below.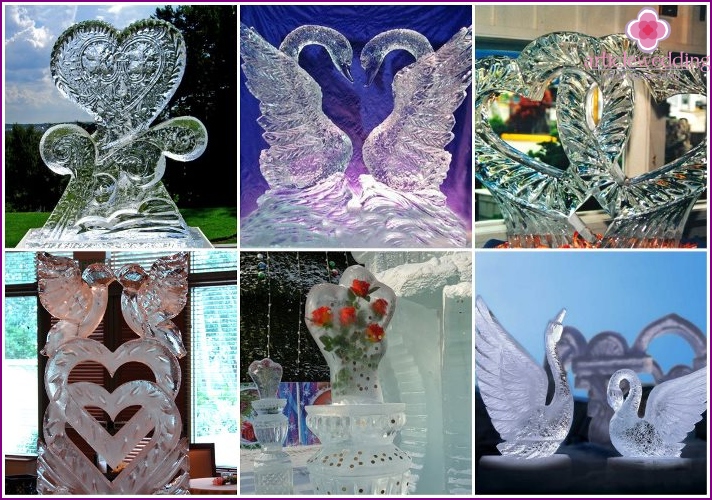 Huge vases
Interesting wedding decor - huge iceflower vases over a height of 50 cm. The figures are used as separate structures, and as a key element of great design. Look beautiful sculpture in the Coffee Break area, near the presidium table, or in the design of lighting the hearth place the bride and groom. Particularly spectacular vase with floral compositions height taller than a man, illuminated by LEDs, which are used for zonal division of the banquet hall. Examples see in the photo below.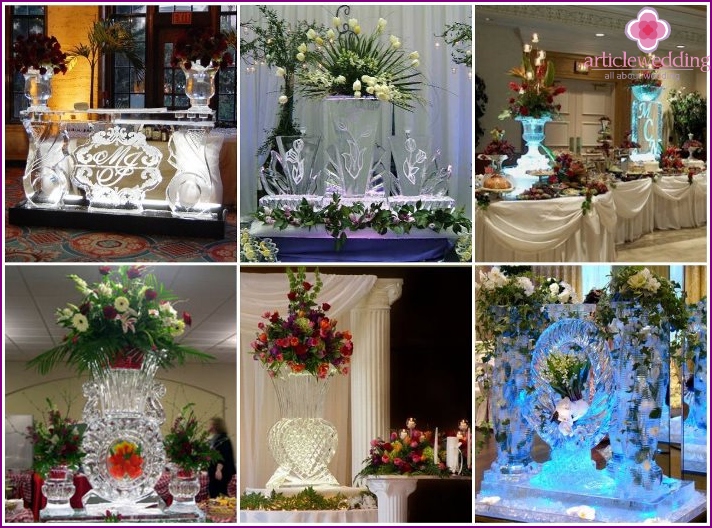 Twisted ring
Tangled wedding rings areice classic wedding figures. They can be made of a smooth transparent or opaque ice and decorated with original figural carvings: patterns, monograms, curlicues. If desired, you can order an ice sculpture at a wedding, just repeat your wedding rings. Use these decorations for themed banquet hall with flower arrangements. Examples of figures shown in the photo below.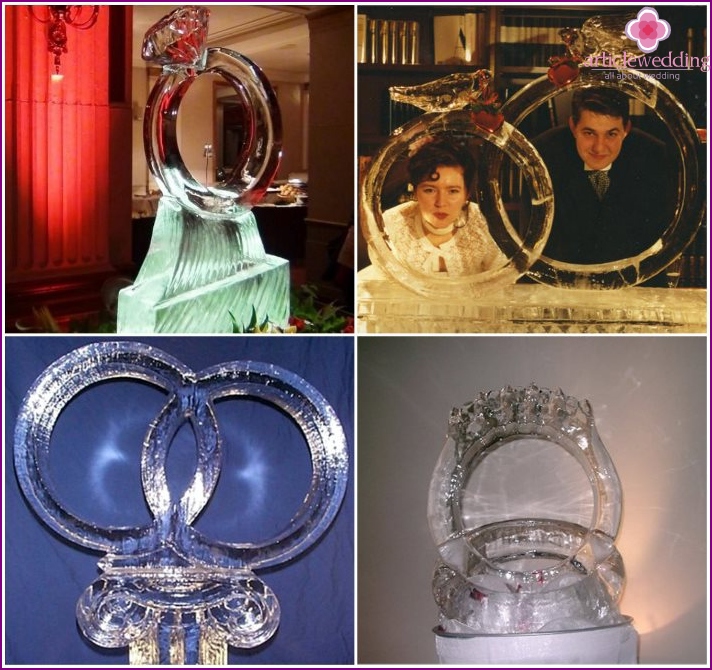 Ice bar and a buffet table
Ice bar and buffet table will be guaranteeda key element of the wedding decor of the room. These designs look impressive and imposing, the delight and admiration of visitors. Bar or buffet table can be fully equipped with utensils ice: glasses for wine or brandy, bottle holders, a large platter of appetizers, small rosettes or skeet for chilled desserts.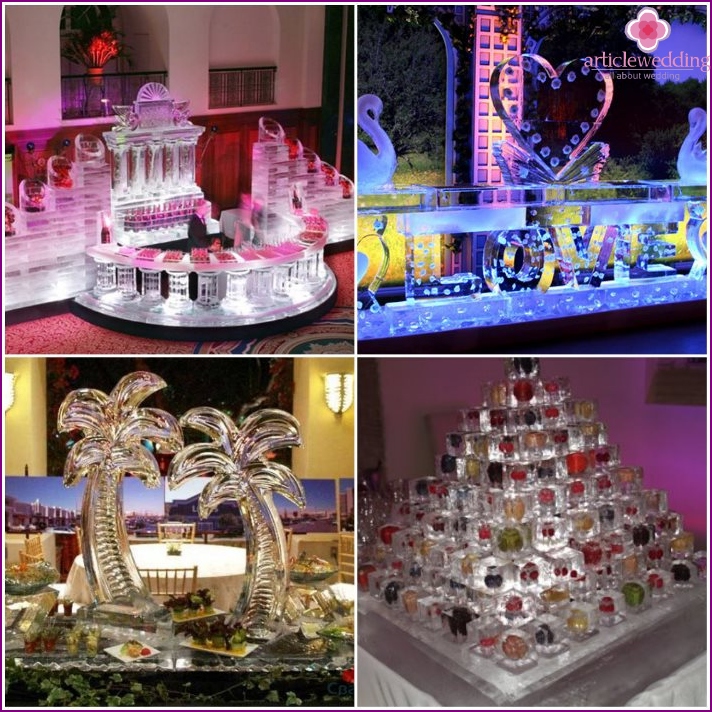 Of particular interest among the invited to a celebrationcausing spectacular barman show. To organize such an event, you will need to install the ice hill to cool drinks, for example made in the form of a huge glasses. Pre-mixed cocktail, bartender drink special passes trough carved in the figure. Passing through the ice hill, liquor cooled fine. Included in the program this evening event, you are guaranteed to get the delighted response of wedding guests.
Columns with flowers or garlands of light inside
Originally looked at the wedding banquet hall,decorated ice columns with floral compositions frozen into it. For manufacturing is used as parts of plants, such as petals or blossoms, as well as whole flowers or bouquets. Effectively looks columns with light garlands inside, which make it possible to use them as an additional source of light. Such structures can be free-standing or create group ensembles with other figures. Examples of wedding decoration of the hall with the help of columns, see the photo.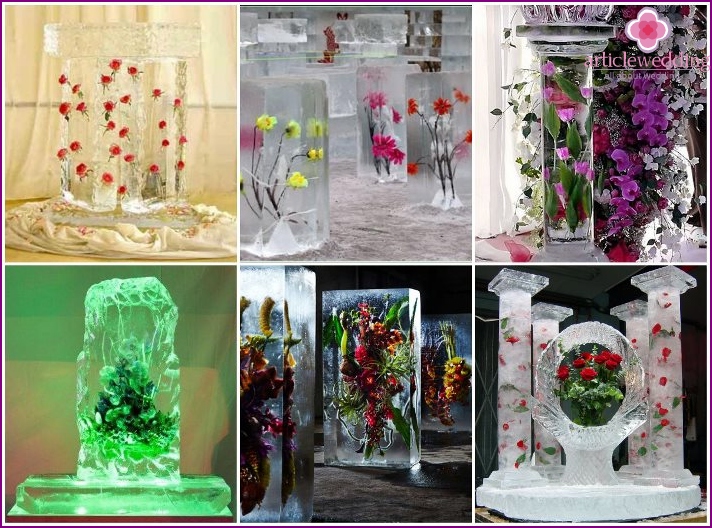 How much are wedding sculpture made of ice?
The cost of ice sculptures for decorationwedding depends on the amount of material used, and the detailed study of the artistic value of the work. The average price of standard shapes of ice in Moscow ranges:
ice decorations up to 50 cm - from 6 000 to 20 000 rubles .;
figure height of 50 cm to 1 m - from 20 000 to 50 000 rubles .;
buildings in height from 1 to 3 m - from 50 000 to 100 000 rubles .;
construction height of 3 to 5 m - from 100 000 to 300 000 rubles .;
monumental sculpture at the height of 10 m and more - from 300 000 rubles.
The cost of manufacturing custom piecessketch requires the prior consent of the master and is calculated according to the pricelist. Ordering ice sculptures for the wedding, be sure to check with the manager of the company are included in the price of the additional décor pieces, such as flowers or fruit, or spotlights to illuminate light garlands. Be sure to agree on the transport services: loading, delivery, unloading and installation of construction on the day of celebration.
Photo of ice sculptures for wedding
Ice shapes - bright decor for registrationwedding, giving the celebration a special effect. Your guests will be pleasantly surprised by the interesting composition and create a unique combination of transparent frozen water, fresh flowers, a variety of lighting and elaborate carvings. Choosing an ice sculpture at a wedding celebration, do not limit yourself and use all their imagination. You can use ready-made ideas, which are presented below, or come up with your original and creative version of the figure.