The arrival of her future husband to the bride's home to foreclosureevent no less exciting than following it registration, photo shoot and wedding banquet. It is the first time the groom sees his beloved in a wedding dress, and in front of numerous guests prove (albeit a playful way) that is worthy of his lady. Therefore, home decoration bride - an important task, which should help to solve the girl her friends. We'll show you how to decorate the room fashionable, original and inexpensive.
Ideas of decoration for the wedding the bride's home
Stores for the Holidays offer hundredsvarious decorations for weddings. Optional buy everything - a lot of things under the power to make their own hands. Although formal decor (such as balloons or garlands) - a win-win situation, different comic fun in a wedding decoration home too relevant. So, the bride and groom dressed cacti, toys or pets will certainly cause a smile, remove the awkwardness of guests.
Here are some classic decorationsEuropean weddings are not always adapted to Russian realities. For example, the tradition of scatter fresh rose petals on the floor like an ordinary apartment not every woman, besides, so you can stain bride's wedding dress. Therefore it is better to do it on the street or use the artificial pitch. The same applies to flower garlands, they look luxurious in the picture, but in fact it is very expensive pleasure, which decorate the bride's house, it is better to save.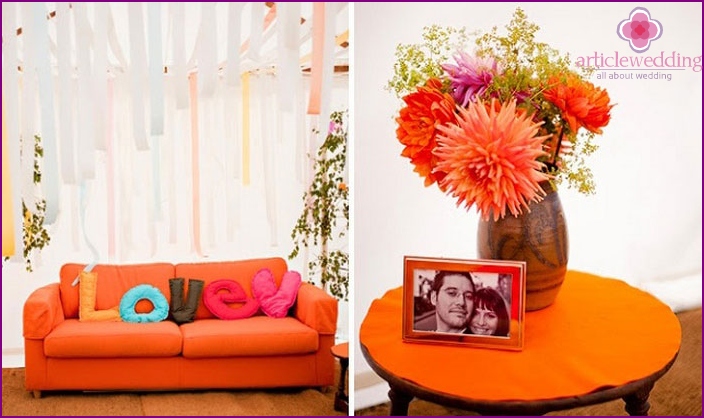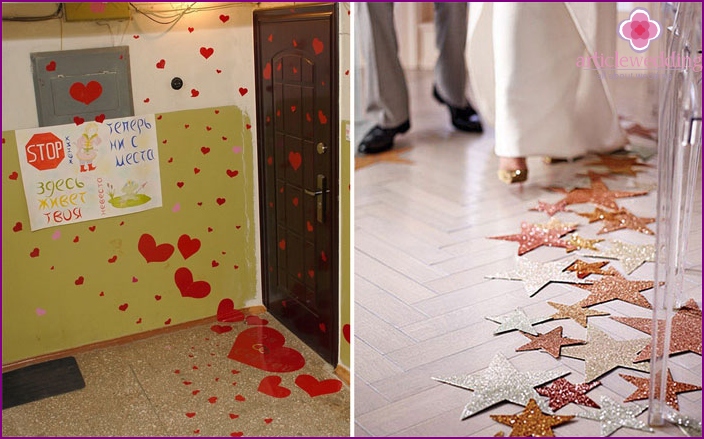 The main thing you need to remember that the wedding,especially the time of redemption - this is, first of all, fun and pleasure. Therefore, leave the seriousness, solemnity, and the main force for the decoration ceremony, reception and banquet. The apartment (house) of the bride - a place where we can neglect the formalities and advice wedding decorator, decorating the room as heart desires. What decorating tricks to help make the home of the bride beautiful, romantic and worthy groom meet?
Volume pompons
These colorful paper balloons - a simple but verypopular wedding decoration. For pompons used crepe or tissue (in tissue) paper. The process of manufacture of a simple, but it requires a little skill and time. If you do not want to mess around or running out dates, buy these bulbs in stores of goods for the holidays: the price they have available, and the widest range.
Note that the fluff balls purchased(Which are sold in assembled form) also takes time, though not as much as manufacturing. Pompons, tend to make the size of 15 centimeters to half a meter. The smaller the diameter of the balls do not look so impressive, in addition to decorate the room for the wedding they will need many more. How to decorate the bride's house pompoms:
Hung balloons dot on top (fit doorways, windows, wall cabinets, curtains, cornices, wall and if there is something to attach, ceiling). A large bowl or 3-5 medium perfectly decorate the chandelier.
Strung together several different diameters pompons and color on a string, hang a garland.
Make a wedding arch for decoration dooropening, connecting the pompons on the wire or paperboard. Tip: Use only white balls, adding a small red paper hearts that are easy to attach a transparent adhesive tape.
Put paper balls path along baseboards or decorate the floor from the groom.
Put tape or attach to the front door of the white or red pompoms heart or the name of the bride.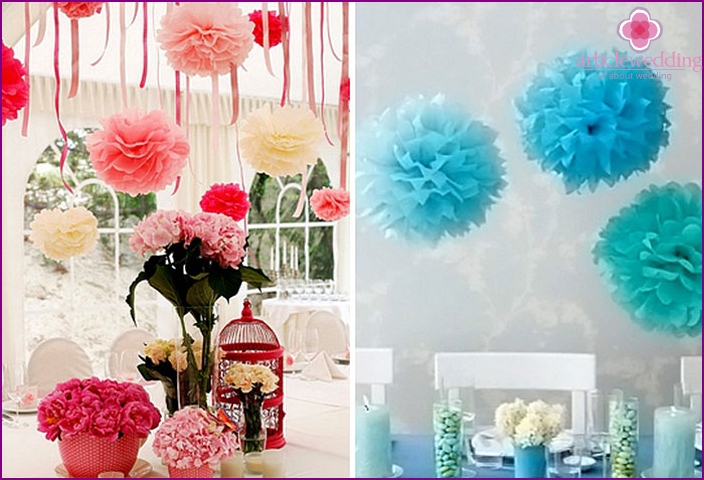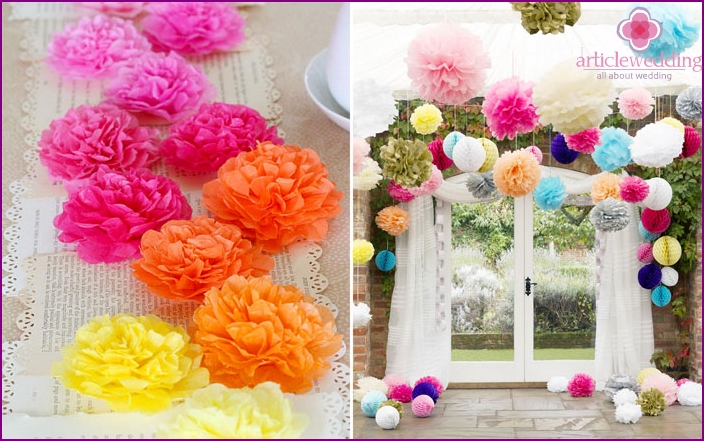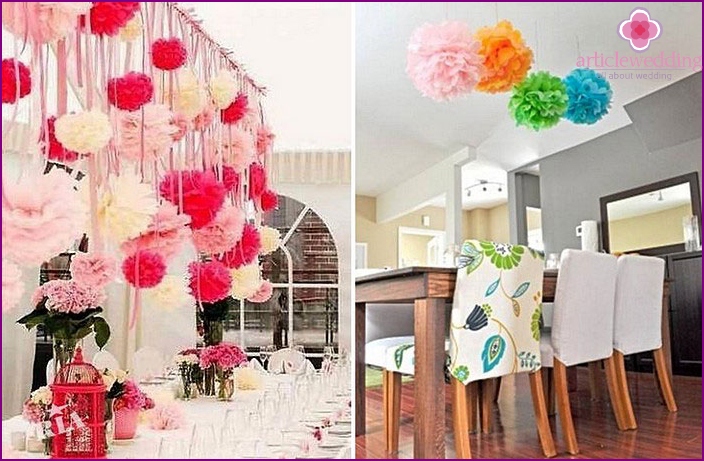 Paper fans and flags
This is another wedding decor that bride withgirlfriends easily make their own hands (although these decorations in the stores also sold). Glue the two fans that turned the corrugated circle (forfeit). These fan-forfeits well decorate horizontal surface (eg, a solid wall of colorful fans) hang on threads or make a garland. Funny and colorful look neizbity (pattern) and perforated with symmetrical holes or figuratively cut edges forfeits.


Paper boxes used aswedding decorations home, hang a garland, or are arranged in vases (dot or compositions with flowers / tassels). For the second option will need sticks (fit the usual cocktail tubules, at which the paper is secured with glue). Flags can be chic decor, if you approach them with imagination manufacturing. Honeymoon bride design houses need a versatile approach. Here are our ideas:
Paper boxes with perforations (rectangular,triangular, semicircular or any other shape). Tip: To quickly get the same pattern on a large number of flags, fold the paper stack of blank sheets, fastened clamps, cut pattern on the drawing office knife, shaped punch, knife to the perforation (the last two are sold in scrapbooking departments).
With inscriptions and imprints: flags for decoration suit honeymooners names, wedding date, case labels. To save time, use the stamps (homemade or store bought / custom).
With prints. With this wedding decorations can easily handle a home printer. As the prints are suitable bride funny and touching pictures at different ages.
Multilayer flags. Connect several different-pieces of dissimilar materials (eg, one-color with patterned paper / perforated fabrics of different textures with lace). Stylish looks garland of black-and-white flags, echoing the colors of the groom dresses and bridesmaid.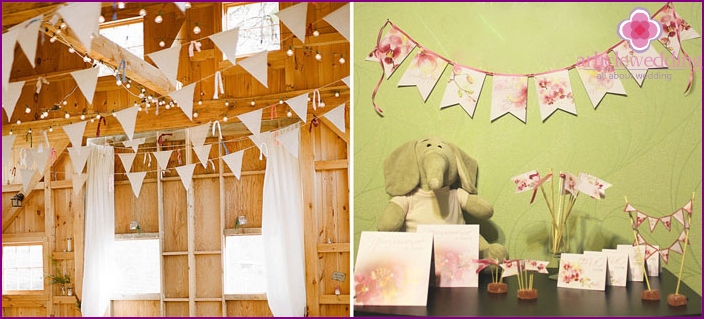 Pomander of flowers
Balls of real or artificial flowers -win-win decor that complements any home. Use to decorate Pomander of fresh buds - fresh trend in the wedding industry, from which guests will be delighted with the groom. The balls can be ordered from the florist or do it yourself. Decorate the house Pomander just like pom-poms: balls hung dot or a garland, tied to furniture, are laid out on the tables. Effectively look table and floor vases, filled with small floral or balls with one big Pomander instead of the traditional bouquet.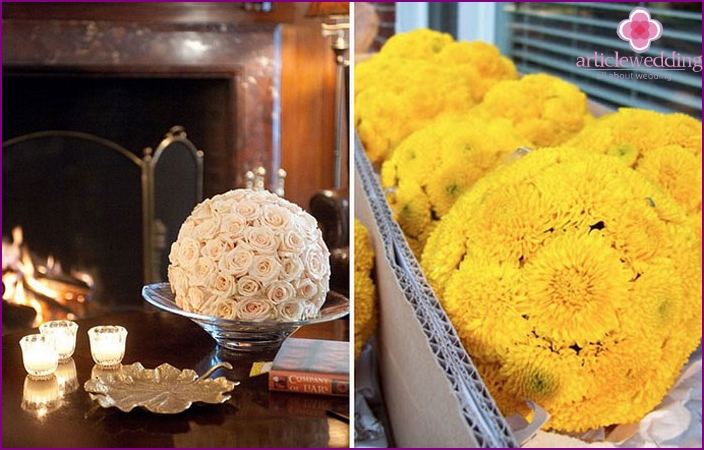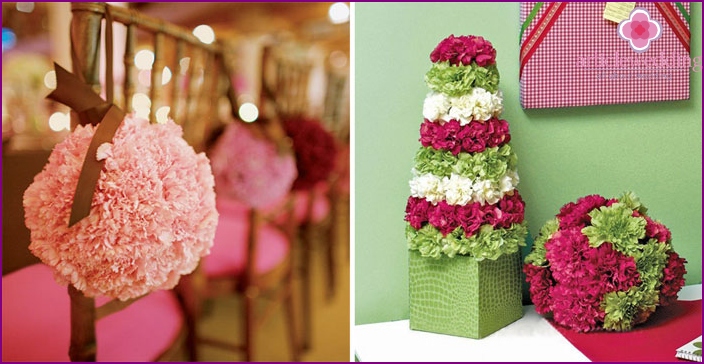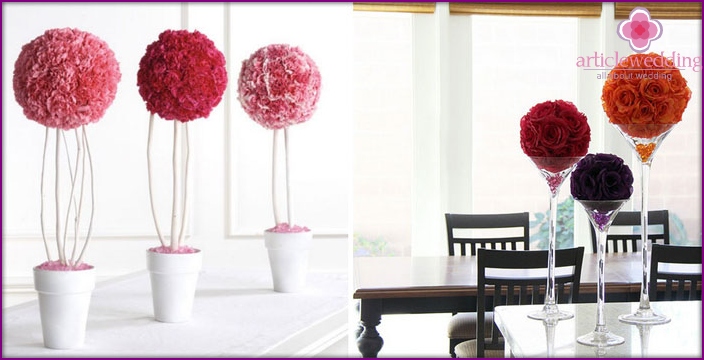 Garlands with light bulbs
Electrogarlands with standard light bulbsrelevant only if the evening or in the small house lighting. During the day their light no one will notice, and in the off as they look unassuming and even ugly. Look in stores curly garlands, who instead of conventional bulbs hearts, flowers, balloons, etc. This product even in the daytime will look good as a normal decor. Very showy wedding house decoration - a solid wall (curtain) of the light bulbs - to buy her a special garland grid or "rain".


Balloons
This is an old, but loved by many newlywedsway of decorating that anywhere creates a holiday atmosphere. To make the bride home use white, red or pink balloons, heart-shaped or shaped, with wedding words or drawings. Balloons with helium will be a better solution for decorating than filled with air. To dilute the monotony of a large number of balloons, tie them Tassel garlands or streamers.


Stuffed Toys
Dress up a couple of toys in costumes of bride and groom- Is not new, but very cute fun idea to decorate the house for the wedding. The most popular option - soft bears, but if it will be elephants, bunnies and dolls - also good. Add to this decor motorcade toy avtomobilchikov decorated with the appropriate attributes - and delight guests of the groom is provided to you. Where can I get a tiny wedding clothes? There are several options:
sew on their own;
borrow dolls (toy bride and groom - not a rarity on the shelves);
Buy ready-cubs newlyweds (or other small animals) in bridal salons.


Candles decorated with ribbons and flowers
Honeymoon decor fit white or pinkcandles. If you are using chandeliers, decorate their pearls or glass beads. Thick candles without candlestick, wrap satin ribbons with bows, put improvised suits the bride and groom or arrange in a low glass vases. Another decorating idea vases home: filling them with water, add a floating candle. Stylish looks composition of different-sized candles on a tray strewn with rose petals. It will be a win-win combination with a bouquet of flowers or colorful fruit Pomander.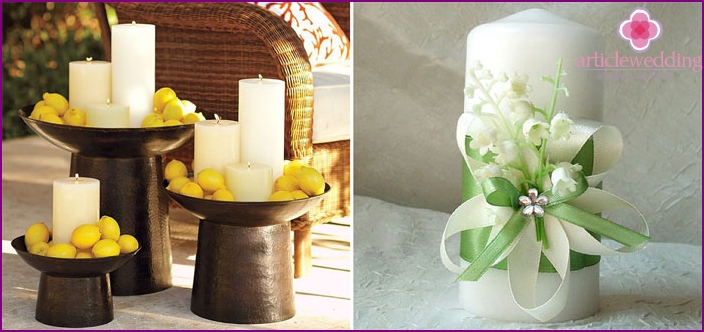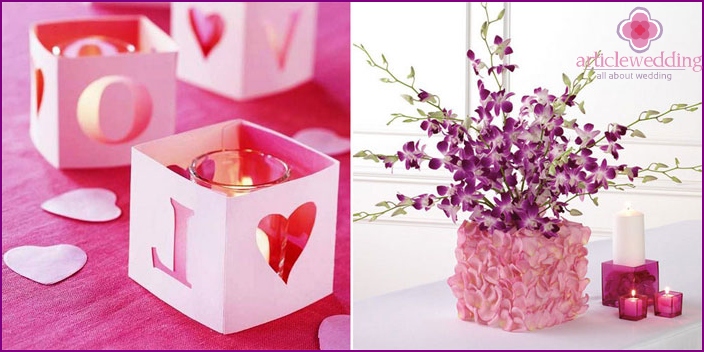 How to decorate the bride's house to foreclosure
The wedding day begins, usually in the housebride, where the groom comes to take (buy back) your favorite and take away to itself. Therefore, the environment in which will meet future husband must conform to the event. The house of the bride needs decorating not only inside. Taking care of the wedding decoration is necessary and the outside (from the gate or entrance doors). To do this, fit the large decorations (balloons, huge paper pompoms, garlands) - that can be seen from afar.
Photos home design ideas for wedding
To draw beautiful original house orbride's apartment for the wedding, do not be afraid of non-standard approaches and parts. It is not necessary to use all methods of decoration immediately. Otherwise, the bride's house turned into a gift shop. Choose what is available on the opportunities and closer to the nature of the bride. Do not forget the festive mood, smiles and jokes that will decorate even the most modest premises. In order not to waste time to find the right ideas wedding decoration bride's home, we offer to see our photo galleries.