Organization of the wedding party - is, perhaps,main stage of preparation for the wedding celebration. It is necessary to choose a restaurant with delicious cuisine, consider the menu to the smallest detail, arrangement of tables and seating guests ... Time does not remain, the forces at the end, like money, too! Wedding portal www.articlewedding.com wants to offer you an alternative variant of the organization of the holiday - a wedding reception! Sophisticated, fashionable and easy - that's what we need!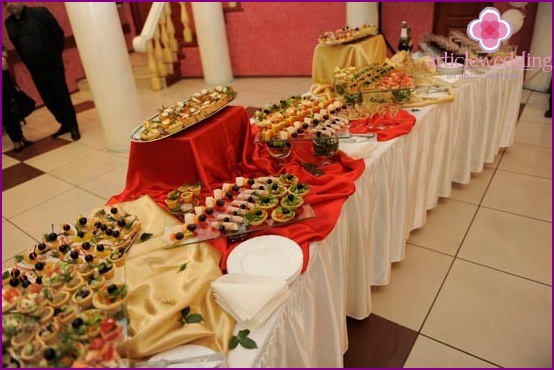 What is the reception?
"Cocktail" in the literal translation from French means "to fork", as during a meal it is the basic tool.
Features buffet
All treats are placed on the tables.
Guests are free to move around the room, choosing a food and drinks, as well as buddies.
usually only necessary plug from the cutlery.
The duration of the buffet table is no more than 2 hours.
Benefits buffet
You can invite a lot of guests.
Relaxed Atmosphere: guests choose their place in the room, food and drinks, as well as buddies, so they have a good time.
No need for a large number of staff (1 waiter for 20 guests).
That is why the reception - this is a great way to save money, time and space!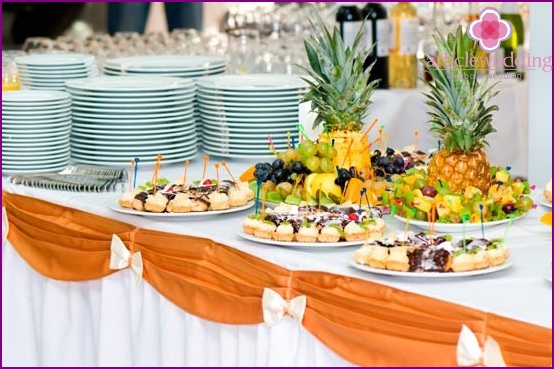 table Arrangement
for buffet tables are usually higher than normal (about 100cm), although you can use the standard. The number of tables is calculated based on the fact that one guest must be on the table at least 15 cm. The form of arrangement of tables depends on the size of the hall and its features, it is often the letter P, T or S. Tables must be placed from each other at a distance less than 1.5 m to the guests and waiters could move freely around the room.
In addition to the main tables at the walls must beadditional tables for spare plates, napkins, glasses, dirty dishes, ashtrays, etc. Take care and small sofas or chairs, because some of your guests will be tired and want to relax during the celebration.
Serving and decorating buffet table
There are two options: Table served either from one side or from both. Bilateral serving is optimal for a wedding celebration. Tables usually placed in the center of the hall, then these can be approached from either side.
For the buffet table, you can use a tableclothall styles and colors. For table decorations fit small vases with flowers and beautiful candlesticks with candles. If the tables are large enough, can afford any decorations that will fit into your wedding style.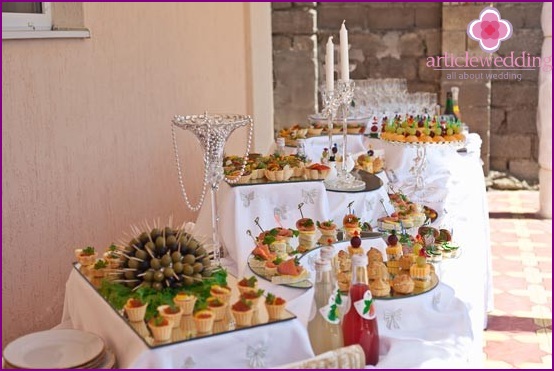 Menu
Beverages
Typically, fed from alcoholchampagne, red and white wine as well as brandy. Although there are no special rules - everything you want. Do not forget the soda and mineral water, juices. Not superfluous will be coffee and tea, especially in the case of a winter wedding.
Snacks
Menu of the wedding party should consist ofa large number of cold appetizers. It canapés and tartlets, sandwiches, meat, fish and cheese cuts, fresh fruit and vegetables, olives, gherkins, pickled mushrooms. The main thing that table was varied and tasty.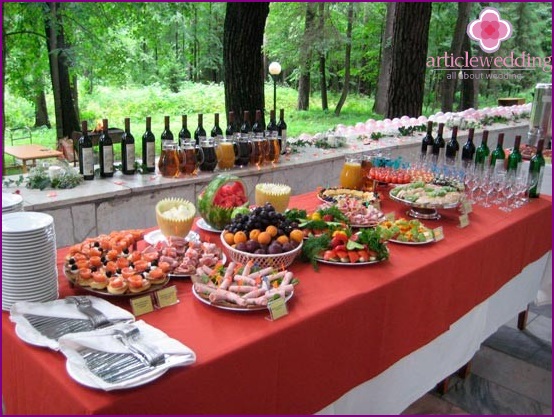 Hot
Sometimes the menu includes hot dishes. Traditionally served in portioned julienne cocotte and kebabs on skewers.
It is important that the meals were not only delicious, but alsobeautifully decorated. So you can create a fabulous holiday atmosphere. Bright green lettuce, colorful fruits and vegetables, colored sauces - this is what will give the dishes a joyous and festive appearance.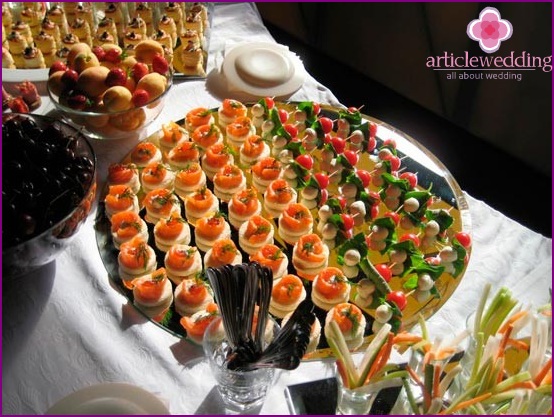 Service
For buffets require minimal maintenance(Several waiters). They will keep order on the table, take away the used dishes and appliances, as well as to fill up the table serving items and dishes. That's all!
Wedding portal www.articlewedding.com sure buffet - a great option for the wedding party! You will save not only money from the family budget, but also create your celebration a relaxed atmosphere in which your guests will relax, mingle and really be able to take a break from their everyday worries!